Wandering through the majestic Oman feels somewhat like joining Aladdin on a magic Arabian carpet ride. And as you make your way through the colossal caves and silken deserts, it doesn't seem totally unrealistic to expect a genie to appear from frankincense-infused mists. But the question remains: is it necessary to rub the lamp when your wishes can be granted with a single trip to any of these excessively luxurious spas?
Immerse yourself in Oman's tranquil beauty as decked-out lounges overlook rugged mountains and whimsical wadis. Surrender to the healing hands of highly trained therapists and contemporary techniques as ancient therapies inspire a holistic approach to wellbeing. Indulge in a spiritual hammam ritual as frankincense-infused midsts transport you to medieval Muscat streets. Step into palatial architecture and regal designs as arched walls adorn you with jewels of your own. And allow local ingredients such as dates, honey, pomegranates and limes to detox and rejuvenate your inner and outer being with sumptuous scrubs, wraps and facials. 
Perhaps these wish-granting spas are run by genies themselves. Or perhaps, the expert therapists just have an uncanny sixth sense for exactly what you need at any given time. Either way, we're all for indulging in a little Omani magic. Especially when the best spas in Oman are simultaneously committed to protecting the environment. Was that another wish granted? We're happy to oblige.
The 13 best spas in Oman
Spa at The Chedi
Chedi hotels around the world are renowned for their unparalleled opulence—a key contributor, of course, being their indulgent spas. The spa at The Chedi Oman is no exception. And not only is it a favorite spa in Muscat, but we think it's one of the best spas in the entire country. Flaunting over 1,500 square meters of heavenly bliss, you'd best mark out a full day in your itinerary to truly appreciate all of the fitness and relaxation facilities.
The Spa at The Chedi draws its inspiration from eastern philosophies and Asian oriental rituals. But with highly trained therapists and science-informed therapies, the luxury spa adds a contemporary twist to traditional treatments. This fusion of modern artisanal expertise and ancient wisdom is adequately echoed in the neutral-palleted, Arabian-chic interior. Massage packages are ​​based on the holistic principles of aromatherapy, Ayurveda and herbalism—tailored to individual requirements. While the luxury hotel's commitment to sustainability extends to the spa through energy saving designs and water reduction initiatives. Yep, that's all our boxes ticked. 
Best for: Eastern philosophies inspire ancient therapies—but with a modern twist.
Address: 133 18th November St, Muscat, Oman
Opening days and hours: 
Mon-Sun: 9am-9pm
Price range: $$$
Website: www.ghmhotels.com/en/muscat/spa-wellness/
Spa at Anantara Al Jabal
As one of our top luxury resorts, Anantara Al Jabal is an oasis of soul-stirring serenity, with the surreal spa being one of its best attractions. Infused with Omani delights, the traditional architecture boasts pointed arched windows, mountain stone walls and cascading canyon views. While trickling fountains and bakhoor incense beckon you to slow down and savor the moment.
Spa at Anantara Al Jabal offers an extensive menu. Embark on a holistic wellness journey with their one or three-day retreats, featuring guru consultations, yoga and meditations sessions and therapies of choice. If you don't have the time for a full retreat, their Ayurvedic therapies and signature treatments can be effortlessly incorporated into your day to day. For the ultimate cleansing and re-energizing treatment, we recommend a hammam ritual. The traditional Arabian steam therapy is expertly performed with contemporary techniques and Omani touches.
Best for: Cascading canyon views and Ayurvedic therapies join forces.
Address: No 110, Al Jabal Al Akhdar, Nizwa 621, Oman
Opening days and hours: 
Mon-Sun: 11am-8pm
Price range: $$
Website: www.anantara.com/en/jabal-akhdar/spa
Spa at Six Senses
Distinguished by lines of soaring date palms, luscious lime bushes and sandy pathways, this luxury spa reflects the resort's surreal mountain-sea setting and natural tranquility.
The Omani architecture at Spa at Six Senses features arched white stone walls, cobbled floors and wooden designs, decorated with romantic lanterns and ancient clay pots. With sustainability at the forefront of this eco chic resort, all products are ethically and sustainably sourced, while other green initiatives simultaneously contribute to guilt-free indulgence. Each treatment is designed to target a specific area in your life—be it sleep, energy or brain clarity. So you can consider it doctors' orders to surrender to the hands of highly trained therapists as they use their sixth sense to speak directly to your problem areas.
Best for: Carefully designed treatments performed with uncanny intuition.
Address: Dibba-Musandam PC 800, 00800, Oman
Opening days and hours: 
Mon-Sun: 9am-9pm
Price range: $$$$
Website: www.sixsenses.com/en/resorts/zighy-bay/wellness-spa
Spa at Alila Jabal
Perched on the edge of the ravine, the spa at Alila Jabal overlooks astonishing views of the raw, rugged canyons. And whilst pampered opulence is integral to every treatment, this sanctuary draws its inspiration from the untouched natural beauty.
The treatment rooms at Spa Alila Jabal are delicately adorned. But it's the al fresco mountaintop experiences that truly distinguishes it from the rest. Lie back on rustic wooden beds and luxe white linens and allow the combination of the fresh alpine air and skilled hands to overwhelm your senses. The steam room is also infused with frankincense essential oils that effortlessly transport you to ancient Oman with a midst of heady, earthy magic.
Best for: Relishing the Omani magic.
Address: Al Roose, Jabal Al Akhdar Al Jabal Al Akhdar OM, 621, Oman
Opening days and hours: 
Mon-Sun: 9am-8pm
Price range: $$$$
Website: www.alilahotels.com/jabalakhdar#spa
Spa at Al Bustan Palace
Fit for a sultan, the Spa at Al Bustan Palace speaks to its regal history. And whilst the luxurious resort was originally designed to serve Sultan Qaboos, the white stone walls and incense-infused rooms have the power to make every guest feel like royalty.
Using locally sourced ingredients the Spa at Al Bustan Palace draws inspiration from its serene seafront setting and traditional Omani culture. We think that the deep muscle massage is the best massage in Muscat for alleviating deep-seated tension and muscular stress. While the balinese-influenced massage uses long gentle strokes to totally relax your mind, body and soul.
Best for: Sultan-approved; doctor-endorsed.
Address: Al Bustan St, Muscat 114, Oman
Opening days and hours: 
Mon-Sun: 10am-7pm
Price range: $$$
Website: ​​www.ritzcarlton.com/en/hotels/oman/al-bustan/spa
Kempinski The Spa
Inspired by the European cycle of seasons, Kempinski spa harnesses nature's elemental wisdom to restore the body's equilibrium. And it only takes a couple of seconds in the brick-adorned, plant-walled, bronze-ornaments atmosphere to feel your muscles relax and your tensions released.
Kempinski The Spa offers an extensive list of expertly-designed therapies. The Omani Experience is a popular choice for a true Arabian experience. The full body mask heroes local ingredients such as frankincense, rose, dates and honey. While a tantalizing massage concludes the top-to-toe experience. Plus, it doubles up as a cultural experience so you don't have to feel guilty about skipping the museum excursion. The Spring Face therapy is also a favorite as it revives your youthful glow with botanical brighteners and concentrated vitamin C. We think it might just be the best facial in Muscat.
Best for: An authentic healing experience.
Address: 335 Street 6, Muscat 138, Oman
Opening days and hours: 
Mon-Sun: 10am-10pm
Price range: $$
Website: www.kempinski.com/en/muscat/kempinski-hotel-muscat/luxury-spa/
Spa Alila Hinu Bay
A paradise for nature lover and design aficionados, Alila's contemporary spa environment is simultaneously restful and reinvigorating. Reflecting the luxury hotel's Asian-inpsired minimalism, the neutral-hued decked lounging area and dark-tiled plunge pool is the idyllic spot to reprieve pre or post treatment. While the yoga and meditation classes effortlessly become a part of your everyday routine.
The Spa at Alila Hinu Bay provides a myriad of uniquely mesmerizing therapies—each one drawing inspiration from ancient Asian techniques and age-old therapies in a new way. We highly recommend the Hinu Bay Signature Frankincense Massage for a combination of natural oils and careful movements to stimulate circulation and give into deep relaxation. You'll leave with a new spring in your step—trust us.
Best for: Reinventing paradise with modern notes.
Address: Salalah OM, 211, Oman
Opening days and hours: 
Mon-Sun: 10am-8pm
Price range: $$
Website: www.alilahotels.com/hinubay#spa
Away Spa
Located in the cool and contemporary W Hotel in Muscat, Away Spa showcases the resort's impeccable attention to detail when it comes to pampering guests. Inspired by the ancient tradition of stargazing combined with the surrealism of underground caves, this chic space is designed to make you feel like you've been transported to a new world—and that it does.
Featuring a persuasive menu of treatments, Away Spa is one of the best spas in Muscat. We recommend carving out a couple of hours in your (not-so-busy) schedule to immerse yourself in the detox massage, a combination of energizing techniques curated to stimulate the metabolism and eliminate toxins. If a romantic excursion is on the cards, you don't get much better than Away's two hour couple's massage. And if you're after a quick fix, the collagen massage addresses dehydration and pigmentation in a snap. Whatever you choose, leave time to soak in the stylish splendor of the sauna and steam room.
Best for: Taking you up, up and away—superhero style.
Address: Al Kharjiya Street, 103, Oman
Opening days and hours: 
Mon-Sun: 9am-10pm
Price range: $$
Website: www.awayspamuscat.com/
Chi, The Spa
Enchanting you into a place of permanent peace, this Oman spa is one of the largest in Muscat. Chi, The Spa can be found in one of our top luxury resorts, Shangri La Al Husn. The Arabian carvings and romantic lanterns pay homage to the Omani culture. While tranquil neutral hues speak to the resort's majestic seaside setting.
Chi, The Spa provides treatments that reflect an elegant blend of Asian techniques, with the Signature Asian Blend Massage being a standout choice. This mesmerizing experience fuses Thai pressure points with Chinese energy flows, long Balinese strokes and Malaysian balance to holistically align your body and restore your zeal. Other tantalizing treatments include an age-defying organic wrap and luxury blue diamond facial. And if you're after something more specific, we'd bet on the fact that their extensive menu can solve your problem.
Best for: An elegant blend of Asian expertise.
Address: Muscat 100 Muscat Muscat، 644, Oman
Opening days and hours: 
Mon-Sun: 11am-7pm
Price range: $$$
Website: www.shangri-la.com/muscat/barraljissahresort/chi-the-spa/
Spa at Al Baleed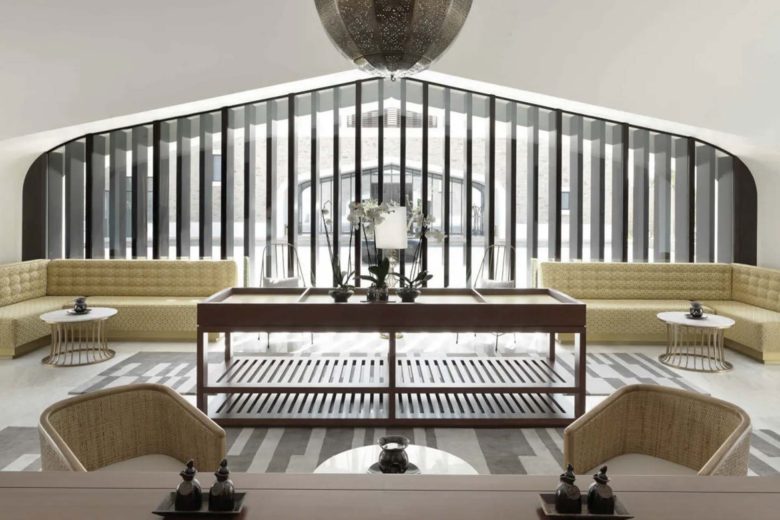 Whether it's the scintillating sea views, lavish hammam rituals or more likely a combination of the two, Al Baleed Resort proves that Oman can compete with almost any tropical island when it comes to relaxing beach vacations. And oozing coastal serenity, this sumptuous spa is case in point.
As one of our best Anantara spas, the Spa at Al Baleed fuses Oman's ancient beauty therapies with Thai massages and age-old Ayurveda techniques. As a result, their treatments include an air of spirituality, science and indulgence. The Frankincense ritual is one of the best ways to fully experience the country's signature scent, while four silken hands synchronize in a complete rebalancing sequence.
Address: PC 214, Al Mansurah Street, Al Baleed, Salalah 360, Oman
Opening days and hours: 
Mon-Sun: 12pm-6pm 
Price range: $$$
Website: www.anantara.com/en/al-baleed-salalah/spa
Talise Spa
Located in the majestic Jumeirah Muscat Bay, Talise Spa's clean white hues and modern details speak to the luxury resort's contemporary-elegant architecture. And overlooking the breathtaking Gulf of Oman, the serene sanctuary is the perfect space to unplug and recharge.
When it comes to Talise Spa, tailored is the name of the game. And they pride themselves in personalizing each wellness experience using only cruelty-free products. Combine Talise's signature massages with hammam rituals, scrubs, facials and beauty therapies for a spa day unlike any you've had before. Unless you've experienced an authentic Omani massage—although we highly doubt it was as good as Talise's Essence of Oman therapy.
Best for: Harnessing Oman's healing powers.
Address: Saraya OM, Bandar Jissah 117, Oman
Opening days and hours: 
Mon-Sun: 10am-8pm
Price range: $$$
Website: www.jumeirah.com/en/rejuvenate/oman/jumeirah-muscat-bay/talise-spa
Ayana Spa
Translated to beautiful flowers in Swahili, Ayana Spa is centered around innate beauty—both in nature and in women. And with a range of eco-friendly products and rejuvenating treatments, they aim to make every woman feel like their best selves. Yes, this spa is a women's only retreat. Sorry men, but you're stuck with the kids for the afternoon.
Ayana Spa is located in the heart of Muscat, making it the perfect reprieve from the bustling streets after a day of sightseeing. The treatment list is never-ending with a range of massages, rituals and beauty therapies. If you want a cultural experience, the Omani Purify Ritual is a must. If you're looking to detox, The Amber Experience is superb. And if you're after something specific, we're almost certain their extensive list will accommodate.
Best for: Believing you're beautiful—inside and out.
Address: Al Kharjiyah Street, Al Sarooj Plaza, Al Shatti Qurum, Muscat 103, Oman
Opening days and hours: 
Sun-Fri: 9:30am-8pm
Sat: 9:30am-7pm
Price range: $
Website: www.ayanaspa.com/
Spa at Sahab
Designed to experience the euphoria of nature, this spa's simple architecture overlooks resplendent views of lush green foliage and turquoise seas. The minimalist interior beckons you to slow down and to soak in the present. While revitalizing treatments allow you to completely switch off and destress.
The Spa at Sahab is—in our humble opinion—the luxury resort's selling point. Holistic wellness programmes are carefully curated to target specific tensions and pressure points. While numerous therapies are performed for deep-tissue reinvigoration. End the day meditating on the sea-facing deck and emerge feeling like a new person.
Best for: Simple serenity.
Address: Jabal Akhdar, Saiq 621, Oman
Opening days and hours: 
Mon-Sun: 10am-8pm
Price range: $
Website: www.sahabresort.com/spa-wellness
Frequently asked questions about the best spas in Oman
What makes Oman rich?
Oman receives most of its income from oil and gas exports. But as the natural resources dwindle, it is focusing on other areas such as tourism, fishing and mining.
Is Muscat better than Dubai?
With a plethora of natural wonders and local excursions, Muscat can feel like a more cultural experience with an almost village-like appeal to it. And whilst Dubai is renowned for its nightlife and unparalleled luxury, Muscat is also home to many luxury resorts. The combination of cultural experiences, exotic landscapes and luxury stays makes Muscat a better option for authentic adventures.
Is Muscat Oman worth visiting?
Renowned for its bustling souks, seafood feasts and exotic terrains, Muscat is definitely a city worth visiting. As Oman's capital it is surrounded by majestic mountains, silken desert sands and beautiful beaches. So along with the must-see city sites, you won't be short of natural wonders to explore.
How long do you need in Oman?
Oman really is one of the most diverse countries in the world, so we recommend making enough to truly experience it. If you want to see Muscat city, the desert, beaches, mountains, wadis and indulge in the luxury of our top spa resorts, we suggest giving it at least a week, but 10 days is preferable.