The Maldives fulfills every utopia fantasy. It's got the pristine powder white sands. It's got unbelievably clear turquoise waters. It's home to a plethora of overwater bungalows. It's rich with resplendent sealife. It's brimming with jade green foliage. It's packed with some of the world's most uniquely exquisite spas. It's teeming with the latest in watersports. And it's foodie-approved with transcendent seafood feasts. That's all very well, but as a vegan we know what's on your mind: will we eat? The answer is yes—and yes in abundance! 
The archipelago of islands is paying closer and closer attention to its carbon footprint. And all of our top luxury resorts have implemented some pretty serious green initiatives. Some are fully solar-powered. Some are innovating impactful conservation projects. And almost all of them—yes you guessed it—have stepped up their games when it comes to vegan cuisine. From peanutty pad thais to raw fine dining; our best plant-powered plates rival most meat options. You just have to know where to find them.
That's where we come in with our carefully curated list of all the best vegan restaurants in the Maldives. After all, a country this good-looking deserves your undivided attention. And that's what it'll get if you simply eat your way through our top picks. Cue the digital detox!
The 15 Best Vegan Restaurants in The Maldives
So Wild
Reviving almost-forgotten recipes from Indonesian Spice Islands and South East Asia, So Wild is an oasis for vegans and culinary aficionados alike. This fully plant-based restaurant is found in the organic garden at one of our top luxury resorts, Soneva Jani. The thatched-roofed kitchen speaks to its rugged, authentic nature. While a resplendent garden set up draws inspiration from the vibrant Maldivian culture.
The menu at So Wild is curated by Michelin-star chef, Diana Von Cranach. And it comprises only locally grown ingredients. While it draws its inspiration from the five elements in Ayurveda. Dish highlights include: papaya ceviche, miso eggplant "scallops", rejuvenated greens and coconut noodles. But any of their dishes would earn the title of our best place to eat in the Maldives. Just be warned that it's only open for dinners everyday except Friday. And as one of the most popular dining experiences, you'd be remiss not to book in advance.
Best for: Welcome to the vegan wild side.
Address: Medhufaru Island, Manadhoo, Maldives
Opening days and hours:
Sat-Thurs: 6pm-11pm
Fri: closed
Price range: $$$$
Website:soneva.com/dining/so-wild-by-diana-von-cranach/
Botanica
Botanica is One & Only Reethi Rah's signature garden-to-table restaurant. And one of our best vegan-restaurants in the Maldives. The refined-yet-rustic outdoor wooden tables and lantern-adorned palm trees speak to the Maldivian restaurant's island chic dress code. While the fully vegan menu is carefully curated by American celebrity plant-based chef, Matthew Kenney.
At Botanica , most of the organic ingredients are sourced straight from the luxury resort's chef's gardens. The tantalizing tasting menu is a culinary journey featuring infusions such as king oyster mushroom with charcoal roasted leek and artichokes braised with curry leaves. Plated to perfection, the dishes almost look too good to eat. While carefully balanced flavors ensure that not a morsel returns to the kitchen. Gear up in your linen shirts and floral maxis—we're going island chic.
Best for: Just as nature intended.
Address: Reethi Rah, North Malé Atoll, Malé 08440, Maldives
Opening days and hours:
Mon-Sun: 7pm-10:30pm
Price range: $$$
Website: www.oneandonlyresorts.com/reethi-rah/dining/botanica
Just Veg at Atmosphere
Not only is Just Veg at Atmosphere the first fully vegan restaurant in the Maldives. But it consistently remains one of the best. Set on a tranquil wooden overwater deck, scintillating seas views set the tone for an unbelievable dining experience. While high-end touches speak to a sophisticated island finesse.
Just Veg at Atmosphere was imagined by Michelin-star chef, Fabrizo Marino in 2014. And his Italian legacy continues to live on through dishes such as Almond Pesto Tagliatelle and Gnocchi Emily Roman. However the mouthwatering menu also draws inspiration from the Mediterranean, Arabic and Indian regions with an elegant blend of traditional and contemporary trends. In our opinion, the Jewel Fried Rice and Thai Red Curry are standouts. But you won't be disappointed by any order.
Best for: Changing the atmosphere—literally.
Address: 989X+JQ3, Kanifushi, Maafilaafushi, Maldives
Opening days and hours:
Mon-Sun: 12:30pm-2:30pm; 7pm-10pm
Price range: $$$ 
Website: www.atmosphere-kanifushi.com/dining/just-veg/
Phat Chameleon
Stimulating all the senses, Phat Chameleon is an exclusive dining experience for every type of foodie. And whilst the fully-plant-based menu may attract vegan diners, it's known to convert the odd meat-eater that wanders in. Set in the Pullman Resort's organic veggie garden, you'll be mesmerized by the transformation that the ingredients undergo from the soil to your plate.
Phat Chameleon considers itself a gourmet restaurant that happens to be vegan. In saying this, they emphasize that their plant-powered plates are good enough to compete with the best in the world—vegan or not. Plus, unlike many other fine dining restaurants, they promise that you won't leave craving a hearty burger. Start your culinary expedition with a banana blossom salad with edamame, followed by sticky turmeric coconut rice with tempeh. And end it with their signature vegan brownies or mini passionfruit donuts. Bon voyage!
Best for: Adapting to a sustainable lifestyle.
Address: Maamutaa, Pullman, Maldives
Opening days and hours:
Mon-Sun: 6:30pm-10:30pm
Price range: $$$
Website: all.accor.com/hotel/
Baraabaru at The Four Seasons
Bringing flavor-packed, homestyle curries to the tranquility of Maldivian turquoise waters, Baraabaru is one of the best Indian vegetarian restaurants in Maldives. The dramatic lagoon-top setting draws its inspiration from Kerala architecture with brass pillars and traditional tulip lanterns. The regal purple and red hues speak to an elegant sophistication. While carved coconut candle holders remind you of your island chic surroundings.
As one of the top all-inclusive eco resorts, you would think that a restaurant at The Four Seasons to be something special. But Baraabaru has managed to exceed even our highest expectations. Starters include lentil and Winter melon broth and vegetable kebabs. And entrees consist of Indian classics such as courgette koftas, stuffed baby aubergines, sweetcorn masala and vegetable biryani. We know—you want to try them all. You'll just have to keep going back. We certainly will.
Best for: Bring on the biryanis.
Address: North, Kuda Huraa 20198, Maldives
Opening days and hours:
Mon-Sun: 7pm-10:30pm
Price range: $$$$
Website: www.fourseasons.com/maldiveskh/dining/restaurants/baraabaru/
East at Amilla Resorts
As one of the best eco-friendly all inclusive resorts in the Maldives, Amilla has introduced plenty of green initiatives, including their Wellness Your Way menus. These award-winning menus feature options for every food preference including vegan/vegetarian, low-carb/keto/paleo, gluten-free and dairy-free dishes. And although they are found at every restaurant at Amilla Resorts, the Wellness Your Way menu at East is a standout for us.
East at Amilla Resorts draws its inspiration from South Indian cuisine with a blend of delicate spices, fresh vegetables and traditional curries. And whilst they are prized for their authentic Indian dishes, the eco chic architecture hints at a slight contemporary flair in the way that they are presented. Expect to be enticed by dishes like cauliflower tandoori and Aloo Gobi potato curry. While the pistachio rice pudding and mango kulfi are a delightful way to end the decadent (but healthy) dining experience.
Best for: Wellness your way.
Address: Finolhas Baa Atoll, 20275, Maldives•+960 660-6444
Opening days and hours:
Mon-Sun: 7pm-11pm
Price range: $$$
Website: www.amilla.com/maldives-wellness-resorts/wellness-your-way
Ginger Moon
As one of the more contemporary resorts in Maldives, Cora Cora is all about innovating new sustainability initiatives. This is evident throughout their avant-garde, eco chic interior. But it is also evident in the small details like their MOKSHA cuisine. MOKSHA menus can be found at any restaurant in the resort, with the plant-based menu at Ginger Moon being our favorite.
Ginger Moon reflects the sizzling energy inherent to Asian street food through platters of vibrant vegetables, zingy herbs and alluring aromas. While the elegant interior speaks to the tranquility of the Maldivian islands. Feast on dishes such as rice paper spring rolls, pineapple fried rice and veggie pad thai. And don't forget to leave room for their coconut sorbet and vegan honey ginger ice-cream.
Best for: Moksha magic.
Address: Raa Maamigili Raa Atoll, 05161, Maldives
Opening days and hours:
Mon-Sun: 6:30pm-10:30pm
Price range: $$$
Website: www.coracoraresorts.com/dining/ginger-moon/
Ocean Breeze at Ayada
After trying the vegetable stack at Ocean Breeze, we're pretty sure the vegan cuisine has something (a lot) to do with Ayada's copious accolades. Sit and admire the Maldivian sun setting into the scintillating Indian ocean as scrumptious plant-powered plates arrive at your table. And whilst it's almost impossible to take your eyes off the red lit up sky, these beautifully presented dishes are just as Insta-worthy.
Ocean Breeze has a smart casual dress code. So this is your excuse to put away the denims and get a little fancy. When it comes to picking a menu favorite, it feels almost impossible to choose. But the Puy Lentil salad marinated with parsnips, pine nuts and lemon juice is unbelievably refreshing. While the Italian polenta with fried eggplant and edible flowers embodies la dolce vita.
Best for: Vegan—but make it fancy.
Address: Gaafu Dhaalu Atoll Maguhdhuvaa Island, Maldives
Opening days and hours:
Wed-Mon: 1pm-3:30pm; 7pm-10pm
Tues: 1pm-3:30pm
Price range: $$$$
Website: www.ayadamaldives.com/ocean-breeze
Hamakaze at Kurumba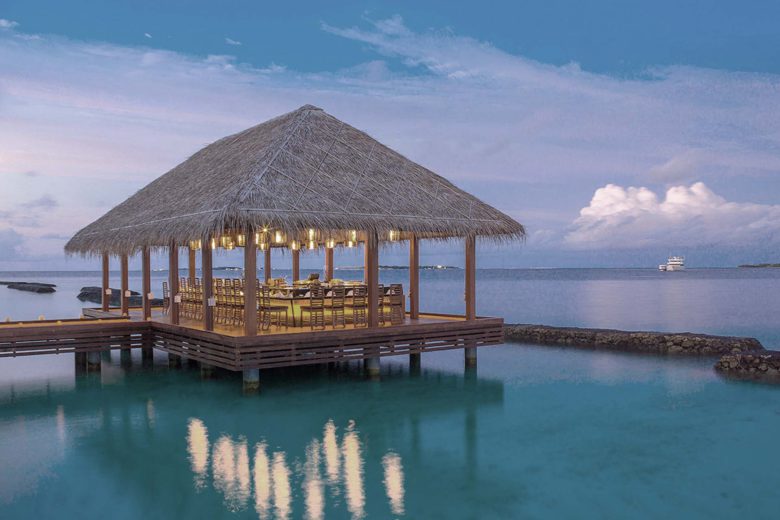 With a passion for eco vacations, Kurumba resort certainly knows how to cater for their vegan guests. And while all of their restaurants feature a variety of gourmet vegan options, Hamakaze's playful take on teppanyaki remains unparalleled.
Hamakaze at Kurumba is set on stilts above the Maldivian turquoise seas. Woven bar stools surround a contemporary sushi bar, where high skilled Japanese chefs take center stage. The vegetarian sushi roll is unlike any we've tried before. While kakiage tempura and grilled mushroom teppanyaki speak directly to our love for contemporary Asian cuisine.
Best for: Playing with chopsticks.
Address: Vihamanaafushi, North Male Atoll 08340, Maldives
Opening days and hours:
Mon-Fri: 6:30pm-9:30pm
Price range: $$$
Website: www.kurumba.com/japanese-restaurant-maldives
Raw at Huvafen Fushi
Home to the world's first underwater spa, Huvafen Fushi is forever pioneering new ways to intrigue and spoil their guests. This avant-garde dining experience is case in point. RAW was first conceptualized to restore inner balance and bring natural healing through internal cleansing. But when healthy food tastes this good, we're inclined to visit for other reasons too.
Raw at Huvafen Fushi is an organic overwater oasis. The wooden and glass architecture is accented with bronze adornments as it blends a rustic-chic attitude with refined elegance. While the decadent plant-based menu inspires an effortlessly healthy lifestyle. The only difficult part about the whole experience is choosing between the avocado carpaccio with miso orange dressing and the pomegranate mushroom salsa. But realistically you'll be back to try it all anyway.
Best for: Uncooked and unrivaled.
Address: Nakachchafushi North Malé Atoll, 08390, Maldives
Opening days and hours:
Mon-Sun: 12pm-3:30pm
Price range: $$$
Website: www.huvafenfushi.com/dining_restaurant/raw/
East Market at LUX
As the country's first vegan friendly resort, you could say that LUX Ari Atoll pioneered veganism in the Maldives. And they remain one of our top places to dine for every kind of foodie. Their Keen on Green menus are fully plant-based and can be found in any of their world-renowned restaurants. And whilst all of the dining experiences bring something delectably unique to the table, we can't help but return to East Market.
Reflecting South East Asia's bustling night market, the East Market at LUX overwhelms the senses in every possible way. While the overwater architecture adds a luxury Maldivian twist. The market style set-up is taken over by spicy scents, sizzling sounds and umami packed plates—including things like Yaki Udon noodles and every kind of dumpling.
Best for: Keen on green? Yes please!
Address: South Atoll, Dhidhoofinolhu, Maldives
Opening days and hours:
Mon-Sun: 7am-10:30am; 6:30pm; 10pm
Price range: $$$
Website: www.luxresorts.com/en/maldives/hotel/luxsouthariatoll/restaurants-bars/east-market
Feeling Koi at Amilla
We've already mentioned Amilla Resort's innovative Wellness Your Way menus. But what we haven't mentioned is the Wellness Your Way menu at Feeling Koi. The Japanese inspired restaurant is a fusion of Asian culinary finesse and panoramic Maldivian views. And set just above the water, it truly is a dreamy dining experience.
When we think of Japanese cuisine, we often just think of salmon sashimi and tempura prawns, but Feeling Koi redefines our expectations with some of the best plant-based plates we've tried. The vegan menu is brimming with exciting variations such as fishless filet with shimeji mushroom, vegetables and misoyaki sauce. While the plant based prawns with cauliflower sauce and grilled vegetables is also a popular choice. Whatever you choose, you certainly won't feel like your animal-loving ethics are causing you to compromise.
Best for: Feeling coy about sharing our plates.
Address: Finolhas Baa Atoll, 20275, Maldives•+960 660-6444
Opening days and hours: 
Mon-Sun: 7pm-11pm
Price range: $$$
Website: www.amilla.com/restaurants
Shades of Green
While we often talk about culinary journeys, Shades of Green is quite literally a culinary journey. The evening begins at 6:30pm with a tour around Soneva Fushi's gardens and ends with a revived soul and a satisfied stomach. But the real magic is what goes on in between.
Shades of Green was started by Michelin star chef, Carsten Kyster as part of the luxury resort's SLOW LIFE philosophy. Guests are seated around a communal table with the chefs themselves to inspire conversation. And the plant-based menu champions holistic wellbeing and a sustainable way of living. Infusing Nordic and European concepts with Asian ingredients, menu highlights include the Maldivian curry, crispy aubergine and raw pumpkin. But anything you try is bound to be exceptional.
Best for: Let the journey begin.
Address: Kunfunadhoo Island, Eydhafushi, Maldives
Opening days and hours: 
Mon-Sun: 6:30pm-12am
Price range: $$$$
Website: soneva.com/dining/shades-of-green/
The Nautilus
Inviting you to have breakfast for dinner or champagne in bed, The Nautilus thrives in veering off script when it comes to bespoke culinary experiences. And all of their restaurants offer a unique take on dining out.
We know, we're cheating a bit here. The Nautilus isn't really a restaurant, it's a resort. But with some of the best restaurants in the Maldives, we thought it unfair to single one out. Their Mediterranean and Middle Easter fine dining restaurant is renowned for its freshly baked crusty breads. The Ocaso serves up some of the best veggie grills on pristine sands. And Naiboli's poolside gourmet plant-based canapes are the perfect cocktail accompaniment.
Best for: Guilt-free nautiness.
Address: Thiladhoo, Baa atoll 20066, Maldives
Opening days and hours: 
Mon-Fri: 6am-2am
Price range: $$$$
Website: www.thenautilusmaldives.com/dining
Kai at Ayada Maldives
We've already mentioned Ayada's Ocean Breeze cuisine. But we'd be remiss to end this list of the best vegan restaurants in the Maldives without mentioning another Ayada favorite—Kai.
Hidden away amid the luxury resort's tropical greenery, the tranquil restaurant draws its inspiration from Asian and Eastern cuisines. While the black and white contemporary interior speaks to their avant-garde approach to food.
Featuring some of the best chef's worldwide, Kai is a food aficionado's delight and a vegan's reprieve from side salad and unexciting plates. The crispy vegetable basket is great for sharing as a starter. The Indian Thali curry and Vegetable Tikka are packed with flavor. Whilst most of the noodles can also be prepared vegan-style. Good luck choosing!
Best for: Saying goodbye to side salads.
Address: Gaafu Dhaalu Atoll Maguhdhuvaa Island, Maldives
Opening days and hours: 
Sun-Mon: 7pm-10pm
Sat: closed
Price range: $$$$
Website: www.ayadamaldives.com/kai
Frequently asked questions about the best vegan restaurants in the Maldives
Is there vegan food in Maldives?
With a growing focus on sustainability and eco vacations, the best luxury resorts in the Maldives have certainly stepped up their vegan food game. Many resorts have fully plant-based menus at each of their restaurants; all of which live up to the top gourmet food standards. Check our list of the best vegan restaurants in the Maldives for inspiration.
Is Maldives good for vegetarians?
Maldives is a great destination for vegans and vegetarians. But naturally, as a vegetarian, you'll be even less limited. Many of the top luxury resorts have introduced plant-based menus at all of their luxury restaurants. So you certainly won't be short of options—whether it's Italian pastas, Thai noodles or Indian curries. For the best vegetarian restaurants in the Maldives, check our curated list.
Is vegetarian Indian food available in Maldives?
Indian cuisine is extremely popular in the Maldives. And it also makes up a large portion of the Maldives' vegetarian recipes. Baraabaru at The Four Seasons and Just Veg at Kanifushi have some of the best Indian-inspired menus for vegans and vegetarians with standout vegetable biryanis and vegetable tikkas.
What is the best time to visit Maldives?
December to March is the peak tourist season in the Maldives and you can expect low rainfall, low humidity and lots of sunshine. However, if you want to escape the flock of tourists, April and May are still sunny with low rainfall. June to November is the worst time to visit with heavy rainfalls and high humidity.