The Maldives may be a tiny pin on the map, but it sets (and raises) enormous expectations for luxury. From the whitest sands to the clearest waters to the liveliest reefs, this scintillating island country in the Indian Ocean comes out on top in almost every category they fall—including their sumptuous stays. Home to the most extravagant villas, the most romantic resorts and the most beautiful beach bungalows, you'll feel right at home in any of our top Maldives hotels—that's if you're real-life royalty or an A-list celeb. If not, we warn that you probably won't feel quite at home. And you're more likely to spend your vacation with your jaw dropped and eyes opened. But we'll prep you as best we can.
Anticipate avant-garde architectures; be it natural harmonizing woody tones or stilted over-water villas. Anticipate world-class service; be it private butlers or breakfast in bed. Anticipate exquisite cuisines: be it underwater seafood feasts or innovative plant-powered bites. Anticipate serene spas; be it soul reviving ayurvedic therapies or over-water Swedish massages. Anticipate romance; be it private infinity pools or tandem jetovators. Anticipate family memories; be it Crusoe-inspired kids clubs or group sunset cruises. And finally, anticipate some of the world's greatest sustainable initiatives; be it fully solar-powered resorts or marine conservation programmes. 
While we tried, our greatest attempt could never do this unparalleled paradise justice. We guess you'll just have to experience it for yourself.
The 27 best luxury hotels in the Maldives
Six Senses Laamu
With a sixth sense for luxury and a heart for the planet, Six Senses Laamu shows their appreciation for nature through many conservation projects and outdoor activities, making it a hotspot for eco vacations. All of the rooms keep in the theme of natural tranquility with soft wooden designs gently transitioning you from the sunny decks to eco chic interiors.
Located on its own private island, it's easy to lose yourself at the Six Senses Laamu. Filled with vibrant coral reefs and home to the famed surfing spot in the Maldives, there are plenty of watersports and excursions to keep you active and entertained. Whilst the spa treatment nests and rooftop yoga pavilion call you back in to relax and reprieve. Plus, this secret oasis is home to some of the best restaurants in the Maldives. 
Best for: A sixth sense for conservation.
Address: Laamu Atoll 15090, Maldives
Price range: $$$$
Website: www.sixsenses.com/en/resorts/laamu
One&Only Reethi Rah
Set on an octopus-shaped island in the North Male Atoll, this chic resort continues to deliver as the Grand Dame of the Maldivian archipelago. Each secluded villa includes its own piece of the scintillating coastline. While private decks overlook crystal clear waters. The interior is trendy yet elegant as it exudes laidback luxury with decadent touches like an oversized terrazzo bath.
One&Only Reethi Rah is all about relaxation with moments of adventure and environmental awareness. After your fill of lounging at the pool and indulging in over-water spa treatments, you might feel inclined to try kayaking, windsurfing or shark diving. If that's not your thing, you may be more tempted by peaceful yoga meditations, light workouts at the state of the art fitness center or learning about their turtle conservation. But if the tantalizing cuisine is the only thing you're leaving your book for, you won't be disappointed by any of the eight incredible restaurants. From Italian and French infusion at Reethi to swaying to the rhythm of the island's magic at Rah Bar, there's no question as to why this is one of the best resorts in Maldives.
Best for: A-list approved.
Address: Reethi Rah, North Malé Atoll, Malé 08440, Maldives
Price range: $$$$
Website: https://www.oneandonlyresorts.com/reethi-rah/
Velassaru
Located on a private island, a short boat ride from Male, Velassaru is the perfect way to unwind after a long financial year. The eco chic cabanas are set around a glistening infinity pool overlooking the ocean. The understated architecture is infused with tropical island bliss. While luxury details such as complimentary beach bags and slippers, keep us coming back year after year.
The dive center at Velassaru is one of its most popular attractions. From diving and snorkeling to boat cruises and all the water sports in between, there's something for every member of the family. Just remember to leave enough time to book your spot at one of the overwater spa treatment pavilions, where revitalizing therapies embody uninterrupted peace. Head straight from there to any of the decadent dining areas. And allow the award-winning chefs to compete for your affections night after night. Think umami rich teppanyaki with a twist or modern beachfront sips and snacks at Fen. It's impossible for us to choose a favorite.
Best for: Tropical island bliss with a twist.
Address: 39 Orchid Magu, Malé 08350, Maldives
Price range: $$
Website: www.velassaru.com/
Four Seasons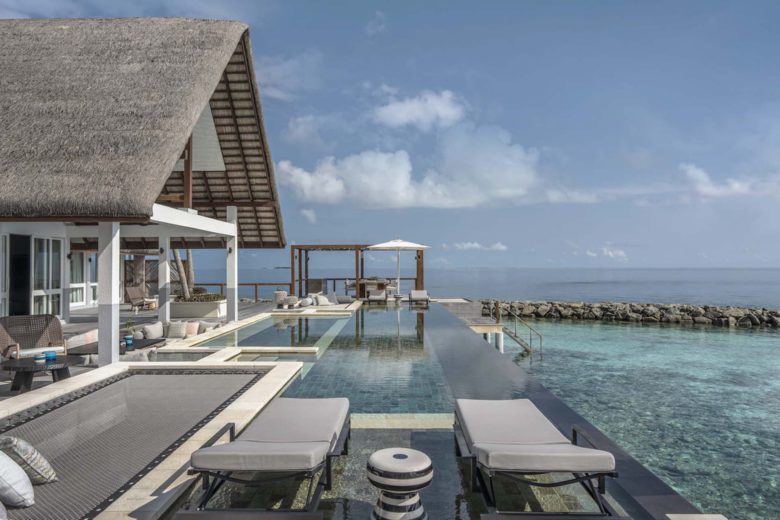 Situated in the Baa Atoll UNESCO Biosphere Reserve, the Four Seasons draws inspiration from the iridescent blues, jungle greens and scintillating white shores. Driven to preserve such natural tranquility, they are dedicated to sustainability. And as one of Maldives most innovative luxury hotels, they've recently installed over three thousand solar panels in the island's staff village.
Besides pioneering the largest solar installation in the country, the Four Seasons is also one of the best resorts in Maldives for couples. The avant-garde architecture speaks to the resort's forward thinking mindset. And private pools with sunrise or sunset views turn up the romance. The eleven white-adorned rooms all offer direct beach or ocean access. While spiritually-infused spa treatments and couple's massages rekindle your flame. Debrief your day over unique dining experiences—from a Michelin chef tasting menu to mid-ocean experiences and treetop dining. Our tip: book at least five nights to try each one.
Best for: Solar paneled, sustainable and effortlessly sophisticated.
Address: Baa Atoll, Maldives
Price range: $$$$
Website: www.fourseasons.com/maldiveslg/
Gili Lankanfushi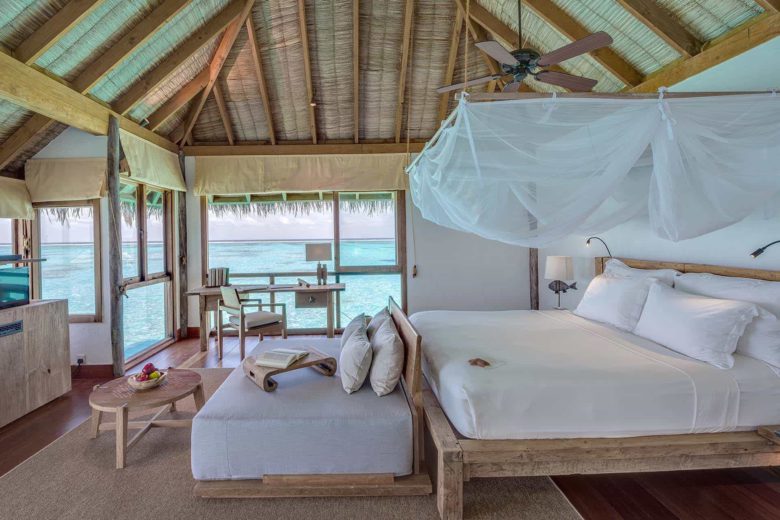 It's impossible to resist the rustic chic charms of Gili Lankanfushi. Well at least for us it is. Located on a private island, rich with vibrant vegetation and surrounded by a jade blue lagoon, the award-winning resort encapsulates city escapes. And while first class facilities and sumptuous cabanas speak to the luxury of your stay, thatched roofs and outdoor bathtubs maintain a chilled out attitude.
The service at Gili Lankanfushi is beyond reproach. And while the attentive staff ensure that all your needs are met, they quickly come to feel like friends. Gili Lankanfushi also takes their responsibility towards the environment seriously. All materials and ingredients are sustainably sourced—including those used in the Thai-inspired Meera spa and in all of the restaurants. If you're a vegan or vegetarian, you'll also be pleased to know that the Kashiveli restaurant has a full plant-based menu. Spend each day differently with a plethora of activities. And with things like snorkeling tours, surfing lessons, tennis coaches and cooking classes—you may even leave with a new hobby.
Best for: A rustic-chic vibe with eco-chic values.
Address: Lankanfushi Island, North Malé Atoll Republic of Maldives, Maldives
Price range: $$$$
Website: gili-lankanfushi.com/
Kudadoo
Translating to "small island", Kudadoo is the ultimate secluded escape. As one of our best all inclusive eco resorts in the Maldives, it has everything you could ask for and it treads lightly on the environment. Kudadoo is fully solar-powered and promotes sustainability through a variety of other green initiatives. On the luxury front, it exceeds our highest expectations with thoughtfully curated, interiors, exteriors and excursions.
Your stay at Kudadoo is complete with a friendly, private butler—available to assist you twenty-four hours a day with a smile on his face. The rooms are a design aficionados paradise with eco chic contemporary interiors and natural hues. While private decked out infinity pools look out onto scintillating seas. Unsurprisingly, their Sulha spa is one of the best in the country, with the lonu cave immersion providing a unique spiritual experience. And the fabulous restaurants each offering a different dining experience—with the 5.8 Undersea Restaurant coming out on top.
Best for: Small island; enormous expectations.
Address: Kudadoo Island, Lhaviyani Atoll 07080, Maldives
Price range: $$$
Website:www.kudadoo.com/
Alila
It's no secret that the Maldives is home to some of the most luxurious all inclusive eco resorts, offering some stiff competition. Yet time and time again, Alila comes out on top. Located on the Kothaifairu Island, the eco chic resort is immersed in natural tranquility with panoramic ocean views. Surrounded by such tropical beauty, the wooden architecture draws inspirations from its setting with neutral hues and modern minimalist interior.
Every room at Alila comes with a private pool, perfect for catching unbelievable sunsets. The six restaurants leave you daydreaming about your next meal—be it umami packed bites or Mediterranean infused meals. While a plethora of activities, such as snorkeling, diving or kayaking keep you constantly entertained. That's if you're not loved-up and seizing the opportunity to renew your vows, making new ones or learning the healing power of touch in a holistic massage workshop. Considering a couple's retreat? This is your sign.
Best for: Drawing inspiration from natural tranquility.
Address: Kothaifaru Island, Maldives
Price range: $$$$
Website:www.alilahotels.com/kothaifaru-maldives
Conrad Maldives Rangali Island
Whether myth or reality, we're calling the Conrad a 7 star hotel in Maldives—especially when it comes to sustainability. The luxury resort has pledged to eliminate all single-use plastics, introduced coral regenerations programs and in 2019 they commissioned a jellyfish sculpture made from 5,500 plastic bottles to raise awareness about plastic pollution. Talk about eco chic.
But the Conrad's more is more mentality doesn't end with its green initiatives. It extends into every detail of the all inclusive eco resort. Take The Muraka villa—a double storey residence submerged over the ocean where the master bedroom is actually a glass dome underwater. The Conrad's inspired itineraries include turtle snorkeling, sunset fishing, diving and rolling your own Chinese noodles. While any of the thirteen restaurants and bars await your return with world class cuisines and vacation cocktails. Don't forget to visit the over-water spa—it's the epitome of barefoot luxury.
Best for: Embracing a barefoot luxury philosophy.
Address: Rangali Island Alifu Dhaalu Atoll, 20077, Maldives
Price range: $$$$
Website: www.conradmaldives.com/
Hurawalhi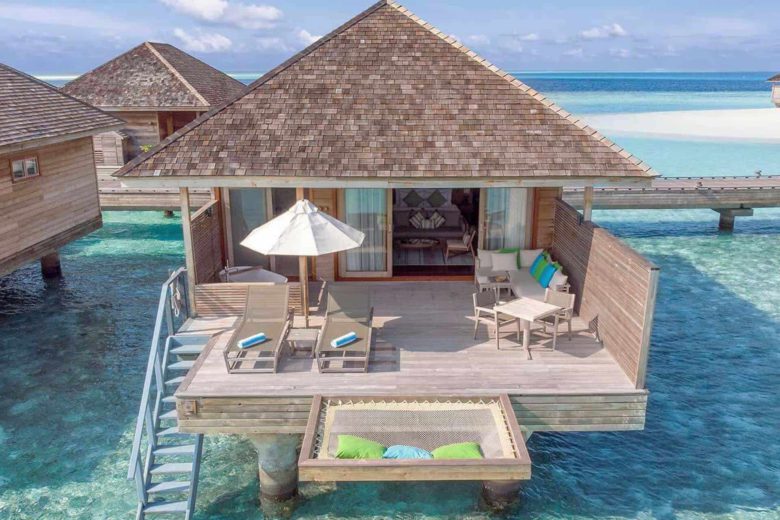 Ever dined under water? Nope, neither had we. But with the largest underwater restaurant in Maldives, Hurawalhi is your chance to do so. As one of our top luxury resorts, the secluded oasis is surrounded by scintillating seas—from which it takes its style cues. And all the wooden villas are complete with a sundeck, infinity pool and every luxury touch imaginable.
Whether it's the island spell or the zen-invoking Duniye spa, love is in the air at Hurawalhi. And as one of the most popular destination wedding locations or honeymoon spots, you'll be amongst many other sultry-eyed couples soaking in the romance. Besides just staring into eachothers eyes, spend your days scuba diving, snorkeling, sunset cruising—and speaking about the sensational food. Oh, and we forgot to mention that they take their responsibility to the environment very seriously. So if eco vacations are your thing, this luxury resort is well worth considering.
Best for: Everything tastes better under the sea.
Address: Hurawalhi Island, Lhaviyani Atoll 20187, Maldives
Price range: $$$
Website:www.hurawalhi.com/
The Ritz Carlton
Described as Maldives 2.0, The Ritz Carlton pioneered the concept where independent resorts connect across a lagoon. And as an acclaimed architectural masterpiece, the villas are harmoniously incorporated into their natural surroundings—from which they draw all inspiration. The modern minimalist interior speaks to the luxury resort's contemporary, innovative mindset. And colossal windows and sea-facing infinity pools ensure that you are never without an ocean view.
Located in the middle of the ocean, The Ritz Carlton encapsulates escapism. And we don't know who's more excited by the activity-packed Kid's Club, us or the kids? Use the opportunity to harness the earth's energy at the Ritz-Carlton spa. Take a cooking course. Or simply reconnect with your partner over fine dining bites or Italian treats. To us, this is the epitome of la dolce vita.
Best for: Maldivian la dolce vita.
Address: Fari Islands North, Male 20013, Maldives
Price range: $$$$
Website: www.ritzcarlton.com/en/hotels/maldives-fari-islands
Cheval Blanc Randheli
Arguably, Cheval Blanc Randheli is the most expensive resort in Maldives. But if you can afford it, it's totally worth the splurge. The mood throughout the luxury resort exudes a natural soothing energy, as the ethereal architecture subtly blends into its pristine surroundings. The contemporary, clean interior is a treat for design enthusiasts and novices alike. And while, harnessing the tranquil waves of whites and natural hues, lackluster simply isn't in Cheval Blanc's vocabulary.
Unsurprisingly, Cheval Blanc Randheli has some of the best facilities in the Maldives. You'll be blown away by the Midas touch of the spa therapists. While the five restaurants pamper your taste buds. From seafood feasts to Italian Riviera flairs to umami infusions—we know what you'll be dreaming of whilst on your sunset cruise.
Best for: A blank canvas for long lasting memories.
Address: Randheli Island, Noonu Atoll Randheli Island, 04130, Maldives
Price range: $$$$
Website: www.chevalblanc.com/en/maison/randheli/
LUX South Ari Atoll
Stilted sea villas with unstilted luxury; you don't get much better than that—unless it's carbon neutral too. And that it is at LUX South Ari Atoll. With 193 private villas perched above the water's edge, we're anticipating a different kind of Monday blue at this all-inclusive superlative sanctuary.
Waking up at LUX South Ari Atoll, you wake up in a parallel universe—one in which you never have to sign a tab or think about what to cook or how to entertain the kids. Yes, you heard us correctly, all little ones get to live out their Crusoe fantasies at the Kid's Club while you indulge in some much needed me-time. And whether you spend it adventuring on jet-skis, soaking in the healing effects of essential oils at the spa or simply making the most of mouthwatering menus, you'll leave feeling like a new person. Plus, the LUX South is carbon neutral and committed to marine conservation—so there's really no reason to turn down the opportunity.
Best for: Carbon neutral but luxe excessive
Address: South Atoll, Dhidhoofinolhu, Maldives
Price range: $$$
Website: www.luxresorts.com/en/maldives/hotel/luxsouthariatoll
Soneva Jani
No, the private slides from each villa into the ocean aren't just for the kids, they're for the adults too. Encouraging you to rediscover your childhood playfulness and not-so-serious attitude, Soneva Jani should be on everyone's bucket lists. And whether you opt for Chapter One or Chapter Two—the all-inclusive experiences, you're bound to leave Soneva Jani bursting with energy.
Rather than overly-polished interiors, the whitewashed, reclaimed wood speaks to the resort's Robinson Crusoe approach to luxury, while splashes of jade green remind you of your tropical surroundings. End your day at any of the resort's nine restaurants. Serving everything from a raw plant-based tasting menu to crab curries at the "World's Most Romantic Restaurant"—Soneva Jane is a haven for every type of foodie under the Maldivian sun.
Best for: Sliding into paradise.
Address: ​​Medhufaru Island, Manadhoo, Maldives
Price range: $$$$
Website: ​​soneva.com/resorts/soneva-jani/
Velaa Private Island
Appropriately named after the Maldivian term for turtle, Velaa's villas are stilted above water and arranged to resemble the head of a turtle. Positioned as one with nature, the luxury resort was built using local materials and they continue to empower the community and protect the planet through various social and environmental initiatives.
Velaa Private Island is born from the motivation to create the ultimate island escape. All of the villas prioritize privacy and intimacy with exclusive decked out infinity pools and contemporary romantic interiors. Watersports range from foil surfboards to tandem jetovators. While the golf academy, tennis court and climbing wall add a new dimension to beach vacation. Not to mention the Kid's Club, cutting-edge spa and unbelievable food—Velaa really does have it all.
Best for: Being at ease in your own shell.
Address: Republic of Maldives, Maldives
Price range: $$$$
Website: www.velaaprivateisland.com/
Baros
Nature-infused and planet-protective, Baros is one of our top all-inclusive eco resorts for a number of reasons. The first has to be its commitment to sustainability with the Maldives' first Eco Dive Centers and many other green initiatives. The second is the wonderland-like atmosphere. The understated villas are surrounded by blues and greens, where the sound of lapping waves becomes a constant soundtrack to your days.
The Serenity Spa implores you to succumb to the soul-restoring benefits of daily treatments. Activities such as kayaking, snorkeling and diving encourage a day of boundless island adventure. While the destination dining initiative invites you to dine wherever you please—be it the beach, the lush foliage or the privacy of your villa. Try them—they won't say no.
Best for: Pioneering eco diving.
Address: Baros, Maldives
Price range: $$$
Website: www.baros.com/
Anantara
Committed to preserving the pristine natural setting, not one tree has been removed from Kihavah Huravalhi. And so you'll find Anantara's eco chic villas dispersed among the soaring palms and lush mango trees as it harmoniously blends into the tranquil setting. The luxury resort's architecture and interiors also do little to detract from the untouched paradise, as neutral white hues and thatched roofs manifest understated elegance.
Renowned for its award-winning under-water restaurant and wine cellar, Anantara will continue to exceed your expectations throughout your stay. Set in a glass cocoon above scintillating seas, the rejuvenating spa is case in point. While exotic experiences such as turtle quests, jetpack seabobs and parasailing replace client meetings and dinner prep. We may just decide to stay.
Best for: Rooted in relaxation.
Address: Kihavah Huravalhi Island Baa Atoll, 20215, Maldives
Price range: $$$$
Website:www.anantara.com/en/kihavah-maldives
Raffles Maldives
This is a raffle you simply can't lose. In that case, we'll take six tickets please. Located on the Maradhoo Island in the Maldives, Raffles Maldives is one of our best all-inclusive eco resorts. From the tranquil setting to elegant interiors, you just keep winning time and time again.
Whether you're a yoga guru or inexperienced novice, Raffles Maldives invites you to harmonize your mind and body through sunset flows and meditative massage. World-class restaurants dive into a passion for discovering new culinary techniques. From the overwater Asian-inspired Yuzu restaurant to the firepit beach barbeque, every night brings new excitement and a unique culinary experience.
Best for: All I do is win, win, win.
Address: Gaafu Alifu Atoll Meradhoo Island, 17100, Maldives
Price range: $$$
Website:www.raffles.com/maldives/
St Regis
Drawing its inspiration from marine life with touches of Maldivian culture, the St Regis is one of the best eco friendly all inclusive resorts in the Maldives. Each villa is designed to relax and reinvigorate your spirit through natural wooden hues and avant-garde interiors. Whilst all 77 residences are uniquely ravishing, the Overwater Villa is the pinnacle of luxury. The eco chic palace features a private gym, cinema, a colossal infinity pool, a jacuzzi and multiple plunge pools. Care to join us?
St Regis is also renowned for its ocean-inspired Iridium spa. And between the Ayurvedic suites, private steam rooms and tantalizing scrubs, it's almost impossible not to pop in daily. That's if you're not on the luxury yacht or choosing a new book in the exclusive library. After a more active vacation? The state-of-art jumping fitness center, tennis courts and watersports center are just a few of the more athletic options on offer. While mouthwatering menus at any of the five restaurants are well worth working up an appetite for.
Best for: Marine life meets Maldivian culture.
Address: Vommuli Island Dhaalu Atoll, 13080, Maldives
Price range: $$$$
Website: www.marriott.com/en-us/hotels/mlexr-the-st-regis-maldives-vommuli-resort/
Soneva Fushi
Culinary aficionados and self-proclaimed foodies gather around: you're about to embark on a culinary adventure. Located on Kunfunadhoo Island, Soneva Fushi is renowned to have some of the most exoitc and best restaurants in the Maldives. You've got the world's first fine dining zipline experience at Flying Sauces. You've got a fully plant-based fine dining menu at Shades of Green. And you've got the relaxed Cinema Paradise with an Australian-inspired menu—to name a few. All the others are equally enticing and truly unforgettable.
Besides the food, Soneva Fushi features rustic chic villas; each with their own private pool and deck. While the treetop rooms add to the castaway spirit with a playful Crusoe-esque tranquility. The luxury resort's Seven Stars Programme celebrates the diverse array of guest activities and experiences—from Michelin star chefs to sporting legends. If this is what being a castaway is, we're jumping on board (or rather off it).
Best for: Self-enlisted castaways and culinary aficionados.
Address: Kunfunadhoo Island, Eydhafushi, Maldives
Price range: $$$$
Website: soneva.com/resorts/soneva-fushi/
JOALI
JOALI has the innate ability to exceed even the highest expectations. And it isn't until you've experienced it for yourself that you truly understand just how surreal it really is. But we'll try our best to explain. Sophisticated yet sensual, JOALI draws you in with its deluxe over water villas and charming traditional thatched roofs. While the outdoor showers and baths highlight the healing effects of natural simplicity.
The bountiful breakfast at JOALI sets the tone for the abundance of luxury that follows. And whether you choose to spend your days on the water, by the pool or in the steam room, you're guaranteed to have plenty to talk about over dinner. On that note, we still can't decide whether we prefer the Indian cuisine at Vandhoo or the Japanese infusions at Saoke. Luckily we don't have too, we'll just try them all.
Best for: Raising soaring expectations.
Address: Muravandhoo Island Raa Atoll, Maldives
Price range: $$$$
Website: www.joali.com/
Dusit Thani
From the air it may look like an emerald drop in the ocean, but when it comes to Maldivian luxury, we can testify that it is a whole lot more. Located on Mudhdhoo Island, the eco friendly all inclusive resort is a reprieve from everyday mundanities. From the sumptuous villas to energy and sound healing therapy, there are plenty of ways to rediscover your youthful energy at this restful resort.
Dusit Thani is inspired by their Thai heritage, infused with the friendly Maldivian culture to create an oasis that is both soul-restoring and refreshing. All the villas are injected with their personality, but we particularly recommend the Water Villas, set on stilts above a scintillating turquoise lagoon. And when you're not soaking up ocean views from the comfort of impossibly high thread count sheets, there's no better way to pass the time than with a traditional Thai massage or a fresh seafood grill—naturally, we'll take one followed by the other, please.
Best for: More than a drop in the ocean of Maldivian luxury.
Address: Mudhdhoo Island, Maldives
Price range: $$$
Website:www.dusit.com/dusitthani-maldives/
Como Maalifushi
Como Maalifushi is founded on the unspoilt Thaa Atoll—the best Maldives island for surf breaks and diving. The luxury resort is therefore an oasis for adventure enthusiasts. With an activity menu ranging from turtle expeditions to UV night snorkeling and everything in between, you're bound to try something new. While the holistic wellness center takes care of family members who would rather spend their afternoons indulging in facials, scrubs and massages. Can't decide between the two? The resort's schedule of daily activities has your whole day mapped out for you with a balance of activity and rest.
The serene interior speaks to the ataraxia of the surroundings. While elegant marble touches and contemporary wooden sculptures exude high-end finesse. Such sophistication extends beyond the architecture and into the cuisine. And whatever you sample on the menu—be it fresh fish to Como's signature Shambhala cuisine—you're in for the best kind of surprise.
Best for: Raw elegance.
Address: Thaa Atoll, Maldives
Price range: $$$$
Website:www.comohotels.com/en/maalifushi
Constance Moofushi
Five-star luxury doesn't have to be pretentious. And Constance Moofushi proves it. Positioned in South Ari Atoll, only a short seaplane ride from Male, this all inclusive eco resort is all about having a good time and prioritizing relationships. Planted right on the beach, the rustic Caribbean-style wooden cabins exude a homely, relaxed attitude. While their friendly staff and genuine hospitality go all out to remind you that you're not at home.
Constance Moofushi is surrounded by coral reefs. And as well as their devotion to conserving the exotic sea life, the luxury resort provides plenty of ways to experience it. Whether it's manta ray and whale shark excursions, pedalos or catamarans—no two days on the island are ever the same. Looking to exert yourself as little as possible? Add the Constance Spa to your everyday itinerary. Between various treatments, lounging at the infinity pool and eating your way through excellent gastronomy, it's not difficult to switch to holiday mode.
Best for: Unpretentious opulence.
Address: South Atoll, Alifu Atoll 00200, 3.8853495, 72.7275221,18, Moofushi Island, Maldives
Price range: $$$
Website: www.constancehotels.com/en/hotels-resorts/maldives/moofushi/
Kanuhura
The whale-shaped island of Kanuhura lies in the Lhaviyani Atoll. And this is where you'll find a secluded oasis—laidback and idyllic—extending its hospitality to the burnt-out and sleep-deprived. There's no better way to recover from endless meetings and stressful clients than on an island where your only commitments are Thai massage appointments and sunset cruises.
Seeking adventure more than rest? Kanuhura has plenty of activities. All guests are given bicycles to explore the island on their own. While kayaking, snorkeling, tennis, volleyball and pilates are the ordre du jour. After a tandoori lobster and copious cocktails reprieve to your thatched-roof room, where whitewashed woods, geometric prints and impossibly soft sheets ease you into dreamland.
Best for: Subbing out client meetings for Thai massages.
Address: Kanuhura, Maldives
Price range: $$$
Website: www.sixsenses.com/en/new-openings/kanuhura
The Baglioni
Located on the enchanting Dhaalu Atoll, the understated resort does little to detract from the sheer sensationalism of its natural surroundings. Planted on powder white sands, overlooking emerald oceans, the charming thatched-roofed villas have everything you need. While the eco-chic interior, outdoor baths and private infinity pools consistently remind you of where you are.
The Baglioni is an Italian hideaway in the middle of the Maldives. And if you thought that Naple-level pizzas and tropical island bliss only merged in your dreams, this sumptuous resort is set to prove you wrong. When you're not indulging in the mouthwatering cuisine, we'll see you flowing through vinyasas, watersporting or star gazing at a secret location.
Best for: Mamma mia, this is magic!
Address: WWX7+4R, Maagau Island, Rinbudhoo, Maldives
Price range: $$$$
Website: www.baglionihotels.com/branches/baglioni-resort-maldives/
Coco Palm Dhuni Kolhu
From tiny details like wooden toothbrushes in the bathrooms to big initiatives such as the on-site glass bottling site, Coco Palm is dedicated to sustainable tourism and marine conservation. And as luxury eco vacation enthusiasts, we couldn't be more delighted.
Beyond their devotion towards raising environmental awareness, Coco Palm Dhuni Kolhu is also devoted to raising our standards for what constitutes luxury. From a bird's eye view, the thatched villas are spread out to replicate a palm leaf. From the inside, they have the unique ability to ground us to nature, whilst pampering us with modern comforts. Such earth-inspired pampering extends to the uplifting natural spa. And also to their artistry of fresh, organic cuisines. Don't worry about charging your phones, you won't need them—unless it's to capture the sunset and dolphins.
Best for: Eco chic luxury in the palm of your hand.
Address: Coco Palm Dhuni Kolhu Resort, Baa Atoll, Maldives
Price range: $$$
Website: www.cococollection.com/en/palm
Como Cocoa
Slip out of bed and into the sea at one of our best all inclusive eco resorts in the Maldives. Infusing relaxation with a touch of wild adventure, Como Cocoa is a haven for couples, families and solo travelers alike. Set on stilts above crystal clear waters, the serene villas are uniquely inspired by the island's traditional dhoni boats. While the contemporary amenities are likely to be foreign to local fishermen.
Renowned for having one of the best wellness centers, the Shambhala Retreat at Como Cocoa embodies their philosophy for healthy living in every aspect. And a schedule of daily activities ranges from vinyasa flows to shark snorkeling to cooking classes. The gastronomy experience is equally exciting and in line with their holistic approach to wellness. Expect Mediterranean banquets, seafood feasts and their signature Shambhala raw menu.
Best for: Therapist-prescribed.
Address: Makunufushi South Malé Atoll, 20109, Maldives
Price range: $$$$
Website:www.comohotels.com/en/cocoaisland
Frequently asked questions about the best resorts in the Maldives
Which part of Maldives is best to stay?
Renowned for its vibrant coral reefs, Six Senses at Laamu Atoll is the best place to stay for diving and snorkeling. Baa Atoll is also home to some of the most luxurious resorts in the country, including Four Seasons, Anantara and Coco Palms. While many exquisite islands are only a short seaplane ride away from Maldives' capital, Male
Which is the most beautiful Maldives island?
With swathes of pristine white sand, soaring palms and crystal clear emerald seas, Baa Atoll has got to be the most beautiful Maldives island. It's also home to the UNESCO Biosphere Reserve, making it a haven for wildlife conservation.
Where did the Kardashians stay in the Maldives?
The Kardashians stayed at the Conrad Rangali. The luxury resort is renowned as a hotspot for A-list celebrities—especially the Muraka villa. The double-story residence features an underwater glass dome master bedroom and multiple decks and pools overlooking the water.
What is the most popular Maldives island?
Home to the Maldives main international airport, Male island is the most popular destination for tourists. And whilst the idyllic island features many of the best resorts in Maldives, we specifically recommend the One&Only, Velassaru and Gili Lankanfushi.