We've already mentioned Oman as one of the most understated countries we've encountered. From some of the most serene seaside resorts to rugged mountain escapes, this Middle Eastern oasis has totally debunked our expectations. And with silken desert massage and clifftop treatments, it's proven to be one of the most relaxing vacation destinations. In addition, the date palm-lined pathways, naturally growing frankincense trees and scattered pomegranate bushes speak to the unique, affluent foliage. And—yes, you guessed it—the memorable Omani cuisine also took us by surprise. 
If you're anything like us, you may have expected shredded meat to overwhelm the culinary scene. And while many of the local dishes do include meat, we've found authentic meat-free plates that are just as good (if not better). These include Asian-inspired Yasai Yaki Udon Noodles, organic smoothie bowls and of course the best pad thais in the country—a prerequisite for veganism. But the real standout when it comes to vegan food in Oman is the number of incredible Indian eateries, many of which boast a fully plant-powered menu. However, don't shy away from the vegan options at authentic Omani restaurants for a taste of local culture—not to mention that our top picks are also sensationally scrumptious.
Don't know where to start? We've got you covered with our list of the best vegan restaurants in Oman.
The 13 best vegan restaurants in Oman
Wagamama
In the midst of so much newness, spotting a bit of familiarity in the form of Wagamama can be almost just as exciting as the bustling souks and passing goats. And if you're a vegan, we can already see that smile sprawling over your face as you realize that lousy side salads are not the ordre du jour.
With almost two hundred franchised restaurants worldwide, Wagamama is renowned for its fried noodles and flavor-packed ramens. Like many Asian cuisines, they don't have to try very hard to perfect vegan dishes, they seem to do it quite naturally. And subsequently they have a whole page dedicated to plant-powered options. The Yasai Pad Thai is a failsafe classic. While the Yasai Yaki Udon Noodles hero mushrooms and beansprouts with a ginger zing.
Best for: Wagging our tails to familiar favorites.
Address: Al Wilaj St, Muscat, Oman
Opening days and hours: 
Sat-Wed: 11am-10:45pm
Thurs: 11am-11:45pm
Fri: 12:30pm-11:45pm
Price range: $
Website: www.wagamama.om/
Charm Thai
Along with yoga flows, Thai food and veganism go hand in hand. And with rice noodles, soy sauce, coconut milk and tofu on your side, most plant-powered travelers' first port of call is finding the best Thai eatery.
Whilst this isn't always an easy task, we've done the groundwork for you and can confirm that Charm Thai is a vegan haven. Located in the prestigious Crowne Plaza, the resplendent interior features vibrant artworks, purple velvet couches and other eclectic touches. And with superb plant-based plates, Charm Thai is not only the best vegetarian restaurant in Muscat but it also has a plethora of vegan options. You can't go wrong with their Pad Thai (sans egg). While veggie-packed, coconut milk curries turn up the heat.
Best for: Charming us with flavor-packed infusions.
Address: Oman Convention & Exhibition Centre, Crowne Plaza Muscat، Muscat, Oman
Opening days and hours: 
Mon-Sat: 12pm-3pm; 6pm-10:30pm
Sun: closed
Price range: $
Website: www.ihg.com/crowneplaza/hotels/us/en/muscat/msccp/hoteldetail/dining
Soha
Soha may not be pretty from the outside, but we can assure you that what it lacks in aesthetics, it makes up for in flavors. Plus the unbelievable prices and generous portions mean that you don't have to count it as dining out—it's more of an everyday pop-in.
As one of the best vegetarian restaurants in Muscat, Soha's menu is solely powered by plants. And whilst a few of the dishes may include dairy products, most of them are vegan too—just be sure to check with your waiter. When it comes to picking a wholesome plate, the options are endless. From Chinese veg fried rice to an unparalleled Paneer Masala, no two meals need to be the same—although we know that when the first one nails it, it's hard to try something new.
Best for: An everyday affair.
Address: HCQH+MM7, Muscat, Oman
Opening days and hours: 
Mon-Sun: 7am-11pm
Price range: $
Website: www.soharestaurant.com/
Organic Coco Bowls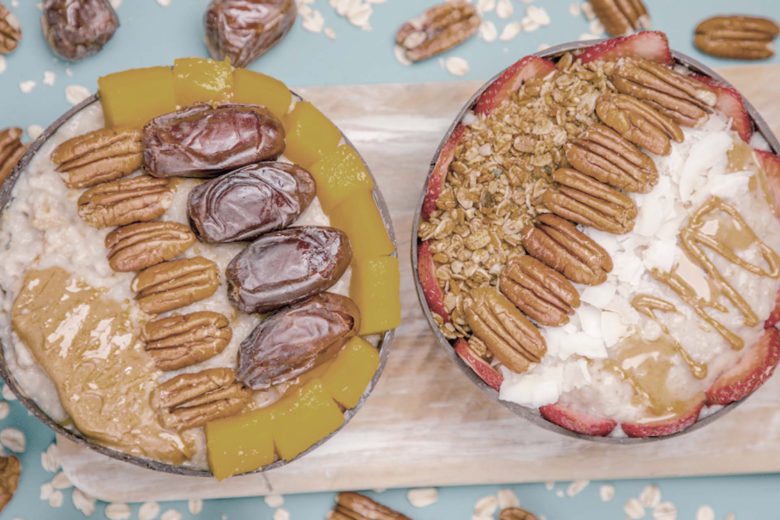 Vegan or not, Organic Coco Bowls is one of the best restaurants in Muscat for nourishing breakfasts and brunches. Bringing a taste of the Balinese tropics to the capital city of Oman, the resplendent smoothie bowls are served in earthy coconut shells. While the eco chic interior points to the healing power of fresh, raw ingredients.
Organic Coco Bowls is a vegan paradise and all of their bowls are made with coconut milk, making them void of any animal products. The smoothie bowls are a must-try, especially on a typical sweltering Omani morning. We're particularly partial to the Lover's Bowl, a combination of berries, maple syrup and fresh pomegranate—a classic Omani ingredient. Looking for something more hearty? The mango overnight oats layered with dates and pecans is sure to hit the spot.
Best for: Teleporting to the tropics with organic local ingredients.
Address: 18th November St, Muscat, Oman
Opening days and hours: 
Mon-Sun: 10am-12am
Price range: $$
Website: organic-coco-bowls.business.site/
Kurkum
Located between the famous Muttrah Souq and regal fort, Kurkum is a reprieve from the hustle and bustle of Muscat's streets. As one of the best Indian veg restaurants in Muscat, Kurkum's clean white elegant interior speaks to a refined sophistication. While the fine dining menu features a myriad of aesthetically presented Indian dishes—many of which happen to be vegan.
The Kurkum experience begins with a complimentary drink and amuse bouche, while browsing through the enticing menu is a mouthwatering affair. As a vegan, feel free to skip straight to the vegetable dishes, where a variety of plant-powered plates await your perusal. We recommend the coconut and chili okra. And the Bharwan Bhindi is also a standout. End the journey with a refreshing mango or lemon sorbet. You may just need it after all the spice.
Best for: An elegant reprieve from sightseeing.
Address: JHC8+6CM, Muscat, Oman
Opening days and hours: 
Sat-Thurs: 11am-10:30pm
Fri: 1pm-10:30pm
Price range: $$
Website: www.kurkumoman.com/
Mumtaz Mahal
Not only is Mumtaz Mahal one of the oldest and most prestigious fine dining restaurants in Muscat, but it is also one of the best for vegetarians. And whilst we know that many animal-lovers prefer their plant-powered plates seated on a yoga mat, surely everyone appreciates a bit of luxury every once in a while?
Mumtaz Mahal is elegantly adorned as the white and black interior sets the tone for a sophisticated soiree, while chic indoor plants add a touch of earthy tranquility. With a substantial selection of veggie plates, vegetarians are spoilt for choice—an unknown privilege for most. Many of the dishes do include cottage cheese, so as a vegan you are slightly more limited. But options such as the Vegetable Korma and Corn Palak Paneer are both dairy-free and sensationally scrumptious.
Best for: Transporting to medieval Muscat—with modern twists.
Address: Box 1142 Qurum OM, 114, Oman
Opening days and hours: 
Sat-Thurs: 12pm-3:30pm; 7pm-12am
Fri: 1pm-4pm; 7pm-12am
Price range: $$$
Website: www.mumtazmahal.net/
Sprout
Cool and contemporary, Sprout could be found on a high-end street in any cosmopolitan city. So stumbling upon it in the middle of Oman is a more than pleasant surprise—especially if you're a vegan. With a mission to cultivate a healthy, sustainable lifestyle amongst Omani locals, the eco chic space is conscious about implementing environmentally-friendly initiatives.
Famous for their nourishing bowls, Sprout is fully vegetarian. As a vegetarian, the Pumpkin Feta Quinoa is a popular choice. And as a vegan, the Mexican bowl might just become your staple. Don't leave without tasting their sweet treats. And yes, almost all of them are vegan-friendly. From the dairy-free chocolate chunk tahini cookie to mini date brownies, we recommend taking home a selection of guilt-free delicacies.
Best for: Sprouting out of nowhere.
Address: Bawshar near Al Ameen Mosque, Muscat, Oman
Opening days and hours: 
Sun-Thurs: 9am-7pm
Fri-Sat: 10am-8pm
Price range: $
Website:www.sproutoman.com/
Ba Ban at W Muscat
Ba ban or babam? Located in the cool and contemporary luxury hotel, the W, Ba Ban exudes excellence in everything they do. Inspired by Asian cuisine, their top chefs aren't afraid to add their own avant-garde flair. And the results are both irresistibly delicious and exquisitely aesthetic. 
As one of our best restaurants in Oman, Ba Ban at W Muscat may not be a vegan restaurant per say, but we can confirm that their plant-powered plates are just as good (and if not better) than their meat options. When it comes to picking a starter, we recommend the Hidden Carrot Fried Dumplings. For your main, the stir fried shitake mushroom rice is a standout. And for dessert, their signature sorbet always hits the sweet spot.
Best for: Babam! We've hit the jackpot.
Address: Al Kharjiya Street, 103, Oman
Opening days and hours: 
Mon-Sun: 12pm-11pm
Price range: $
Website: www.instagram.com/babanwmuscat/
Woodlands
As one of our best Indian veg restaurants in Muscat, Woodlands personality-infused ambience and heartwarming dishes make for a superb dining experience. The unique interior features ancient, repurposed Indian antiques such as old lantern pendants and reclaimed columns. While the authentic Indian menu has a lot to offer vegans and vegetarians, with a dozen of mouthwatering mains to choose from.
From Chettinad delights to biryanis to North Indian favorites, Woodlands is an oasis for spice-lovers and flavor aficionados. For vegetarians, we recommend the Paneer Tikka Masala, featuring the traditional Indian barbeque-coated cottage cheese baked in a cashew sauce.
Vegans and non-vegans alike are known to go wild for the Ennai Kathirikai—heroing eggplants in a spicy masala and coconut sauce.
Best for: Getting spicy.
Address: JF23+9XR, Muscat, Oman
Opening days and hours: 
Mon-Sun: 11:30am-11:30pm
Price range: $$
Website: woodlands.co.om/
Kamat
Kamat isn't about fluff and frills, they're more concerned with packing as much flavor as possible into every dish—and on that they deliver in spades. Ok, you caught us, we may be slightly biased towards the Indian vegan dishes in Oman, but we're pretty sure you will be too once you tuck into their perfectly balanced curries.
Your culinary journey begins the minute you walk through Kamat's doors as wafting aromas and sizzling sounds overwhelm your senses. And from there, it only gets better as the menu is entirely vegetarian. Just be warned, that many of the dishes include paneer—a local cheese—so if you're a vegan, look for the one's without it. We're especially fond of the Vegetable Kebab with a side of Masala Bhath rice. And if you're after something more saucy, the Veg Mumtaz is always a winner. But the best way to experience all the exotic flavors is to go all out with a sharing table.
Best for: Releasing your inhibitions and tucking in.
Address: JG3V+93P, Muscat 112, Oman
Opening days and hours: 
Sun-Thurs: 10:30am-3pm; 6:30pm-11:30pm
Fri: 8am-11:30am; 1pm-3pm; 6:30pm-11:30pm
Sat: 8am-3pm; 6:30pm-11:30pm
Price range: $
Website: www.facebook.com/KamatOman/
Bait Al Luban
Forget the next tourist site on your itinerary, Bait Al Luban is one of the most authentic Omani experiences you'll get. Adorned with bronze pendants hanging from the ceiling, printed Persian carpets and regal velvet hues, this elegant eatery exudes culture and charm. They also haven't neglected their plant-powered plates—for which we love them even more.
Bait Al Luban is well priced, yet maintains an air of sophistication and finesse. The vegan dishes are all superb. But as one of our top dishes on the entire menu (veg or not), the Saloonat Khudhar (a traditional Omani curry), takes the cake. While the Mchicha Wa Nazi—spinach cooked in coconut cream—comes in at a close second. The Eggplant Cloud salad is also fantastic for something a bit lighter.
Best for: A taste of Omani culture.
Address: Harat A'shamal Street, Om Muttrah Corniche Om, 130, Oman
Opening days and hours: 
Mon-Sun:12pm-11pm
Price range: $
Website: www.facebook.com/baitallouban/
Dukanah Cafe
With wicker mats, clay bowls and brass teapots, Dukanah Cafe is another Omani classic—one where you feel totally transported to a different time and place. Featuring the Middle Eastern version of mezze platters, fresh salads and wholesome oats, this authentic eatery is the perfect spot for breakfast, lunch or dinner.
Dukanah Cafe is known for its tapas style platters, which of course can effortlessly be made up to meet a vegan-diet. The beetroot hummus, daal and babaganoush are some of the best you'll try. While roasted chickpeas, cucumber slices and olives are the perfect accompaniments. Looking to grab something on the go? The pumpkin salad is effortlessly refreshing in the sweltering climate.
Best for: A relaxed rendezvous.
Address: H9JX+5MH, Muscat, Oman
Opening days and hours: 
Mon-Sun: 8am-11pm
Price range: $
Website: www.instagram.com/dukanahcafe/
Ghasitaram Halwai
You've probably already realized that as a vegan in Oman you're pretty well catered for. And here's another vegetarian restaurant in Muscat to prove it. The lowkey interior is nothing fancy, but it is clean and quaint. While the real joy lies in the plant-powered plates presented. Yes, this is a fully vegetarian eatery—one that may even entice the most stubborn carnivores to cave.
Ghasitaram Halwai's menu boasts a plethora of veggie options, probably a lot more than you're used to. And whilst it may seem impossible to choose between the equally enticing descriptions, you almost certainly won't be disappointed with your order. For a saucy endeavor, the Chili Mushroom Gravy is a plate-licking splendor. While the Ginger Fried Rice is a popular choice amongst those who prefer cleaner tastes.
Best for: Converting stubborn carnivores.
Address: Al Khuwair, Muscat 113 Oman
Opening days and hours: 
Sun-Thurs: 7:30am-11pm
Fri-Sat: 5pm-11pm
Price range: $
Website: www.facebook.com/ghasitaramoman
Frequently asked questions about vegan-friendly restaurants in Oman
What is traditional Omani food?
Traditional Omani foods range from region to region, but most of them include curry, meat, and vegetable. Soups and shawarmas are also common. And vegetables are cooked in interesting ways, such as smoked eggplant. Many of the local deserts include fresh dates, whilst pomegranate and lime bushes also grow in abundance.
What is Oman's most famous food?
Shuwa is renowned as Oman's most famous dish although it is only prepared on special occasions. The local dish consists of traditionally spiced meat and is usually served with fragrant rice. Majboos—saffron rice with shredded meat—is also one of Oman's most popular dishes.
What do you eat in Muscat?
Whilst local Omani dishes are definitely worth trying, Muscat is also home to many international restaurants. Thai, Asian and Indian influences are amongst the most popular. And many of them include fantastic vegan options. For the best vegan-friendly restaurants in Oman, see Luxa Terra's curated list.
How much is a meal in Oman?
Meals in Oman are typically very affordable. You can get a delicious vegan plate for as little as $1.50. More expensive international restaurants are usually priced around $12. Whilst it's rare to find a menu with dishes over $20.