You might have already touched down at Denpasar airport a few hours ago but you'll feel a whole new level of being in Bali when you've checked into one of the best luxury hotels and resorts on the island.
The best hotels in Bali will swathe you in their authenticity; they'll envelop you in a world of majestic nature; shroud you in a destination where perpetual sunshine is a given and drown you — in the best way possible — in a feast for all the senses.
On an island where your surroundings can change from breathtaking mountainous backdrops to incredible surf breaks or stunning jungles in a matter of mere hours, it can be easy to feel overwhelmed by the magic all around you.
Worry not: the best resorts in Bali offer plenty of ways to adjust to your surroundings.
Soak up the scenery in oceanfront infinity pools, head to the sky for a deep breath in a world-class treetop yoga shala or simply lay back and relax on a king size bed dressed with soft, sustainable sheets.
The 23 best hotels in Bali
Six Senses Uluwatu
Six Senses might as well be called as such for the effect it has on all of your senses. The obvious one is the breathtaking views you'll spy in every direction, from the reds and yellows of the Indian Ocean sunsets, to the turquoise pools, the grey-tinged clifftops and the golden sands. Then there's the gentle scent of salt in the air; the waves crashing against the shore; the tingling flavours in this resort's dining experiences fusing aromatic spices and the feeling of the soft, soft bed sheets inside your villa.
The Sixth Sense here comes from the hotel's own unique charm, and encompasses everything else this spot promises. The exhilaration of the surf breaks down below, the serenity inside one of Bali's best spas, the spirit from the nearby Hindu temples and the uninterrupted bliss when you realise your stay here is only just beginning. Six Senses Uluwatu really does have it all.
Address: Jl. Goa Lempeh, Uluwatu, Kec. Kuta Sel., Kabupaten Badung, Bali 80361
Price range: $$$$
Website: www.sixsenses.com
COMO Shambhala Estate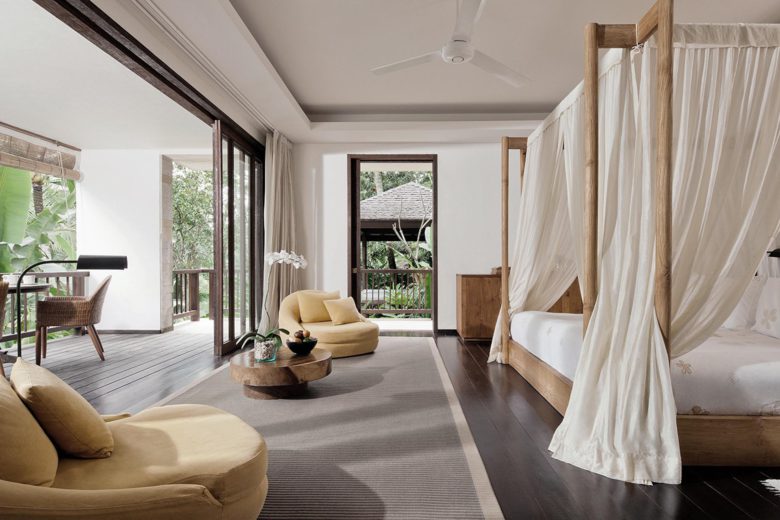 A 20-minute drive from the centre of Ubud, COMO Shambhala is shrouded in greenery. A resort that you just know will be as picturesque and peaceful as it looks in the photos, this five-star hotel keeps serenity at the core of its being. The perfect retreat for anyone who wants a healthy dose of rejuvenation, COMO Shambhala combines holistic wellness with state-of-the-art facilities and exceptional accommodation with natural surroundings.
Come here to drift off in the infinity pool, unwind in the spa or go on a culinary adventure in the flavours of Indonesian cuisine at the on-site restaurant, Kudus House. Here, you'll also find specialists in yoga and Pilates (COMO Shambhala is also renowned for being home to one of Bali's best yoga retreats) as well as wellness programmes spanning a few days. Take in the gently glowing lights, the verdant rice fields and the musical sounds of Ubud's jungle backdrop and breathe deeply for best results.
Address: Banjar Begawan, Desa, Melinggih Kelod, Payangan, Kabupaten Gianyar, Bali 80571
Price range: $$$
Website: www.comohotels.com
Alila Uluwatu
The reflection of the Bali sunrise on Alila's infinity pool in front of the ocean is enough to convince you to check into this prestigious spot for a few nights. Unbeatable, world class sunsets are a primary reason many of Bali's tourists head to Uluwatu, and you'll be able to witness some of the best of the best from Alila Uluwatu. Set high up on the clifftops, waking up in this hotel is a treat in itself, before you've even had a chance to wander around the rest of the facilities here.
Villas come with garden or ocean views, spacious bedrooms, private cabanas and huge bathtubs. Elsewhere you'll find a vast variety of culture in the form of art, music and food; highlighting Indonesian charm in Alila's own unique way. Wellness and relaxation follow closely — providing harmony when you've exhausted yourself surfing, swimming or simply wandering around.
Address: Jl. Belimbing Sari Tambiyak, Pecatu, South Kuta, Badung Regency, Bali 80364
Price range: $$$$
Website: www.alilahotels.com 
The Ungasan
The Ungasan seems to take the dial of life and turn it up a notch or two. Everything about this resort is vibrant and elevated, with azure, cooling swimming pools punctuating the land it sits on, almost fluorescent green grasses between each pool and stone grey rooftops adding a stylish touch to each villa. The Ungasan, situated close by to Uluwatu, sits on the magical Bukit Peninsula and is surrounded almost entirely by Bali's beautiful bright blue waters.
World class dining, led by renowned chef Josh Tyler, is reason enough to visit The Ungasan, before you're inevitably taken in by magic surrounding the rest of this hotel. With its suave villas and especially cosy beds, The Ungasan is definitely one of Bali's best hotels. But even if you can only squeeze in a day trip to this part of the island, a trip to Sundays Beach Club here is absolutely unmissable.
Address:  Jl. Pantai Sel. Gau, Ungasan, Uluwatu, Kabupaten Badung, Bali 80361
Price range: $$$$
Website: www.theungasan.com
Katamama
Mention Potato Head to any self-respecting Bali fan and you'll automatically get a seal of approval. Everything about this spot oozes cool: the beautiful infinity pool at the beach club, the vegan restaurant on-site and that's before you've even checked out the incredible villas here. Katamama Suites are a fusion of Bali's best features: stylish rooms with a border of red brick (over 1.8 million terracotta bricks, to be exact), designed in collaboration with architect Andra Matin and built from materials drawn from the earth. 
It's a sustainable boutique hotel in the heart of Seminyak, which means if you ever desire to leave Potato Head and venture outside, you've got the rest of Bali's coolest neighbourhoods at your fingertips. Each of the 57 suites are filled with new-and-old treasures from around Indonesia, which also gives you a unique chance to admire your temporary country of residence as soon as you wake up.
Address: Jl. Petitenget No.51B, Seminyak, Kec. Kuta Utara, Kabupaten Badung, Bali 80361
Price range: $$$
Website: www.potatohead.co
Amandari
A trip to Amandari is just as exhilarating as it is stimulating. This resort perfectly fuses adventure with its unique, chilled out vibes, for an unforgettable experience that you'll picture in your dreams. Amandari, designed after a traditional Balinese village on the verdant lip of the Ayung River Gorge, is a luxury resort that's home to traditional Balinese charm with plenty of modern features.
Everything about Amandari is thoughtful: the decor is authentic and unpretentious; the thatched-roof suites allow you to be comfortably at one with nature thanks to the sliding glass doors design and cascading rice terraces offer plenty of room for reflection. Wellness here is taken seriously at a spa bathed in tranquil dappled light, situated through the gardens at the edge of a lotus pond. Traditional Indonesian treatments are some of the finest options on the menu here, bringing together the country's wellness culture in a whole new way.
Address: Jl. Raya Kedewatan, Kedewatan, Kecamatan Ubud, Kabupaten Gianyar, Bali 80571
Price range: $$$$
Website: www.aman.com
Mandapa, a Ritz-Carlton Reserve
The word "Mandapa" is a Sanskrit one, which translates to "Temple". It's a word that's not only inspired the sense of peace that envelops the entire resort but also one that's inspired the architecture and interior design of the place. Mandapa, a Ritz-Carlton Reserve, sits in the midst of tropical jungle Ubud, and is renowned for being a wonderfully secluded sanctuary beside the Ayung River.
Verdant rice paddies and rolling hills serve as more incredible views from your hotel room, where you'll find yourself swathed in the comforts of soft, muted bedding and luxurious amenities. Mandapa is an excellent spot for anyone looking to chill out: something you'll believe wholeheartedly once you've taken a trip to the resort's on-site spa. Yoga classes, held in the river-facing pavilion, holistic wellness and lifestyle programmes and four unique dining experiences combine to promise that your time at Mandapa is a magical one.
Address: Jl. Raya Kedewatan, Banjar, Kedewatan, Kecamatan Ubud, Kabupaten Gianyar, Bali 80571
Price range: $$$$
Website: www.ritzcarlton.com
Amankila
Amankila is a little away from the usual luxury hotel stretch of Bali, which makes it all the more special. Overlooking the Lombok Strait on the east coast of Bali, Amankila is punctuated by beautiful black sand and endless ocean views. This incredible spot claims a breathtaking stretch of unique coastline that exists alongside an equally magical lush hillside beneath sacred Mount Agung. Basically, if you're someone who appreciates waking up in the morning already slightly overcome at the views around you, Amankila is an unmissable resort.
A three-tier infinity pool cascades at the property's heart and acts as the perfect spot for some midday relaxation. If you're looking to add a little more entertainment to your trip, head to the resort's Beach Club, set on a private black-sand beach. Elsewhere here, you'll find oceanside dining, free-standing suites set atop stilts in the treetops and adventures at sea just a moment away.
Address: Jl. Raya Manggis, Manggis, Kec. Manggis, Kabupaten Karangasem, Bali 80871
Price range: $$$$
Website: www.aman.com
Four Seasons Sayan
Four Seasons Sayan is a breathtaking escape in the heart of the Ubud jungle. A riverside sanctuary that perfectly fits the definition of "getting away from it all", Four Seasons Sayan is home to elegant villas and suites with private plunge pools and emerald rice paddies in every direction. A dramatic suspension bridge leads the way into this resort, which guides the way across the treetops and into this bowl-shaped architectural wonder.
You might not be surprised to hear that Four Seasons Sayan is not only a beautiful resort for a week or two in Bali, but it's also a popular wedding destination or honeymoon spot. Everything about this resort encourages you to take a moment to simply breathe in its wonder, before spending some time exploring all of its premium facilities. Check into your room, make use of your own unique meditation area and relax against the tranquil sounds of the river backdrop.
Address: Jl. Raya Sayan, Sayan, Kecamatan Ubud, Kabupaten Gianyar, Bali 80571
Price range: $$$$
Website: https://www.fourseasons.com/sayan/
Capella Ubud
Think of a tent in the depths of the Indonesian jungle and you might not quite be filled with desire to go and visit for a relaxing break. But Capella is the exact opposite of a Bear Grylls-style free for all; instead preferring to take the definition of camping and flipping it on its head into something glamorous and peaceful. Capella's luxury tented retreat is a unique spot constructed within the trees and hidden from afar. If your idea of a tent consists of attempting to connect the pegs in the pouring rain, wellies on feet and rain jacket on back, think again.
Tents at Capella edit the definition into something very special: one-bedroom terrace tents with large outdoor decks, indoor and outdoor bathrooms and unspoilt views. Plush mattresses, oversized daybeds and private pools ensure there's close to zero chance you'll spend your time here sitting round playing card games in the rain and, if you do happen to get bored, you can revive your sense of wanderlust with a curated tour.
Address: Jl. RY Dalem, Keliki, Kec. Tegallalang, Kabupaten Gianyar, Bali 80561
Price range: $$$
Website: www.capellahotels.com
Hoshinoya
You might not be someone who typically believes in "energy" and spirituality but it's easy to feel a little overcome with both of the above at Bali's Hoshinoya resort. A beautiful hidden retreat in a Balinese water garden, Hoshinoya fuses Hinduism with animism and lots of other "isms" to simply create a breathtaking resort with an air of tranquility all around it.
The location of Hoshinoya adds to this serenity: located close to the famous spring of Tirta Empul and surrounded by the gentle waters of the Pakerisan River, it's difficult not to consider some kind of otherworldliness while you're here. The resort itself takes water very seriously: it flows between buildings and into the river, circling back around with a reassuring consistency. You'll also find pristine waters in the resort's Cold Pool and another huge swimming pool. Elevated gazebos provide a bird's eye look down at the stunning scenes below you.
Address: Br. Pengembungan, Pejeng Kangin, Tampaksiring, Pejeng Kangin, Tampaksiring, Kabupaten Gianyar, Bali 80552
Price range: $$$$
Website: www.hoshinoya.com
Hanging Gardens of Bali
The Hanging Gardens of Bali resort is the perfect romantic escape. Renowned as being one of the best resorts in the world, the Hanging Gardens are a talking point no matter how long ago you visited. Untouched jungle ambience is best enjoyed with your other half, and there's no better setting for it than in the resort's riverside pool villas, complete with four poster beds and sweeping views.
This is the place to stay to truly take advantage of Ubud's tranquility: a room that's perched high on wooden pillars, designed in an authentic Balinese style and is home to a private infinity pool, poolside gazebo, terrazzo bathtub and impossibly soft cotton bathrobes. The ideal place to unwind and soak up the sights and sounds of the surrounding jungle, The Hanging Gardens of Bali will make you seriously consider extending your stay, no matter the cost.
Address: Buahan, Payangan, Gianyar, Bali 80571
Price range: $$$$
Website: www.hanginggardensofbali.com 
Bisma Eight
It doesn't take long to recognise the sheer attention to detail that exists in every corner of Bisma Eight's incredible boutique resort. A brilliant Ubud find, this resort encompasses Balinese charm in the best way possible, with spacious suites that highlight the vibrant, lush greenery of their immediate surroundings and Artisan-appointed decor. Existing as your own personal sanctuary in the heart of Ubud, Bisma Eight promises a healthy dose of relaxation in a resort that you'll have no desire to leave.
Here, natural gardens and quiet ponds guide the way to your villa, home to Indonesian-infused bedrooms, a private pool and a beautifully shaded garden. Stroll further into the resort to indulge your mind, body, and spirit at the Mandala spa, or spend a languid day eating and drinking your way through Bisma Eight's dining experiences, many of which are created using the resort's onsite organic garden.
Address: Jl. Bisma No.68, Ubud, Kecamatan Ubud, Kabupaten Gianyar, Bali 80571
Price range: $$$$
Website: www.bisma-eight.com
The Slow
"Slow" is both a descriptor and a command. It's a word that accurately sums up your movements at the resort, while commanding that you do just that. It's a command you'll also be more than willing to follow when you see what's in store. The Slow might be based in Canggu, one of Bali's most lively neighbourhoods, but it acts as a brilliant sanctuary away from the hustle and bustle going on outside.
This hotel is charming and understated, airily existing in its own dimension away from the rest of Canggu in a place so wholesome you'll picture it in stressful moments of the future. Come to The Slow to lie back in its cooling swimming pool waters; to run your hands along its uniquely designed accommodation; to wake up your senses at the on-site restaurant. Visit The Slow with your favourite book, to watch the surrounding greenery gently shake with the breeze and to momentarily switch off from everyday life.
Address: Pantai Batu Bolong St No.97, Canggu, North Kuta, Badung Regency, Bali 80361
Price range: $$
Website: https://theslow.com/
Hotel Tugu
You never really know what to expect at Canggu's Hotel Tugu. Each room here is uniquely designed, which means there's a high chance you'll arrive expecting to check into one of the impeccably designed rooms you admired on Instagram and end up somewhere completely different, in the best way possible. This is a more traditional hotel than others in Bali: in the sense that the decor is less white, airy and rattan and more Indonesian-inspired, with majestic details and royal designs.
Expect jewel-coloured features that are both stunning and dramatic, blended together with a vast, eclectic collection of antiques from all over Asia. It's a hotel filled with stories, combined with a soulful spa, a culinary journey at the resort's restaurant and a seductive, exotic atmosphere wherever you may find yourself. If you're looking for western comforts in Indonesia, think again. If you're looking for a beautifully immersive, authentic escape into Indonesian culture, come to Hotel Tugu.
Address: Jl. Pantai Batu Bolong , Canggu Beach , Bali
Price range: $$$
Website: www.tuguhotels.com
Bambu Indah
You'll find yourself almost immediately immersed in nature when you arrive at Ubud's Bambu Indah. This luxury eco-retreat infuses its surroundings into every element of your stay, from the huge palm trees gently waving around you to the authentic Javanese teak wood rooms that you'll call your temporary home.
A fusion of two worlds lies at Bambu Indah — one world that's relaxed and laid back, that encourages you to take some time to simply breathe, and another that'll have you desperate to view everything that this Ubud resort has to offer. Because there's plenty to see here. Bambu Indah offers a glimpse into a natural wonderland, with mini houses uniquely designed, tents in the treetops of the jungle canopy, and hidden houses — some more than 150 years old — all telling their own stories. Elsewhere at the resort, you'll find natural swimming pools, a spa and a range of stylish restaurants.
Address: Jl. Baung, Sayan, Kecamatan Ubud, Kabupaten Gianyar, Bali 80571
Price range: $$
Website: www.bambuindah.com
COMO Ubud
COMO Ubud takes its inspiration from far and wide across Asia. Fusing Indonesian charm with a wealth of experiences across the greater continent, this is a luxury resort in Ubud that really and truly makes you feel at home, while taking you on a magical adventure into somewhere completely new. Its premium amenities and wonderful designs manage to exude the charm of a traditional Indonesian village, offering the best of both worlds.
Nestled among paddy fields and hills, this spacious hotel has plenty of room for adventures, starting from the moment you check into one of its quietly contemporary bedrooms. Landscaped courtyards and infinity-edged plunge pools ensure a luxury experience from the moment you wake up in the morning. Overlooking the Tjampuhan Valley and River Oos, the calming spirit of your surroundings comes into its own at the on-site spa and the open-air yoga pavilion, which sits high in the Tjampuhan Valley.
Address: Jl. Raya Sanggingan, Banjar Lungsiakan, Kedewatan, Kecamatan Ubud, Kabupaten Gianyar, Bali 80571
Price range: $$$
Website: www.comohotels.com 
W Bali
W Bali is conveniently located on Seminyak Beach, which means it's an ideal spot for anyone who enjoys starting their day with a sunrise beach walk or simply just by admiring the gorgeous views. This beachside resort trades the ordinary for the extraordinary in an almost-too-big setting that you'll make it your goal to explore thoroughly.
Stepping into W Bali is almost like stepping into a village of its own: this spacious hotel spreads far and wide next to where the sea meets the sand, with plenty of experiences to check out along the way. Rooms here come with ocean or garden views, or villas with private pools and terraces if you'd prefer a little more privacy. Even if you're someone who typically drops your bags and rushes out to explore, you'll want to take some time to really soak up the stylish designs of your Seminyak home.
Address: Jl. Petitenget, Kerobokan, Seminyak, Kabupaten Badung, Bali 80361
Price range: $$$
Website: www.marriott.com
Four Seasons Jimbaran
You'll likely go to Jimbaran for two things: the freshest seafood — caught that morning — in Bali, and the spectacular beaches and sunsets that follow. But there's a third reason to visit and that's the Four Seasons Resort. Stylish and charming, this luxury resort doesn't hold back when it comes to quality or quantity. Everything here is larger than life, with an infinity pool surrounded by greenery and breezy villas channeling an authentic Balinese village vibe.
Stay here and experience indoor-outdoor living at its finest, with ocean-front villas with terraces just screaming to be lounged on with a good book. Looking for a truly bespoke holiday? Step things up a notch here with the addition of your own private chef, personal gym and infinity pool. Elsewhere at the resort, there's the Sundara Beach Club with daybeds and a delicious food menu, and elevated dining experiences, including one of the best brunches in Bali.
Address: Four Seasons Jimbaran Bay, Jimbaran, South Kuta, Badung Regency, Banten 80361
Price range: $$$$
Website: www.fourseasons.com
Anantara Seminyak
Tropical gardens and sweeping views of the Indian Ocean are just two of the things you'll admire when you first arrive at Anantara Seminyak. A beachfront paradise, this Seminyak escape is a haven for relaxation and switching off for a while. Balinese-inspired luxury is the name of the game here, with authentic styling and culture infused with all of the western amenities you could desire from your holiday.
Stunning sights are absolutely one of this resort's most impressive elements, from the rooftop sunset lounge and beachfront dining to the beachfront infinity pool and rooftop spa. No matter where you find yourself in this resort, you'll have something breathtaking to look at. But rest assured; if you're looking for adventure, this is an equally suitable spot. Seminyak, renowned for its incredible restaurants, bars and nightlife, is ready and waiting just a few moments away.
Address: Jl. Abimanyu Jl. Dhyana Pura, Seminyak, Kuta, Kabupaten Badung, Bali 80361
Price range: $$$
Website: www.anantara.com
Bulgari Resort
A secluded cliff top overlooking the Indian Ocean is where you'll find Bali's Bulgari Resort. Set on the bottom tip of the island in Uluwatu, this resort is perpetually doused in sunshine and comes with a sun kissed attitude to match. The Bulgari Resort is a place for serious holidayers: those that know what they want and what they want is the best. Service here is unparalleled, promising an unmatched experience that you'll look fondly back to years after you've landed back home from your trip.
Stay in either the resort itself or one of the nearby Bulgari villas or mansions. All of the above are stylishly decked out, the latter options simply providing more space and privacy. Spend a day relaxing in the Bulgari spa; one of the best spas in Bali promising an endless list of sumptuous treatments, or feast upon international dishes at one of the resort's many restaurants or bars.
Address: Banjar Dinas Kangin, Jl. Goa Lempeh Uluwatu Bali, Pecatu, Kec. Kuta Sel., Kabupaten Badung, Bali 80364
Price range: $$$$
Website: www.bulgarihotels.com
Viceroy
It's impossible to check into The Viceroy and not feel envious of the birds flying high above. This majestic resort is best viewed from the clouds, when you can properly take in its vast size before your mind starts whirring at all of its infinite possibilities. The Viceroy is a luxury, five-star resort that's family owned and operated, which means it offers the brilliant fusion of being caring and attentive while being large enough to find space for all of its amenities.
And what a list it offers: perched magnificently atop a gorgeous valley with spectacular views overlooking the Petanu River gorge is the resort's spa; a stand-by yoga master promises to bring you back to serenity at the drop of a hat; and a huge pool acts as the perfect way to cool off afterwards. Head to Cascades, the hotel's vibrant, all-day dining restaurant and bar, or experience Bali's fine dining at its best with the grand Apéritif.
Address: Jl. Lanyahan, Br. Nagi, Kecamatan Ubud, Kabupaten Gianyar, Bali 80571
Price range: $$$$
Website: www.viceroybali.com 
Ayana
Bali might already be known for being a perfect honeymoon spot but there's nowhere that really brings that fact to light more than Ayana Resort. Set facing the white sand beaches of Jimbaran, these private villas come with attention to detail that ensures you never forget you're in Bali. Luxurious linens, indigenous artworks, separate living areas and enormous marble bathrooms are just some of the many examples of Ayana's 'Little Luxuries' service, along with the rest of the charm that this resort exudes.
Think 12 swimming pools, think gourmet breakfasts delivered by your personal butler, think Ayana's famous Ocean Beach Pool, the award-winning Thermes Marins Spa and the beautiful surroundings enveloping you. Ayana's stunning forested grounds are also home to one of the island's best golf courses and the nearby beach is the place for enchanting Kecak dance performance beneath the stars.
Address: Sejahtera, Jl. Karang Mas, Jimbaran, Kec. Kuta Sel., Kabupaten Badung, Bali 80364
Price range: $$$$
Website: www.ayana.com
Frequently asked questions about the best luxury hotels in Bali
What is the most luxurious resort in Bali?
Some of the most luxurious resorts in Bali include the Four Seasons Sayan, The Bulgari Resort and Hanging Gardens of Bali. Read our full guide to discover the best luxury hotel for your trip to Bali.
Which is the best area to stay in Bali?
Canggu and Seminyak are the best areas for shopping, nightlife and excellent restaurants. Stay in Ubud or the north for spectacular nature or visit Uluwatu for beautiful beaches and the best surf spots. 
How much is a 5 star hotel in Bali?
A five star hotel in Bali is cheaper than in many other countries, and can range from around $150 a night up to thousands of dollars per night.
How expensive is a hotel in Bali?
A hotel in Bali is cheaper than many other countries across the world and prices vary a lot across the island. Generally, prices down south are more expensive than resorts and hotels in the north of Bali.