The unspoilt black sand beaches of the north, the vibrant surf culture of the south and the rejuvenating rice fields weaving between them in the centre: Bali's most contrasting neighbourhoods may have strong differences, but there's one thing they all share a love for: yoga retreats.
The Island of the Gods knows what's what in the world of eco-chic, sustainable yoga resorts. From the Canggu yoga retreats combining vinyasa flows with cooking classes and surf trips to the Uluwatu yoga retreats, punctuated with sunrise sessions overlooking the spectacular Indian Ocean — Bali is home to them all. 
Or, head to the famed yoga capital, Ubud, for an unparalleled experience with backdrops of hazy mountains and rainforests for miles. Bali's most healing properties come to life here. Tranquil natural surroundings and terracotta temples breathe wellness into every person who takes a second to stop and take in the magic.
This holistic haven is paradise on earth for beginners right through to advanced yogis. Immerse yourself in personalised flows, palm-tree whispers and the gentle hospitality of Indonesia's most healing island.
If you're looking to book yoga retreats anywhere in the world, Bali should be your very first thought. 
The 13 best yoga retreats in Bali
Bagus Jati: Best 3-day yoga retreat in Bali
Nestled in the rainforests of Ubud sits Bagus Jati: a fully immersive yoga retreat combining everything from unlimited classes and fire ceremonies to complement your three days. Set to the blissfully cooling climates that Ubud guarantees, Bagus Jati is akin to something from a fairytale. Three days in this yoga retreat has the potential to heal ailments, bring out new levels of relaxation and escape from everyday life.
Practise yoga in the mornings and afternoons, take a deep breath through daily meditation sessions and eat organic meals in the eco-restaurant. One of the best things about Bagus Jati's yoga retreat is how customisable the programme is, which means if you're craving one specific spa treatment or need some guidance for a particular flow, it can all be catered for your needs.
Address: Br Jati, Desa Sebatu, Tegalalang 80572
Opening days and hours: Open 24 hours 
Price range: $$
Website: www.bagusjati.com 
Sukhavati: Best 5-day yoga retreat in Bali
A sustainable jungle retreat with five-star service and amenities, Sukhavati's Luxury Ayurveda Program is a fusion of serenity and peace with massages, meditation and organic Ayurvedic vegetarian cuisine. It's a chance to switch off from the pressures of everyday life and completely relax into five days of healing. Awaken your senses and ignite your chakras through a series of yoga classes that are invigorating, challenging and reconnecting all at the same time.
Sukhavati's yoga retreats offer more than just yoga. A premium experience with all bases covered, it's a true journey through mind, body and spirit. Lectures and workshops on Ayurveda, Yoga and Vedic science alongside health consultations with an in-resident Ayurvedic doctor offer a natural and gentle approach to resetting any kind of internal frustrations. Detoxification therapies and treatments, methods to balance the bio-energies of the body and a complete cleanse inside and out ensure you're energised by the time you leave.
Address: Br Bebengan, Jl. Raya Tangeb, Abianbase, Mengwi, Badung Regency, Bali 80351
Opening days and hours: Open 24 hours 
Price range: $$$
Website: www.sukhavatibali.com 
Prana Veda: Best week-long yoga retreat in Bali
Some call Prana Veda "paradise on earth" and it's easy to understand why. En route to the resort you'll pass traditional Balinese villages, beautiful rice fields, volcano landscapes and coconut palm tree forests. And while some of Bali might sit firmly on the beaten path nowadays, Prana Veda exists dreamily on Bali's north coast, with only lava sand beaches, endless ocean views and the sound of the waves crashing as a backdrop.
For those looking for a true hidden oasis, Prana Veda offers one of Bali's best traditional yoga retreats. Start each day with either a Yoga, Meditation or Pranayama session before relaxing with multiple massage treatments. In the afternoon there's Yin Yoga or water, breath or dance-based meditations. Healing and cleansing waters paired with a silence day ensures plenty of time to detox both mentally and physically.
Address: Jl. Arcana, Bondalem, Tejakula, Kabupaten Buleleng, Bali 81173
Opening days and hours: Retreats start every Saturday at 5pm
Price range: $$$
Website: www.pranavedabali.com 
Floating Leaf Eco-Retreat: Best luxury yoga retreat in Bali
You'll feel like you're the floating leaf by the time you've finished the Eco Luxury Retreat: a fine-tuned week that's perfect for fully immersing yourself into Indonesian culture. Floating Leaf's huge Yoga Sanctuary is home to a variety of yoga styles and practitioners with everything from mats and blocks to inversion chairs, slings and post-practise relaxation hammocks.
If you're an early bird or a night owl, there are daily sunrise and sunset yoga classes set on the black volcanic sand beaches. As well as offering unlimited yoga, you can also experience a sacred guided purification ritual at Tempak Siring Water Temple and cleansing evening led by a Balinese High Priest.
Address: Jl. Pantai Purnama No.42, Sukawati, Kec. Sukawati, Kabupaten Gianyar, Bali 80581
Opening days and hours: Open 24 hours
Price range: $$$
Website: www.balifloatingleaf.com 
Fivelements: Best 10-day yoga retreat in Bali
Fivelements has made a name for itself for its signature detoxes, which promise to leave you feeling rejuvenated almost as soon as you've walked through its palm-adorned doors. Each jam-packed day uses ancient Balinese philosophy through yoga, energy sessions, healing massages and plant-based meals.
A healing cocoon nestled on the banks of the Ayung River, Fivelements is a retreat in every sense of the word, allowing each guest to feel centred, relaxed and harmonious through each personalised activity. A Balinese Fire Blessing Ritual, Rice field village walk and Holy Water Spring journey marry together a luxurious retreat that fully encapsulates the Island of the Gods' finest properties.
Address: Mambal, Abiansemal, Badung Regency, Bali 80352
Opening days and hours: Open 24 hours
Price range: $$$$
Website: www.fivelementsbali.com 
Desa Seni: Best customisable yoga retreat in Bali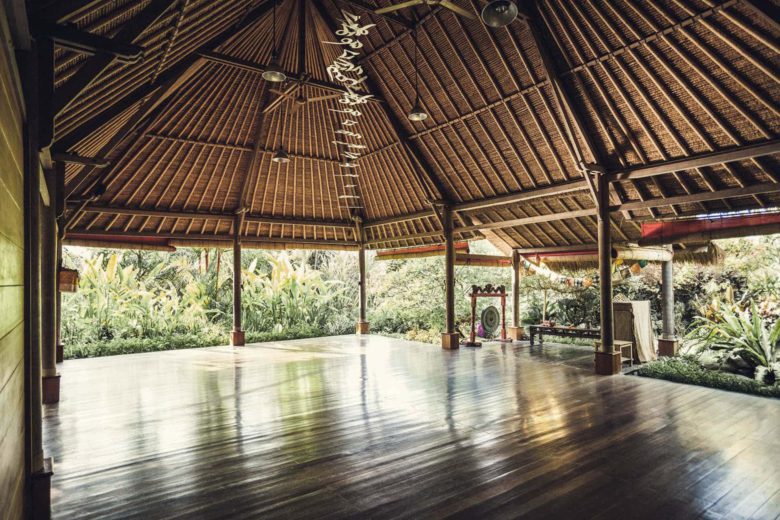 Desa Seni School of Yoga is a collective in the heart of Canggu offering fully customisable yoga retreats tailored exactly to your needs. Fusing yoga, movement, meditation and healing experiences with traditional Balinese accommodation surrounded by lush tropical gardens, Desa Seni is the place to go for a personal journey through deeper exploration. Group classes and private classes ensure the time and space to practise yoga however you feel most comfortable. The drop in nature of the schedule means there's no pressure to set alarms, allowing for a true sense of relaxation. Come along for five days, seven days or simply pay-as-you-go until you've had your fill.
Start each day with a nourishing breakfast before dipping your toe into any number of different scheduled classes. When you're not moving through sequences, take part in a healing experience, surrender to a full body massage or simply take in the vibrant green rice fields surrounding the centre.
Address: Jl. Subak Sari No.13, Canggu, Kec. Kuta Utara, Kabupaten Badung, Bali 80361
Opening days and hours: Open 24 hours 
Price range: $$ 
Website: www.desaseni.com
Udara Bali: Best yoga retreat in Canggu, Bali
Canggu is often regarded as Bali's hotspot for partying, surfing or shopping. But it's also home to some of the island's most famed yoga retreats. Udara Bali sets the scene with four awe-inspiring yoga shalas overlooking the ocean and ancient temples.
Unlimited yoga classes means you can spend as much time as you like practising Hatha, Aerial, Vinyasa, Yin, Healing Pranayama or Water Yoga. Each retreat package also comes with access to weekly events like a Cacao Ceremony, Sound Healing Journey or Herbal Workshop. And the nature of Udara makes it easy to have as sociable or reclusive a week as you would like. If you're looking for the former, make use of the twice-weekly included excursions to beautiful temples, rice fields or waterfalls.
Address: Jl. Pura Kramat, Cemagi, Kec. Mengwi, Seseh, Bali 80251
Opening days and hours: Open 24 hours 
Price range: $
Website: www.udara-bali.com
Elemental Alchemy: Best yoga retreat in Ubud, Bali
Ubud and yoga go hand-in-hand. You'll struggle to find another area in Bali with such a high density of yoga studios and other mindful practises. Among the best in Ubud is Somah's Elemental Alchemy retreat. This six-day experience guides you through dynamic meditations, movement and yoga for a true re-awakening with a heightened sense of inner peace. Elemental Alchemy does things a little differently, dedicating each day to a different element (Earth, Water, Fire, Air, Ether) with a focal point of journeying through your senses.
Pairing the highest calibre of teachers and facilities with Yoga Nidra and Ayurveda, you'll refresh your knowledge through traditional Balinese blessings and a agni hotra (fire) ceremony. The stunning AmrtaSiddhi resort is tucked away on the edges of Ubud's Monkey Forest and is the accommodation of choice, although there are other budget-conscious options nearby. Herb walks, philosophical discussions and an Ayurvedic cookery class ensure all senses are clarified during this retreat.
Address: Jl. Penestanan Kelod No.75, Sayan, Kecamatan Ubud, Kabupaten Gianyar, Bali 80571
Opening days and hours: Daily, 7am - 9pm 
Price range: $$$
Website: www.somahjourneys.net
Anantara: Best yoga retreat in Uluwatu, Bali
Uluwatu offers a fresh and raw perspective for anyone exploring Bali, thanks to its breathtaking sunsets, jagged cliff tops and hidden walkways. It's also a hotspot for yoga, with retreats emphasising all of the above features for a unique setting that's a world away from the traditional Ubud setup. Anantara steps things up a notch with a three-tiered wellness programme centred around yoga with the added benefits of detoxing and working out at the same time.
The Balance Wellness Programme comes in two lengths: one day or three days. Choose the latter for a true invitation into serenity based on a spectacular cliffside setting. Start each morning with sunrise yoga looking out to the crashing waves while nourishing your body with raw juices and organic food. A large range of holistic practices, energising fitness and rejuvenating spa therapies ensure top-to-toe wellness in only 72 hours.
Address: Jl. Pemutih, Jl. Labuansait, Pecatu, Kec. Kuta Sel., Kabupaten Badung, Bali 80361
Opening days and hours: Open 24 hours 
Price range: $$$
Website: www.anantara.com 
Pelan Pelan: Best varied yoga retreat in Bali
'Pelan Pelan' translates to 'take it easy' and that's exactly what you'll be doing as soon as you've checked in for this retreat. Pelan is the yoga retreat for those looking to combine Bali's best features in a short period of time. Over the course of five days, throw yourself into Balinese culture with yoga sessions, meditation, traditional massage and cooking classes. Pelan's location — central enough that Canggu is only a 10-minute drive away but peaceful enough for a jet black starry sky every night — means added extras like surf lessons, cooking classes and day trips can all easily be arranged.
When you're tired after a long day of yoga or the additional activities, relax back with spa treatments and homemade meals. Pelan attracts a slightly different crowd than your typical yoga retreat: those looking to switch off and reach inner peace, while ensuring that adventure is still within easy reach.
Address: Banjar Batan Tanjung, Cemagi, Mengwi, Badung Canggu, Cemagi, Kec. Mengwi, Kabupaten Badung, Bali 80361
Opening days and hours: Open 24 hours 
Price range: $$
Website: www.pelanbali.com 
Escape Haven: Best women-only yoga retreat in Bali
"Unlimited" is the keyword when it comes to Escape Haven's award-winning yoga retreat. Unlimited yoga, unlimited spa access and unlimited sightseeing means you'll tick everything off your Bali bucket list by the end of the week. This women-only yoga retreat is a safe haven of luxury, with extensive grounds, two flowing rivers and a custom built yoga shala. And when it comes to the yoga, all bases are covered.
Escape Haven offers more yoga than any other retreat, promising a deeply healing, life-changing and transformation journey surrounded by other women. Even if you're new to the practice, the options are endless thanks to the retreat's three highly skilled yoga teachers. Bliss seekers, health enthusiasts and existing yoga practitioners can thrive together through a variety of Yoga Nidra, Yoga Dance and Yoga Fundamentals alongside more traditional styles. This transformative yoga retreat experience will help you to learn unlimited amounts about yoga and wellbeing.
Address: Escape Haven, Pererenan, Mengwi, Badung Regency, Bali 80351
Opening days and hours: Open 24 hours 
Price range: $$$
Website: www.escapehaven.com
Revivo Bali: Best vegan yoga retreat in Bali
Nusa Dua is home to some of Bali's most luxury resorts and Revivo Bali perfectly encapsulates that vibe. 11 Signature Immersive Retreats cover all bases when it comes to holistic treatments for the mind, body and spirit, set on a luxurious beachfront location.
Revivo Bali is a retreat as much as it's a welcomed break away from the busy pace of everyday life: suitable for beginners through to advanced yogis, it's a chance to learn new yoga skills and improve on existing ones.
The beauty of Revivo's retreats is their mix and match nature: combining any number of techniques to ensure peace and harmony for everyone from families to couples to professionals looking to switch off. A focus on curated wellness treatments with an entirely vegan menu helps you to energise or slow down depending on your desires.
Address: Jalan Desa Sawangan, Benoa, Kec. Kuta Sel., Kabupaten Badung, Bali 80361
Opening days and hours: Open 24 hours 
Price range: $$
Website: www.revivoresorts.com 
Pineapple House: Best budget yoga retreat in Bali
The Island of The Gods is famed for its budget-friendly retreats, offering premium experiences with highly qualified yogis with daily or weekly costs that don't break the bank. Pineapple House's 7-day Surf and Yoga retreat prides itself on covering all bases at a low cost: its inspiring yoga teachers will help you to practice with confidence while also experiencing some of Canggu's other most famed elements.
Yoga classes, surf lessons and an overall unforgettable cultural immersion help you to deepen your yoga knowledge, explore Canggu's unbeatable surfing waves and come out the other side feeling vibrant, energised and radiant. And don't be put off by the low price: Pineapple House doesn't cut corners when it comes to authentic, stylish accommodation and gourmet, healthy dishes.
Address: Jl. Subak Sari No.15, Canggu, Kec. Kuta Utara, Kabupaten Badung, Bali 80361
Opening days and hours: Open 24 hours  
Price range: $
Website: www.pineapplehousebali.com
Frequently asked questions about yoga retreats in Bali
Is a yoga retreat worth it?
If you're looking for a distraction-free, relaxing, awakening break guided by expert yogis, a yoga retreat could be perfect for you. Read our guide to discover which Bali yoga retreat is best for you.
Where is the best yoga retreat?
The best yoga retreats are often based in Bali thanks to the island's penchant for healing. Ubud and Canggu are home to many of the best yoga retreats.
How much does a yoga retreat cost?
A yoga retreat usually starts at around $100 a day and rises in price for more premium options. 
What does yoga retreat mean?
A yoga retreat is a break that focuses primarily or entirely on practising different forms of yoga. Most are located in relaxing destinations without distractions where you can focus on rejuvenation, health, and happiness.