Ah, the Maldives…
We could probably stop right there, but we won't. Chances are that you've already fantasized about waking up in one of their iconic overwater bungalows. And we're sure you've dreamed about the white sands and unbelievable crystal blue waters. The resplendent coral reefs are bound to have caught your attention. While your Instagram feed taunts you with pictures of endless infinity pools, surreal sunsets and some of the world's most famous spas.
From the minute you touch down in the archipelago of reef-rimmed islands, rest and recovery is the ordre du jour. Yes, there is an incredible range of water sports and unique activities (think whale shark diving and snorkeling), but we'll save that for the second or third day. The first day should be all about unwinding and un-grinding—that is forgetting the grind and switching off all email notifications. And whilst one would think that the surreal settings were enough to immediately transport you to holiday mode, we all know just how difficult an endless to-do list is to get away from. Cue the most tranquil, most innovative spas. If they can't do the trick, nothing can. After all, they're not known as the best in the world for no reason.
From the planet's first underwater spa to spiritual ayurvedic retreats to generous day spas—these eco chic havens are Kardashian approved and yogi environmentalist endorsed. Just the way we like it.
The 21 best spas in the Maldives
Spa at Six Senses Laamu
Located on the lavish Laamu Atoll, the Spa at Six Senses is an oasis of luxury. The bird nest-inspired treatment rooms combine natural materials with earthy tones to create a space that heroes the healing effects of Mother Nature infused with a scientific touch.
And whilst the Spa at Six Senses may have a sixth sense for eco-friendly luxury, when it comes to your wellbeing, all of their treatments and personalized programmes are thoroughly researched and designed by experts. This includes the sleep programme, detox programme and the Love Your Heart programme—amongst many others distinctively designed to redefine a specific area in your life. Their signature treatments such as the Laamu Kaashi Theyo (a rehydrating scrub followed by tension-releasing massages) can't be found anywhere else. But they also offer many of the South East Asia classics. And as Thai massage aficionados, we can testify to the fact that they're some of the best.
Best for: A sixth sense meets scientific research.
Address: Laamu Atoll 15090, Maldives
Opening days and hours:
Wed-Mon: 9am-9pm
Tues: 9am-6pm
Price range: $$$
Website: www.sixsenses.com/en/resorts/laamu/wellness-spa
Spa at Anantara Veli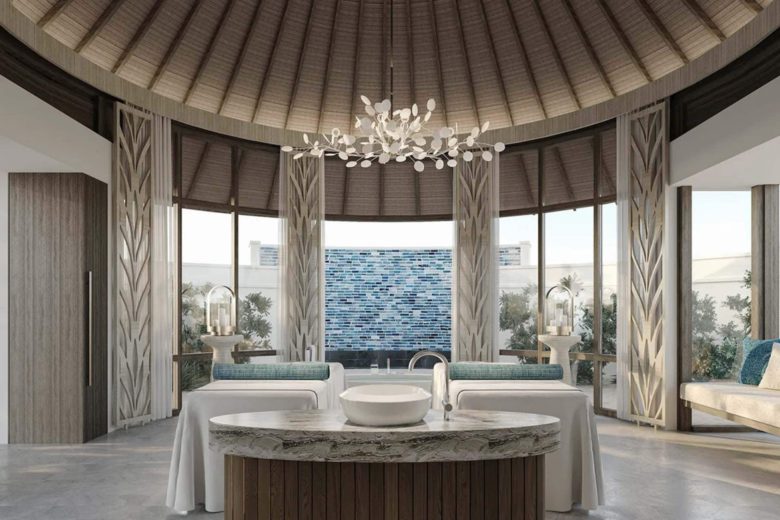 Natural hues and sea blues speak to the innate tranquility of the idyllic island. Located in one of the best all inclusive eco resorts in the Maldives—Anantara Veli—this serene spa plays a vital role in its copious accolades. 
The Spa at Anantara Veli is a full day affair (well, at least for us it is). Start your morning with a sun salutation as you meditate on scintillating sea views, and end it with a bit of hydrotherapy in the mesmerizing garden. Choose between soulful Ayurvedic therapies and medical treatments in between. And don't forget to make time to get your nails done. One day not enough? This holistic spa offers three-day, five-day or seven-day wellness retreats; all of which include diet, fitness and treatments tailored to your personal requirements. Where do we sign up?
Best for: Thai-influences; expert touches.
Address: Veligandu South Male Atoll, 20109, Maldives
Opening days and hours:
Mon-Sun: 10am-9pm
Price range: $$$
Website: www.anantara.com/en/veli-maldives/spa
Heavenly Spa at Westin
Bringing heaven to earth, stress simply ceases to exist in this slice of paradise. Infusing natural elements with avant-garde architecture, the design and interior speaks to the luxury spa's holistic approach to wellbeing.
You may have considered your vacation a reprieve from exercise. But the state-of-the-heart fitness center is almost impossible to turn down. Accommodating trainers will take you on morning runs around the top running routes. While tennis courts and yoga sessions create a space for healthy family bonding. Besides the wellness activities and healthy menus, the Heavenly Spa at Westin is renowned for eradicating obstacles and tension through unparalleled treatments. The Sleep Well programme transforms your sleep patterns through lavender balms and meditations. While the body scrubs, wraps and massages teleport you to a state of permanent bliss.
Best for: Heaven on earth.
Address: Maldives, Miriandhoo Island Baa Atoll
Opening days and hours:
Mon-Sun: 10am-10pm
Price range: $$$
Website: www.marriott.com/en-us/hotels/mlewi-the-westin-maldives-miriandhoo-resort/
Velaa Spa
Is it Monday or Friday? We wouldn't know. In a space where the past, present and future merge, time slips by and becomes insignificant. Velaa spa combines ancient practices with cutting-edge technologies to defy conventions and redefine rest. The peaceful environment overlooks clear, turquoise waters, making it the last thing you see before closing your eyes and the first thing you see upon re-entering the universe.
Like many of the luxury spas we've curated, Velaa Spa is all about integrated wellness. With a unique take on hydrotherapy, they're home to the Maldives' only snow room. And a list of comprehensive treatments are expertly performed to fuse nature and science; be it rare ingredients or cutting-edge anti-ageing technologies. We especially recommend the Elixir of Life experience—a sequence of the rose body wrap, bespoke massages and a caviar facial. All of the products are rich in antioxidants and skin protective ingredients. So whilst you may book your treatment for the immediate indulgence, it's bound to have long lasting effects.
Best for: Defying time.
Address: Noonu Atoll, Republic of Maldives
Opening days and hours:
Mon-Sun: 11am-8pm
Price range: $$$$
Website: www.velaaprivateisland.com/spa
Cheval Blanc Spa
A hot stone massage followed by a fresh green juice and a scintillating sunset—name a better sequence. We'll wait…
Located in one of our top all inclusive eco resorts, the Cheval Blanc Spa epitomizes relaxation and rejuvenation, using Guerlain products and cutting-edge technologies. The neutral hues and unobtrusive interior do little to detract from the circumferential glass walls and panoramic views. And whilst, it may seem impossible to close your eyes in such a setting, expert therapists make it even more impossible to keep them open. Inspired by Indian traditions, treatments range from spiritual rituals to harmonizing massages. The Relaxing Sensual Journey massage is amongst the most popular for a sense of escape and serenity. While the Shiatsu massage balances the body's energy flow through the meridian pressure points.
Best for: Healing through harmonization.
Address: Randheli Island, Noonu Atoll Randheli Island, 04130, Maldives
Opening days and hours: 
Mon-Sun: 10am-9om
Price range: $$$$
Website:www.chevalblanc.com/en/maison/randheli/spa-and-piscine/cheval-blanc-spa-randheli/
AyurMa Spa at Four Seasons
Love the earth as you do yourself, this is a mantra worth meditating on. And what better way to do it than at the Four Seasons Spa. Supported by the four pillars of Ayurveda, Yoga Therapy, Wellness and Planetary Wellbeing, the soulful environment creates a space to immerse yourself in the healing effects of nature whilst simultaneously returning the favor through plenty of green initiatives.
Staying true to its Indian roots, AyurMa Spa offers a variety of authentic Aryuvedic treatments; all of which begin with an Abhyanga massage using warm essential oils. The Shirodhara is performed to relieve insomnia and promote inner calm whilst nourishing the hair and scalp. The Navarakkhizi is performed to ease neuromuscular issues, boost muscular strength and nourish the skin. And the Sarvangadhara is performed to restore elasticity to mature or post-pregnant skin. You can also learn about your dosha (body type) and what foods best compliment your unique composition with their trained Aryuvedic doctors. In short: this spa proposes more than treatments, it proposes lifestyle transformations.
Best for: Indulging your dosha.
Address: Baa Atoll, Maldives
Opening days and hours:
Mon-Sun: 10am-9pm
Price range: $$$
Website: www.fourseasons.com/maldiveslg/spa/
Meera Spa at Gili Lankanfushi
Renowned for its rustic chic exterior and eco-friendly ethos, it's hard to resist the charms of Gili Lankanfushi. And it's even harder to resist the magic of the Meera Spa. The overwater thatched roofed treatment rooms and wooden interior speak to the natural tranquility of the ocean-surrounded resort. And details such as the glass floor window go the extra mile to transport you to a parallel universe. We mean, who wouldn't want to awake from a massage to the site of vibrant fish swimming amongst teeming coral reefs?
Meera Spa draws its inspiration from ancient practices from around the world. And whilst spiritual and natural healing remains at the center of these traditional therapies, modern techniques and health sciences are infused to reap the rewards from healing practices old and new. Be swept away by therapies such as Aryuvedic massages, Tibetan singing bowl sessions and reiki healing. While fresh juices and infinity pools await your return to earth.
Best for: A contemporary temple of vitality.
Address: Lankanfushi Island, North Malé Atoll Republic of Maldives, Maldives
Opening days and hours:
Mon-Sun: 9am-9pm
Price range: $$$$
Website: gili-lankanfushi.com/wellness/meera-spa/
Huvafen Spa
Darling it's better, down where it's wetter, under the sea. Take your cues from the Crustaceous Sebastian and settle into an underwater treatment room, encircled with glass windows looking onto passing fish and other resplendent sea-life.
As one of the best attractions in the Maldives, Huvafen Spa is the world's first underwater spa. This is a novelty that just doesn't wear off. And the expert therapists certainly don't rely on the exotic setting to do all the work. Yes, the setting is surreal. But we might argue that the therapists are even better. From the Underwater Dream package to the Body Balance Pure Massage, every treatment is performed with the utmost care and attention to detail—proving that whilst there may be plenty of fish in the sea when it comes to luxury spas, some are simply better than others.
Best for: An underwater rendezvous.
Address: Havefen Fushi, North Male Atoll, Maldives
Opening days and hours:
Mon-Sun: 6am-12am
Price range: $$$$
Website: www.huvafenfushi.com/spa/
Iridium Spa at St Regis
Calling all newlyweds: you don't get much more romantic than this. From the overwater setting to elegant white oak interiors, it's impossible to feel anything but love, joy and serenity at this idyllic destination.
Found in the St Regis, Iridium Spa ranks with the best of the best. The extensive treatment menu ranges from India-inspired ayurvedic practices to bespoke Asian techniques. The yoga flow series invites aficionados and novices to unlock mindfulness. While the acupuncture healing journey promotes balance and overall wellbeing. If all you need is a little bit of romance, the Divine Duo package, complete with a glass of champagne promises to ignite a new sense of amour and fascination—with each other and the island.
Best for: Reliving your wedding day—minus the guests.
Address: Vommuli Island Dhaalu Atoll, 13080, Maldives
Opening days and hours:
Mon-Sun: 9am-8pm
Price range: $$$
Website: www.marriott.com/en-us/hotels/mlexr-the-st-regis-maldives-vommuli-resort/
Soneva Soul at Soneva Fushi
As one of our best eco friendly all inclusive resorts, Soneva Fushi does nothing half heartedly, including the Soneva Soul Spa. The white walls, wooden architecture and touches of green harmonize with the surrounding lush tropical foliage. While tea stations speak to their invitation to slow down and reconnect your body, mind and soul.
Soneva Soul offers an exceptional selection of wellness services, including Aryuvedic remedies, energy work and signature massages—to name a few of our favorites. The avant-garde fitness center and yoga sessions effortlessly slip into your everyday routine. And they also have an advanced beauty room, where you can choose any beauty treatment under the Maldivian sun. Sound pods or aroma pods are perfect to re-energize before or after your treatment. Plus, Soneva Fushi is committed to sustainability with a fully off-the-grid experience. So if luxury eco vacations are your thing, this one's for you.
Best for: Off the grid glamor.
Address: Kunfunadhoo Island, Eydhafushi, Maldives
Opening days and hours:
Mon-Sun: 10am-8pm
Price range: $$$$
Website: soneva.com/experience/soneva-soul-spa-soneva-fushi/
Spa by Clarins
Clarins is an international pioneer of natural beauty. And what better way to celebrate natural beauty than in the Maldives—a country renowned for its innate handsomeness. The global brand only uses active ingredients from plant origins without added chemicals. Located in one of our top luxury resorts, The Residence Falhumaafushi, the luxury spa is open to both guests and the public. However some of the signature treatments are available to guests only, so for the full experience, you may want to consider checking in for a night or two. 
Spa by Clarins epitomizes high-end elegance with polished interiors and cascading deck, overlooking the sea—you know where to find us before and after our treatments. Spa programmes include couples' packages such as the Honeymoon Delight as well as solo packages such as the Anti-Stress ritual. Other signature treatments include Ayurvedic massages and Swedish massages. And if you're staying at the luxury resort, you have to experience the Sea Serenity therapy. Aimed at restoration and rejuvenation, this tantalizing treatment achieves just that.
Best for: Bringing clarity through natural beauty.
Address: MC9Q+MGH, Nilandhoo, Maldives
Opening days and hours:
Mon-Sun: 10am-8pm
Price range: $$$
Website: www.cenizaro.com/theresidence/maldives-fm/spa-wellness
Tamara Spa by Mandara
When we think of paradise, we think of lying in a jacuzzi, overlooking crystal clear waters, while the tropical flower petals float around us and exotic aromas fill the air. This is just one of the many experiences at Tamra Spa by Mandara. And whilst some of the more traditional treatments fulfill all our pampering fantasies, other unique techniques create new ones.
Found in Lily Beach Resort (one of the best resorts in Maldives), Tamara Spa is totally overindulgent in all the right ways. Ayurvedic treatments are all about restoring your dosha through essential oil latherings and pressure point releases. Natural body scrubs are carefully applied to detoxify the body and release stress. While feel-good manis and pedis are quintessential to any luxury vacation.
Best for: Through the looking glass.
Address: Dhangethi, Maldives
Opening days and hours:
Mon-Sun: 10am-9pm
Price range: $$$
Website:www.lilybeachmaldives.com/maldives-spa/
LUX Me Spa
Renowned for its colossal water-sports center, along with a five-star dive center, LUX South Ari Atoll also has one of the best spas in the Maldives. The award-winning spa is highly acclaimed for its holistic approach to wellbeing—with relaxation being an instrumental ingredient. We feel relaxed even thinking about the overwater thatched-roofed treatment rooms, fresh fruit platters and coconut massages. Now imagine how you'll feel after actually experiencing it all.
LUX Me Spa is also a key contributor to the luxury resort's carbon neutral footprint with initiatives such as solar panels and all-natural ingredients. Wellness retreats offer expert advice, spa treatments, mindfulness guidance and personal training sessions. While bespoke programmes are curated to specifically target what your body is craving. Be it total relaxation, detoxification, healing or strengthening. Prepare to have your whole world changed—for the better of course.
Best for: LUX me please!
Address: South Atoll, Dhidhoofinolhu, Maldives
Opening days and hours:
Mon-Sun: 9am-10pm
Price range: $$$$
Website: www.luxresorts.com/en/maldives/hotel/luxsouthariatoll/wellness-fitness
Sulha Spa at Kudadoo
Named after the Arabic word for problem solving, Sulha Spa is all about embracing a problem-free philosophy. And in a world filled with inauthentic connections and countless responsibilities, sometimes all you need is to slow down and allow expert therapists knead through tensions and dissolve stresses. They also have an unlimited approach to visiting hours, so you can spend as much time as you need meditating on scintillating sea views and prioritizing self-care.
Sulha Spa at Kudadoo draws its inspiration from different techniques around the world. And in doing so, they have curated some of the most informed and effective treatments we've come across. From Balinese long gentle strokes and light pressure point work to Japanese Hara bodywork and digestion restoration, each therapy is carefully targeted and expertly performed. Not to mention their signature Lonu Cave Immersion—aimed at cleansing through Himalayan salt stone therapies. Some call it luxury, but Kudadoo calls it necessity—personally we're going with the latter.
Best for: You spa needs, solved.
Address: Kudadoo Island, Lhaviyani Atoll 07080, Maldives
Opening days and hours:
Mon-Sun: 10am-8pm
Price range: $$$
Website: www.kudadoo.com/spa/
Espa Spa at One&Only
Reflecting the unique flavor of Maldivian culture infused into ancient Asian traditions, Espa Spa is a sea-facing sanctuary for the body, soul and mind. Located in the grandeur of the One&Only, the regal purple hues speak to the aristocratic elegance of the luxury hotel. While overwater thatched-roofed treatment rooms are perfectly placed to appreciate the island's natural beauty. 
Espa Spa at One&Only invites to slow down and to fully immerse yourself in the heavenly experience. Start your day with a personal consultation before meandering through lush tropical gardens to your private spa suite. Spend the rest of it soaking in the therapeutic benefits of the vitality pool, crystal steam rooms and saunas. Arguably, Espa spa also has the most romantic massage in Maldives. And as one of the top eco resorts, they're constantly including new green initiatives such as the Nature's Resonance sound eco-therapy and the More Trees programme. Talk about eco chic.
Best for: Asian-inspired; Maldivian culture infused.
Address: Reethi Rah, North Malé Atoll, Malé 08440, Maldives
Opening days and hours:
Mon-Sun: 9am-9pm
Price range: $$$$
Website: www.oneandonlyresorts.com/reethi-rah/experiences/spa
Sun Spa at Movenpick
Sun Spa is not short of accolades and gold prizes. Amongst the many are the titles: best eco-spa in the Indian Ocean and best private island spa on a global level. Combining eco-friendly initiatives with unparalleled luxury, it should come as no surprise that we too are huge fans of this sustainably sumptuous spa.
Sun Spa at Movenpick has four jungle treatment rooms, which are set amongst tropical gardens and lush foliage. While the overwater treatment rooms are surrounded by crystal clear waters and tantalizing turquoise hues. The Healing Earth treatments draw their inspiration from the healing potential of Africa's rich natural resources. While bespoke experiences cater for your specific needs. End your day debriefing on the sun-kissed deck, robe-adorned and herbal tea in hand.
Best for: Sun-kissed and spirit-filled.
Address: Kuredhivaru Island Noonu Atoll, 20026, Maldives
Opening days and hours:
Mon-Sun: 10am-10pm
Price range: $$$
Website: www.movenpick.com/en/asia/maldives/kuredhivaru/resort-kuredhivaru/
Willow Stream Spa at Fairmont
Featuring the longest infinity pool in the Maldives, Willow Stream Spa is a blissful blend of tranquil waters, Maldivian gardens and restorative treatments. Soft interior hues and natural materials speak to the spa's serene atmosphere. While friendly therapists are highly trained to perform an array of authentic therapies.
All of the treatments at Willow Stream Spa at Fairmont are uniquely curated to achieve specific results. The Empowering Me, A Woman's Journey is a two and a half hour experience designed to restore confidence and honor your inner and outer beauty. The Coconut Experience harnesses the fruit's uncanny ability to soothe, calm and balance. While the Secret Water Island Honeymoon celebrates love through herbal baths, tension-releasing massages and a glass of bubbles (naturally).
Best for: Infinite luxury.
Address: Sirru Fen Fushi, ATOLL 20209, Maldives
Opening days and hours:
Mon-Sun: 9am-9pm
Price range: $$$
Website: www.fairmont.com/maldives/spa/maldives-willow-stream-spa/
Veli Spa
In the Maldivian local language, Dhivehi, Veli is a special term. It refers to sand as an essential element and the timeless interaction between coral and sea. And so Veli Spa's name speaks to the healing effects of nature, as well as their innate intuition for what you specifically require.
Located in Kurumba resort, Veli Spa epitomizes luxury without pretension. Inspired by the solace of the islands, the architecture is simple. While the tranquil-thatched roofed treatment rooms idyllically incorporate the balance of the oceans with the energy of indigenous people and the healing effects of human touch. All of the spa's oils and herbs are locally sourced. And their unique treatments come from many generations of traditional medicine. We always try to get a taste for the local culture when we travel. And a spa that has preserved ancient Maldivian therapies has got to be the most relaxing way to do it.
Best for: Harnessing the essential elements of Maldivian culture.
Address: Vihamanaafushi, North Male Atoll 08340, Maldives
Opening days and hours: 
Mon-Sun: 9am-8pm
Price range: $$$
Website:www.kurumba.com/maldives-resort-spa
Devarana Spa at Dusit Thani
Fusing the Maldives' natural tranquility with Thailand's spirituality, Devarana Spa offers a unique approach to holistic living. The spas's extraordinary architectural treetop design speaks to a Southeast Asian elegance. While contemporary accents allude to their inclusion of cutting-edge techniques.
Grounded in nature, Devarana Spa at Dusit Thani draws inspiration from the resplendent tropical rainforest surroundings. And we particularly recommend the Rejuvenation treatment. The therapy begins with a fusion of leaves, aromatics and jasmine body scrub. While the exclusive massage combines Ayurvedic, Shiatsu, Swedish and aromatherapy techniques. It's the total all-in-one package.
Best for: Singing from the treetops.
Address: Dusit Thani Maldives Mudhdhoo Island Baa Atoll, Republic of Maldives
Opening days and hours:
Mon-Sun: 10am-9pm
Price range: $$$
Website: www.devaranaspa.com/en/destination/maldives
The Baani Spa
If the Maldives' infamous overwater villas have captured your heart, the overwater spas take the luxe factor one step further, as is the case with The Baani Spa. Located in the majestic Kagi Resort, the spa's light wood interior is accented with chic contemporary lighting, indoor plants and subtle cultural touches.
The Baani Spa is named after the local term for ocean swell. And so it reminds us of the natural rhythms of life, through their mantra release, restore and regain. The spa menu includes Baani signature rituals such as the Bay Leaf & Sound therapy; performed to heal digestion issues and evoke spiritual awakening. While a classic Swedish massage is expertly performed to stimulate circulation and invigorate your muscles. Fresh juices, detox teas and nutrient-rich lunches are served on a stilted deck in the middle of the ocean. And luxe loungers invite you to soak in the splendor of the moment.
Best for: Embracing the natural rhythms of life.
Address: Kagi Maldives Spa Island North Malé Atoll, Maldives
Opening days and hours:
Mon-Sun: 10am-8pm
Price range: $$$
Website: kagimaldives.com/
Innahura
A secret gem on the Lhaviyani Atoll, Inanhura proves that luxury doesn't need to cost the earth—in the sense that it is light on the environment and is easy on the wallet. And whilst it may not flaunt a luxury price tag, we can strongly testify to the fact that the treatments are nothing short of luxurious.
Surrounded by powder white sands, Innahura looks onto turquoise waters. While the tropical garden in the back is our favorite spot to reprieve before and after treatments. Spa treatments range from old traditional massages to cutting-edge technologies. And romantic retreats encourage a newfound appreciation for one another. This is a spa that you're almost guaranteed to return to before you leave. Trust us.
Best for: Guilt-free indulgence.
Address: Innahura Lhaviyani Atoll, 75006, Maldives
Opening days and hours:
Mon-Sun: 10am-8pm
Price range: $$
Website:www.innahura.com/maldives-spa/
Frequently asked questions about the best spas in Maldives
How much are spa treatments in Maldives?
Luxury spa treatments vary in price. If you're looking at the spa menu at one of the most expensive resorts, a one hour massage is often around $300. While your average treatment in Maldives costs around $150. And you can find more affordable options from around $70.
Is there massage in Maldives?
The Maldives is known to have some of the best spas in the world, all of which includes incredible massages. Ayurvedic massages are a popular treatment in the Maldives. While many massages are inspired by Southeast Asian countries like Thailand and Bali.
What is the best property to stay in the Maldives?
The Six Senses Laamu is the best eco-luxury stay in the Maldives. Renowned for its tranquil overwater villas and endless activities, it also has the best spa in the Maldives. The unbelievable sea-facing spa at Anantara Veli also makes it a top choice.
Where do celebrities live in Maldives?
The One&Only Reethi Rah is renowned for attracting vacationing celebs. From David Beckham to Tom Cruise and Russell Crowe, don't be surprised if you spot a couple of big names during your stay.