Are fanny packs the most unfairly vilified fashion items of all time? We think so. When did an accessory that was so practical and so wearable become associated with middle-aged tourists and aerobics instructors? Thank goodness, then, that the fanny pack has made its much-deserved come-back. We welcome it with open arms.
As far as we're concerned, fanny packs are a top choice, whatever the occasion. But they really come into their own when we're travelling. Being able to go hands-free means more opportunities for licking ice-creams, snapping photos, and trying to work out brain-boggling foreign currency.
And, unlike a backpack, they don't leave us with sweat patches, nor do they strain our backs. Plus, with all our valuables readily accessible and safely within sight—either round our waist or across our chest—there's no chance of anything getting stolen.
Most belt bags also come with multiple pockets, some of them hidden, so you can stay organised and on top of all your travel essentials. Some are sleek and grown-up designer creations, making serious fashion statements in any language. Others offer an inconspicuous low-profile for busy cities or unfussy practicality for off-road adventure addicts.
Whatever the trip you've got planned, whether it's a beach holiday, around-the-world tour, or just a staycation, we've found the dream belt bag for you. We're confident you're gonna love these travelling fanny packs so much that you'll refuse to retire them once the plane lands.
The 17 best fanny packs for travel
Away: Best overall fanny pack
The all-time front-runner out of all the travelling fanny packs on our list? The Sling Bag by Away. There's nothing not to like about this understated bum bag—and lots to love.
First, it's made of hard-wearing and water-resistant nylon for practicality, while a leather trim adds a touch of luxury. Then there's the organisation system inside, featuring a zipper and slip pockets as well as a detachable key clip so you can keep all your necessities nicely under control.
There's also a back pocket where you can store your phone or passport for easy access (no more holding everyone up at Departures). There's even a compartment that would fit your water bottle in it.
All that in a nifty 3-litre package that's only 11 x 6.5 inches (28 x 16.5 cm) big and weighs just 0.7 lbs (317g). Wear the Sling Bag across your chest for a comfortable hands-free fit. And Away even offers the option of customising the bag with personalised embroidery.
Best for: Unfussy functionality in an inconspicuous yet elegant travel solution. 
Colours: Black and blue
Saint Laurent: Best designer hip pack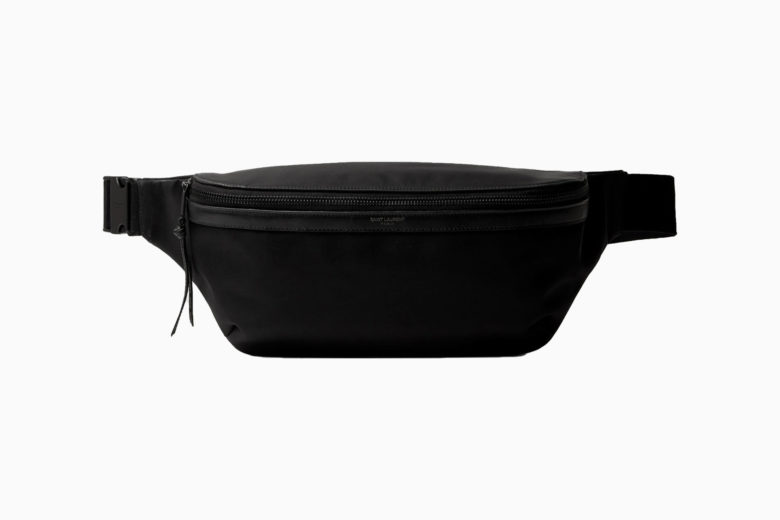 If only the crème de la crème will do (you do deserve it, after all), then you need a designer belt bag. Our top choice is this minimalist masterpiece by Saint Laurent.
Despite hailing from one from one of the most renowned high-fashion houses, this sleek designer fanny pack remains a practical choice, made from durable nylon that won't get scratched or stained.
But it's still undeniably high-end, traced with leather and debossed with oh-so-subtle gold-tone branding. Inside, you've got a main compartment that's spacious enough for all your valuables while a zippered pocket keeps everything safe and secure.
As this Saint Laurent fanny pack is on the larger size at 30 x 15 cm, we recommend wearing it across your body rather than around your waist.
Best for: Clean contemporary cool from this superstar of high-end style. 
Colour: Black
Herschel: Best value belt bag
For the cost-conscious traveller on a strict budget, splashing out on an everyday carry-all is hard to justify. Luckily, you can get all the functionality of more exclusive belt bags at a fraction of the cost with this Herschel hip pack.
Everyone's obsessed with Herschel backpacks but it's the brand's fanny packs that have really stolen our hearts. With heaps of colour options to choose from, you can pick one according to your favourite on-the-road outfit.
This Herschel belt bag also features an adjustable strap so you can wear it either around your waist (ideal when juggling a gelato and/or street map) or chest, and has a zippered closure with a leather pull. Its 1-litre capacity is plenty for everyday travel antics while the compact size (20 x 14 cm) makes for minimal bulk.
Best for: Preppy practicality for backpackers on a budget. 
Colours: A range including black, blue, and pink.
Senreve: Best belt bag for women
If your idea of a vacation involves swanky restaurants and Instagrammable infinity pools, then you need a waist bag that's as elegant as the rest of your holiday. Get an eyeful of this Senreve fanny pack.
This sophisticated take on the classic fanny pack nails the relaxed and refined vibe. Made from genuine Italian leather (scratch, stain, and water-resistant), it's got a soft and supple suede interior and comes in so many colours you'll be hard-pressed to pick. There's also the option to swap the strap for a metal chain if you fancy more bling.
The Aria belt bag by Senreve also features three interior pockets where you can keep important travel valuables and can even be customised with your initials thanks to the brand's personalised hand-painting service.
Oh, and for all you eco-warriors out there, there's a vegan version too. Definitely one of the best fanny packs for women around.
Best for: A sleek and sustainable carry for the most stylish sojourns. 
Colours: A range including blue, black, and brown. 
Bellroy: Best crossbody hip pack
Still struggling to get over your associations of bum bags with sunburned tourists? This Bellroy crossbody fanny pack can be worn across your chest rather than around your waist, banishing all images of bumbling holidaymakers for good.
The aptly named Sling Mini is, indeed, pretty small, at 12 x 25 cm. This makes it a great unobtrusive travel carry that won't get in the way or draw unwanted attention. Yet it still has a 4-litre capacity, with both a front zip compartment and two mesh slip pockets.
The main compartment has a soft-lined sunglasses pouch so your new shades don't get scratched and a built-in key clip so you won't have to rummage at the door.
The Sling Mini also features a padded back panel for extra comfort. Plus, the water-resistant woven fabric is made from recycled plastic bottles. A top choice when it comes to fanny packs for men.
Best for: A hands-free, stress-free, fashion-forward travel essential. 
Colours: A range including black, blue, and grey.
Patagonia: Best bum bag for hiking
Looking for a bag that's not scared of adventure? Something that can survive the elements? This hiking fanny pack by the geniuses at Patagonia should be your number one choice.
Not only is anything made by Patagonia optimised for the great outdoors but the brand also does it all it can to protect nature. This belt bag, for example, is made from bluesign® approved fabric, which means it was made according to the highest environmental standards.
Specifically, it's made from recycled polyester ripstop. Eco-friendly, super-resilient, and water-tight thanks to its TPU-film and DWR finish.
There's a mesh panel across the back for enhanced breathability plus stretchy pockets for a water bottle so you can stay prepared on the trail. The compression strap means no awkward bouncing or jiggling as you race your way to the summit.
Enjoy the wilderness while simultaneously safeguarding nature with this Patagonia belt bag.
Best for: A trail-appropriate trek-ready carry by the best in the outdoors business. 
Colour: Black 
Karl Lagerfeld: Best small hip pack
Here to redefine the meaning of travelling light, this Karl Lagerfield bum bag is the best small fanny pack on our list. And when we say small, we mean it.
But its diminutive size doesn't make this little hip pack any less practical. It may only be 7 cm tall but it's 31 cm wide, so you can still fit quite a lot of things inside without it feeling too bulky as the weight spreads across your whole waist or chest.
There's no denying that this Karl Lagerfeld waist bag also looks incredibly alluring, made from 100% calf leather in enduringly stylish black. We'd wear it with a matching all-black outfit on a night out on the town.
Best for: A tiny treasure of a hip bag for those who refuse to be weighed down. 
Colour: Black 
Alo Yoga: Best fanny pack with pockets
Staying organised on the road is essential if you don't want to suddenly find yourself without your passport, trying to board a plane. Keep track of all your belongings with effortless ease thanks to this organisation-optimised fanny pack by Alo Yoga.
Named the Seeker Fanny Pack (for all you soul-searching travellers out there), this waist bag features two zipper pockets outside and one inside so you can keep essentials, valuables, and those just-in-case items all neatly organised. And the main compartment also has RFID protection.
Practical nylon with edgy gunmetal hardware completes the street-savvy aesthetic in this Alo Yoga belt bag that would look just as good on a camping trip as it would at the cocktail bar. 100% one of the best unisex fanny packs we've seen.
Best for: Keeping everything perfectly tidy with this pocket-packed bag of tricks. 
Colour: Black 
The North Face: Best waterproof belt bag
Whether you're a daytripper or seasoned traveller, unexpected drizzle can ruin everything. So grab yourself this waterproof fanny pack by iconic outdoor brand, The North Face, and when storm clouds threaten, you can hold your ground.
Totally waterproof, this bag is perfect for all-weather adventurers. It also has an adjustable webbing strap so you can modify it according to your size and chosen wearing style. Across your body, slung over one shoulder, around your waist—the choice is yours.
This North Face belt bag also features a top zip closure to keep all your valuables safe as you head off exploring while the mesh front pocket is great for easy access to essentials. Plus, you'll be able to check what's in there without emptying the whole bag.
Best for: Feeling equipped for any eventuality, from tropical downpours to gentle showers. 
Colour: Black
Calpak: Best large fanny pack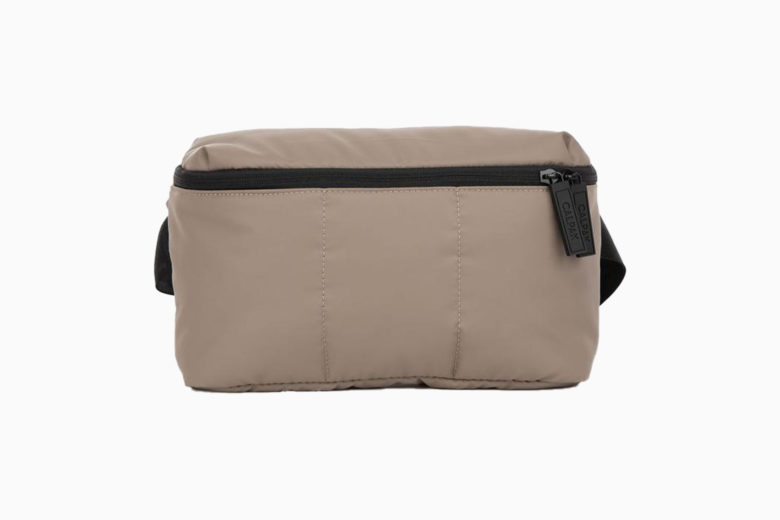 Are you the kind of traveller who likes to pack for every possibility? An everything-but-the-kitchen-sink kind of holidaymaker? Then you need a big bum bag like this one by Calpak.
At 28 x 14 cm, it's on the chunkier size—but you'll appreciate that when it comes to squeezing in your phone, wallet, charger, keys, sunglasses, hand sanitiser, suncream, passport, and whatever else you might need.
Hard-wearing and practical, it's got a scratch-resistant exterior while the main compartment has pockets for organisation. There's also an exterior pocket for easy access and an adjustable nylon strap for comfortable carrying.
This Calpak belt bag comes in a range of understated neutral colours, all of which are versatile enough to go with almost any outfit, whether it's your aeroplane get-up or shorts and t-shirt for the beach.
Best for: Feeling prepared with a ready-for-anything no-questions-asked holiday hold-all.
Colours: A range including black, grey, and pink.
Travelon: Best fanny pack with RFID technology
Whether you're venturing off-the-beaten-path or are on a staycation, exploring your home city, RFID identity theft is always a possibility. Eliminate the risk with this Travelon bum bag, featuring RFID-blocking technology.
And it's not just identity theft that this belt bag protects against. It's also got a cut-proof strap and body to protect against slash-and-grab theft as well as locking zippers for additional security for your valuables.
Then there are the lockdown straps that allow you to secure the bag to an object or chair—when you're having dinner alfresco on a busy thoroughfare, for example.
This Travelon fanny pack is also a generous size with an internal organising system to keep everything orderly so you'll be able to tell quickly if anything's missing.
Best for: A theft-proof travel accessory for accident-free adventures. 
Colours: Black or blue
Waterfly: Best belt bag with water bottle holder
When the sun's out and we're constantly on the move, staying hydrated is essential. This is why the Waterfly bum bag is such a travel asset, with its double water-bottle carrier.
Gauze pockets on both sides allow you to carry two water bottles with you wherever you go—or perhaps one bottle and some snacks.
And this fanny pack with a bottle holder is not just a bonus when it comes to keeping thirst at bay. It's also super durable and has a fully adjustable strap to minimise any pressure on your waist and a breathable back pad to reduce sweating.
This Waterfly belt bag can also be converted into a shoulder or sling bag so when you're not using it hiking or biking, you can take it into town too.
Best for: The ultimate hydration hero, keeping heat-stroke away. 
Colours: A range including grey, black, and blue. 
Carhartt: Best tactical bum bag
Carhartt has become a real cult-favourite in the last few years with its unique brand of utilitarian chic. We love this tactical fanny pack in particular. With its durable construction, it's the ultimate travel-friendly trooper.
This belt bag is made from Cordura nylon—ten times stronger than your average cotton canvas, long-lasting, and water-repellent, so it will survive the occasional shower or accidental splash. The hip pack has also got various pockets so you can stay organised—our favourite being the little drawstring pouch, ideal for storing keys.
In understated black, this Carhatt waist bag is minimalist and no-frills. The Carhartt logo is the only embellishment, serving to tell any style-savvy individuals nearby that you know exactly what's hot and what's not. Easily one of the top fanny packs for men.
Best for: A highly wearable workman-inspired complement-worthy choice. 
Colour: Black
Ganni: Best black fanny pack
Endlessly versatile, infinitely flattering, doesn't show up stains, and appropriately discreet for travel—these are just some of the reasons why black should be your colour of choice when it comes to a fanny pack.
This black fanny pack from Ganni is our fave. One of the best things about it? It's made from 100% recycled polyester for extra planet-friendly appeal. The aesthetic is outdoorsy yet stylish with a low-key profile that definitely won't mark you out as a tourist.
This black fanny pack has an adjustable belt with a pin-buckle fastening and there's a zippered pocket at the front and the back, as well as a zippered main compartment. We'd store our passport close to our chest and any less valuable essentials in the front pocket.
With its no-nonsense vibe, this waist bag by Ganni is most definitely open road-ready. The question is, are you?
Best for: Inconspicuous, effortless, and eco-friendly elegance for the everyday explorer. 
Colour: Black
Cuyana: Best leather belt bag for women
We can't get enough of Cuyana, with its collection of high quality, ridiculously refined, and sustainable leather goods. And this leather fanny pack is top on our to-buy list.
Elevating the 90s staple to something worthy of the catwalk, or at least a very fancy cocktail bar, go for this belt bag if your idea of travelling is lounging poolside, then spending the evening at the hottest fine dining establishment in the vicinity.
Made of sustainably certified leather, this waist bag has got all the necessary eco-credentials. We also love how slim the belt is. It's incredibly flattering and elegant enough to be worn with an evening dress for something a little different.
With a small rectangular compartment that's ideal for your phone and wallet, this Cuyana belt bag can also be paired with the brand's circular pouch add-on if you need extra functionality.
Best for: A smartly sophisticated and exceptionally versatile jet-set-worthy stunner. 
Colours: A range including beige, red, or snake-embossed. 
Nike: Best sporty bum bag
Rocking athleisure wear casually is totally acceptable these days. So if you want to add a bit of sporty chic to your everyday get-up, then check out this Nike hip pack.
Whether or not you wear this fanny pack when exercising, it offers a comfortable carry solution with ample room for all your essentials at 41 x 10 x 15 cm. The polyester material is lightweight and hard-wearing while the adjustable strap allows you to modify the fit as necessary.
Use the zip pockets to secure smaller items, such as your keys or gym card. Wear this Nike belt bag across your body, over your shoulder, around your waist, with a hoodie, jacket, or t-shirt—the options are endless.
Best for: Sporty suburbanites and street-smart road warriors alike. 
Colour: Dark grey 
JanSport: Best budget fanny pack
At heart, a fanny pack is about functionality—not spending a fortune on something that you'll be too nervous to use in case you break or stain it. So bag yourself a bargain with this JanSport hip pack—an absolute steal at under $20.
Available in a range of colours, from versatile black to old-school denim blue, this Fifth Ave fanny pack is fun and functional. It's durable, adjustable, and has a zip closure for security. With a 2.5 litre capacity, it's not the largest fanny pack on our list but it's a decent size for all your everyday basics.
JanSport has been delivering quality outdoor gear since 1967 so they know what makes a good travel accessory. This belt bag is our number one choice for cost-conscious nomads everywhere.
Best for: Cool-factor and convenience meets major cost savings. 
Colours: A range including black, blue, and pink.
Frequently asked questions about travelling fanny packs
What is the best fanny pack brand?
The best fanny pack brand is Away with its simple, versatile, and high-quality belt bags. Other top fanny pack brands include Herschel and Bellroy. Check out our list of the best travel fanny packs for more inspiration. 
Can you wear a fanny pack on a plane?
You can wear a fanny pack on a plane, no problem. In fact, for some airlines, it counts as personal attire rather than carry-on baggage, which is a bonus. However, you'll still have to put it through the scanner at airport security. 
Are fanny packs still in style?
Fanny packs are certainly still in style. The iconic 90s staple has made a definite comeback and many brands and designers are now offering their own unique take on the classic belt bag, offering fashion-savvy customers a range to choose from. 
Are fanny packs good for travel?
Fanny packs are a great choice for travelling because they allow you to go hands-free. Because you wear them at the front of your body, they offer easy access to essentials and are a safe option because you can keep a close eye on your valuables. 
What are fanny packs called now?
Fanny packs have a number of different names, including bum bag, waist bag, hip pack, and belt bag. A fanny pack is defined as a small pouch that is worn around the waist or hips—although most can be worn across the body too.