Whatever preconceptions you have about luxury hotels, Abu Dhabi sees you, and raises you. Endlessly trying to out-do eachother, the competitive nature of Abu Dhabi's boutique hotel scene is only good news for visitors.
Home to the world's most admired hotels like St. Regis Marriott, Park Hyatt, and Rosewood, you'll have your pick in the pleasure-seeking playground that is Abu Dhabi. And, if city vibes aren't for you, Saadiyat Island offers a paradisiacal escape and five-star ocean experiences to keep you busy.
And, if 5 stars aren't sufficient, check out the 7-star hotels in Abu Dhabi. Though officially a mythical concept (hotel ratings simply don't reach 7), Emirates Palace nonetheless lay claim to the desirable rating—and given the supreme facilities and unbeatable architecture, we're reluctant to argue.
So, seeking sublime luxury? Check out our ultimate guide to the 21 best boutique hotels in Abu Dhabi; whatever your vacation vibe, you won't be disappointed.
The 21 best luxury hotels in Abu Dhabi
1. St. Regis Abu Dhabi
Located at a confluence of sparkling coastline, glittering Arabian Gulf, and downtown Abu Dhabi, St. Regis hits the jackpot when it comes to positioning. And the architecture? Nothing short of divine.
Reminiscent of Mediterranean style, neoclassical pillars and iron-wrought balconies reign supreme at St. Regis, providing fertile ground for you to unwind. Head down to the trio of outdoor pools (and one indoor one for those laps), dine with a view at one of the six beach-side eateries, and experience pure indulgence at the Iridium Spa.
Address: Al Saadiyat Island, Abu Dhabi
Price range: $$$
Website: www.marriott.com/en-us/hotels/auhxr-the-st-regis-saadiyat-island-resort-abu-dhabi
2. Rosewood Abu Dhabi
A towering utopia where no request is too extravagant, Rosewood Abu Dhabi is the jewel in the hotelier's crown. A stone's throw Abu Dhabi's Louvre and the Presidential Palace, Rosewood is a prime pad from which to launch your Abu Dhabi adventures.
Sure, exploring the hotel's seven restaurants deserves a day-trip in itself. But don't miss the Sense Spa nor the sun-soaked pool deck for your requisite R&R. Each suite boasts a walk-in rain shower and a deep-soaking bathtub, and in-room dining is possible 24/7.
Address: Al Maryah Island, Abu Dhabi
Price range: $$$
Website: www.rosewoodhotels.com/en/abu-dhabi
3. Four Seasons Abu Dhabi
A microcosm of the city itself; you could spend your whole vacation without leaving the Four Seasons (though we highly advise exploring further afield). Spanning 34 storeys and complete with a real-life shopping center in the grounds, Four Seasons wouldn't look out of place on the Man-Made World Wonders list.
Boasting a range of rooms and suites, expect Arabian Gulf and city views whenever you peek through the floor-to-ceiling windows. Embellished with cloud-like bedding and tasteful furniture, you'll feel right at home here. Well, assuming you're royalty.
Address: Abu Dhabi Global Market St, Second, Al Maryah Island, Abu Dhabi
Price range: $$$$
Website: www.fourseasons.com/abudhabi
4. Park Hyatt
A five-star luxury hotel, Park Hyatt Abu Dhabi is your answer when you fancy pulling out all the stops. The phenomenal complex disguises itself as a home-away-from-home, where the private villas provide this luxury hotel with a decidedly residential ambiance.
If money's no object, head to the Presidential Suite—where you'll enjoy a private steam room, and in-house maid, and a private massage area. Opting for a villa or room? Mind your heads on the gorgeous chandeliers.
Address: Al Saadiyat Island, Abu Dhabi
Price range: $$$$
Website: www.hyatt.com/en-US/hotel/united-arab-emirates/park-hyatt-abu-dhabi-hotel-and-villas
5. Qsar Al Sarab
As you drive through the desert, Qsar Al Sarab will appear, shimmering oasis-like on the horizon. But this is no mirage. No, Qsar Al Sarab boasts a collection of stunning villas, rooms, and suites, defying its arid surroundings.
Amongst the turrets and elegant water features, you'll discover a world of luxury at Qsar Al Sarab. Opt to dine out in the desert (a must-do), pool-side, or on the stylish rooftop lounge. Wherever you decide, you'll be treated to a glorious sunset—on the house.
Address: Qasr Al Sarab Desert Resort, Al Mirayr, Abu Dhabi
Price range: $$$$
Website: www.anantara.com/en/qasr-al-sarab-abu-dhabi
6. Telal Resort Al Ain
Telal Resort Al Ain is everything you imagine when you think of Arabia. Palm trees, rolling sand dunes, and never-ending horizons comprise this ethereal resort, where everything seems possible.
Make like the Bedouins of bygone times and head out to the Rimah Desert; the hotel will orchestrate their Romantic Setup, an Arabic Seating experience, or a Twilight excursion—your wish is their command. That is, assuming you can drag yourself away from your Emirati-designed room or villa.
Address: Rimah, Abu Dhabi
Price range: $$$$
Website: www.telalresort.ae
7. Andaz Capital Gate
The leaning tower of… Abu Dhabi? That's right: Andaz Capital Gate—a genius of architecture—leans 18°, creating a phenomenon on the city's skyline. Enjoy uninterrupted city views from your floor-to-ceiling windows, take in the local art dotted on the walls, and appreciate the quirky accents that make each room unique.
Sample French-Arabic cuisine at Cyan Brasserie, where panoramic views try to distract you from your dinner. Pining for tapas? Head to Riyana Latin Tapas Bar, where you'll munch small plates to the beats of Latin American tunes.
Address: Al Khaleej Al Arabi Street Capital Gate Building, next to ADNEC, Abu Dhabi
Price range: $$
Website: www.hyatt.com/en-US/hotel/united-arab-emirates/andaz-capital-gate-abu-dhabi
8. Beach Rotana Abu Dhabi
Attracting tourists from UAE and beyond, the iconic Beach Rotana Abu Dhabi is nothing short of a mega hotel. The five-star, 565-room complex looks out onto the Arabian Gulf, and goes to infinity and beyond to create a stay you'll never forget.
From subtle touches like the luxe linen to the duo of ballrooms (yes, really), you can play out your Cinderella dreams at Beach Rotana. And to eat? No matter which global cuisine you favor, you'll find it at one of the 12 on-site restaurants.
Address: 10th St, Al Zahiyah, Abu Dhabi
Price range: $$$
Website: www.rotana.com/rotanahotelandresorts/unitedarabemirates/abudhabi/beachrotana
9. W Abu Dhabi
This stunning feat of architecture could be mistaken for an Olympic stadium: your vacation begins when you lay eyes on W Abu Dhabi and its undulating silhouette.
Finery at its, um—finest—expect Swarovski chandeliers, jewel-tone furnishings, and thoughtful accents to reflect the city's iconic characteristics—not forgetting its Bedouin origins. Gaze out onto the nearby race track or the sparkling marina below, and come night-time? Blow off your vacation steam at one of the seven vibrant bars and restaurants—lackluster is simply not in the vocabulary at W Abu Dhabi.
Address: Yas Island - Abu Dhabi
Price range: $$
Website:www.marriott.com/en-us/hotels/auhwh-w-abu-dhabi-yas-island
10. Emirates Palace
Embodying all that Abu Dhabi is revered for: opulence, luxe, and extravagance, Emirates Palace reaches for the stars like the minarets studding its rooftop.
Wander the delightful gardens, taste-tour the eight restaurants (run by world-renowned chefs, no less), and swim in the duo of temperature-controlled swimming pools. Conveniently positioned near Abu Dhabi's most famous attractions, the Presidential Palace, the Flower Clock, and boutique shopping to rival the Champs-Élysées await you.
Address: W Corniche Rd, Al Ras Al Akhdar, Abu Dhabi
Price range: $$$$
Website: www.mandarinoriental.com/abu-dhabi/emirates-palace
11. Sofitel Abu Dhabi Corniche
Serving a generous slice of French hospitality on the shores of Abu Dhabi's postcard-perfect white sand beach, Sofitel Abu Dhabi Corniche is the ultimate HQ for sun-worshippers.
Breakfast at French Bakery Corner, catch up at Le Cafe, and fall in amour with French-Arabic fusion cuisine at Corniche Restaurant, Sofitel's culinary pièce de résistance. Decorated to a degree of excellence, the Pinterest-worthy rooms offer a refined vibe—embellished with black-and-gold accents to complete the stately atmosphere.
Address: Corniche Road East Capital Plaza Complex, Abu Dhabi
Price range: $$
Website: www.sofitelabudhabicorniche.com
12. Ritz-Carlton Abu Dhabi
Far from your usual skyscraper hotel, the Renaissance-styled Ritz-Carlton Abu Dhabi is like a Little Venice. Indeed, perched overlooking the Grand Canal, the Venetian-inspired architecture certainly invites a sense of la dolce vita.
Providing eye candy from all angles, the Ritz-Carlton Abu Dhabi treats guests to sunset views over Sheikh Zayed Grand Mosque, glittering pools, and thriving gardens. And your humble dwelling? Expect marble baths and 300-thread count linens. Offering everything from shoe polishing to tour-organizing, no request is too large—or too small.
Address: Al Rawdah, Al Maqta', Abu Dhabi
Price range: $$$
Website: www.ritzcarlton.com/en/hotels/uae/abu-dhabi
13. Shangri-La Qaryat Al Beri
Living up to the hype, Shangri-La Qaryat Al Beri epitomizes all that's beautiful about Arabian culture and aesthetics. Honoring Arabic style, discover ornate arches, artistic details, and marbled mosaic bathrooms within the grounds.
The best part? Shangri-La guests aren't relegated to simply walking the complex. No, you'll sail on traditional abra boats, meandering the pristine waterways. So, whether you're headed to the famed Shang Palace restaurant, the infinity pool, or simply your villa, you'll arrive at your destination in sailor-chic style.
Address: Khor Al Maqta,Qaryat al Beri, Abu Dhabi
Price range: $$$
Website: www.shangri-la.com/abudhabi/shangrila
14. Rixos Saadiyat Island
This pretty-in-pastel palace goes by the name of Rixos Saadiyat Island, offering dreamy decadence served on a silver spoon. Enjoy total tranquility in the Oriental Gardens, set to the soft sound of tinkling water features.
Choose from a garden or sea view room, or opt for a Mediterranean-style Superior Villa, complete with your own private pool. And to eat: staying true to style, L'Olivio plates up gorgeous Italian cuisine that'll have nonna asking for the recipes.
Address: Al Saadiyat Island - Abu Dhabi
Price range: $$$$
Website: www.rixos.com/en/hotel-resort/rixos-premium-saadiyat-island
15. The Abu Dhabi EDITION
Free your mind from your 9-to-5 grind at The Abu Dhabi Edition. Set within a pleasingly geometric-designed structure, this five-star boutique hotel unlocks the door to total luxury.
The downtown location lends itself to plenty of city exploring—and when you need solace from the Arabian sun, your room offers a a recuperation haven. Home to three signature restaurants and a unique three-storey social space, you're free to create fresh connections or recharge your batteries solo at The Abu Dhabi EDITION.
Address: Marina, Al Bateen, Abu Dhabi
Price range: $$$
Website: www.marriott.com/en-us/hotels/auheb-the-abu-dhabi-edition
16. Royal M
Primely-located, Royal M is steps away from the Al Bateen Marina, where luxury yachts dock in the crystalline waters. Inspired by its surroundings, Royal M boasts a nautical theme, where maritime hues inspire calm. You can even hop on the private charter to Crown Island, where 19 private cabanas and tasty dining await.
Unwind at the state-of-the-art spa, dine at the Millionaire's Restaurant, or go low-key A-lister at the Celebrity Restaurant. However you pass your precious vacation hours, Royal M makes every second count.
Address: Al Bateen Marina, King Abdullah Bin Abdulaziz Al Saud Street, Al Quffal St, Abu Dhabi
Price range: $$
Website: www.royalmhotels.com/abudhabi
17. Al Wathba by Marriott
Leave your responsibilities at home—Al Wathba's desert setting allows no space for stress. Experience the true beauty of Arabia in the most authentic of ways, where traditional Arabic artworks, dune-facing eateries, and a boutique vibe reign supreme.
Stay at the Royal Compound—home to four luxury villas—or opt for one of the 99 boutique hotel rooms. Yearning for some culture? Discover the secrets of the nomadic Bedouin with the meticulously-organized immersive excursions. And whatever you do, don't miss the spa.
Address: Al Wathba South, Abu Dhabi
Price range: $$$$
Website: www.marriott.com/en-us/hotels/auhlc-al-wathba-a-luxury-collection-desert-resort-and-spa-abu-dhabi
18. Nurai Island Resort
Just 15 minutes by boat from Abu Dhabi city, Nurai Island Resort is the ultimate island retreat—bejeweled with hammocks, lush lawns, and expansive ocean views.
Packed your sea legs? Take a boat cruise or a fishing trip; the chef will cook up your bounty to your liking. Or for those wild at heart, run riot on a jet-ski or try your hand at wakeboarding. Tailoring your perfect vacation, Nurai Island Resort lies beyond the realms of reality.
Address: Sheikh Khalifah Bin Zayed St, Nurai Island, Abu Dhabi
Price range: $$$$
Website: www.nuraiisland.com
19. Conrad Abu Dhabi Etihad Towers
We could hardly craft a guide to the best Abu Dhabi hotels without mentioning the OG of luxe: Hilton. Conrad Abu Dhabi, Eithad Towers stands proud above (comparatively) diminutive skyscrapers, boasting a cloud-level observation deck for unbeatable cityscape views.
Towering above the sun-soaked streets, Conrad Abu Dhabi's 377 excellent rooms are designed to perfection, suitably matching the rest of the hotel. With 12 restaurants and a deluxe spa to rule all spas, this otherworldly hotel provides a taste of pure indulgence—and we're definitely coming back for seconds.
Address: Corniche Rd - Al Bateen - Abu Dhabi
Price range: $$$
Website: www.hilton.com/en/hotels/auhetci-conrad-abu-dhabi-etihad-towers
20. Southern Sun Abu Dhabi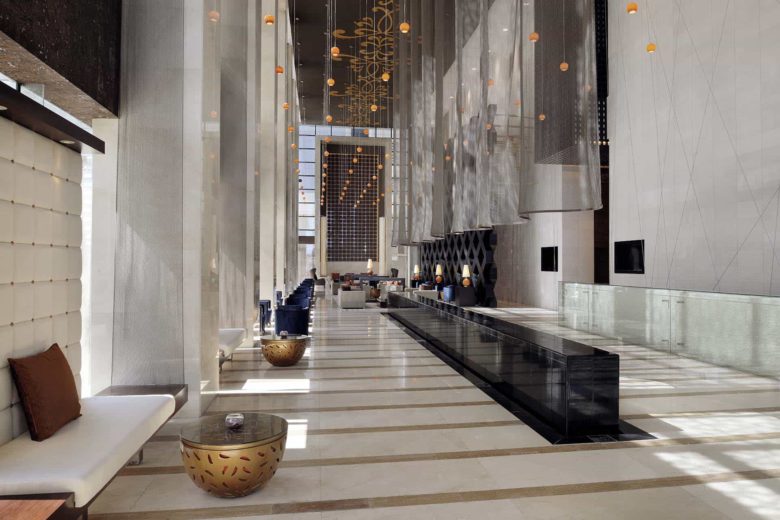 Southern Sun Abu Dhabi encompasses high-end modern style, with a generous splash of elegant Arabic flair to seal the deal. With the rooms and suites starting on the 10th floor and finishing on the 26th, you're guaranteed a glorious view—alongside the sure-fire luxury, of course.
Centrally-located, you'll have your pick of activities within arm's reach—from Ferrari racing to exploring the wonders of Louvre, there'll never be a dull day. You're missing a trick if you bypass the fine-dining Friday Brunch, elevating the mid-morning meal to exquisite new heights.
Address: Al Mina Street, Al Zahiya, Tourist Club Area, Abu Dhabi
Price range: $$
Website: www.southernsun.com/southern-sun-abu-dhabi
21. Dusit Thani
You might spot five-star hotel, Dusit Thani, before you even touch down. See the sky-high glass tower on the horizon? Yep, you'll be calling it home.
Combining Thai design and warm hospitality with the luxe of Abu Dhabi's soaring standards, Dusit Thani strikes a perfect balance. Kick back in your exquisitely-decorated room, complete with chic ornaments and calm-inducing color schemes. And when night falls? Head to the award-winning Benjarong Restaurant for an authentic Thai meal.
Address: 925 Sultan Bin Zayed The First Street (Al Muroor Road), Abu Dhabi
Price range: $$
Website: www.dusit.com/dusitthani-abudhabi