A hint of saffron in the air, a burst of color along every street, and traditional eats to tantalize your tastebuds. Brace yourself for a sensory journey through Istanbul's Grand Bazaar. Lose yourself in over 300,000 sqft of shopping heaven. Fear not, even the locals tend to lose their way amongst the 4,000 shops in the Kapalıçarşı (covered bazaar). The bazaar can't be conquered in a day, even for the most experienced shopaholics among us. For first-timers, our best advice is to enjoy the experience, it's certainly not every day you get to haggle your way with the best of Istanbul's traders. There are many tour options of Istanbul available to those who rather have a guiding hand.
The maze of little streets and shops will have you doing a double-take. There are hundreds of stores selling similar goods and each one with a seasoned shopkeeper ready to tempt you into making a purchase. You can find almost anything at the Grand Bazaar. Clothing, rugs, leather, jewelry, ceramics, and much more. It's best to have an idea of what you want to get out of your shopping trip so as to not overwhelm yourself once in the thick of things. By the end of it all, if you've had a cup of tea with the shopkeeper and bargained down the price then you've experienced shopping in true Anatolian fashion.
Carpets and kilims
Çınar Halı
If you're looking for an exquisite carpet to elevate your home decor, you'll want to start at Cinar Hali's boutique. Even if you're just window shopping, you'll need some time to get through the heaps of hand-woven silk and wool rugs. Hayrullah Çınar started the family dynasty of carpet making in the 1930s. The newer generations of the Cinar family have modernized the carpet business and even opened up a boutique in New York City.
Address: Nuruosmaniye Caddesi No:4, Cagaloglu
Website: www.cinarhali.com.tr/en/
Ethnicon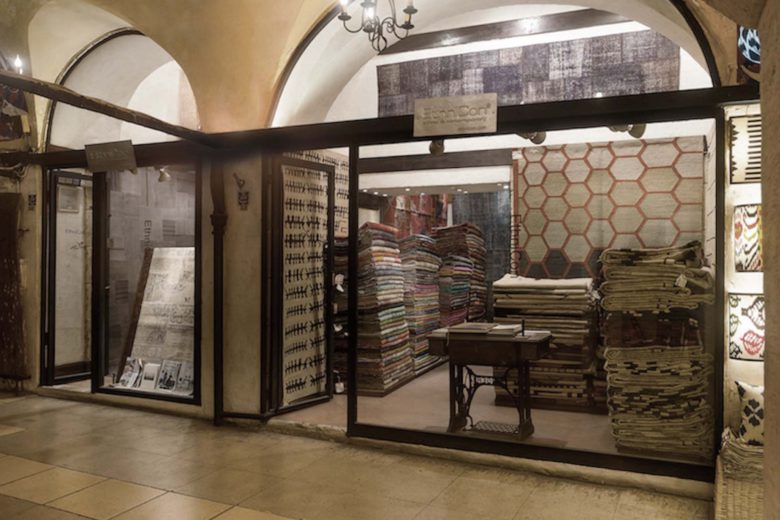 "Ethnic" and "contemporary" carpets are what you'll find at Ethnicon. Each of their pileless woven rugs meets the current fashion trends head-on. Think of your traditional kilim with a unique twist. Kilims reinvented. Patchwork carpets that are as culturally diverse as Turkey itself. Shop here if you're searching for a special piece to take home with you. Not too traditional, with just the right amount of modernness. Find Ethnicon at Takkeciler Sokak, the street famous for carpet stores in Istanbul's Grand Bazaar.
Address: Beyazıt, Takkeciler Sk. 51-53
Şişko Osman
Translated to "chubby Osman", this store is serious about their carpets. Having displayed their wares at the Metropolitan Museum of Art in NYC you know you're in for a treat the moment you enter the Sisko Osman store. You'll find antique rugs and kilims among the fine collection. A majestic 1910 Imperial carpet is part of his collector's items. So legendary is Sisko Osman in the Grand Bazaar, no matter where you are, other shopkeepers will point you in his direction.
Address: Taya Hatun Mah., Acı Çeşme Sok. Kapalı Çarşı Zincirli Han D:15
Website: www.siskoosman.com/index1.html
Dhoku
The sister store of Ethnicon, Dhoku (which means "texture" in Turkish) is home to streamlined contemporary designs. A combination of earthy tones and patterns with a mix of modern styles makes for an interesting shopping experience. The prices are fixed at the Dhoku shops and your purchases are delivered directly to your hotel should you wish. Consider your purchase a piece of artwork beneath your feet. Pure luxury!
Address: Beyazıt, Kapalıçarşı, Takkeciler Sk. No.58-60
Website: dhoku.com/
Ceramics
Özlem Tuna Design Zone
Original designs with a blend of traditional Ottoman touches make up the jewelry and homeware accessories by Özlem Tuna. Take home a few one-of-a-kind coffee mugs and tea cups to continue your east meets west journey in your home. Sip on Turkish coffee while marveling at the whimsical artwork on your unique ceramics. Besides designs from founder Özlem Tuna, you will find progressive pieces from a host of upcoming Turkish designers.
Address: Alibaba Türbe Sokak 21-4, Nuruosmaniye
Website: www.ozlemtuna.com/
Iznik-Art
Iznik pottery is a type of decorated ceramic ware produced in the town of Iznik in Turkey. You'll find many ceramic shops in Grand Bazaar selling Iznik ceramics, Iznik-Art being one of them. After exploring the mosques and museums of Istanbul you'll wish you could take a piece of the striking Ottoman designs home with you. Here you can find many classically-designed vases, plates, and bowls that resemble the likes of Topkapi Palace and the Blue Mosque.
Address: Beyazıt, Orta Kazaslar Cad. No:64
Website: www.iznik-art.com/
Iznik Works
Iznik Works is home to fine artistry captured perfectly in each piece of pottery and tile. Imagine the kaleidoscope of colors of Turkey captured in fine ceramics. You can gaze upon your limited edition pieces in the comfort of your own home. Iznik Works sells conversational pieces that can be ordered online or in person at one of their four stores located in the Grand Bazaar. If you're in search of something specific they will find it for you.
Address: Beyazıt, Takkeciler Sk. 41-43
Website: www.iznikworks.com/
Jewelry
Ali Güleç Silver and Genuine Stone
Bring back a gorgeously fashioned gem home with you…a piece that will conjure up visions of Istanbul. This store can be found in the Cevahir Bedesten (jewelry market) of the Grand Bazaar. Inside you'll find jewelry encrusted in precious stones like rubies, emeralds, and diamonds. Other jewelry includes semi-precious stones that make the perfect gifts for those dear to you. Ali Güleç will have you sipping on apple tea while picking out your special sparklers.
Address: İç Bedesteni Şerif Ağa Sk. No:268
Sevan Bıçakçı
Over-the-top grandeur is the most fitting way to describe the jewelry collections of Sevan Bıçakçı. Each collection is a fairytale born from the mind of the artist and craftsman Sevan. He started his journey into jewelry making at the tender age of 12. The culture of Anatolia, Byzantium, and the Ottoman Empire all play a role in bringing to life each piece of jewelry. Shop for your unique piece of treasure hidden among the gems.
Address: Mollafenari, Gazi Sinan Paşa Sk. No:12
Website: www.sevanbicakci.com/
Grand Bazaar Jewelers
Traditional Turkish designs, vintage baubles, and evil eye jewelry are but a few of the pieces you'll find at the Grand Bazaar jewelry shop. Statement jewels that are handmade by local artisans make it easy for you to have all eyes on you wherever you go. Whether you're in search of glamorous gold jewelry or delicate semi-precious stones there's a sure-fire match for you among the thousands of grand designs.
Address: Alemdar, Guran Han, Bab-ı Ali Cd. No:34 D:4
Website: www.grandbazaarjewelers.com/
Leather clothes
Koç Deri Leather House
If you're on the hunt for custom leather jackets or fur coats then Koç Leather should be at the top of your list to visit. The family-run luxury fashion house has been in existence since 1968. Less mass production more handcrafted quality. The true judge of the Koç Leather quality is when you see it in person and drape it on yourself. A genuine leather connoisseur will know the authenticity when they see it.
Address: Kürkçüler Çarşısı 22-46
Website: kocleather.com/
Prens Leather
Prens Leather boutique is situated just outside of the Nuruosmaniye Gate of the Grand Bazaar. Get ready to be taken on a journey of leather making over two floors of stylishness. Prens will even transfer you from your hotel to the store. An ode to their motto of "unconditional customer satisfaction". Find your tailored-fit leather garment and accessory to match or custom make something special. In true Istanbul fashion, you'll find both traditional and contemporary styles.
Address: Vezirhan Caddesi No: 64A Çemberlitaş
Website: www.prensleather.com
Punto Deri Istanbul
With a keen focus on current global trends, you'll find high-quality leather wear at the Punto Deri store in Grand Bazaar. The chic designs have also made their way to the luxury fashion district of Nisantasi. Punto has two stores here to find your finest fur or statement leather piece. The sun may be scorching out in the streets of Istanbul, but don't let that deter you from making a fine investment in classic Turkish workmanship.
Address: Sultan Ahmet, Nakilbent Sk. No:3
Website: puntogroup.com/
Textiles
Abdulla
If you're a self-professed bathing enthusiast, Abdulla offers you the opportunity to match your bathroom linen and accessories exquisitely. Create an at-home hammam experience with their essential oil soaps, deluxe bathrobes, and flatweave pestemals. Abdulla products are all naturally focused and environmentally friendly. Take the exotic scent of Turkey with you. The Abdulla store makes the perfect escape from a long day of shopping. You'll be greeted by an air of calm and a whiff of luxury.
Address: Alibaba Türbe Sokak 25, Nuruosmaniye
Website: abdulla.com/en/
Ottoamano
Silk and cashmere scarves have made a name for Ottoamano as one of Grand Bazaar's finest textile traders. There's a vast range of colors and patterns to choose from. Shelf after shelf of unique designs from subtle and simple to bold and vibrant. The selection is as neverending as the maze of streets that make up the Grand Bazaar itself. Drape yourself in the colors of the Middle East and satisfy your wanderlust wherever you go.
Address: Beyazıt, Sandal Bedesteni Sk, No:36
Yazzma
If the whole Grand Bazaar experience has you feeling overwhelmed follow the tried and tested route. Yazzma designs have featured in Istanbul's trendy Soho House so you know you won't go wrong when shopping here for some timeless textiles. Wall hangings spun from silk and hand-embroidered pillowcases will spruce up any living space. Yazzma offers a modern take on suzani and ikat textiles which add a special touch of the east to your collection.
Address: Beyazıt, Kapalıçarşı, Takkeciler Sk. No:48-50
Website:yazzma.com/
Fashion accessories
Dervis
The items on offer at Dervis are unique pieces from various parts of Anatolia. Each kimono, dress, scarf, or bag has traveled a mystical journey to get to you. There are a few prized vintage and antique garments that deserve a special place as collector items. Specially collected from small villages across Anatolia, these hand-made dresses date back to the 1900s. Dervis also houses a selection of home and bath textiles just as luxurious as their clothing.
Address: Tomtom Mahallesi, Bogazkesen Caddesi No:57/1
Website: dervis.com/
Cashmere House
Hand-woven works of art are what you'll find at Cashmere House. Brought from hidden corners of the world and delivered to you with a cup of tea and a smile, Grand Bazaar style. Kaftans and shawls of silk and cashmere conjure up visions of Turkey in their intricate designs. A shawl is as versatile as a little black dress. The traditional patterns go from subtle and earthy to bold showstoppers. A visit to Grand Bazaar isn't complete without bagging a kaftan or shawl.
Address: Beyazit, Kapalicarsi, Keseciler Cd. D: No:49-51
Website: cashmerehouse.com.tr/
Antiques
Sofa Art & Antiques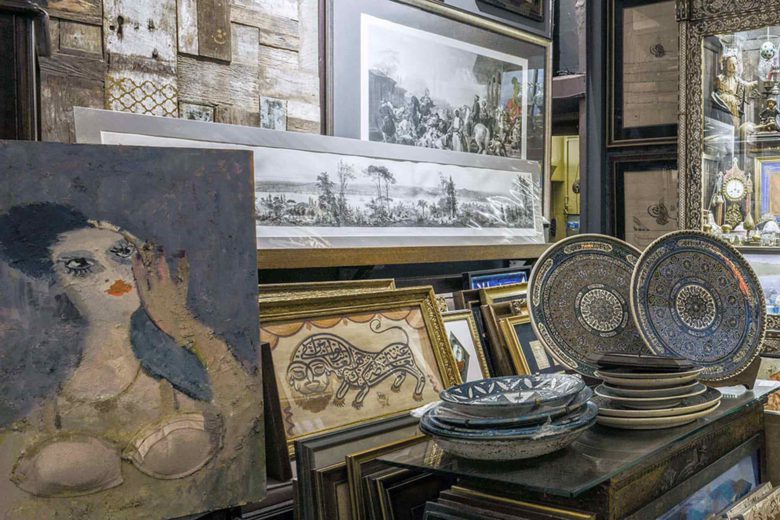 Since 1976 Sofa has been established as one of the outstanding antique dealers in Istanbul. The store is a treasure box of handpicked collectibles waiting for its next lucky owner. They keep an extensive range of artwork, gold and silverware, and antique jewelry to name a few. Each antique has a story to be told. Owner Kashif Sofa is the chief storyteller, who will bring to life the tales of each item in his store.
Address: Nuruosmaniye Caddesi 53/A
Website: kashifsofa.com/
Eski Fine Arts and Antiques
The location of Istanbul has made it a melting pot of cross cultures. At Eski, you can find relics from Russia, Germany, Greece, and Egypt all in one place. Collect rare masks, medallions, and jewelry from the 19th and 20th centuries. The type of antiquity found in Grand Bazaar is truly one of a kind. If you see something you like at a price you agree upon, then we suggest you take the offer.
Address: Cevahir Bedesten No.152
Epoque
Shopping in this 19th-century styled shop is not for the bargain hunter. The high-end antiques on sale at Epoque range in price from $1,000 to $200,000. Although the store is frequented by some of Turkey's most affluent families they welcome all shoppers to browse without pressure of making a purchase. The shop is a quiet respite from the buzz of the Kapalıçarşı. Go here for a history lesson on the intriguing collectibles.
Address: Sandal Bedestani Sokak 38
Frequently asked questions about the best places to shop in Istanbul's Grand Bazaar
What is the Grand Bazaar famous for?
The Grand Bazaar in Istanbul is famous for being the oldest and largest covered market in the world. With over 4,000 shops selling unique crafts made by individuals to large businesses, the grand bazaar welcomes between 250,000 and 400,000 visitors a day.
Can you buy clothes in Grand Bazaar Istanbul?
Yes, you can buy all types of textiles at the Grand Bazaar Istanbul. Clothing items that are popular include t-shirts, jeans, dresses, cashmere kaftans, and scarves.
What is the famous shopping in Istanbul?
Istanbul is famous for its trendy boutiques and traditional markets. Items On sale include carpets, ceramics, spices, jewelry, and textiles. A few famous areas to shop in Istanbul include the Grand Bazaar, the Egyptian Bazaar, Istinye Park, and Nisantasi.
How do you bargain at the Grand Bazaar in Istanbul?
There are no hard and fast rules to bargaining at the Grand Bazaar in Istanbul. It's always a good idea to shop around first to know the market value of a product. It is customary to haggle, so don't hesitate to offer 40% – 50% below the asking price as a starting point.