In many ways, Canada's picturesque environments are enough to restore your mind, body and soul without the added pampering. But add a luxury spa to the surreal surroundings and you'll have an incomparable combination. Whether it's steaming nordic hydrotherapy or deep tissue massages, the country's alpine air adds a whimsical touch to any tailored treatment.
Experience an Ayurvedic Head Massage under the cedar giants. Float weightlessly atop salty waters as the stars scintillate above. Get lost in snow speckled pines as The Apre Massage takes care of overworked ski legs. Allow pulsating waterfalls and Redefining Body Wraps to simultaneously mesmerize your senses. Or catch the Coastal Beach Stone massage while sea lions frolic in the backdrop.
Our top luxury spas in Canada are inspired by their distinctive exotic environments. And in return, they are committed to restoring and replenishing the Earth as well as their guests. From forest conservation initiatives to regenerative agriculture, recycled water and energy efficiency—you can enjoy guilt-free therapy, knowing that our environment is not bearing the cost.
The 11 best spas in Canada
Nimmo Bay Resort, British Columbia
Step into tranquility and realign with the rhythms of nature at a remote resort nestled into the Great Bear Rainforest. The Nimmo Bay Resort Spa is exclusive to its guests and personifies holistic pampering at every turn.
Spa treatments include Ayurvedic head massages performed en plein air—on a floating dock or amongst the trees. The family owned retreat allows you to find peace in nature and many of their wellness services are offered in the surrounding rainforest beneath the cedar giants. Plus, as nature enthusiasts, you can trust that Nimmo Bay Resort goes above and beyond to promote eco vacations and sustainability.
Best for: Grounding yourself amongst the cedar giants.
Address: 100 Little Nimmo Bay, Mackenzie Sound, Mount Waddington A, BC V0N 2R0, Canada
Opening days and hours: 
Mon-Fri: 9am-5pm 
Sat: 10am-pm
Sun-closed
Price range: $$$$
Website: nimmobay.com/wellness/
Nordik Spa, Chelsea
Characterized by a Scandinavian style of hydrotherapy, expect to sweat, shiver and rest your body into strength and rejuvenation. Best experienced in cooler climates, Nordik spas are taking Canada by storm (rain showers and all). But we think that this eco chic escape in Chelsea tops them all.
As the largest spa in North America, the Nordik Spa offers a plethora of heat-therapy techniques, multisensory treatments as well as surreal natural surroundings. Not to be missed is the Kalla treatment. The dense saltwater imitates the weightlessness of floating on the Dead Sea, generating a calming sensation to release stress, reduce inflammation and increase creativity.
Best for: Take the plunge into strength-restoring pampering.
Address: 16 Chem. Nordik, Chelsea, QC J9B 2P7, Canada
Opening days and hours: 
Mon-Thurs: 9am-11pm
Fri-Sat: 8:30-12am
Sun: 8:30-11pm
Price range: $$
Website: chelsea.lenordik.com/en/
Hammam Spa by Cela, Toronto
Arrive depleted and leave transformed. This ancient Eastern-inspired spa offers some of the best treatments to revive and replenish. It's an escape from the bustling city of Toronto—albeit a close one. You won't have to travel far to feel as if you've been transported into a peaceful parallel universe.
Start your journey at Hammam Spa by Cela in a mosaic-tiled, eucalyptus-infused steam room. And end it with treats and tea in their lavish lounge. Everything in between promises to be just as alluring—be it the languorous Turkish Bath or the Essential Balm Massage.
Best for: Age-old rituals tailored to relieve city stress.
Address: ​​602 King St W, Toronto, ON M5V 1M6, Canada
Opening days and hours: 
Mon-Sat: 10am-7pm
Sun: 10am-6pm
Price range: $$
Website: hammamspa.ca/
Sonora Resort
We've already mentioned Sonora Resort to be one of the top Canadian luxury hotels—a key contributor to that being their Island Currents Spa. Surrounded by the wild on a secluded island, address tired muscles with the backdrop of eagles calling, the ocean roaring and sea lions frolicking—one of the best attractions in Canada.
Spa packages include a Girlfriend Getaway as well as a Coastal Retreat for Two. The hydrotherapy is unapologetically alluring in the cooler months. And the Coastal Beach Stone Massage is deeply grounding for those looking to reconnect with nature.
Best for: Tantalizing treatments take on surreal surroundings.
Address: Sonora Island, BC V0P 1V0, Canada
Opening days and hours: 
May 1- Oct 15
Price range: $$$
Website: sonoraresort.com/activities/wellness/spa-treatments/
Four Seasons, Whistler
Equipped with glacier rain shower, outdoor whirlpools and eucalyptus steam room, The Spa at Four Seasons gets its cues from the scenic route from Vancouver to Whistler. And with exaggerated revealing windows, you'll be able to experience the whimsical snow speckled pines from unparalleled comfort.
The Mani Pedi Patio is the perfect place for groups to unwind and soak in their surroundings. And their signature treatments, such as the Apres Mountain Massage are an imperative reprieve for aching ski-enthusiasts.
Best for: Soaking in serendipitous surroundings.
Address: 4591 Blackcomb Way, Whistler, BC V8E 0Y4, Canada
Opening days and hours: 
9am-7pm everyday
Price range: $$$
Website: www.fourseasons.com/whistler/spa/
Willow Stream Spa, Banff Springs
Reminiscent of the hot springs that have lured in travelers for centuries, the pulsating waterfalls and mesmerizing mineral pool embody the heart and soul of this restorative spa. And whilst we no longer need to embark on a months-long pilgrimage to reach this promised land, the ethereal environment may have well been worth the journey.
From deep tissue recovery massages to invigorating body rituals, the Willow Stream Spa is a luxury treatment temple. And you can soak it all in with the promise that only sustainable products are partaking in your pampering.
Best for: Sustainable soul restoration.
Address: 405 Spray Ave, Banff, AB T1L 1J4, Canada
Opening days and hours: 
8am-8pm everyday
Price range: $$$
Website: www.fairmont.com/banff-springs/spa/the-fairmont-banff-springs-spa/
Spa by JW, Edmonton
This chic spa is the core of one of our favorite boutique hotels—The JW Marriott in Edmonton. After all, what is a luxury hotel without an opulent wellness center? The clean lines and contemporary interior manifest clarity through an uncluttered mind. While purification treatments cleanse the mind, body and soul.
Look out for their Resilience and Wellness Ritual. As one of The JW Spa's signature packages, it's designed to reignite positivity and relaxation. Consider it a gift to yourself and to your family members (hint: you'll come out singing to a new tune).
Best for: Contemporary lines cleanse the mind.
Address: 10344 102 St NW, Edmonton, AB T5J 0K9, Canada
Opening days and hours: 
Mon-Tues: Closes
Wed-Thurs: 1pm-6pm
Fri: 11am-8pm
Sat: 9am-8pmSun: 9am-6pm
Price range: $$$
Website: www.spabyjwedmonton.com/
St Annes, Haldimand Hills
Step into colonial opulence in St Annes historical countryside castle. This luxury hotel is an expert in superlative service. And you can expect to feel like royalty from the moment you enter the iconic stone walls.
As one of the country's top ecotourism hotels, St Annes has consciously adopted many green practices over the years. From recycled water and regenerative agriculture to energy efficiency and carbon neutral packaging—you can meditate on the knowledge that your Citrus Sun treatment isn't costing the Earth.
Best for: If Downton Abbey had a spa.
Address: 1009 Massey Rd, Grafton, ON K0K 2G0, Canada
Opening days and hours:
Mon-Fri: 8am-8pm
Sat-Sun: 10am-6pm
Price range: $$
Website: www.steannes.com/
Scandinave Spa, Blue Mountain
With an outdoor fireplace and floating hammocks, The Scandinave Spa is a rustic haven for unparalleled relaxation. Creating a space to appreciate natural elements, the retreat refers to soaking in the healing properties of fresh air as forest bathing. They understand how important the preservation of our environment is. And as a result, a portion of their profits goes towards forest conservation—amongst many other green initiatives.
Inspired by its Scandinavian roots, hydrotherapy baths adorn the eco friendly resort. While other tailored treatments take your overall experience up a notch.
Best for: Rustic relaxation.
Address: 152 Grey County Rd 21, The Blue Mountains, ON L9Y 0K8, Canada
Opening days and hours: 
9am-9pm everyday
Price range: $$$
Website: www.scandinave.com/blue-mountain
Strom, Nordic Spa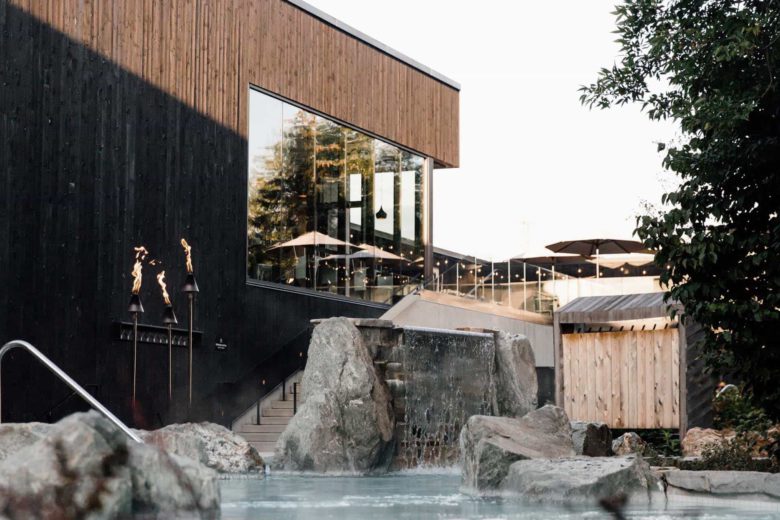 Situated a stone's throw away from downtown Montreal, this is the perfect place to soak away a bad day at the office. They also offer package specials so that you can make the escape a regular occurrence.
The clean contemporary architecture is surrounded by picturesque steaming pools. The Rod relaxation room includes infrared beds. And elevated open air massage rooms breathe in the alpine atmosphere. Not to mention, Strom's exemplary efforts towards sustainability. Consider it guilt-free therapy.
Best for: Transforming bad days.
Address: 1001 Bd de la Forêt, Verdun, QC H3E 1X9, Canada
Opening days and hours: 
9am-10pm everyday
Price range: $$
Website: www.stromspa.com/
The Langdon
Rich in historical significance, Langdon Hall exudes the legacy of the Old Ontario Estate. And their lavish spa plays a big role in bringing that feeling of countryside opulence to life. Sweet and simple, this reprieve from daily mundanities focuses on the highest quality treatments.
When visiting The Langdon Spa, you can expect saunas, whirlpools, lunch service and tea stations. While their treatment menu pays homage to its countryside surroundings by making use of natural oils and organic ingredients.
Best for: Countryside classics.
Address: 1 Langdon Dr, Cambridge, ON N3H 4R8, Canada
Opening days and hours: 
Sat-Wed: 9am-6pm
Thurs-Fri: 9am-8pm
Price range: $$
Website: www.langdonhall.ca/the-spa/
Frequently asked questions about spas in Canada
How do I choose the right spa?
When choosing a spa, check their treatment menu to make sure they have what you're looking for. You should also see what other facilities are available. And if you're looking at spas located in luxury resorts, check what facilities are available to day visitors as some may be reserved for guests. Otherwise you can tell a lot from reviews.
How much is a spa in Canada?
Treatments and packages vary hugely in costs. If you're looking to spend the day at a spa, expect to spend at least $500. While some spas at luxury boutique resorts offer three day packages from $1,000.
Where are Canadian spa company hot tubs made?
Different spas use different manufacturers. But Canadian Hot Tubs in Ontario is a popular manufacturer. They are best known for their natural looking round cedar tubs that can accommodate up to ten people.
What makes a spa luxury?
A luxury spa experience is an escape from everyday stresses. It should reinvigorate and replenish your mind, body and spirit through high quality treatments and serene surroundings. We also believe that luxury spas should include sustainable initiatives and practices.