La vita doesn't get more bella than in Florence, Italy—or Firenze, to locals. Tuscany's sun-tinged capital is defined by its Renaissance art and architecture, galleries galore—one is home to Michelangelo's David, no less—and iconic Brunelleschi cathedral, whose terracotta-tiled dome dominates the skyline.
Yes, your Florentine break will no doubt include days of exploring; the winding cobbled streets and plentiful charming trattorias are often artworks in themselves. However, when you've had your fill of masterpieces (if that's possible), pizza, and gelato, it's high time you give your mind and body a break. The best place to do so? A spa, naturally. And, since Italians don't do things by half-measure, Florence lays claim to some of the most glorious spas we've ever beheld.
From five-star luxury hotel spas to independent wellness centers, you won't be short of spots to rest your weary feet. Whether your idea of R&R is a bespoke massage, sweating it out in a sauna, or chinking a champagne flute in the hot tub, the best spas in Florence are at your service. We've handcrafted the ultimate guide to the most opulent spa destinations, perfectly designed to indulge your body and spirit.
The 11 best spas in Florence
1. The Spa at Four Seasons
Set amongst arresting architecture and beautiful botanical gardens, The Spa at Four Seasons is captivating in all senses. From the garden whirlpool to absorb nature's bounty while massage jets target your tired muscles to the expertly-taught yoga classes, The Spa at Four Seasons is a starry-eyed utopia.
The perfect place to recuperate from your city exploration (hey, lazy days of prosecco and gelato can be exhausting, are we right?), this immense spa offers a vacation from your vacation. Don't miss the signature treatments, harnessing the power of Tuscan herbs and plants to nourish your body from the outside in.
Address: Borgo Pinti, 99, 50121 Firenze FI, Italy
Opening days and hours: Monday to Sunday 11am - 7pm
Price range: $$$
Website: www.fourseasons.com/florence/spa
2. White Iris Beauty Spa
With the Ponte Vecchio so close you can (almost) touch it, White Iris Beauty Spa strikes gold with its gorgeous—and accessible—location. Masterfully designed with white and Tuscan stone interiors, you'll leave your troubles at the door.
Served by a passionate team of wellness professionals, you'll be in highly-skilled hands at White Iris Beauty Spa. Opt for the Tibetan Sound Massage, complemented by the gentle chime and soul-reaching vibrations of the eponymous singing bowls, or the dual-phased Salt Massage, where Himalayan salts in numerous forms work to purify and rebalance.
Address: Vicolo dell'Oro, 6r, 50123 Firenze FI, Italy
Opening days and hours: Monday to Sunday 11am - 7pm
Price range: $$
Website: www.lungarnocollection.com/white-iris-spa
3. Bené at Villa Cora
Located in Villa Cora, a beautifully-converted 19th Century noble estate, Bené Spa treats its guests like the aristocracy who formerly graced its halls. A satisfying blend of Florentine simplicity and captivating antiquity, this spa is designed to inspire peace.
Home to a hammam, sauna, tepidarium (inspired by the Roman tradition), and a trio of treatment rooms, you can choose to recharge solo or receive a hands-on therapy, from Ayurvedic massage to the Olive Oil Ritual. And, when your body is suitably indulged, turn attention to your stomach; head to the hotel's ristorante, known for its abundance of healthy offerings.
Address: Viale Machiavelli, 18, 50125 Firenze FI, Italy
Opening days and hours: Monday to Sunday 10am - 8pm
Price range: $$$
Website: www.villacora.it/en/spa-resort-tuscany
4. Blue Moon Spa
Bathed in royal blue and Aurelian light, Blue Moon Spa is a sight for sore eyes—and sore muscles. Presenting every spa amenity you could fathom, alongside the coal-stone sauna and Jacuzzi, you'll discover a salt wall, a Sensory Path of hot and cold pools, plus an emotional shower (not the teary kind, don't worry) perfumed with essential oils to uplift your spirit to a state of bliss.
For pure indulgence, settle into one of the purpose-built cabins for a one-to-one relaxation treatment, with Thai to Maori to Lomi-Lomi styles available at Blue Moon Spa.
Address: Viale Fratelli Rosselli, 14, 50123 Firenze FI
Opening days and hours: Monday to Sunday 4pm - 8.30pm
Price range: $$
Website: www.themoonhotel.com/en/spa
5. SoulSpace Florence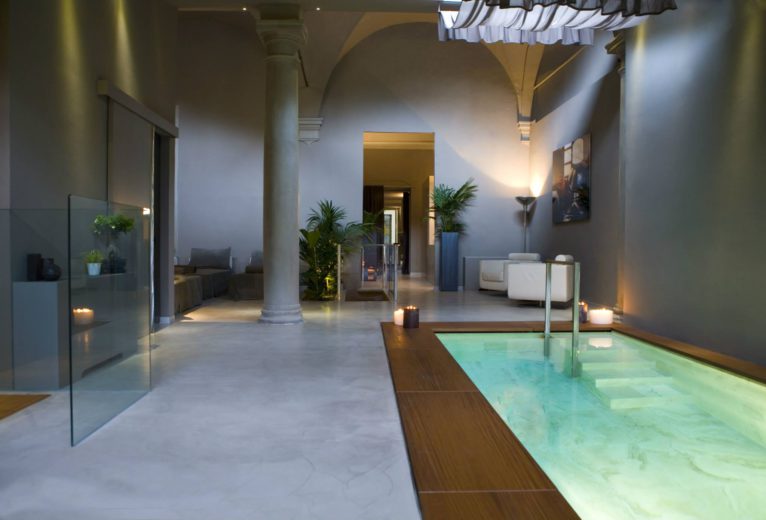 With every detail engineered to evoke calm and relaxation, SoulSpace Spa in Florence is nothing if not meticulous with its approach. The gentle illumination and barely-there musical notes complement the marble floors and crystalline pools, where a water journey is waiting to wash away your worries.
Daydream in the warm, glassy pool, clear your pores in the Turkish bath, and purify your spirit with one of the many treatment packages available, from the Anti-Ageing to the Aromatic Day Spa to the Double Cuddles couples' package.
Address: Via Sant'Egidio, 12, 50122 Firenze FI, Italy
Opening days and hours: Monday to Sunday 10am - 8pm
Price range: $$$
Website: www.soulspace.it/en
6. Spa at Palazzo Castri
An oasis of calm amongst the stir of the city, Spa at Palazzo Castri is hidden in plain sight, tucked away in a pocket of silence within the Palazzo Castri 1874 hotel.
A symposium of the finest of global relaxation tradition, from the Finnish sauna to the Turkish bath, you can also bathe under the glittering Florentine sky in the indoor-outdoor hydromassage pool. After unwinding to a state of stillness, revive your soul under the icy waterfall; not for the faint-hearted, but certainly not to be missed.
Address: Piazza della Indipendenza, 7, 50129 Firenze FI, Italy
Opening days and hours: Monday to Sunday, appointment only
Price range: $$
Website: www.palazzocastri.com/spa
7. Ponte Vecchio Suites & Spa
Sure, Florence is small enough to be explored on foot; nonetheless, those tired tootsies will need a rest after a few days of padding the pavement. There's no better place to put your feet up than Ponte Vecchio Suites & Spa, situated a stone's throw from its namesake.
Dip a pedicured toe into the assortment of treatments and facilities; from the Turkish bath to the Jacuzzi for two, plus the chromotherapy shower, employing centuries-old techniques to boost your wellbeing. Accented by atmospheric lighting and mood-evoking decor, Ponte Vecchio Suites & Spa is nothing short of a sanctuary.
Address: Via Dè Belfredelli, 9, 50125 Firenze FI, Italy
Opening days and hours: Monday to Sunday 8.30am - 8.30pm
Price range: $$$
Website: www.pontevecchiosuites.com/exclusive-spa-florence
8. Golden Spa at Golden Tower Hotel
A whisper away from Piazza Strozzi, Golden Spa proudly wears the medal for the only spa in Florence's historical center. So, in between your Aperols and bites of tiramisu, you can nip to the Golden Spa for a dose of TLC, Italian-style.
The stress of your daily grind will melt away in the soothing current of the whirlpool, while the emotional shower and Turkish bath work to purify your skin from the outside-in. Traveling with your amore? Opt for the Turkish Couple's Bath, or go for gold with the Golden Ritual; not to mention, the Golden Wine Experience also caught our eye…
Address: Piazza degli Strozzi, 11r, 50123 Firenze FI, Italy
Opening days and hours: Monday to Sunday 4pm - 9pm
Price range: $$$
Website: www.goldentowerhotel.it/en/golden-spa-florence-center
9. Spa at Palazzo Lorenzo
Discover an inner harmony you've only dreamed of at Palazzo Lorenzo's day spa. Handpicking the best spa techniques from all four corners of the globe, you can submerge in the foaming Jacuzzi bubbles, recalibrate in the emotional shower (complete with soft sounds and subtle scents for a holistic experience), and find the antidote to daily woes in the Finnish sauna.
We're particularly impressed by the Turkish bath, designed with marble and boasting perfectly regulated humidity and temperature to ease you into pure bliss. Yes, at Spa at Palazzo Lorenzo, you'll emerge fresh-faced and divine.
Address: Via Lorenzo Il Magnifico, 25, 50129 Firenze FI, Italy
Opening days and hours: 
Price range: $$$
Website: www.palazzolorenzo.it/spa
10. Asmana
To describe Asmana as a wellness center is to rudely undercut them; no, Asmana is a wellness world. Opening its doors until midnight (and often, beyond), it's always a fine time to pop by. In fact, we highly advise heading to Asmana after twilight—when the moonlit pools enchant, and the sauna steam drifts lazily into the night sky.
Largely set outside amongst lush greenery, Asmana reaches for the stars when it comes to premium service. Offering their own song of ice and fire, don't miss the Wellness Ceremonies taking place in the sauna—leave your expectations at the door, and experience the contrasts of heat and chill in a healing environment.
Address: Via Salvator Allende, 10, 50013 Campi Bisenzio FI, Italy
Opening days and hours: 
Monday to Thurday 10am - 12am
Friday 10am - 1pm
Saturday 9am - 1pm
Sunday 9am - 12am
Price range: $
Website: https://www.asmana.it
11. Iridium Spa at St. Regis
One of our favorites—if you hadn't noticed—Iridium Spa at St. Regis graces the world's stage in smoldering destinations from the Maldives to Macao. So, it's not surprising that Florence makes the cut.
Using innovative Clarins spa products, Iridium Spa at St. Regis truly out-do themselves with their treatment selection. From herbal-powered, mindful massages applied by expert hands to international massage styles from across the globe (think Ayurvedic, Balinese, and Thai), you can tailor your experience just as you like it.
Address: Piazza Ognissanti, 1, 50123 Firenze FI, Italy
Opening days and hours: Monday to Sunday 10am - 8pm
Price range: $$$
Website: www.marriott.co.uk/hotels/hotel-information/fitness-spa-services