There was a time when finding a vegan or vegetarian restaurant in Costa Rica was impossible. While the country is home to some of the most exotic plant-based produce in the world, traditional Costa Rican cuisine is dominated by beans, rice, meat, and fish. But today that's all changing and it's most definitely possible to eat vegetarian in Costa Rica.
Vegan and vegetarian restaurants are popping up all over the country, offering creative and healthy food options without any animal produce in sight. Think farm-to-table recipes showcasing fresh local ingredients, plus organic ingredients and wholefoods, free from pesticides and chemicals. All carefully considered, thoughtfully prepared, good for your body, and for the planet.
The best vegetarian and vegan restaurants in Costa Rica aren't just removing meat from their standard specials. These plant-based restaurants are re-inventing the whole notion of vegetable-centric dining, experimenting with flavours to create imaginative dishes destined to have meat eaters deciding to forgo the mahi-mahi in favour of Portabello mushrooms.
And not content for plant-based dining to be their only green initiative, many of these restaurants are also committed to other sustainability practices, embracing zero-waste policies and enhancing their energy efficiency.
So check out our list of the best vegan and vegetarian restaurants in Costa Rica. We've got exclusively vegan restaurants where classics like burgers and buffalo wings get the plant-based treatment. We've also got budget-friendly cafes, healthy fine dining destinations, and others that offer bonuses like yoga and meditation classes.
The 9 best vegetarian & vegan restaurants in Costa Rica
Casa Planta: Best sustainable restaurant in Manuel Antonio, Costa Rica
In a country that's already leading the way with environmentally friendly practices, Casa Planta is one of the top sustainable restaurants with its energy conservation efforts and venue that emphasises connection to nature.
Located at the eco luxury retreat, IGLOO Beach Lodge in Manuel Antonio and walking distance from the national park, Casa Planta is not exclusively meat-free but it does have some great vegan and vegetarian friendly food on the menu.
Check out the range of vegetarian pizzas as well as the empanadas, mushroom sandwich with paprika and arugula, black bean burrito, chickpea bowl, as well as the incredibly refreshing-sounding poke watermelon.
With celebrity chef and wellness entrepreneur Matthew Kenney at the helm, the vegan-friendly restaurant is redefining the meaning of pura vida with its farm-to-table ethos, putting the spotlight on the best local produce and the variety of unique flavours available in Costa Rica.
Address: Puntarenas Province, Quepos, Costa Rica
Opening days and hours: Monday to Friday, 7:00 am to 10:00 pm, Saturday and Sunday, 7:00 am to 10:00 pm
Price range: $$$
Website: www.casaplantakitchen.com
LuvBurger: Best vegan and vegetarian fast-food in Costa Rica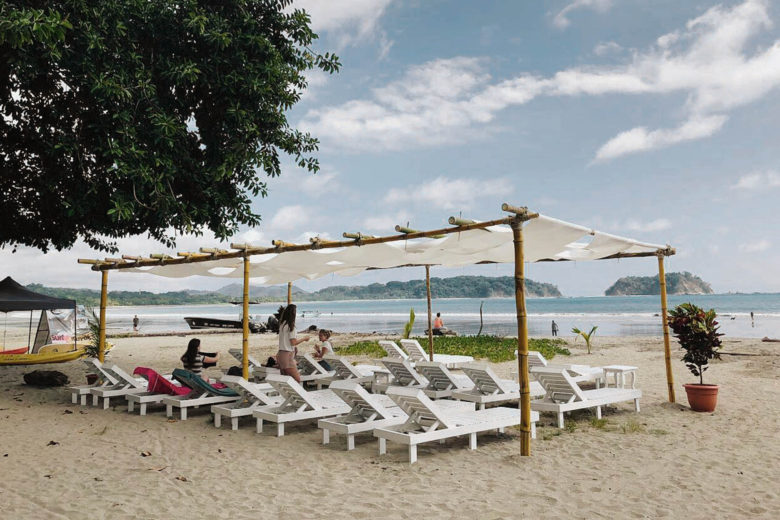 If you're on the hunt for something quick and casual, head to plant-based fast food restaurant, LuvBurger. The company inspires people to eat natural and organic produce with minimal environmental impact. In essence, it wants to save the world 'one burger at a time.'
LuvBurger promotes plant-based diets as an important solution to our environmental crisis, encouraging a more conscious and responsible approach to food and demonstrating the perks of choosing healthy and wholesome meals over nutrient-depleted meat from a factory farm.
Need motivation to move away from your standard animal-based fare? Just imagine digging into the brand's famous Coconut Bacon Cashew-Cheeseburger, followed by a coffee with soy or almond milk or a gut-friendly kombucha.
There are several LuvBurger venues around Costa Rica so take your pick. All serve great veggie food with no fillers, preservatives, GMOs, artificial flavours, or colourings. Definitely one of the best vegan restaurants in Costa Rica.
Address: Nosara, Guanacaste, Costa Rica, and Playa Samara, Guancaste, and San José Province, San José, Costa Rica.
Opening days and hours: every day, 12:00 pm to 8:30 pm
Price range: $$
Website: www.luvburger.com
Tin Jo: Best Asian fusion vegan restaurant in San Jose, Costa Rica
Looking for vegan restaurants in San Jose, Costa Rica? Having first opened back in 1972, Tin Jo has earned itself status as one of the most established vegetarian friendly restaurants in Costa Rica.
Serving a mixture of Asian-inspired cuisine from a former colonial mansion in the heart of the capital, this is one of the best restaurants with vegan options. MSG is also nowhere to be seen and some dishes are gluten-free too.
Definitely save room for dessert. Options include a lemon cheesecake, chocolate flan, and a passionfruit tart. Decadent while still being healthy (sort of).
And as well as serving delicious meat-free meals, Tin Jo also promotes a Zen-like mood to accompany your dining experience, hosting yoga and meditation classes throughout the week so you can practice mindfulness before demolishing your pad thai. On Wednesdays, there's also Miercoles Candelas where lights are traded for candles. And, in the Bamboo Room, no cell phones are allowed.
Address: Calle 11, San José Province, San Jose, Costa Rica.
Opening days and hours: Monday to Friday, 11:30 am to 2:30 pm and 6:00 pm to 8:30 pm, Saturday, 11:30 am to 3:30 pm and 6:00 pm to 8:30 pm, and Sunday, 11:30 am to 8:00 pm. 
Price range: $$-$$$
Website: www.tinjo.com
Organico Fortuna: Best vegetarian restaurant in Costa Rica for lunch
Looking to pick up some plant-based picnic supplies? Organico Fortuna is not just a great vegetarian restaurant but it's also a marketplace, located near the Arenal Volcano in La Fortuna. As well as a range of natural products, it also sells local handmade crafts.
Meanwhile, the restaurant offers gluten-free, vegan, and vegetarian cuisine made from produce grown nearby. We particularly recommend the Tico burrito and the banana pancakes but the falafel sandwich is also a popular choice.
Portion sizes are generous, presentation is impeccable, the service is friendly, the vibe is trendy and easygoing, and there's also an organic coffee bar for a post-lunch pick-me-up. Check out the inspirational quotes, including Let food be your medicine. The message is clear. This plant-based food has the power to heal.
Address: Alajuela Province, La Fortuna, Costa Rica
Opening days and hours: every day, 10:00 am to 9:00 pm
Price range: $$
Website: www.organicofortuna.com
Barba Roja: Best budget-friendly vegetarian-friendly restaurant in Costa Rica
This incredibly popular restaurant in Manuel Antonio is somewhat of a landmark. A favourite watering hole for tourists and locals alike, it offers daily specials, live music, and a fun pirate theme.
Don't let the smokehouse and steakhouse fool you. There are plenty of vegetarian and vegan options on the Barba Rojo menu, including some great vegetarian sushi as well as delicious vegetarian pasta. Portions are massive and prices are delightfully reasonable.
For dessert, there's cheesecake, flan, lemon pie, and freshly baked brownies. All ready to satisfy the sweet-toothed among you. And there's an art gallery displaying work by local artists. Great views of the ocean and jungle also make this a top spot for sunset happy hour.
Address: 618, Provincia de Puntarenas, Quepos, Costa Rica
Opening days and hours: every day, 12:00 pm to 10:00 pm
Price range: $$
Website: www.barbarojarestaurante.com
El Mirador Oceanview: Best vegetarian and vegan-friendly restaurant with a view
El Mirador Oceanview is a healthy fine dining destination at the 11-acre eco luxury rainforest resort Arenas Del Mar in Manuel Antonio. The hotel has already made a name for itself as one of the best eco-friendly stays in Costa Rica and the restaurant doesn't let standards slip with its focus on organic wholefoods from local farms and a Dock to Dish programme sourcing sustainably caught fish.
While it's not exclusively vegetarian or vegan, the menu does have a number of meat-free options, including risotto, ravioli, and a tropical vegan bowl. All can be paired with biodynamic and organic South American wines while condiments and sauces are also handmade. Even the charcoal in the BBQ is created from environmentally-friendly coconut fibre.
The chic and stylish clifftop restaurant also hosts live music nights and interactive workshops and features a special Guest Chef menu with dishes from internationally-acclaimed taste-makers. Plus, the views were listed in 1000 Places to See Before you Die.
To truly enjoy the healing benefits of this food, why not head here after a therapeutic session at one of Costa Rica best spas?
Address: Puntarenas Province, Manuel Antonio, 60601, Costa Rica
Opening days and hours: every day, 6:30 am to 9:00 pm
Price range: $$$$
Website: www.arenasdelmar.com
El Tigre Vestido: Best farm-to-table restaurant in Costa Rica
Located in the mountains of Santa Bárbara in Heredia, El Tigre Vestido is part of the eco luxury hotel Finca Rosa Blanca Coffee Plantation Resort. Here, chef Kevin Charpentier makes it a point of pride to collect the freshest and highest quality ingredients from the hotel's organic garden, orchards, and farm, as well as coffee that is grown and roasted onsite.
It's one of the most emphatically seasonal and farm-to-table experiences we've encountered. Recipes draw on ancient Mesoamerican culinary traditions, contemporary Costa Rican flavours, and Charpentier's own innate knack for flavour combinations.
The menu doesn't serve exclusively vegetarian cuisine but the meat-free options are still far more than an afterthought. Try the pejibaye gnocchi, for example, served with Bagaces cheese and a roasted tomato sauce, or the vegetarian burger with yucca fries.
Or there's the chickpea salad, served with curried peanuts and feta cheese. And, for dessert, we recommend the carrot and macadamia cake, filled with dulce de leche and frosted with raw cane sugar.
Address: Santa Barbara de Heredia Calle Tierra Blanca, Heredia 3009, Costa Rica
Opening days and hours: Monday to Friday, 12:00 pm to 10:00 pm, Saturday and Sunday, 8:00 am to 10:00 pm
Price range: $$ - $$$
Website: www.eltigrevestido.com
Sprout: Best casual vegan and vegetarian-friendly restaurant in Costa Rica
Family-owned restaurant Sprout is located in Playa Tamarindo and aims to deliver healthy and eco-friendly fast food to diners looking for a quick fix. Head here for a pre-beach brunch, a post-beach lunch, or both.
The restaurant doesn't serve wholly vegan or vegetarian food but there are good options for those who prefer meat-free and plant-based restaurants, including giant salad bowls and a grilled vegetable wrap. All ingredients are fresh, organic, and sourced sustainably from local farmers. Even the salsa, dressing, mayonnaise, and bread are hand-prepared using local ingredients.
The honey, chipotle, and Portobello mushroom sandwich has received rave reviews, while the vegetable tacos are also supposed to be spectacular. Finish up with a glass of organic wine, a nutrient-packed batido, or iced green tea. Definitely one of the best vegan breakfast places in Costa Rica.
Address: Main Strip, Provincia de Guanacaste, Tamarindo, Costa Rica
Opening days and hours: Monday to Saturday, 8:00 am to 7:00 pm
Price range: $$ - $$$
Website: www.sprouttamarindo.com
Off The Grid at Mother Earth Vegan Hotel: Best vegan restaurant in Costa Rica
Causing quite a stir on the hospitality scene, the recently opened Mother Earth Vegan hotel is Costa Rica's first boutique vegan hotel. Located in Tamarindo beach, this eco chic resort offers guests a 100% vegan experience, as well as yoga classes and a saltwater pool.
But, for vegan diners, it's the restaurant that really steals the show. With its selection of dynamic, inventive, and globally-influenced seasonal dishes, the menu at Off The Grid is totally plant-based. Meals are colourful, flavourful, and designed to leave diners energised and inspired.
Think vegan buffalo cauliflower wings with panko breadcrumbs. Or there's the Mother Earth Burger, served with vegan Provolone cheese, chipotle mayo, and caramelised onion, the Philly Cheesesteak with oyster and Portobello mushrooms, or crab cakes made from hearts of palm.
This vegan Costa Rica resort demonstrates to any doubters that vegan cuisine can create a serious impact. Even the wines are vegan and the kitchen also has a zero-waste pledge.
Address: Guanacaste Province, Tamarindo, Costa Rica
Opening days and hours: 7:30 am to 10:30 am, 12:00 pm to 10:00 pm
Price range: $$$
Website: www.meveganhotel.com
Frequently asked questions about vegan and vegetarian restaurants in Costa Rica
Is it hard to be vegetarian in Costa Rica?
Traditionally, it was hard to be vegetarian in Costa Rica as the national cuisine is quite meat-centric. However, recently, there have been more and more vegetarian-friendly restaurants popping up as well as some vegan options too.
Is Costa Rica vegan friendly?
Costa Rica is becoming increasingly vegan-friendly with more and more restaurants offering dishes that include no animal produce. In fact, the country's first vegan luxury boutique hotel, Mother Earth Vegan, opened in March 2021, featuring an all-vegan restaurant too. 
Is it easy to eat vegan food in Costa Rica?
It can be hard to eat vegan food in Costa Rica unless you don't mind eating lots of beans and rice, aka a vegetarian casado. But there are more and more restaurants with vegan options appearing, including the Off The Grid restaurant at the Mother Earth Vegan hotel. 
What is the best vegan restaurant in Costa Rica?
The best vegan restaurant in Costa Rica is Off The Grid at Mother Earth Vegan Hotel. The restaurant serves a range of all-vegan dishes, including a vegan Philly Cheesesteak and Crab Cakes.