When we think of Caribbean cuisine, it's hard not to imagine salami-infused dishes and seafood feasts. But more and more, the Dominican Republic is catching onto ethical eating with plant-powered options and veganized traditional dishes. And whilst you still have to do your research before visiting the Dominican Republic, we hope to alleviate that stress with our top vegan finds in the culturally-rich country. 
The Dominican Republic is a combination of native Tainos, Spanish influence, and African heritage. And seasoned with flavors from around the world, the Dominican cuisine marries the country's rich history with modern movements. It's a culinary journey worth making the trip for. And one that our animal-loving friends can now join in on. 
The idyllic island is home to an abundance of vibrant vegetables. And with the motion towards more contemporary cooking, Santo Domingo's world class chefs aren't short of exotic flavors and local luxuries. Many dishes include plantain, a cooking banana that is more starchy and less sweet. Rice, sweet pepper, tomato and avocado also remain instrumental to many traditional dishes. And most of them can be easily modified to bring guilt-free Dominican flavors to the country's vegan guests.
We're already going bananas over everything plantain. And we're pretty sure these veggies dishes will have you swinging from one vegan joint to another. Vamos!
The 13 best vegetarian and vegan restaurants in the Dominican Republic
Natura Restaurant
Natura Cabana is one of our top eco vacation destinations for a number of reasons—this open-air eating spot being one of them. The sustainable restaurant is surrounded by the soothing sound of an undisturbed sea with crashing waves creating the crescendo. While a tantalizing menu features a variety of deliciously balanced and nutritious dishes.
Natura Restaurant may not be solely vegan, but their vegan specialties will have passionate meat-lovers second guessing their choice. From zucchini or beetroot carpaccio to pumpkin risotto and Caribbean curry, the multicultural chef allows you to embrace Dominican cuisine without compromising your beliefs.
Best for: Fusing ocean views with beetroot hues.
Address: Paseo del Sol #5, Perla Marina 57000, Dominican Republic
Opening days and hours: 
Mon-Sun: 5pm-10pm
Price range: $
Website: naturacabana.com/natura-restaurant
Ajuala
Fusing creativity into food, Ajuala is one of our favorite places to eat in the Dominican Republic. From atypical architecture to instagrammable dishes, this eco chic culinary experience is a reprieve from the country's traditional restaurants.
You may not be traveling to the Carribean island for fine dining, but you also may not find this quality of food for such value anywhere else. The extensive menu is not vegetarian by nature, but it includes vegan options that are well worth making the trip for. Plus Ajuala is known to have the best wine list in the Dominican Republic, so be prepared to sip and taste the night away.
Best for: Fine-dining finesse.
Address: Calle Andrés Julio Aybar 13, Santo Domingo, Dominican Republic
Opening days and hours: 
Mon-Sat: 12pm-11pm
Sun: 10am-4pm
Price range: $$
Website: brandlink.me/Ajuala
TIME Vegetarian Kitchen
It's time for a vegetarian revival in the Dominican Republic restaurants. And that's just what this eco chic restaurant has done. Situated in the heart of Colonial Santo Domingo, the sustainable eating experience heroes local plants and organic vegetables through a culmination of perfectly balanced flavors.
At Time Creative Vegetarian Kitchen all the dishes are vegetarian with plenty of vegan options to choose from. Expect to taste some of the best ramen worldwide. And we'd recommend ending off your meal with tofu pannacotta and vegan ice-cream. If you're dedicated to the cause, bring along a few vegan skeptics and watch their hesitations fade.
Best for: Caring culinary creations.
Address: C. Padre Billini, Santo Domingo 10210, Dominican Republic
Opening days and hours: 
Sun-Tues: 12pm-10pm
Wed-Sat: 12pm-12am
Price range: $$
Website: www.instagram.com/timeisvegetarian/
Raices
Traditional Dominican dishes get a vegan makeover at this fully-vegan, self-service buffet. While major US cities have been veganizing the Carribean cuisine for decades, the idyllic island has finally caught onto the trend with restaurants such as this.
Raices is an assuming buffet at the center of Santo Domingo, making it the perfect stop-off in between adventuring through the best attractions in the Dominican Republic. Their vegan version of Bandera Dominicana is a fan favorite. And they're also known for their reinvention of the traditional Sancocho with taro and green plantain. It's the kind of place to have lunch everyday and return home with a thorough understanding of local flavors. Delicioso!
Best for: (Raice)ing to the queue.
Address: C. Juan Sánchez Ramírez 46, Santo Domingo, Dominican Republic
Opening days and hours: 
Mon-Fri: 7am-4pm
Sun: 10am-4pm
Price range: $
Website: www.instagram.com/restaurantevegetarianoraices/
Casa Barista
In a country known for its coffee, we'd be remiss to leave Casa Barista off our list. The artisanal coffee house features specialty coffees, produced from a meticulous manufacturing process—making it an imperative cultural experience if you're in the area.
But Casa Barista isn't just good for a caffeine kick. The veg-heavy, gluten-free cafe is on a mission to change the way in which we see food. Their nutrient-rich ingredients are perfectly paired to promote a healthy lifestyle along with the enjoyment of delicious meals. Needless to say, you'll leave feeling revitalized and satisfied.
Best for: Caffeine kicks take on plant-based power.
Address: C. Victor Garrido Puello 16, Santo Domingo, Dominican Republic
Opening days and hours: 
Mon-Sun: 7am-10pm
Price range: $$$
Website: www.casabaristacoffee.com/
Woke Foods
Woke Foods is promoting the movement towards plant-based sustainability—but in the most pleasurable way. They allow their dishes to do the talking, making all animal-loving protests and parades redundant.
Expect mushroom stew, vegan lasagna and classic pancakes. While fresh juices and smoothies are an effortless way to get in your greens. Redefining the millennial term for animal-loving foodies, Woke Foods is one of our favorite vegan restaurants in the Dominican Republic. They make food justice easy.
Best for: Protesting to your taste buds—that's woke.
Address: Cjón. De La Loma, Cabarete 57000, Dominican Republic
Opening days and hours: 
Mon-Fri: 10am-4pm
Sat-Sun: closed
Price range: $
Website: wokefoods.coop/dominicanrepublic/
Naca'n Restaurant
Naca'n is where high culture, art and cuisine intersect. The multilevel historical building and elegant banquet celebrate Santo Domingo's indigenous inheritance alongside a modern-day spirit of pride and purpose.
And whilst Naca'n is best known for its locally-inspired Caribbean cuisine and decadent steaks—alluring vegan options ensure that no one misses out on the exotic experience. We recommend their pumpkin cream soup with orange zest and ginger infusions. But all of their dishes promise to excite your palette.
Best for: Native influences inspired by the soil and sea.
Address: Calle Isabel La Católica, Santo Domingo 10210, Dominican Republic
Opening days and hours: 
Mon-Thurs: 2pm-12am
Fri-Sun: 12pm-12am
Price range: $$$$
Website: www.nacandr.com/
DBL Market
If you thought you'd have to go a few weeks without your vegan cake, think again. We've found the best plant-based pastries in the country. And all our animal-loving friends can breathe a sigh of relief.
From sweet potato brownies to snicker cupcakes and choc chip cookies, it's safe to say that Santo Domingo is a sweet spot to celebrate a vegan birthday. But it's not all sugar at the DBL Market, they're bringing the spice too. Think plant-based nachos, zucchini lasagnas and a dangerous range of dips. Talk about vegan va va voom!
Best for: Having your cake and eating it too—without the guilt, of course.
Address: C. Agustín Lara 22, Santo Domingo, Dominican Republic
Opening days and hours: 
Mon-Fri: 8am-9pm
Sat: 8am-7pm
Sun: closed
Price range: $$
Website: www.dblblog.com/dbl-vegan
Nectar
Like bees to nectar, this vegan hotspot has tourists swarming towards the plant-based menu. Every dish is carefully created to hero distinctive plants in a unique way. While the restaurant thrives in hitting the elusive sweet spot between aesthetically pleasing and mouth watering dishes.
Starters such as mushroom tartare with raisins, almonds and truffle oil reinvent our idea of vegetables. While a vegan pad thai and cheesecake bring the simple pleasures to ethical eating. We're buzzing to return to Nectar. You'll be too.
Best for: The bee's knees in Asian-inspired vegan cuisine.
Address: Nectar Restaurante Morning Breeze, Cabarete 57000, Dominican Republic
Opening days and hours: 
Tues-Sun: 9am-11pm
Mon: closed
Price range: $$
Website: en.nectarcabarete.com/
Okra
Named after the local vegetable, this elegant restaurant knows a thing or two about bringing out the flavor in Caribbean plants. And whilst sustainably sourced meats can be found on the menu, their vegan options are delicate aesthetically and deep in flavor. Remember to leave space for dessert—you won't want to miss out.
Okra's Asian-inspired avant garde interior speaks to their contemporary approach to cooking. While pops of color allude to the playfulness and culturally-rich heritage inherent to the island. All in all, the space exudes excellence.
Best for: Contemporary Caribbean cuisine.
Address: Torre Citibank, Av. Winston Churchill, Santo Domingo, Dominican Republic
Opening days and hours: 
Mon-Sun: 12pm-12am
Price range: $$$
Website: www.okra.do/
El Meson de la Cava
Seated in a natural limestone cave, El Meson de la Cava takes you to new depths of the historical island. The unique space requires little decor as it leaves room for natural tranquility and an escape from disruption.
El Meson's unparalleled surroundings are matched by a French-inspired menu. And whilst seafood is their speciality, vegetarians will be pleased to know that options such as eggplant parmigiana are just as good as the colossal shrimp risotto. Detectable!
Best for: Caving into French cooking.
Address: Av. Mirador Sur 1, Santo Domingo 00000, Dominican Republic
Opening days and hours: 
Mon-Sun: 12pm-12am
Price range: $$$
Website: elmesondelacava.com/
La Yola
As one of our top eco resorts, it's no surprise that Puntacana is home to one of the best restaurants in Dominican Republic. La Yola is designed after a prototypical Caribbean fishing boat. The decadent deck appropriately overlooks a vast aquamarine ocean. While live local musicians add to the overall ambiance.
As you can imagine, La Yola's seafood dishes are some of the best in the country. But for vegetarian options, you can never go wrong with fresh pastas, Caribbean style eggplant or delicate salads.
Best for: Reeling in foodies.
Address: GJ3F+WH8, Punta Cana 23000, Dominican Republic
Opening days and hours: 
Tues-Sun: 6:30pm-10:30om
Price range: $$$
Website: www.puntacana.com/dining/restaurants/item/la-yola-restaurant
C-Organico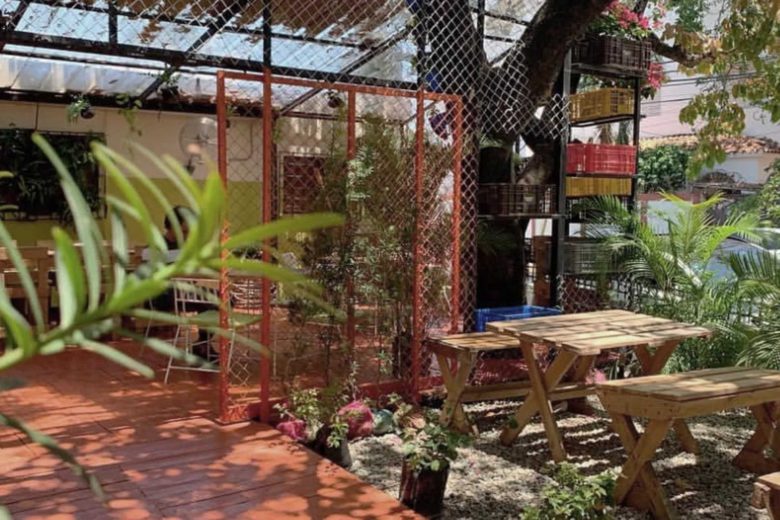 Situated in a tree lined residential area, you'll return to C-Organico time and time again for their ever-changing menu. You'll be delighted to find that everything is vegan. And wholesome dishes such as wraps, buddha bowls and veggie burgers are all you need to fuel your adventures. While fresh smoothies and sweet treats make it a plant-based paradise.
Don't wait until the last day. C-Organico is a stop you'll want to have on your radar from the get-go.
Best for: Vegan everything—organically.
Address: Calle Lea de Castro 55, Santo Domingo, Dominican Republic
Opening days and hours: 
Mon-Sat: 11am-9pm
Sun: closed
Price range: $
Website: c-organico.webnode.es/
Frequently asked questions about vegan restaurants in the Dominican Republic
Does the Dominican Republic have vegan food?
The island may be known for its pork, but the Dominican Republic also has incredible vegan options. From veganized mofongo and pastelon to international meat-free dishes, plant-based options have come a long way over the past few years.
Where do vegans go on vacation?
While most destinations have caught onto the plant power trend, a few stand out as top vegan vacations. Peru is renowned for its quinoa bowls. Jamaica has many traditional vegan dishes, thanks to its Rasta community. And Tel Aviv also has a surprising array of plant-based options—from forest mushroom shawarmas to pickled vegetable condiments. For more vegan eateries around the globe, Luxa Terra is a great source of inspiration.
Where is the vegan capital of the world?
All the big US cities are seeing a plethora of fully vegan restaurants pop up. From Souley Vegan to Raw Addiction, vegan franchises are suddenly in abundance. But for a vegan cultural experience, Tel Aviv is unmatched in authentically vegan options. You can expect dishes such as forest mushroom shawarmas, vegetable curries and lots of hummus.
Is Dominican Republic vegan friendly?
The Dominican Republic has become a lot more vegan friendly over the last few years. Whilst most traditional dishes included animal products such as eggs, cheese and salami, contemporary chefs are putting a vegan twist on them. And international cuisines are influencing the idyllic island with globally inspired plant-based options.