Thought living la vida vegan in Egypt would leave you famished and frantically searching for the nearest McPlant? Well, we've got news for you. Egypt is an unlikely hotspot—emphasis on the hot—for vegan and vegetarian cuisine. Granted, you won't find vegan restaurants dotting every crowded Cairo street, but the desert nation hasn't fallen by the wayside when it comes to plant-based offerings:
Believe it or not, Egypt's most revered national dish, kushari, is traditionally vegan. So in fact, the Egyptians have been doing veganism since way before it was cool.
Kushari aside, vegan restaurants in Cairo are flourishing, with steadily more popping up from Sharm el Sheik to Thebes. And, with many establishments offering hybrid menus, you can bring your carnivorous friends along for the ride, too.
So, no fear: if you follow a plant-based lifestyle, you'll still get your fill of raw cacao brownies, soul-nourishing soups, and veg-packed smoothies. Thwarting the "rabbit food" repute of vegan food, Egypt's vegan restaurants serve up everything from Beyond Meat burgers to naturally-vegan falafel and color-pop salads.
If your stomach is pining for plants, check out our ultimate guide to the 11 best vegan restaurants in Egypt, and get your must-visit checklist at the ready:
The 11 best vegan restaurants in Egypt
Veggin, New Cairo
On the search for the best vegan restaurants in New Cairo? Make a beeline to Veggin. The ultra-modern aesthetic could've been transplanted straight from a Santa Fe neighborhood, and the sophisticated flavors and classic concoctions are engineered to impress.
Try the tofu teriyaki bowl for a delightful belly-filler and wash it down with a mango-mint smoothie to perk up your palate. Famished? Don't miss the hearty Beyond burgers to fuel up for a day at the pyramids—served with baked fries or veggies, you can go naughty but nourished at Veggin.
Best for: Heavenly vegan variety in chic surroundings.
Address: Street 53, Second District, Cairo Governorate 11865, Egypt
Opening days and hours: 
Monday to Saturday 6.30pm - 7.30pm
Price range: $
Website: www.veginneg.com
The View Restaurant at Holiday Inn, Cairo
Vegan-friendly and serving up a cornucopia of cruelty-free plates (as well as juicy steaks), plant-based lifestylers and carnivores alike are warmly welcomed at The View Restaurant, located on the first floor of Cairo's Holiday Inn.
Break your fast overlooking panoramic views of Cairo (they weren't kidding with their name)—that is, if you can tear your eyes away from the extravagant breakfast buffet. With international and local dishes served with a smile, there's a treat for every tastebud at The View.
Best for: Gorge-worthy brunch with mouthwatering views.
Address: 29 A Cornish El Nile, Maadi, Cairo Governorate 11431, Egypt
Opening days and hours: 
Monday to Sunday 12pm - 12am
Price range: $$
Website: www.ihg.com/holidayinn/hotels/gb/en/cairo/crohi
Culina at The Ritz Carlton, Cairo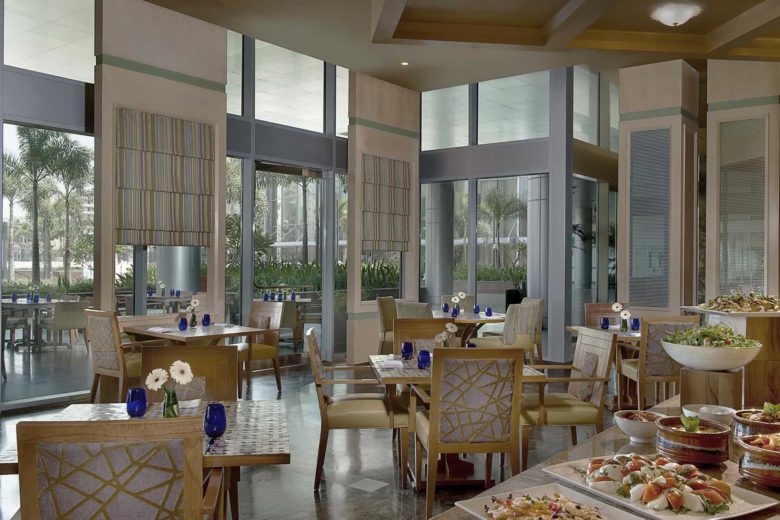 If you've got That Friday Feeling (you're on vacation, after all) but happy hour seems lightyears away, head over to Culina's famous Friday Brunch. Served between 1pm and 5pm, you can gorge on vegan (and meat-based) dishes and masterfully-mixed cocktails until your belly begs you to stop.
The falafel, fried broad beans, and herbs are not to be missed, nor are the freshly-squeezed juices (go for guava)—and the grown-up tipples? Try the sangria, Martini, or a bold Bloody Mary to toast the weekend.
Best for: Firing up your Friday with a tipsy twist.
Address: 1113 Nile Corniche, Ismailia, Qasr El Nil, Cairo Governorate 11221, Egypt
Opening days and hours: 
Breakfast buffet: 6.30am - 1am
Lunch buffet: 12.30pm - 4pm
Friday brunch: 1pm – 5pm
Price range: $$$
Website: www.ritzcarlton.com/en/hotels/middle-east/cairo/dining/culina
Osana Wholefood Cafe, Maadi
Tucked away in the Osana Wellness Center is the Osana Wholefood Cafe; the perfect place to enjoy a spot of post-yoga brunch in a tranquil setting.
Beautifully presented on hipster-friendly wooden boards and quirky crockery, Osana's plates include everything from peanut butter and jelly to nourishing soups-for-the-soul and invigorating smoothies. Tickle your sweet tooth with the choco-lava cashew muffin (as melty as it sounds) or the zesty orange polenta cake.
Best for: Zen vibes and exquisite presentation.
Address: 4 Al Nadi, St, Maadi, Cairo Governorate 11431, Egypt
Opening days and hours: 
Friday to Saturday: 9pm - 5pm
Price range: $
Website: www.osanawholefoodcafe.com/en
Be Good To You, Cairo
At Be Good To You vegan cafe, Cairo, you're greeted with crystal-clear vats of flavored water brimming with fruity infusions, just waiting to quench your desert thirst. However, it's the stacks of cookies and brick-sized brownies that'll have your stomach growling. Pair a vegan sweet treat with an aromatic cashew latte, or go savory with the vegan meatballs or ubiquitous avo-on-toast.
The brainchild of health coach and nutritionist Nadia Aboutaleb, Be Good To You serves its dishes with an extra helping of love; and trust us, you'll taste it.
Best for: Afternoon tea with a flambuoyant flair.
Address: Katameya Heights Rd, Cairo Governorate 11771, Egypt
Opening days and hours: 
Monday to Sunday 9am - 10.30pm
Price range: $
Website: www.begoodtoyoueg.com
Lyfe, Cairo
Both a vegan restaurant and juice bar, Lyfe has a simple mission statement: to make healthy, nourishing food accessible to all. The smorgasbord of overnight oats (think blueberry-lemon and peanut butter-raisin), finger-picking poke bowls, and veg-packed smoothies have the power to make vegans of the most committed carnivores (if you can get one through the door, of course).
So, gorge without guilt at Lyfe, then be sure to grab a takeaway iced coffee to keep you awake, alert, and energized while you navigate the ancient city.
Best for: Post-meridian pick-me-ups.
Address: Street 214, Maadi as Sarayat Al Gharbeyah, Maadi, Cairo Governorate 4213040, Egypt
Opening days and hours: 
Monday to Friday 9.30am - 11.30pm
Sunday 9.30am to 12am
Price range: $
Website: www.elmenus.com/cairo/lyfe--36zx
SincerelyV Cafe, Maadi
Victoria of SincerelyV Cafe, Maadi, takes health and nutrition seriously. But that doesn't stop her culinary creations from bursting with fun and originality. Every dish is a masterpiece of color, flavor, and texture, from the hearty lentil-coconut soup to the fluffy pancakes.
Russian-born Victoria brings her passion for international cuisine right to the table; evident in the Mexican bowl and the Vietnamese rainbow rolls. An added bonus? The nutritional information on each dish, so if you're meticulous about your macros, you can stay on point at SincerelyV.
Best for: A round-the-world ticket of vegan delights.
Address: Street 21, Maadi, Cairo Governorate, Egypt
Opening days and hours: 
Monday to Sunday 8am - 5pm
Price range: $$
Website:www.sincerelyv.com
The Vegan Lab, Dahab
For vegan delights that pack a punch of panache in flavor and aesthetics, add The Vegan Lab to your must-visit list. Boost your immune system with the rainbow tempeh salad, chow down on a juicy Beyond burger, or get a dose of dopamine from one of the raw desserts fresh from the kitchen.
With flamboyant presentation and a more-is-more approach to veggies, The Vegan Lab is The One for voracious vegans to discover new favorites and revisit established classics—all plated with an extra dash of gusto for good measure.
Best for: Pretty plates piled high with health-giving fare.
Address: El Fanar Street, Lighthouse Rd, South Sinai Governorate 46617, Egypt
Opening days and hours: 
Monday to Sunday 7am - 2.45pm & 4pm - 10pm
Price range: $$
Website: www.facebook.com/theveganlab1
Vegan In Our House, Maadi
Though overzealous carnivores may want Vegan In Our House rehomed pronto, we for one welcome the herbivorous houseguest. The vegan restaurant in Maadi serves up good vibes and even better cuisine, with lasagnas oozing vegan cheese and plant-based meat to inventive salads bursting with zingy flavors.
You won't be short of choice, though there's a decidedly Italian twist to many of the dishes, with vegan arrabbiata and pasta alfredo taking center-stage. Nothing if not filling, Vegan In Our House's dive-in dishes unapologetically defy the (wildly inaccurate) lackluster reputation of vegan food.
Best for: Pure Italian-inspired indulgence.
Address: Street 7, Maadi Al Khabiri Ash Sharqeyah, Maadi, Cairo Governorate 4211005, Egypt
Opening days and hours: 
Saturday to Friday 9am - 11pm
Price range: $
Website:www.elmenus.com/cairo/vegan-in-our-house-6r9m9
Abu Tarek, Cairo
You know the consensus: the smaller a restaurant's menu, the better their offerings. Abu Tarek does one dish, and they do it exquisitely. Allow us to introduce you to kushari, an ubiquitous Egyptian dish that's happily vegan by nature.
Made with chickpeas, lentils, tomato sauce, onions, and a mix of rice and noodles, Abu Tarek's vegan Egyptian food is a gastronomy gift that keeps on giving. Not to mention, you'll tackle most of your five-a-day in one sumptuous sitting. Plus, it's mindful of the infamously slow vacation brain, with just one choice to make—large or small.
Best for: Impeccable Egyptian cuisine not to be missed.
Address: 40 Sharia Champollion (at Maaruf), Cairo, Egypt
Opening days and hours: 
Monday to Sunday 7am - 10pm
Price range: $
Website: www.happycow.net/reviews/abu-tarek-cairo-27534
Made In Health, Cairo
Made In Health is a favorite vegan restaurant in Zamalek, perfectly located as the perfect sustenance stop-off between museum and gallery hopping. Welcoming vegans, carnivores, and the spectrum in between, this quirky cafe echoes the hipster establishments of Toronto to Soho.
Offering a condensed menu featuring vitamin-packed dishes offset by racy cocktails, Made In Health serves vegan Bloody Marys alongside bites of fragrant Turkish kofte. Just a bit peckish? Go lighter with an Asian noodle salad or an earthy pumpkin soup to rejuvenate your soul, leaving you ready to take Cairo by the horns.
Best for: Elegant evening dining in a sophisticated setting.
Address: 6 El Gezira El Wosta, Abu Al Feda, Zamalek, Cairo Governorate 11561, Egypt
Opening days and hours: 
Thursday, Friday, Saturday 8am - 11pm
Sunday to Wednesday 9am - 10pm
Price range: $
Website: www.made-in-health.business.site
Frequently asked questions about the best vegan restaurants in Egypt
Is Egypt vegan-friendly?
Ye, Egypt is vegan-friendly. The country is home to a compendium of vegan cafes and restaurants, while traditional eateries will serve kushari, which can be vegan or vegetarian (though always ask the serving staff to be sure!).
What is the vegan capital of the world?
England's Brighton and Hove takes the award for the vegan capital of the world, taking the accolade from former champions Portland, Oregon, and Bristol, England.
Is veg food available in Egypt?
Vegetarians and vegans will fare just fine when traveling around Egypt, with plenty of vegan and veg food available to get your teeth stuck into. From Egyptian falafel to the national dish of kushari (plus many Western-inspired dishes) you won't go hungry, that's for sure.
Is Lebanon vegan friendly?
Yes, Lebanon is vegan-friendly. In fact, vegans may be surprised at the amount of plant-based dishes available. From stuffed vine leaves to hummus, there's something to satiate every palate in the vibrant Middle Eastern nation.