Switzerland's beautiful village of Gstaad is an undeniably breathtaking destination in the Canton of Bern. With a vast range of superb hotels in Gstaad, home to one of Europe's most stunning landscapes, the choice of restaurants is just as endless. Although Switzerland is not reputed for its vegan and vegetarian food, you'll be surprised to learn that there is a fresh crop of restaurants catering to vegan and vegetarian customers in Gstaad.
If you're following a meat-free, plant-based diet you'll find that Gstaad has a growing list of restaurants that you can check out. After all, Gstaad is a popular wellness destination, so it's only natural that their plant-based scene is flourishing too. When we talk plant-based we're not just talking salads. Get a taste of gourmet dishes and haute cuisine. So go ahead and eat your heart out in Gstaad's vegan and vegetarian-friendly restaurants.
The 13 best vegan and vegetarian-friendly restaurants in Gstaad
Mango Restaurant
Mango restaurant serves Indian cuisine at its best. Although not purely vegetarian, the restaurant has several vegetarian and vegan options. The food at Mango is a representation of some of the many different regions in India, each with its unique flavors and spices, with a slight European twist. From their soups and wraps to their veg platters and curries, the choices are vast and will have you coming back for a visit or two to try everything you left out.
Address: Viktoriastrasse 1, 3780 Gstaad
Opening days and hours: Monday to Sunday 10:30 am – 10:00 pm
Price range: $$ 
Website:www.mango-restaurant.ch/gstaad/
Restaurant Müli
Enjoy a fine dining experience at Restaurant Müli based in the 4-star Gstaaderhof Hotel. They have a daily and set menu that changes seasonally to accommodate the freshest ingredients available during that time of year. There are a variety of vegan options to choose, from starters and soups to mains and desserts. The chefs at Restaurant Müli are dedicated to supporting the local farmers in Gstaad and swear that their food is free of flavor enhancers and preservatives.
Address: Lauenenstraße 19, CH 3780 Gstaad
Opening days and hours: Daily 12:00 am - 2:00 pm, 6:30 pm - 9:00 pm
Price range: $$$
Website: www.gstaaderhof.ch/en/restaurants/restaurant-mueli/
Le Grand Restaurant & La Grande Terrasse
Haute cuisine at its best. Set against a picturesque mountain backdrop, everything about Le Grand Restaurant & La Grande Terrasse is, well, grand. Upon entering the Le Grand Restaurant restaurant you are surrounded by high ceilings with lavish chandeliers, charming decor, and formal waiters. Prepare for an elegant dining affair from start to finish. The La Grande Terrasse has a more relaxed setting perfect for informal lunches. 
Address: Palacestrasse 28 Gstaad Palace, Gstaad, Saanen 3780
Opening days and hours: Daily 07:00 am - 11:00 am, 12:30 pm - 2:30 pm, 7:30 pm - 11:00 pm
Price range: $$$$
Website: www.palace.ch/en/culinary/le-grand-restaurant-la-grande-terrasse/
Restaurant Hotel Kernen
With traditional Swiss furnishings and a peaceful atmosphere, what more could you ask for when in search of a great place to grab a bite in Gstaad. The order of the day is traditional Swiss food prepared with a modern flare. They specialize in sourcing fresh regional produce that adds to the sustainability of the local markets. The chefs are always open to creating a personalized experience and are willing to prepare something to cater to your tastebuds.
Address: Hotel Kernen, Dorfstrasse 58, 3778 Schönried
Opening days and hours: Daily 11.15 am - 2.00 pm, 5:00 pm - 9:00 pm
Price range: $$
Website: www.hotel-kernen.ch/en/gastronomy/restaurant-gaststube/
Hotel Arc en Ciel Restaurant
The Hotel Arc en Ciel has a few dining options to choose from, each with options to satisfy the hungry vegan or vegetarian. Their cozy pizzeria is the ideal spot for a rustic wood fire pizza—and even better if you have kids in tow: they can assemble their own pizza here. The La Sarine restaurant serves a vast range of Saanenlands culinary delights while the outside Wintergarden terrace is a favorite for light snacks and drinks.
Address: Christiane Matti, Egglistrasse 24, 3780 Gstaad
Opening days and hours: Monday to Friday: 11.30 am - 2.00 pm, 6.00 pm - 9.00 pm Saturday & Sunday: 11.30 am to 9.00 pm (no Pizza between 2.00 pm - 6.00 pm)
Price range: $$
Website: www.arc-en-ciel.ch/en/gastronomy/
Alpina Lounge & Bar
The luxurious Alpina Lounge & Bar is the perfect spot to indulge your culinary fancy. They serve vegetarian dishes with options for vegan alternatives on their "beyond meat" selection on the menu. Dine in style at the heart of the mountains. The bar interiors are lavishly decorated from the mural ceilings to the elaborate artwork on the walls. An outdoor terrace and cozy fireplace finish off the mountain charm.
Address: Alpinastrasse 23 The Alpina Gstaad, Gstaad
Opening days and hours: Daily 10 am – 1 am
Price range: $$$$
Website: www.thealpinagstaad.ch/lounge-bar
Charly's Gstaad
The best place to meet up with friends and family and satisfy your sweet tooth, Charly's Gstaad offers up a wide range of Swiss cuisine. Try their mouthwatering menu that comes with vegetarian and vegan options or you can opt to try out their delectable patisserie selection at their coffee shop instead. Charly's has a laid back homely atmosphere that's great for families. Having opened in 1912, Charly's Gstaad is now an institution for authentic Swiss gastronomy.
Address: Charly's Gstaad AG, Promenade 76, 3780 Gstaad
Opening days and hours: Daily 08.30 am - 6 pm (Off-season: closed on Tuesdays)
Price range: $$
Website: www.charlys-gstaad.ch/?lang=en
Spitzhorn
Spitzhorn is set beside a dramatic mountain range that has brought great inspiration to its well-thought-out menu. Think homemade alpine specialties like potato gnocchi with confit tomatoes, vegetarian risotto and pasta dishes, and an endless array of salads. You're certain to find a vegan or vegetarian dish to tempt your tastebuds. Their menus are seasonal and change to incorporate the best ingredients the Bern region of the Swiss Alps has to offer.
Address: Spitzhornweg 30, CH- 3792 Saanen-Gstaad
Opening days and hours: Daily 07:30 am - 10:00 am, 12:00 pm - 2:00 pm, 6:00 pm - 9:00 pm
Price range: $$$
Website: spitzhorn.ch/en/restaurant
Sport-Hotel Victoria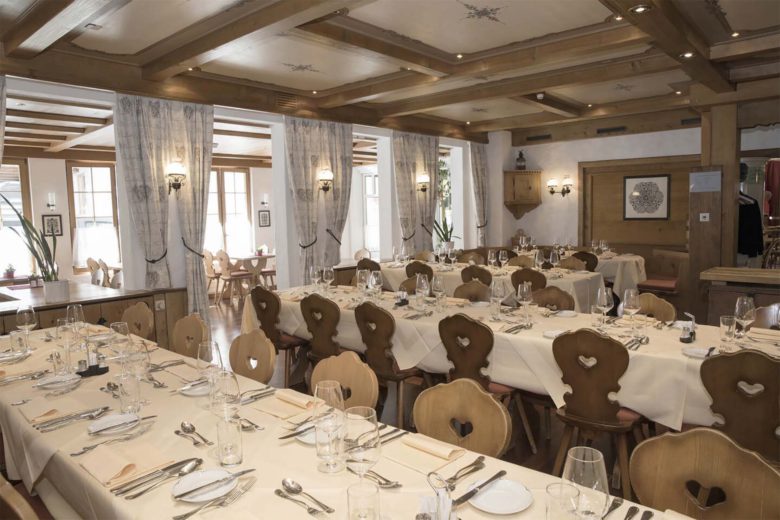 The Sport-Hotel Victoria offers a mix of traditional Swiss and Italian cuisine. In summer you can dine out on the roadside terrace in true Italian fashion while sipping a spritzer and feasting on their many vegetarian pizza choices. The chefs are open to requests and you can enquire about the vegan options on their menu as well. Go for the laid-back vibe and streetside charm, everything you need from a day out in Gstaad.
Address: Promenade 72, CH - 3780 Gstaad 
Opening days and hours: Tuesday to Saturday: 7:30 am – 10:30 pm, Sunday: 7:30 am – 2:00 pm
Price range: $$$
Website: www.victoria-gstaad.ch/en/restaurant
Landhaus Saanen
The Landhaus Saanen has an authentically Swiss menu that attracts visitors in the area. The ambiance is cozy and the food is tastefully local. This means that there are a lot of meat options on the menu, however, you will find your pick of vegetarian dishes as well. Unique salads, veggie burgers, and sweet treats make Landhaus Saanen a great choice when you're in the area, especially if you have a mixed group of eaters.
Address: Dorfstrasse 74, Ch - 3792 Saanen - Gstaad
Opening days and hours: Daily 11:30 am - 2:00 pm, 6:00 pm - 9:00 pm
Price range: $$$
Website: landhaus-saanen.ch/food-drink
Cappuccino Gstaad
Cappuccino cafes are set in some of the most gorgeous locations throughout Europe. Cappuccino Gstaad carries through with its stunning location and trendy cafe. The vegetarian and vegan options are scattered throughout the menu so you're sure to find something tempting. If you're looking for a light meal then their coffee and tea menu serves up an extensive selection, including indulgent cakes and crepes.
Address: Promenade 57, Gstaad
Opening days and hours: Sunday to Thursday 08:30 am - 12:00 am, Friday and Saturday 08:30 am - 01:00 am
Price range: $$
Website: www.cappuccinograndcafe.es/en/locations/gstaad
16 Art Bar Restaurant
Set in a 300-year-old former bell foundry, you will find the quaint 16 Art Bar Restaurant. Although famous for its raclette, many frequent the restaurant for its international cuisine. Savor the homemade vegetarian burger or yellow sweet potato curry on a bed of jasmine rice all while taking in the spectacular scenery. Down a few cocktails or aperitifs and you're ready for a night in the town, Swiss-style.
Address: Mittelgässli 16 3792 Saanen
Opening days and hours: Daily 5:00 pm - 11:30 pm (closed on Tuesday and Wednesday)
Price range: $$
Website: 16eme.ch/
La Bagatelle
The accolades for the La Bagatelle restaurant at the Grand Chalet hotel keep rolling in. As one of the best restaurants in the Berner Oberland for 30 years, there's no doubt why many visitors frequent this place time and time again. La Bagatelle has been awarded 16/20 points in the Gault&Millau guide which is a sought-after achievement. There is a separate vegetarian section on the menu which changes daily based on the goods from the local market.
Address: Neueretstrasse 43, 3780 Gstaad
Opening days and hours: Daily 11:30 am - 2:00 pm, 6:00 pm - 10:00 pm
Price range: $$$$
Website: www.grandchalet.ch/en/restaurants/bagatelle/#timeout