Elegance, sophistication and classic style: a trip to London is unlike any other.
Simultaneously steeped in history, dipped in fashion, cloaked in culture and patted down with art, music and architecture all at the same time, the best London hotels bring to life everything this city is most loved and appreciated for.
London has its classic hotels: the large, historic, white sweeping buildings overlooking the capital's most prized tourist attractions.
But it's also home to any number of hidden gems in the form of boutique hotels: those tucked away down lesser visited corners, yet just as majestic and luxurious in their own ways.
The capital city is home to thousands of hotels, but the best hotels in London come with not only that quintessentially British charm, but also with a sprinkling of everything else this city is known best for.
The 21 best hotels in London
The Ritz London
There's a reason why The Ritz features in so many movies, songs, phrases and sayings: it's a timeless London staple and an unmissable part of the city. While some hotels might just be hotels, The Ritz is an institution; recognisable just by its name. Everything about this prestigious hotel is classy and stylish; signature suites named after London's finest neighbourhoods, modern and fresh decor that's just the right amount of lavish, and unbeatable service that'll make you feel like you're staying with the Queen herself.
This world famous five star hotel has existed in the heart of London for more than 100 years, which means staying here is a tourist attraction in itself. That also means it's the perfect spot if you're looking to arrange literally anything while you're in the city: the concierge here is renowned for being more than helpful when it comes to magically booking tickets for sold out shows and top London restaurants.
Address: 150 Piccadilly, St. James's, London W1J 9BR, United Kingdom
Price range: $$$$
Website: www.theritzlondon.com 
The Savoy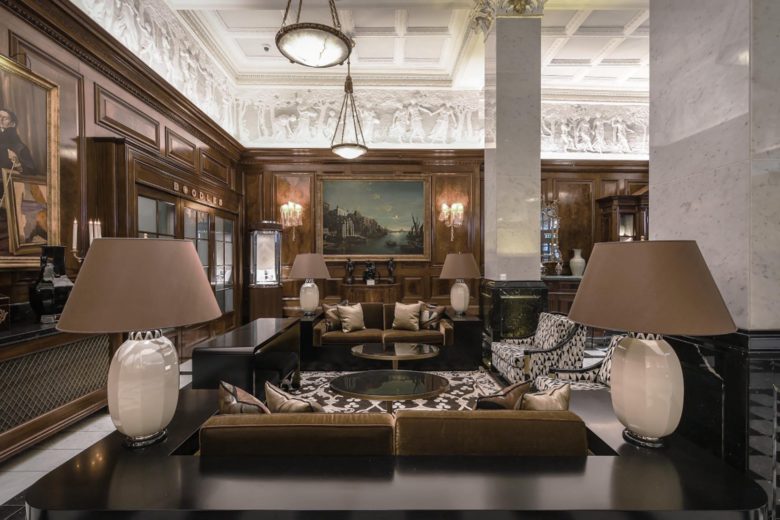 Afternoon tea at The Savoy is a treat but spending a night or two at The Savoy is an even bigger treat. Traditional in the best way possible, The Savoy is luxurious and decadent, with colourful interiors promising an eyeful in every direction. Come to this sweeping, white building for an experience unlike any other, that starts by waking up overlooking the River Thames and the London Eye and ends with a spectacular dinner at one of the many restaurants.
Elegant Edwardian or Art Deco style promises a suitable interior style for all types of travellers and the unparalleled views ensure you know exactly where you are when you wake up on those soft, white cotton sheets each morning. Relax in the beautiful surroundings while enjoying world-renowned Savoy service when you're ready to start your day. Four different bars and eight restaurants offer a range of culinary experiences.
Address: Strand, London WC2R 0EZ, United Kingdom
Price range: $$$$
Website: www.thesavoylondon.com
The London Edition
Fresh and sophisticated, The London Edition sits on the edge of Soho, which means you're close enough to hit Oxford Street for some world class shopping but far enough away to not feel caught up in the hustle and bustle. This modern hotel is one that thinks of everything: not only is it known for its stylish designs but also for its incredible espresso martinis at the bar. A boutique hotel that acts as your home away from home, The London Edition has suave oak floors, wood-panelled walls and evocative photography in every room to ensure a cosy yet fashionable stay.
While the rooms themselves might favour a classical approach to decor, a quick stroll to famed restaurant, Berners Tavern, offers something completely different: sweeping pillars, decorated ceilings and bespoke cocktails. Elsewhere, keep an eye on the carefully curated programme of cultural events if you're looking to explore the city a little more.
Address: 10 Berners St, London W1T 3NP, United Kingdom
Price range: $$$
Website: www.editionhotels.com 
Mandarin Oriental Hyde Park
London's Mandarin Oriental sits in leafy Knightsbridge, home to ornate buildings and beautiful greenery. The hotel itself offers a perfect fusion of just that: a huge, stylish five star hotel that brings together the best of London in a brilliantly British manner. This is a hotel that's insisted on the very best of the best in every area: the redesign of the bedrooms and other areas was overseen by internationally-renowned designer Joyce Wang while the stunning spa, restaurants and Mandarin Bar, were directed by New York designer Adam D Tihany.
And about those suites: each one is spacious, verging on oversized, decked out with even larger beds, Art Deco-inspired features and carefully curated artworks. Exuding contemporary London style and elegance, you'll find corners inspired by the natural beauty of Hyde Park surrounding this magical hotel.
Address: 66 Knightsbridge, London SW1X 7LA, United Kingdom
Price range: $$$$
Website: www.mandarinoriental.com
The Dorchester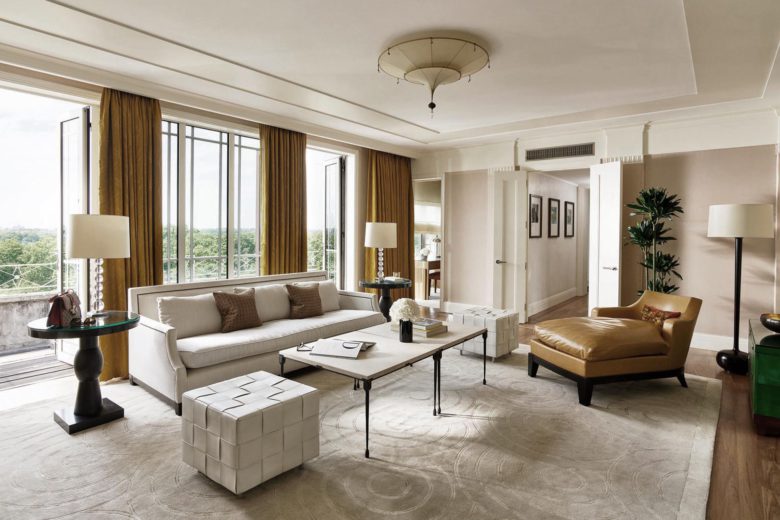 Exquisite and iconic, The Dorchester is renowned for its gold standard of, well, just about everything. This Park Lane hotel keeps things classical when it comes to decor and style, with a backdrop of muted tones, plush sofas and impossibly high thread count sheets. Everything you'll witness at The Dorchester comes about from years of experience: it's a hotel that's refined its service after decades of lots of trial and not really any error.
Steeped in London's history and a destination in itself, The Dorchester's rooms verge on majestic, with a range of rooms and suites with restrained Italian colour palettes and butler service. Of course, a stay at The Dorchester wouldn't be just that without experiencing the magic outside of the rooms. The Champagne High Tea is one with a justified big reputation, along with the sunset views from the terrace restaurant.
Address: 53 Park Ln, London W1K 1QA, United Kingdom
Price range: $$$$
Website: www.dorchestercollection.com
Bulgari Hotel London
London's Bulgari Hotel is sleek and suave; the sort of hotel you'll take interior design notes from but struggle to imitate the perfect balance that this hotel effortlessly emulates. Located in Knightsbridge on the edge of Hyde Park, you'll struggle to find a hotel better located for breezy afternoon strolls around the city. While the rooms themselves are gorgeous, it's likely the rest of the wonderful facilities at this hotel that you'll find yourself continually raving about.
The Bulgari Spa, for starters, is a world famous addition to the hotel that's home to incredible treatments (and more than justifies its position as one of the best spas in London). There's also the huge, aquamarine pool, the state of the art fitness centre, and the Neville hair and beauty lounge. A range of bars and restaurants — and even a cigar shop — means you'll always feel sufficiently fed and watered.
Address: 171 Knightsbridge, London SW7 1DW, United Kingdom
Price range: $$$$
Website: www.bulgarihotels.com
Rosewood
There are some London hotels designed for couples, or a weekend away with friends, and those that are designed best for luxurious solo weekends in the city. Rosewood is a brilliant London hotel for family adventures. Everything about this hotel seems to perfectly bridge the gap between fashionable and comforting, urban and family-friendly, elegant yet approachable.
The Rosewood sits in Holborn, which means when you've had your fill of this idyllic setting, you're only a stone's throw away from the nearest Tube station and the rest of London. Signature suites at this hotel are something extra special: offering the sophisticated comforts of a contemporary private residence inside the wider hotel, they're all uniquely designed and curated by Tony Chi and Associates. Expect minimalist, toned down interiors, generously sized beds and heritage accents. The largest suite even has its own postcode.
Address: 252 High Holborn, London WC1V 7EN, United Kingdom
Price range: $$$$
Website: www.rosewoodhotels.com
Brown's Hotel, a Rocco Forte Hotel
Brown's Hotel is an iconic London staple that promises to take you gently back in time with a large dose of charming British culture along the way. A modern and traditional fusion, everything about this hotel is unmistakably Brown's, from the quintessentially British interiors to the real fireplaces in every bedroom. The retreat of choice for royalty, presidents and literary greats over the centuries, it's hard to check into any room at Brown's without hearing some kind of historic story along the way.
And there are more stories to be told throughout the rest of the hotel. The royalty-rich past of Brown's means you could wander anywhere in this hotel — for delightfully British Afternoon Tea in The Drawing Room, to savour fine cuisine or have a quick bite to eat at Charlie's at Brown's, or when popping by for a cocktail at chic Donovan Bar — and you'll almost definitely accidentally eavesdrop into yet more incredible tales.
Address: 33 Albemarle St, London W1S 4BP, United Kingdom
Price range: $$$$
Website: www.roccofortehotels.com
Ham Yard Hotel
Ham Yard exists as almost its own little urban village inside Soho. The best location for anyone who's heading to London to do some exploring and shopping, Ham Yard Hotel revolves around a tree-filled garden with a bronze sculpture centrepiece by Tony Cragg and infuses British style into every room.
Each room here is individually designed with its own charm with floor-to ceiling-length windows overlooking the leafy courtyard or across the London skyline. But Ham Yard isn't just a place to sleep: while you might be tempted to spend all of your time in the city outside of your hotel, you'll want to spare some time wandering around the interior delights of the property itself. Elsewhere in the hotel you'll find a drawing room and library, rooftop terrace, spa and gym, theatre, private event rooms and even a bowling alley.
Address: 1 Ham Yard, London W1D 7DT, United Kingdom
Price range: $$
Website: www.firmdalehotels.com
Claridge's
Claridge's has been around since the 1850's, which means a few things: it's known for its long-standing connections with royalty, it's perfected the very notion of 'exceptional service' and it's one of the best places to go in the city for rare spirits and Champagnes. This Art Deco hotel is glamorous and timeless — the kind of spot you'll be just as happy taking your parents as you would your other half or best friend.
The nature of Claridge's means there's something for everyone here: beautiful interiors show off with artful colour collections and thoughtful, luxurious touches. Royal suites come decked out with chandeliers, grand pianos and emperor beds. The health club and spa will make you feel just as royal, with Mayfair skyline views and beauty treatments created with renowned French brand Sisley. Restaurants and bars here are far more than beautiful spaces to eat and chat; they're iconic locations with spectacular dishes and drinks.
Address: Claridge's, Brook St, London W1K 4HR, United Kingdom
Price range: $$$$
Website: www.claridges.co.uk
The Mandrake
It seems like pretty much every room at The Mandrake has won some kind of award. From "best outdoor space" for the hotel's incredible, greenery-stuffed restaurant to "the best hotel bathroom", you'll find yourself a little overcome by just how modern, fresh and interesting everything at The Mandrake is. Attention to detail is key here and witnessed through unique marble touches, evocative lighting, opulent interiors and interesting artwork.
Rooms here take a turn away from the usual hotel decor and come in dark, almost foreboding shades that'll make you want to curl up and take a nap, when you've finished taking in every detail. This boutique hotel knows how to stand out from the rest with its three-story-high walls of jasmine and passionflower and eclectic art collection that includes works from the likes of Salvador Dali, Francesco Clemente and Jonas Burgert. It's also home to the global award-winning Jurema terrace and locally sourced cuisine at YOPO.
Address: 20-21 Newman St, London W1T 1PG, United Kingdom
Price range: $$$$
Website: www.themandrake.com
Chiltern Firehouse
Chiltern Firehouse is a refined fusion of British and American culture in the centre of Marylebone. Its red brick structure gives a taste of exactly what you'll find inside: a converted purpose-built fire station that dates back to 1889. Marble bathrooms and warm, tasteful rooms replaced fireman poles and hoses many years ago, thanks to hotelier André Balazs.
Now, it's an incredibly popular hotel run with a slick, polished attitude and a promise to ensure absolutely everything about your stay happens according to plan. Combining industrial chic with cosy vibes, each room here is a joy for the eyes and promises to quickly become a firm favourite in London. You'll also usually see plenty of people heading towards Chiltern Firehouse even if they're not spending the night here: the American-influenced restaurant with its open terrace is just as popular as the hotel — especially for its cocktails.
Address: 1 Chiltern St, London W1U 7PA, United Kingdom
Price range: $$$
Website: www.chilternfirehouse.com
The Hoxton Shoreditch
The Hoxton Shoreditch is an Instagrammer's favourite: a hotel you'll regularly see room tours around on social media thanks to the large number of celebrities and influencers who appreciate the style and design of this East London spot. Its arty surroundings give a taste of what you'll find at The Hoxton: a boutique hotel with industrial edges and rooms featuring parquet wooden floors, large round mirrors and modern monochrome bathrooms.
Room styles here come courtesy of local designers' inspiration and are accentuated with the hotel's very own signature touches. Better yet, this is a wonderful London hotel if you're looking to explore. The Hoxton serves its own food and drinks round the clock, but you've also got the beauty of Shoreditch's thriving foodie culture on your doorstep. You'll find other Hoxton hotels around (the nearest one in Southwark) but the original Hoxton is the Shoreditch one and, in our opinion, the best one.
Address: 81 Great Eastern St, London EC2A 3HU, United Kingdom
Price range: $$
Website: www.thehoxton.com
Shangri-La The Shard
Shangri-La at The Shard is the first Shangri-La Hotel in the UK and offers unparalleled everything. Set high up on the 34th to 52nd floors of Renzo Piano's iconic building, it offers unparalleled views across the entire city, unparalleled comfort in its sky-high rooms, and unparalleled luxury when you wake up in the morning and realise where you are. Staying here is an experience both inside and outside of your room.
Check in here to enter your very own sleek sanctuary with striking panoramic views of the London skyline and prepare to wake up admiring the scenes outside of your floor-to-ceiling windows. But the real fun — with more opportunity to enjoy those very same views — lies outside of your room. The Sky Pool, Shangri-La Spa and TĪNG restaurant are all widely regarded as brilliant spots of their own accord, and staying here gives you access to all three.
Address:  31 St Thomas St, London SE1 9QU, United Kingdom
Price range: $$$$
Website: www.shangri-la.com
Flemings Mayfair
As you might expect from its prestigious Mayfair location, Flemings Mayfair is truly exceptional. The ambience and attention to detail are almost unbeatable here, combined with staff who treat you like royalty and the beautifully decorated space you'll be calling your temporary home. This boutique hotel is tastefully designed with neural colours and splashes of jewel shades that profile some of the best in contemporary styling. Furniture here is also uniquely designed, with hand-stitched and hand-tufted mattresses and a dash of 1930s glamour to round it off.
One of the best parts about Flemings Mayfair is the opening of fine dining restaurant, Ormer. Some may sniff at the idea of eating at the on-site hotel restaurant but that's a notion flipped entirely on its head with Ormer. Come here for impeccable modern British tasting menus (including a brilliant vegetarian menu) inside one of London's best restaurants.
Address: 7-12 Half Moon St, London W1J 7BH, United Kingdom
Price range: $$
Website: www.flemings-mayfair.co.uk 
The Ned
An abandoned architectural masterpiece is probably the best way to describe The Ned. A Soho House & Co property, it lay as a disused Midland Bank for eight years until 2012, when it was renovated with a modern-1920's glamour twist, before rising up the ranks as one of London's best hotels and sitting firmly there ever since. The Ned now is an experience with its intricately designed rooms and carefully considered decor. Full of Art Deco touches, The Ned's curated interiors are relaxed and comforting, generously sized yet perfectly proportioned.
A stay here also grants you access to Ned's Club Gym and Spa in a setting just as uniquely furnished as the rest of the hotel. But a stay at The Ned wouldn't be complete without an evening spent in at least one of the six restaurants that sit amidst the historic 3,000 square metre former banking hall. 92 verdite columns and rows of Grade I-listed walnut banking counters ensure you never forget this spot's prestigious past.
Address: 27 Poultry, London EC2R 8AJ, United Kingdom
Price range: $$$
Website: www.thened.com
Sheraton Grand London Park Lane
Everything about the Sheraton Grand London Park Lane hotel is elegant. An unrivalled hotel when it comes to British luxury, Sheraton Grand is situated in the heart of Mayfair and overlooks Green Park. Experience beautiful views here both inside and outside: the grand, sweeping nature of this hotel more than justifies its Grand name and the classically designed interiors celebrate London style like never before.
Sheraton Grand first opened its doors during the height of 1920s glamour and it's an attitude it's kept ever since. It's a hotel with rich heritage that brings back memories and stories from the past, even if it's your first time checking in. Each hotel room comes with timeless elegance, beauty and class as well as the essentials: soft, sumptuous complimentary bathrobes and the famous Sheraton Signature Sleep Experience Bed.
Address: Piccadilly, London W1J 7BX, United Kingdom
Price range: $$$
Website: www.marriott.com 
The Beaumont
The Beaumont's ubiquitous checkerboard floors and classical art paintings are just the start of the incredible attention to detail that you'll enjoy when staying at this grand yet intimate, independent, five star hotel. The Beaumont, another Mayfair favourite, is beautifully designed and beautifully located: a central spot that's unbelievably quiet considering its neighbourhood.
Known for being one of the most elegant hotels in the city, The Beaumont occupies a unique Art Deco building on a quiet garden square, close to the boutiques, galleries and museums of St James's and the West End. Sophisticated and charming, service here doesn't just come with a smile, but also with a bespoke approach no matter your requirements. Here, you'll also find the glamorous Colony Grill Room, the hotel's American bar, Le Magritte Bar, and other popular spots like a spa, gym and salon.
Address: 8 Balderton St, Brown Hart Gardens, London W1K 6TF, United Kingdom
Price range: $$$
Website: www.thebeaumont.com 
St Pancras Renaissance Hotel
The St Pancras Renaissance Hotel is a London staple. Located right next to the city's favourite international station, the St Pancras Renaissance Hotel is absolutely stunning to look at and even more enjoyable to stay at. The first thing you'll notice here is the spectacular grand staircase: masterfully decorated with a rainbow of colours tastefully leading you up to the actual hotel.
Originally opened in 1873, this hotel has retained its status as one of the grandest in the city thanks to its five star amenities, spacious rooms and superb service. This is a venue steeped in history that you'll adore both for its convenience but also its elegance. Distinctive suites encased in lavish Victorian grandeur right the way through to modern, understated rooms that are perfect for checking in the night before an early morning train journey; The St Pancras Renaissance Hotel is a London essential.
Address: Euston Rd, London NW1 2AR, United Kingdom
Price range: $$$
Website: www.marriott.com
The Corinthia
The Corinthia is known as Britain's most luxurious hotel: an impressive title that it doesn't shy away from. A beautiful, spacious hotel on the Embankment overlooking the River Thames, this hotel is a well-deserved treat whenever you're feeling particularly lavish. But as well as being a stunning hotel, this is one with personality. Each suite or room comes complete with its own identity, like the Actor's Penthouse with its sweeping angled staircase, oak panelling and pops of colour. Or there's the majestic Hamilton Penthouse, decked out in neutral shades, marble flooring and a freestanding Apaiser stone bath.
Famous London characters come to life at The Corinthia, which means whatever your decor — or career — of choice, you'll likely find a stunning suite decorated just to your choosing. The Corinthia is also home to one of London's best spas — ESPA Life, as well as world-renowned chefs at a range of bars and restaurants.
Address: Whitehall Pl, London SW1A 2BD, United Kingdom
Price range: $$$$
Website: www.corinthia.com
Courthouse Hotel Shoreditch
Bustling, eclectic and bold, Courthouse Hotel Shoreditch sits in the middle of the action, inside a Grade II listed Baroque styled building that acts as your own personal escape. As you might expect from the name, this hotel sits inside a disused court building, which means checking in here can land you a stay at the Magistrates Court in the best way possible. Since its conversion into a luxury hotel, it's pulled out the conventional parts of an ex-court building but retained the character throughout.
Rooms here are understated and toned down, with spectacular views punctuated by street art, east London's famous markets and everything else that this colourful neighbourhood offers. If you want to truly stay in character for your Courthouse stay, spend some time eating and drinking inside The Judge & Jury — a stylish restaurant offering Champagne afternoon tea (and weekend breakfast) in a setting that encompasses the original features of the former courtroom within the Old Street Magistrates Court.
Address: 335-337 Old St, London EC1V 9LL, United Kingdom
Price range: $$
Website: www.shoreditch.courthouse-hotel.com 
Frequently asked questions about the best hotels in London
Which is the most luxurious hotel in London?
Some of the most luxurious hotels in London include Mandarin Oriental, Bulgari Hotel and The Ritz. Read our full guide to all of the best luxury hotels in London. 
What are the top 10 hotels in London?
The top 10 hotels in London include The Ritz, The Savoy, The London Edition, Mandarin Oriental Hyde Park. Check out the full guide to see all the best hotels in London.  
What is the best neighborhood to stay in London?
The best neighbourhoods to stay in London are Fitzrovia, Mayfair and Shoreditch.
Which hotels do celebrities stay in London?
You'll often find celebrities staying at Brown's Hotel, Bulgari Hotel and The Dorchester.