Moroccan hammams, Russian Banyas, Middle Eastern essential oils and Asian massage techniques: London's multicultural charm comes into a world of its own inside the best London spas. 
Facial spas, couples spas, overnight spa trips and a good old fashioned massage — you'll find all of the above and more dotted throughout the capital city.
In true, charming London style, the best spas here aren't afraid to hold back, with decadent surroundings, opulent treatment rooms and a feeling of tranquility that's not often witnessed in the hustle and bustle of England's busiest spot.
Alongside stylish treatment rooms and premium products, many of these London spas offer state-of-the-art fitness centres, holistic healing treatments and experts covering all areas of health and wellness.
No matter how you like to be scrubbed, pampered or perfumed, you'll find your perfect spa experience somewhere in London. 
19 Best spas in London
Four Seasons Spa: Best overall spa in London
London's Four Seasons Spa spans an entire 18,083 square feet and every inch of that space seems to glow from within. This is London's heart of relaxation; an opulent, neoclassical oasis next to Hyde Park where treatments are varied, the atmosphere is calming and the end result is verging on overwhelming — in the best way. Four Seasons spa brings together charming and relaxing elements from all across the world, ranging from the Moroccan-infused Ultimate Sensory Hammam Journey right through to the nourishing body wraps with pink clay from the south of France.
You may check in for a deep tissue massage here but the end result is so much more: bespoke added touches like a quick burst of hot stone massage or a foot rub ensure quite literal top-to-toe relaxation.
Address: Hamilton Pl, Park Ln, Mayfair, London W1J 7DR
Price range: $$$
Website: www.fourseasons.com 
Mandarin Oriental : Best luxury spa in London
Step inside Mandarin Oriental's Hyde Park spa and you'll instantly feel like you've been transported away from Central London and into a green wonderland surrounded by nothing but nature and calming music. Widely regarded as not just one of London's most luxurious spas but also across the wider UK, Mandarin Oriental brings every kind of spa cliche to life.
Check in here and expect restoration of the mind, body and soul, await peace and serenity into your body and enjoy treatment after treatment in pure, uninterrupted bliss. The entire experience here is something to simply float through with wonder: starting with the health-enhancing heat and steam Rasul water temple and ending on one of the multiple massage beds or treatment rooms. Along with all of the usual treatments, guests can also make use of the Amethyst Crystal Steam room, Zen Colour Therapy Relaxation area, Vitality pool and fitness centre.
Address: 66 Knightsbridge, London SW1X 7LA
Opening days and hours: 11am - 7pm, daily
Price range: $$$$
Website: www.mandarinoriental.com
Natura Bissē: Best budget spa in London
Natura Bissē originated in Barcelona, before making its way through the rest of Spain and finishing its journey in Westfield, central London. This budget-friendly spa is a brilliant spot for spontaneous treatments that don't break the bank, bringing together Spanish luxury skincare methods with the capital city's high standards for relaxation.
Natura Bissē focuses on facial treatments, which all use essential aromas, masterful techniques and innovative ingredients to leave your skin feeling fresh and firm, cleansed and tightened depending on your wishes. Natura Bissē is renowned for its Signature Diamond Chrono-Lift Treatment which promises toned, lifted and glowing skin. But it's also a brilliant place to pop in on a whim for an instant facial treatment — an almost miraculous 30 minutes.
Address: Ground Floor, The Village Westfield Shopping Centre, Ariel Way, Shepherd's Bush, London W12 7GQ
Price range: $
Website: www.naturabisse.com
Ushvani Spa : Best day spa in London
One day at Ushvani Spa and you'll be blindsided by just how different you feel. Regularly quoted as London's best day spa, this calming oasis in the heart of Chelsea combines everything you need for a day of tranquility with no distractions. Other than the good ones: which come in the form of delicate aromas of ginger, nutmeg and pandan leaves all around you and contemporary mandi baths to add a finishing touch to your treatments.
Even the smallest of touches are not only remembered but exemplified here, with a superlative quality of treatments and an emphasis of relaxation and healthy indulgence throughout. Ushvani is a Malaysian inspired day spa, which shines through everything from the unique artworks to the specially-trained staff. It's also something you'll notice with the list of ingredients used: kaffir lime scrubs and coconut milk wraps offer a delicious menu of sparkling treatments reminiscent of southeast Asia's finest spots.
Address: 1 Cadogan Gardens, Chelsea, London SW3 2RJ
Price range: $$
Website: www.ushvani.com
Como Shambhala : Best hotel spa in London
COMO Shambhala is an urban escape. This luxury spot provides the best setting for an overnight spa experience with multiple treatment rooms and a huge number of different massages, acupuncture, body therapy and more.
While the spa itself is gorgeous, there's also the option for in-room treatments at COMO Shambhala, promising the especially indulgent idea of a massage just before bedtime. When you wake up bright, early and refreshed, the 24-hour gym is open and welcoming. Or, if you'd rather extend your time at the spa with more treatments, check in for COMO Shambhala's incredible full body massage or range of facials.
Address: 19 Old Park Lane COMO, Metropolitan London, London W1K 1LB
Opening days and hours: 9am - 9pm, daily 
Price range: $$$
Website: www.comohotels.com
ESPA Life at Corinthia: Best overnight spa in London
ESPA is an iconic space of sheer relaxation in the heart of downtown London, just a moment from Trafalgar Square. Decadent, spacious and with an endless list of refreshing treatments, ESPA is a spa you'll visit once and dream of visiting again. The main attraction here is difficult to pinpoint, as the range of facilities — including a revitalising thermal spa, vitality pool, a glass-walled amphitheatre sauna, black-marbled steam room and relaxing sleep pods — never seems to end.
But the benefit of staying overnight at this luxury five star hotel means there's plenty of time to soak up all of the above. As well as offering award-winning variations of traditional spa treatments, ESPA takes it one step further with two additions: the Elixir wellness clinic, home to bespoke nutrient-packed IV infusions, and a range of Chinese medicine acupuncturists, herbalists and naturopaths who are all on hand to offer a range of alternative healing methods.
Address: Whitehall Pl, Westminster, London SW1A 2BD
Price range: $$$
Website: www.espalifeatcorinthia.com
May Fair Spa: Best spa for couples in London
Date night steps up a notch at May Fair Spa, a discreet, healing inner sanctuary promising an unrivalled day of relaxation for you and your significant other. Black marbled treatment rooms set the scene and delicious calming teas add an extra touch after each treatment. One of the best things about May Fair Spa is how personalised your day here can be: couples who want to spend the entire day together can book on for a massage workshop complete with oils, Champagne and strawberries. Those who'd rather spend the day together but enjoying different treatments can gaze in wonder at the spa menu with its unique packages.
The entire experience is carefully curated at May Fair Spa, starting with the deep cleansing of the Herbal Sauna and Aromatic Steam Room and finishing in the Three Experience shower, including the famed Forest Mist experience.
Address: The May Fair, A Radisson Collection Hotel, Stratton St, Mayfair, London W1J 8LT
Price range: $$$
Website: www.themayfairhotel.co.uk 
Lanserhof: Best members only spa in London
Lanserhof is London's leading private wellness clinic and goes above and beyond to provide cutting-edge treatments. It's also known as London's first medical gym and some even call it the first medi-gym in the world. This holistic sanctuary is a safe haven for its members, who can enjoy massages, vitamin infusions, cryotherapy and ozone therapy.
But Lanserhof isn't just a spa and gym: it's also home to any number of other wellness-focused services, including nutrition, body analysis, personal training, rehabilitation and more. Fortunately, while Lanserhof is technically a members-only spa, some of its facilities are open to book in for privately. It might be a more premium option than other spas in London but it comes with the guarantee of luxury standards, the most highly trained professional opinions and service that anticipates your every need.
Address: 17-18 Dover St, Mayfair, London W1S 4LT
Opening days and hours: 7am - 9pm, Monday - Thursday, 7am - 7pm Friday, 9am - 5pm Saturday, Sunday 
Price range: $$$$
Website: www.lhtac.com 
Aman Spa at The Connaught: Best spa for personalised treatments in London
London's Aman spa effortlessly fuses two things: the elegant Edwardian chic of The Connaught and the dreamy, tranquil nature of other Aman spas. Every treatment at Aman is specifically tailored to your own requirements, which offers endless possibilities when it comes to choosing which you'd like to experience next. And that's if you can even get past the initial treatment menu.
This huge list focuses around three main principles: grounding, purifying and nourishing. Along with the standard, you'll find experiences like jet lag recovery, yoga and body alignment and naturopathic nutrition. Aman also offers a range of complementary therapies to enjoy throughout your day at the spa. From traditional acupuncture to osteopathy, Chinese herbal medicine and Craniosacral therapy, Aman's inclusive spa packages ensure you'll leave feeling like the best version of yourself.
Address: The Connaught, Carlos Place, Mayfair, London W1K 2AL
Price range: $$$
Website: www.the-connaught.co.uk
Akasha: Best spa for unusual treatments in London
One of the most tranquil spas in London and set in the heart of Piccadilly, Akasha is hidden away inside the Hotel Café Royal complete with mood lighting, restorative sounds and uplifting aromas. Its signature treatments marry innovative Western practices with ancient Eastern traditions and span cultures across the world.
Here at Akasha, you'll find a private Hammam for purifying scrubs and massages and a Vichy shower for cleansing hydrotherapy rituals. Also tucked inside this serene spot is London's first Watsu pool for tailored hydro-treatments and guided meditation. Wellness experts are on hand to offer treatment suggestions and recommendations based on your preferences, so don't be afraid to try something unexpected or new.
Address: Hotel Café Royal, 50 Regent St, Soho, London W1B 5AS
Opening days and hours: 10am - 6pm, daily
Price range: $$$$
Website: www.hotelcaferoyal.com
Spa De La Mer: Best spa for skincare in London
Luxury skincare brand La Mer is renowned for its incredible cremes and its spa is no exception. Spa De La Mer is located in Harrods and is a must-visit for skincare aficionados. This spot is famed for being La Mer's first-ever full-service spa in the UK and harnesses the renewing energies of the sea with a range of skin-loving treatments found nowhere else in the UK.
Expect to walk out with skin feeling refreshed, energised and especially renewed after a single treatment. The magic of Spa De La Mer exists due to its expertise: here, you'll find experts knowledgeably bathing your skin in its perfect concoction, following up with treatments personally designed to highlight its best parts and ease any inflammation on difficult areas. The Miracle Broth signature facial is a must-do here.
Address: Ground Floor 87, Harrods Lower, 135 Brompton Rd, London SW1X 7XL
Price range: $$$
Website: www.cremedelamer.co.uk
Linnaean: Best medi-spa in London
At a first glance, Linnaean appears to look more like a swanky, Pinterest-interior-board-ready cafe than it does a traditional spa. Pistachio green walls, rattan mirrors, printed pastel pink wallpaper and an indoor hanging garden mean you'll organise a visit here even without planning anything health-inspired. This wellness spot manages to encapsulate both in a way that you'll pop in for a bite to eat and leave hours later, rejuvenated after a range of specially tailored treatments.
This is a spa of the future and it's created with the future in mind — a one-stop wellness hub covering all areas of holistic healing. Nourishment for the body and the mind happens from the inside out here; after a few treatments you'll have time to enjoy healthy food in the cafe or drop by for a hair refresh. Linnaean was designed by the team behind Annabel's and The Ivy Collection, which means as well as beautiful and relaxing treatments, the interiors are just as carefully curated.
Address: Embassy Gardens, 2 New Union Square, Nine Elms, London SW11 7AX
Opening days and hours: 10am - 6pm Tuesday, 10am - 8pm Wednesday - Sunday
Price range: $$
Website: www.linnaean.co.uk
Chuan Spa: Best Chinese medi-spa in London
The Langham is swish, stylish and ready to anticipate all of your needs before you've even thought of them. And it's inside this iconic hotel that you'll discover Chuan Body and Soul Spa: a relaxed gem of a spa steeped in the values of traditional Chinese medicine. What this means is a long list of traditional, Western spa treatments but with a twist: an extra layer of knowledge that helps to pinpoint any specific issues and release tension throughout each relaxing experience.
Chuan's Heavenly Jing Lao is the signature treatment here: an indulgent foot massage that encourages a healthy equilibrium with a strengthened "Qi" flow thrown in for good measure. Further down the treatment list are delights like sensory scrubs, Reiki, spirulina wraps and immune boosters.
Address: 2 Cavendish Pl, Marylebone, London W1B 3DE
Opening days and hours: 10am - 9pm Monday - Friday, 9am - 8pm Saturday, Sunday
Price range: $$
Website: www.langhamhotels.com 
Bamford Spa at The Berkeley: Best spa for facials in London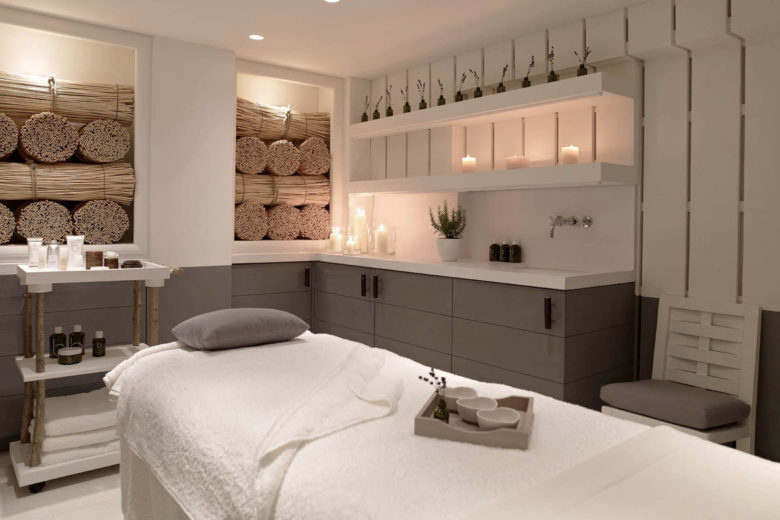 The Berkeley combines the peace of the Cotswolds with the premium experience of a top London spa, coming together to form an incredible day of pure rejuvenation. A day at The Berkeley is unlike any other, thanks to this spa's ability to ease even the strongest of frustrations within a few minutes. The Berkeley promises a luxurious result no matter which treatment you opt for, but where it really shines is with its signature facials.
Rooted in a holistic approach to wellbeing, The Berkeley uses products exclusively by British-made skincare experts, Bamford and Oskia London, across its entire programme. No matter whether your skin needs a touch of firming, glow or smoothing, the wide range of facials at The Berkeley promise to deliver. For a truly personalised treatment, opt for the Bamford Signature Facial: a bespoke service combining a cleansing foot bath, complete skincare consultation, deep tissue back massage and a beautifully cleansed, analysed, exfoliated and nourished result.
Address: Wilton Pl, Knightsbridge, London SW1X 7RL
Price range: $$$
Website: www.the-berkeley.co.uk
South Kensington Club: Best spa in London for Banya experience
A classic choice in the city devoted to all things health and wellness, South Kensington Club has a particular focus on Russian Banya cabins with a twist. Taking the authentic experience one step further with a variety of soothing aromas, healing masks and fruit teas, it's impossible to finish a treatment without feeling utterly chilled out.
Each treatment is designed with its very own unique touch, like signature mud masks for a soothing, anti-ageing effect, energising oak or birch leaf massages and cellulite-targeting gentle bamboo whipping. Outside of the Banya treatments, South Kensington Club is also renowned for its Tea Library – the ideal spot for relaxing with a cup of fruit tea after you've finished your day at the spa.
Address: 42 Harrington Rd, South Kensington, London SW7 3ND
Opening days and hours: 6:45am - 11pm Monday - Friday, 8am - 11pm Saturday, 9am - 10:30pm Sunday
Price range: $$$
Website: www.southkensingtonclub.com 
The Beaumont Spa: Best London spa with beautiful surroundings
The Beaumont Spa, set in the heart of Mayfair, manages to effortlessly tune out all of London's not-so-enjoyable moments: rumbling Tube trains from underground, bus horns in the background and other tiny but consistent reminders that life is continuing as normal behind its very stylish doors. As soon as you've sat down with your pre-spa checklist at The Beaumont, you'll feel a world away from the hustle and bustle of London, transported into a parallel universe where your biggest problem is choosing between a massage, facial or Hammam treatment.
The answer, of course, is to choose one of everything: otherwise it's highly likely you'll have a return visit in your mind before you've even completed your first 60 minutes here. This unique, stylish hotel also offers overnight packages, which means if you're not quite ready to head back to the buzz of the city, you can check in for a night and truly enjoy this peaceful oasis.
Address: 8 Balderton St, Brown Hart Gardens, Mayfair, London W1K 6TF
Price range: $$$
Website: www.thebeaumont.com 
Bulgari Spa: London's best spa with advanced treatments
There's no doubt about it: Bulgari Spa is one of the finest in London, with its onyx, oak and Vicenza stone surroundings and carefully curated list of facial and body treatments. It's virtually impossible here to leave feeling anything other than perfectly centred, once you've spent time in the shimmering green and gold mosaic swimming pool and across the two levels of stylish treatment rooms. Bulgari Spa fuses Asian and European traditions to bring together a programme that's all-encompassing for every kind of experience.
Expect potent blends of essential oils, plant extracts chosen for their specific properties and scientifically advanced products used carefully and methodically. In a rush but desperately needing some spa-infused revival? Check in here for the signature B.Beautiful Daycation package: including a luxury facial, black diamond manicure and pedicure, glow body treatment and more.
Address: 171 Knightsbridge, London SW7 1DW
Price range: $$$$
Website: www.bulgarihotels.com
The Lanesborough Club & Spa: Best in London for spa and fitness
The best way to soothe aching muscles after a tough workout is with a relaxing massage. And that's exactly the pairing you'll find at The Lanesborough Club and Spa – an exclusive private members' fitness and health club with all the trimmings. The Lanesborough has won multiple awards in recent times, celebrating its expertise in the world of spa treatments and luxurious surroundings.
Start the day with a fitness class or personal training session before indulging in the spa's La Prairie, Tata Harper and ILA-infused treatments. Essence of Caviar, Swiss Ice crystals and Platinum for ultimate skin cell rejuvenation will guide your therapist's hands artfully through each step.
Address:  Lanesborough Place SW 1, Belgravia, London SW1X 7TA
Opening days and hours: 6am - 10pm Monday - Friday, 7am - 9pm Saturday, Sunday 
Price range: $$$$
Website: www.lanesboroughclubandspa.com 
Agua London: Best spa in London for special occasions
Got a birthday, wedding or other special occasion coming up? Tom Dixon-designed Agua London is the obvious choice for a memorable day surrounded by your favourite people. Set on the South Bank inside the famous Sea Containers, Agua London promises decadent interiors and even more luxurious treatments. This multi-sensory sanctuary exists below the waterline, offering a unique setting for a day filled with massages, facials and a glass or two of champagne.
Personalised treatments and an original selection of skincare products ensures a bespoke programme throughout the day for everyone. Better yet, it's also possible to hire the entirety of Agua London to yourself: taking the very notion of a particularly special spa day to a whole new dimension. Gentle aromatherapy blends and renowned intense techniques guarantee impressive results.
Address: 20 Upper Ground, South Bank, London SE1 9PD
Opening days and hours: 09:45 - 19:30 Monday - Friday, 09:15 - 19:00 Saturday, Sunday
Price range: $$$
Website: www.seacontainerslondon.com
Frequently asked questions about London spas
What is the most effective spa treatment?
The most effective spa treatment depends on your requirements and reason for visiting. But some of the most popular and most requested spa treatments include a full body massage and a facial. 
What is the best spa break in the UK?
London's Mandarin Oriental, ESPA, Bulgari Spa and May Fair Spa offer some of the best spa breaks in the UK.
How much does a day at a spa cost?
A day at a spa starts from around £65 and can go up to more than £1000 depending on location, facilities and treatments. Read our full guide to discover the best spa for you. 
What are the 6 types of spa?
The six types of spa are: Day spas, resort and hotel spas, club spas, overnight spas, medical spas and mineral spring spas.