Few places appear on bucket lists with the same frequency as Paris. With its photogenic architecture, iconic landmarks, world-class museums, glittering Seine, and aura of romance and refined elegance, the City of Lights is a must-visit destination.
The best hotels in Paris draw on the city's unique personality in their design and character. There are the well-established and highly-acclaimed 5 star hotels in Paris, decked out in their finery, the timeless haunts of the rich and famous. Then there's the new school of design-savvy Parisian boutique hotels, catering to those seeking a cooler and more contemporary take on luxury.
These luxury Parisian hotels offer exquisite interiors designed by the city's top taste-makers, flawless service, a range of amenities, including libraries, gyms, and some of the city's best spas, as well as Michelin-starred restaurants. You needn't leave the building really—although we don't encourage that. 
Joining the ranks of these top-rated establishments are also new and innovative ecotourism hotels, setting the standard for eco luxury with environmentally friendly initiatives such as recycling schemes, improved energy efficiency, and a focus on organic and local produce. Perfect for earth-conscious travellers seeking sustainable holidays.
So if you're wondering where to stay in Paris, have a browse of our selection of the city's best getaways. We've included fabulous and historic grande dames, creative and quirky boutique hotels, bohemian bolt-holes, foodie favourites, as well as a family-friendly stay too. 
The 19 best luxury hotels in Paris
Hôtel de Crillon
Following a mega update a few years ago, the iconic Hôtel de Crillon has established a name for itself as a paragon of modern luxury. The original building, dating from 1758, still feels quintessentially Parisian, but now features all the modern amenities, sleek contemporary furnishings, and a trendy muted colour palette.
Each bedroom has its own butler as well as collections of bespoke furniture and objets d'art. There are also two suites designed by none other than Karl Lagerfeld for those who want the high fashion stamp on their stay. The vibe is friendly, inviting, but still distinctly elegant.
Downstairs, there are two leafy courtyards, a hair salon, barbershop, and pool. Or treat yourself to a massage at the subterranean spa, where the walls are lined with gold scales. Then relax with a drink in the Les Ambassadeurs lounge. Afterwards, L'Ecrin restaurant offers fine dining par excellence with a twelve course menu, making this one of the best hotels in Paris for foodies.
Address: 10 Place de la Concorde, 75008 Paris, France
Price range: $$$$
Website: www.rosewoodhotels.com
Brach Paris
Having undergone a makeover courtesy of innovative French designer Philippe Starck, this former 1970s postal sorting house is now a sleek, sophisticated, and rather sexy getaway with a strong emphasis on aesthetics.
The vibe is bold, beautiful, and effortlessly stylish, with materials such as marble, metal, and leather and lots of unique artworks. Bedrooms feature thoughtful touches such as French novels, books, and flower arrangements, as well as unique additions such as African masks and surrealist photographs. No wonder this place attracts some of Paris' coolest residents.
Challenge yourself to some lengths in the 23-metre pool or take a dip in the plunge pool alongside. There's also a whirlpool bath, steam room, sauna, gym and sports club with classes you can join. Afterwards, a rooftop terrace welcomes you—or there's the hotel restaurant serving a range of Mediterranean sharing plates and an impressive cocktail selection.
Address: 1-7 Rue Jean Richepin, 75016 Paris, France
Price range: $$$
Website: www.brachparis.com
Le Roch Hotel & Spa Paris
Luxury hotels can feel a little stuffy and imposing but that's not the case with Le Roch. This design-forward boutique hotel manages to come across as casual and easygoing even while featuring all the hallmarks of five-star luxury, including a superb location by the Tuileries gardens and Place Vendôme.
Rooms are bright, contemporary, and elegant while the four Indulgence suites each have their own private hammam steam bath. Guests can also book the apartment, which gives them exclusive use of the entire sixth floor.
There are plenty of places to relax around the hotel, including a sunny terrace and courtyard garden. Or go for a swim in the pool made from black lava rock. In the spa, you can order a personalised selection of products by hit skincare brand Codage. Following up with a meal in the restaurant that serves sophisticated dishes inspired by the seasons—the final flourish from a hotel that definitely values slow travel.
Address: 28 Rue Saint-Roch, 75001 Paris, France
Price range: $$$
Website: www.leroch-hotel.com
Le Meurice
It may be impossible to book a room at the Palace of Versailles but making a reservation at Le Meurice is the next best thing. It opened in 1835 and has been welcoming the world's biggest names ever since, including Picasso, who got married here, Salvador Dalí, who lived here, and Orson Welles and Rudyard Kipling.
The hotel's 18th-century imperial opulence got a fresh update by Philippe Starck during recent renovations and you'll note his uniquely modern touches in the ceiling art and vinyl chairs in the restaurants. As a result, while Le Meurice feels indisputably grand, it's not remotely old-fashioned.
Bedrooms are heavy on silk and velvet while bathrooms are full of Italian marble. And have a glance out the window. This has to be one of the best luxury hotels in Paris with a view of the Eiffel Tower.
There are two highly acclaimed restaurants serving French and Mediterranean staples and you've also got Spa Valmont with all its luxury treatments.
Address: 228 Rue de Rivoli, 75001 Paris, France
Price range: $$$$
Website: www.dorchestercollection.com
Hotel Le Burgundy
If you fancy somewhere a little bit more lowkey than a luxury Parisian grande dame, Hotel le Burgundy is a great choice. This five-star boutique hotel is located in the 8th arrondissement, not far from the Tuileries, Louvre, and Place de la Concorde.  Unusually for a hotel of this kind, it makes an extra effort to welcome kids, making it one of the best family hotels in Paris.
At Le Burgundy, the mood is one of refined contemporary elegance. The sophisticated bedrooms feature private balconies, custom-made furniture, and modern art, while the suites have separate living rooms. There's also an apartment with a private patio.
In addition, you've got a spa with a sauna and hammam while the Michelin-star Le Baudelaire restaurant serves seasonal food around an interior patio. The next-door bar feels suitably opulent with its Art Deco curved bar and gold and red ceiling. Pick from a menu that includes a range of cocktails, Cognacs, and Champagnes.
Address: 6-8 Rue Duphot, 75001 Paris, France
Price range: $$$
Website: www.leburgundy.com
Le Bristol
Le Bristol manages to feel totally timeless with its blend of old-school grandeur, modern-day comfort, and impeccable service. You've got all the Louis XVI armchairs, gilded mirrors, chandeliers, chintzy textiles, and polished marble you could want, but also king-sized beds and heated floors in the bathrooms.
The best rooms overlook the enclosed gardens with their flowers, sculptures, and geometric lawns. There's also a spa and a rooftop pool with floor-to-ceiling windows revealing views of the Paris skyline. The hotel's two restaurants—Epicure and 114 Faubourg—are some of the city's hottest dining spots, both of which have received Michelin stars.
Situated at the end of the glamorous Rue du Faubourg Saint-Honoré in the centre of one of Paris' most chic neighbourhoods, it's no wonder the likes of Charlie Chaplin and Rita Hayworth used to stay here. Oh, and Woody Allen shot parts of Midnight in Paris at Le Bristol too.
Address: 112 Rue du Faubourg Saint-Honoré, 75008 Paris, France
Price range: $$$
Website: www.oetkercollection.com
Sinner
Looking for a romantic getaway where you and your partner can enjoy a few nights of indulgence and a dash of naughtiness? Then book into Sinner. With its emphasis on debauchery and decadence, it's not a particularly child-friendly hotel, and that's what makes it so special.
As you'd expect from the name, the decor is wonderfully sultry and suggestive, with lots of candlelight, stained glass, staff clad in black robes and carrying red lanterns, and a confessional booth and crypt. A cheeky spin on medieval Catholicism.
But in contrast to the theatrical corridors and lobby, the rooms are fresh and bright, decorated in pastel colours and with charming details such as art and photography books and a vinyl turntable.
In the spa, you'll find a hammam, hot tub, and some rather unconventional massages. Meanwhile, the restaurant serves a multicultural range of dishes and transforms into a hotspot for partying after nightfall.
Address: 116 Rue du Temple, 75003 Paris, France
Price range: $$$
Website: www.sinnerparis.com
La Réserve
One of the most exclusive hotels in downtown Paris and the number one destination for fashion editors and off-duty models, La Réserve is in a prime location by the Grand Palais and overlooking the Champs-Elysées.
A former hôtel particulier, and with just 40 rooms, it's one of the smaller boutique hotels on our list, which is part of its charm. It feels discreet and intimate but most definitely sumptuous with plenty of taffeta, velvet, and silk in a rainbow of jewel-like shades. You have French designer Jacques Garcia to thank for that, with his penchant for decadence and romance.
Downstairs, there's a library for some leisurely reading, an interior courtyard for coffee, a restaurant serving seasonal French cuisine with an unexpected Japanese influence, and a smoking room with a cigar chest. In addition, you've got a spa delivering world-class anti-ageing treatments as well as a gym, pool, and hammam.
Address: 42 Avenue Gabriel, 75008 Paris, France
Price range: $$$$
Website: www.lareserve-paris.com
The Peninsula Paris
The Peninsula has been accorded 'palace' status which marks it out as one of the best five-star hotels in Paris. It's not hard to see why. What other establishment can boast a sculpture made from 40,000 pieces of gold leaf? Five different dining venues? Or the biggest hotel pool in Paris?
There's marble aplenty in the Peninsula, from the white marble lobby to the white marble bathrooms with black marble bathtubs (also with an integrated television). The 200 rooms are very spacious and feature cutting-edge tablet technology while five of the suites have their own private rooftop gardens.
The spa features treatment rooms and a gym where you can hire a personal trainer for a pre-dinner sweat session. Guests can also borrow electric bikes or hire a Rolls-Royce Phantom. Finally, dining options include Cantonese-influenced LiLi, French haute cuisine in L'Oiseau Blanc, Le Bar Kleber for pre-dinner cocktails, and Le Lobby, with its chandeliers and vast breakfast menu.
Address: 19 Avenue Kléber, 75116 Paris, France
Price range: $$$$
Website: www.peninsula.com
Maison Souquet
Another masterpiece of interior design by Jacques Garcia, boutique hotel Maison Souquet used to be a Belle Époque pleasure house. Today, it's much less shady but no less seductive with its uniquely sensual brand of luxury.
You may not spot any courtesans wandering the corridors, but you will find two red lanterns at the entrance to the hotel. Meanwhile, the brilliantly bohemian decor incorporates plush red velvet, silk, gold gilding, Moorish tiles, fringed lampshades, and scented candles. With only 20 rooms, this is a romantic and intimate destination for couples in particular.
At the spa, aka the Salon d'Eau, guests can reserve exclusive use of the pool and mosaic steam room. The reception lounge, known as the Salon des 1001 Nuits, has an Arabian-Napoleonic-era aesthetic while the bar has a reading room theme, complete with a piano, board games, and fireplace. There's also the charming Jardin d'Hiver, where breakfast is served.
Address: 10 Rue de Bruxelles, 75009 Paris, France
Price range: $$$
Website: www.maisonsouquet.com
Molitor
A top contender for the trendiest hang-out in Paris, the Molitor used to be the most famous swimming pool in Paris. Now, it still has the 46-metre swimming pool but has also become a luxury hotel.
Many of the building's original features remain, including the glass ticket booth (now framing the indoor bar) and the former changing rooms, today serving as an art gallery. The bedrooms are a vision of monochrome minimalism while the hotel also boasts the largest spa in Paris.
Molitor also has a roof terrace with superb views of the Eiffel Tower, but for lunch, we recommend heading to the Brasserie Urbaine where meals are accompanied by music from resident DJs.
Address: 13 Rue Nungesser et Coli, 75016 Paris, France
Price range: $$
Website: www.mltr.fr
Nolinski
Competing for the title of the coolest hotel in Paris is a challenge but Nolinski may come out trumps. This exceptionally stylish getaway, located close to the Seine, is the ultimate design hotel, from the fairy lights strewn around the front door to the minimalist reception to the bedrooms with their azure, gold, pink, and yellow colour schemes.
Giving classic Belle Époque staples a 21st-century update, the bedrooms feature bonuses such as a mini-bar that looks like a safe and enormous bathrooms that are a combination of gold, marble, and grey and feature extra deep bathtubs.
Downstairs the La Colline spa is lit by candles and also has a 16-metre pool with a mirrored ceiling. Meanwhile, the Grand Salon delivers a selection of lip-smacking cocktails under a silver leaf ceiling with a gorgeous teal-coloured piano and bronze fireplace to complete the picture.
See something you love? Nearly everything in the hotel is available to buy. This is a boutique hotel after all.
Address: 16 Avenue de l'Opéra, 75001 Paris, France
Price range: $$$
Website: www.nolinskiparis.com
Le Royal Monceau, Raffles Paris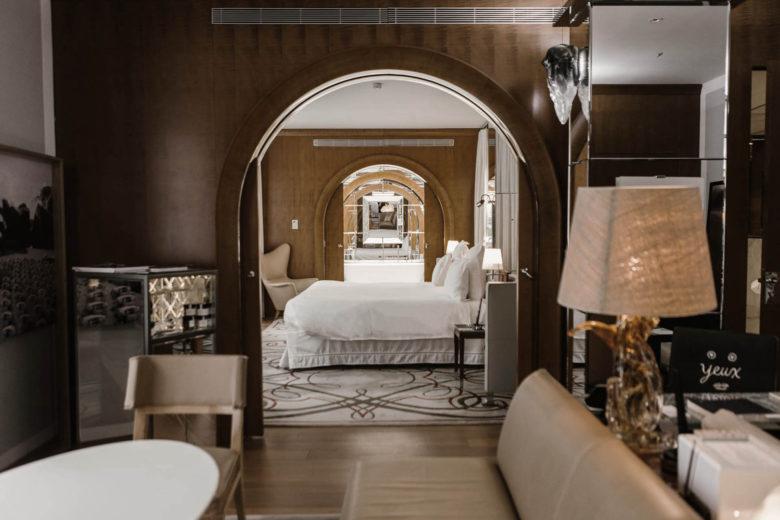 Winston Churchill, Michael Jackson, Ernest Hemingway, and Coco Chanel—these are just a few of the names that have frequented Le Royal Monceau. Yet another establishment that has benefited from the discerning and imaginative eye of designer Phillipe Starck, this hotel mixes creativity and luxury with a focus on art that will beguile high culture lovers.
The bedrooms have a 40s and 50s aesthetic and feel playful and fresh. There's an award-winning spa and the option to join yoga or pilates classes, plus a 99-seat movie theatre. Guests can also enjoy a guided tour of the hotel's private art collection.
The Nobu Matsuhisa restaurant serves Peruvian-Japanese fusion cuisine while the Michelin-starred II Carpaccio treats diners to an explosion of classic Italian flavours.
Finally, there's a large art bookshop where you can buy limited edition books and original gifts.
Address: 37 Avenue Hoche, 75008 Paris, France
Price range: $$$
Website: www.leroyalmonceau.com
Relais Christine
Situated in a quiet side street of Saint Germain on Paris' famous Left Bank, peace and calm are the order of the day at Relais Christine, a former private mansion. With its beautiful courtyard and private flower garden, it's the perfect hideaway.
You'll find plenty of original features in this historic building, including painted wooden beams, and the vaulted remains of a 13th-century monastery where breakfast is served. Quite a memorable place to enjoy your morning espresso.
Rooms are decorated with antique furnishings and plush velvet with canopy beds and marble bathrooms. There's also the Guerlain Spa where you'll find a jacuzzi, sauna, and a beauty parlour.
Address: 3 Rue Christine, 75006 Paris, France
Price range: $$$
Website: www.relais-christine.com
Hôtel Plaza Athénée
You might remember Hôtel Plaza Athénée as the setting for the season finale of Sex and The City? Or its appearance in The Devil Wears Prada?
No matter if you don't. This hotel will wow you instantly with its pull-out-the-stops glamour and no-holds-barred luxury. We're talking chandeliers everywhere, white marble, endless flower arrangements, and a clientele that reads like a who's who of the fashion industry.
Rooms are decorated in either Regency or Art Deco style—so take your pick. Guests will be treated to a pillow menu (we're not joking) while downstairs the Dior Institut spa offers a specialist manicure and pedicure area.
After a day spent hitting up the nearby designer stores, you might be feeling pretty peckish. The three Michelin-starred Alain Ducasse au Plaza Athénée has you covered with its healthy takes on haute cuisine. And, between the restaurant and bar, you'll find a harpist playing mood music. This has to be the most luxurious hotel in Paris.
Address: 25 Avenue Montaigne, 75008 Paris, France
Price range: $$$$
Website: www.dorchestercollection.com
Hôtel Duc de Saint Simon
Located in the artistic and intellectual hub of Saint German on Paris' Left Bank, the family-owned Hôtel Duc de Saint Simon is a handsome and historic 18th-century building nestled away down a side street.
The rooms, accessed via a spiral staircase (or lift, of course) are dignified and stately with antique furnishings and lush textiles. The rest of the hotel is full of gold-framed paintings, floral wallpaper, leather-bound books, and Persian rugs, while classical music always seems to be playing, creating a warm and welcoming atmosphere.
There's an interior courtyard full of flowers and plants and breakfast is served in the 16th-century vaulted stone cellar. There's also a lounge where you can tuck yourself away in one of the stone alcoves and savour a good drink.
Top tip: cinema buffs should try and reserve Suite One, a favourite of silver screen icon, Lauren Bacall.
Address: 14 Rue de Saint-Simon, 75007 Paris, France
Price range: $$
Website: www.hotelducdesaintsimon.com
Le Citizen Hôtel
The Citizen is Paris' first eco-hotel and feels suitably ground-breaking with its green travel ethos and location in the lively and artsy district of Canal St-Martin.
Inside, it's all chic, urban, and understated. The 12 bedrooms feature modular furniture and a Scandanavian aesthetic i.e. lots of pale wood and blue and yellow accents. Guests can even borrow iPads for the duration of their stay. It's all very young and fresh—like the neighbourhood itself, known for its energetic nightlife and hipster dining.
The free breakfast is abundant and healthy and served in the café with views of Canal St-Martin—ideal for people-watching. Later, this venue becomes a restaurant, serving a four-course Japanese lunch.
For The Citizen, being eco-friendly is more than just marketing. Water conservation initiatives, a rigorous recycling system, plastic-free products, and energy consumption monitors in the rooms that reduce lighting when they're unoccupied, are just some of the ways it delivers eco vacations to discerning visitors.
Address: 96 Quai de Jemmapes, 75010 Paris, France
Price range: $$
Website: www.lecitizenhotel.com
Hidden Hotel
Paris can feel hectic and overwhelming at times—hence the appeal of the eco chic Hidden Hotel, a serene little hideaway that also happens to be one of the best hotels in downtown Paris.
The boxes of trailing ivy and wood cladding of the hotel exterior immediately create the sense of entering a secret bolt-hole. Inside the hotel, you've got lots of natural materials, including cow hide, tree trunk chairs, slate, fur, copper, and marble.
The bedrooms have a soothing colour scheme of earthy tones like mauve, green, grey-browns, and cream while the suites feature sunken marble bathtubs and a cinema screen that extends from the ceiling.
Guests have access to a cigar-smoking lounge, a yoga wall for working out, plus two breakfast buffets in the morning. And the Hidden Hotel's environmentally friendly practices include all-natural and chemical-free products in the bathrooms and complimentary glass water bottles rather than plastic.
Address: 28 Rue de l'Arc de Triomphe, 75017 Paris, France
Price range: $$
Website: www.hidden-hotel.com
Mob Hotel
If you want to feel less like a tourist passing through Paris and more like one of its stylish residents, book into Mob Hotel, a vibrant centre for cultural events and one of the trendiest hotels in the city.
It may not have the most central location but for bargain-hunters, Mob's proximity to Paris' largest flea market, Marché aux Puces, is definitely a plus. Meanwhile, the hotel decor is eclectic and whimsical with rooms featuring off-beat accents such as Russian dolls, red-velvet theatre curtains, Chinese shadow puppets, or a rocking chair.
There's a buzzing restaurant serving organic farm-to-table meals while the hotel rooftop hosts al fresco movies in summer and the garden has an ice rink in winter. Other events include exercise classes, designer pop-ups, DJ sessions, and live music.
This eco-friendly hotel recycles its organic waste, makes its own environmentally friendly cleaning products, and has a vegetable patch complete with beehives, making it perfect for those interested in responsible travel.
Address: 6 Rue Gambetta, 93400 Saint-Ouen, France
Price range: $$
Website: www.mobhotel.com
Frequently asked questions about hotels in Paris
What is the most luxurious hotel in Paris?
The most luxurious hotel in Paris is Le Meurice, a centrally located establishment with interiors by Philippe Starck and a world-class spa. Other luxury Parisian hotels include Hôtel de Crillon, Hôtel Plaza Athénée, and the Peninsula Paris. 
What is the best hotel to stay at in Paris, France?
The best hotel to stay at in Paris is Le Bristol hotel, one of the city's most exclusive grande dames. Other options include La Réserve or the bohemian Maison Souquet. Check out our guide to the best hotels in Paris for more inspiration
What are the top 10 hotels in Paris?
The top 10 hotels in Paris include luxury hotels like Le Meurice, Le Bristol, Hôtel de Crillon, Brach Hotel, and Hôtel Plaza Athénée, plus boutique hotels like Sinner, Nolinski, La Réserve, Maison Souquet, and Le Roch Hotel.
Which hotels do celebrities stay in Paris?
Celebrities have been known to stay at luxury Parisian hotels such as Le Meurice where Piccasso and Salvador Dalí were guests, and Le Bristol, where Charlie Chaplin and Rita Hayworth stayed, as well as Le Royal Monceau, a favourite of Coco Chanel.