We could all do with a little hakuna matata magic. Translating to no worries, we all know the saying from the iconic film, The Lion King. But few of us actually understand what the meerkat and warthog were getting at. Few of us have really embraced a problem-free philosophy—the kind of serenity that you just can't help but sing about. And whilst other islands give us a taste of that tranquility, Zanzibar manifests the mantra in every sense of its meaning.
Hakuna Matata is sandy toes and a sunkissed nose. Hakuna Matata is liberation from daily woes. Hakuna Matata is rocking on a hammock to the sound of lapping waves. Hakuna Matata is the knowledge that your vacation is contributing to future sustainability and social initiatives. Hakuna Matata is finishing a book in a day. Hakuna Matata is the zing of flavor-packed infusions hitting your palette.
Hakuna Matata is found in Zanzibar. More specifically, hakuna matata is best experienced at these top luxury resorts. And once you've allowed every burden in your body to disintegrate, you'll find yourself singing through your days too. Trust us—it's infectious.
The 23 best hotels in Zanzibar
Zanzibar White Sand Luxury Villas & Spa
Located on Paje's scintillating white sand beach, these rustic chic villas are our best place to stay in Zanzibar for eco chic vacations. Designed with natural beauty and sustainability in mind, the innovative luxury resort does little to take away from its panoramic surroundings without giving back in return.
Combining extravagant luxury with a guilt-free conscience, each room at the Zanzibar White Sand Luxury Villas & Spa takes on its own character. While tranquil hues and natural fibers with contemporary touches remain a central theme through the resort. Opt for the upscale restaurant if your Instagram feed is missing a few foodie posts. Or opt for the more relaxed beach restaurant if you're not yet ready to depart the outdoors. Either way, you won't be disappointed.
Best for: Eco chic luxury.
Address: Paje Beach, Paje, Tanzania
Price Range: $$$
Website: www.whitesandvillas.com/
Zuri Zanzibar
Serving up social responsibility and ecological sustainability with an Afro-chic style, this forward-thinking stay is one of our best luxury resorts for a number of reasons. We're always partial towards hotels that look outwards to the environment and the community. And it makes our extravagant trips that much better to know that we're contributing towards something greater.
If you're the same, Zuri Zanzibar has your number. The nature-infused decor embodies the island's mantra hakuna matata. The international cuisine takes its inspiration from around the world, with the freshest seafood being a highlight. While social hubs such as a spice garden, yoga deck and al fresco library draw you away from the ocean, if only for a moment.
Best for: Manifesting hakuna matata.
Address: Kendwa Zanzibar TZ, 73107, Tanzania
Price Range: $$$
Website: www.zurizanzibar.com/
Melia Zanzibar
Impressive all inclusive eco resorts are hard to come by. But this one takes our breath away through its environmentally conscious values and world class service. From the African inspired decor to the jetty lounge, you'll feel like you've been transported into a parallel universe—one where worries simply don't exist.
Melia Hotel is a secluded escape that kisses the Indian Ocean during high tides. The Spices Restaurant is inspired by the traditional Stone Town Market and fuses an Arabian palette with African cuisine. If you're traveling in larger groups, we recommend a more contemporary stay at the newest addition, The Level. The premium section offers greater exclusivity with private pools and its own Mediterranean restaurant.
Best for: All inclusive exclusivity.
Address: Kiwengwa Zanzibar TZ, 00200, Tanzania
Price Range: $$
Website: www.melia.com/en/hotels/tanzania/zanzibar/melia-zanzibar
The Residence
Drawing inspiration from the island's tropical bush and mangroves, The Residence explodes with natural beauty and exquisite designs in equal measure. The palatial villas are decked out with traditional African-inspired furniture. And just by lounging by the pool with a book (or cocktail) in hand, you'll feel the healing effects of the African sun.
As one of the best boutique resorts in Zanzibar, The Residence is further distinguished by its first class facilities. The international dishes are served on a lantern lit deck overlooking the sea. The serene spa is a sanctuary for revitalization. While the fish tank pool cascades into the warm Indian Ocean, making you one with the waves.
Best for: Waving goodbye to everyday stresses.
Address: Mchamgamle, Kizimkazi, Zanzibar, Tanzania.
Price Range: $$$
Website: www.cenizaro.com/theresidence/zanzibar
andBeyond Mnemba Island
andBeyond is renowned for its unparalleled opulence. And their all inclusive resort on Mnemba Island is case in point. The tiny private island encapsulates exclusive escapism. And whether to manifest good vibes through a group yoga session or whether to embark on an eye opening sea safari, comprise your days' decisions.
andBeyond Mnemba Island is also known for their crab lasagna, Ottolenghi salads and Parisian-style pastries. So while a plethora of activities encourage you to work up an appetite, the plates that feed it are worth being hungry for. Plus, andBeyond is committed to sustainability and conservation so you're bound to learn a thing or two about the monitor turtles and indigenous plants.
Best for: Good vibes only.
Address: andBeyond Mnemba Island, Zanzibar, Tanzania
Price Range: $$$$
Website: www.andbeyond.com/our-lodges/africa/zanzibar/andbeyond-mnemba-island
Emerson Spice Hotel
Zanzibar is known for its powder white sand and turquoise waters. But for a more cultural experience, we recommend stepping out of the coastline for a night or two and into the island's vibrant Stone Town. And whilst it may prove more difficult to find a luxurious stay in the local setting, this inspired building is one of the best boutique hotels in Zanzibar.
The Emerson Spice Hotel exudes character and culture. And the lovingly restored merchant's house combines its historical significance with modern comforts for a totally unique stay. You'll be remiss not to try both restaurants. The Secret Garden Restaurant explores the distinctive ruins of the adjacent garden. While the Emerson Spice Tea House is set on a rooftop and encapsulates the ambiance of the entire town.
Best for: Adding cultural spice to your vacation.
Address: ​​1494, Tharia Street TZ, 1497 Kiponda, Zanzibar 4044, Tanzania
Price Range: $$
Website: emersonzanzibar.com/emerson-spice-hotel-stone-town/
Park Hyatt
Stone Town is well worth a visit to add cultural value to your vacation. And if you're concerned about the lack of luxury stays, this 5 star hotel is one of the best luxury hotels in Zanzibar.
Located on the beachfront of Stone Town, Park Hyatt combines seaside serenity with a vibrant culture and historical colonial significance. Many of the best attractions in Zanzibar are easily accessible by foot. While the tranquil terraces and tantalizing dining area overlook scintillating views of the dhow harbor.
Best for: Fusing seaside serenity with cultural significance.
Address: Shangani Street Stone Town Zanzibar TZ, 4255, Tanzania
Price Range: $$$
Website: www.hyatt.com/en-US/hotel/tanzania/park-hyatt-zanzibar/
Baraza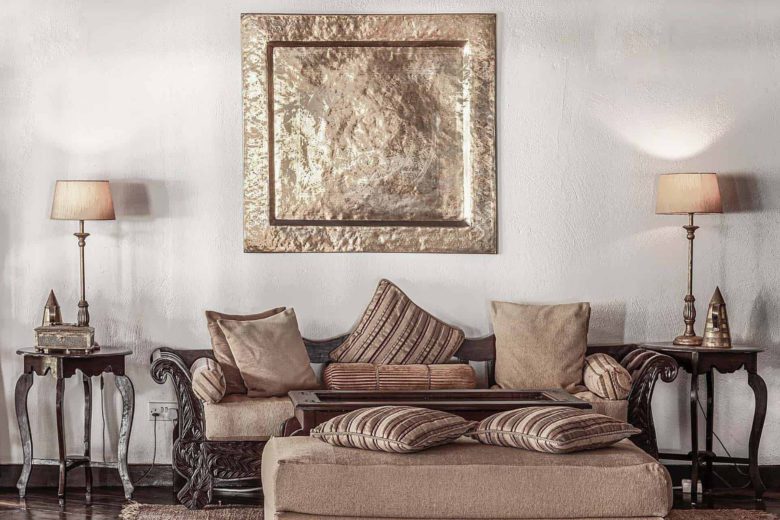 Baraza hotel is unlike any other stay. Modeled after the palaces of the Omani sultans, the white walls are elevated by brass lamps, fans and exotic wooden furniture. While a colossal pool and a myriad of day beds speak to the relaxed, lavish lifestyle.
Located near the island's National Geographic dive site, Baraza caters for the adventure enthusiasts and rest-seeking alike. The unparalleled underwater experience leaves many mesmerized by sitings such as whale sharks and monitor turtles. The Arabian oasis spa is a much needed break for others. While the international cuisine promises to be a highlight for all.
Best for: Manifesting a sultan palace mood.
Address: Bwejuu Beach South East Coast Paje Michamvi Road Dongwe, Zanzibar 2284, Tanzania
Price Range: $$$$
Website: www.baraza-zanzibar.com/
Elewana Kilindi Zanzibar
Designed to embody the glamor and style inherent to the sultans' palaces, the white domes and arches marry unparalleled opulence with the natural beauty of scintillating shore lines. Finished with clean, contemporary decor, you'll feel as if you've floated into heaven.
Elewana Kilindi Zanzibar does nothing health-heartedly. Each room has a private sun terrace, whilst luxury suites also have their own pool. The kitchen serves up almost anything you could ask for. But it's their yellowfin tuna sashimi and octopus masala that leave you entranced. Elewana Kilindi promotes responsible tourism through a plethora of initiatives. So if eco friendly luxury resorts are what you're after, this is a must—especially for a honeymoon or romantic retreat.
Best for: Renewing your vows.
Address: Zanzibar, Kendwa, Tanzania
Price Range: $$$$
Website: www.elewanacollection.com/kilindi-zanzibar
Xanadu Villas
Making space to breathe, Xanadu Villas provide a new perspective on life. Featuring stone walls, traditional domes and incredible architecture, this exotic escape is distinguished from all the other best boutique hotels in a number of ways.
Xanadu Villas cares about sustainability. And the eco lodge prioritizes natural beauty and its long-term existence, while it simultaneously places your personal needs at the forefront of your stay. Start your day by exploring untouched caves, followed by a mesmerizing massage at the water's edge. And end it with organic ingredients reinvented into scrumptious dishes. That's the life.
Best for: Providing a new perspective.
Address: Zanzibar, Dongwe, Tanzania
Price Range: $$$$
Website: xanadu-villas.com/
Mvuvi
Furnished in pure Swahili style, Mvuvi embraces local cultures whilst simultaneously providing you with modern comforts. Located on a private beach, the unpretentious thatched rooms feature vibrant interiors. And private terraces soak in scintillating views.
Mvuvi is also known for its mouthwatering cuisine and spa. The world-class restaurant explores Mediterranean flavors, fused with Swahili spices. While the surreal spa experience takes the luxe factor one step further. Plus, there are a myriad of activities to choose from in the area. So if you prefer to spend your days exploring, you'll be equally enthused.
Best for: Celebrating Swahili cultures in style.
Address: Kiwengwa, Tanzania
Price Range: $$
Website: mvuvizanzibar.com/
Royal Zanzibar
When we think of island bliss, we think of pristine white walls contrasted against rustic thatched roofs and cascading infinity pools with elegant palms waving in the breeze. That's exactly what Royal Zanzibar encapsulates—the African version of la dolce vita.
Royal Zanzibar features clean, minimalist decor, modeled after the local Swahili style. Sunbathing beds are splashed around four pristine pools. Private balconies overlook Zanzibar's most picturesque seas. And fresh fish, margaritas and Swedish massages are your only daily commitments.
Best for: Relishing in the royal treatment.
Address: North Coast, Nungwi Beach, Zanzibar, Nungwi, Tanzania
Price Range: $$
Website: www.royalzanzibar.com/
The Island Pongwe
An oasis for adults, The Island Pongwe is the perfect romantic escape. The exclusive experience is a culmination of tropical greens and crystal clear blues—the only problem being how difficult it is to leave.
As one of the best boutique lodges, The Island Pongwe prides itself on providing an unconventional detox from everyday life. And whilst, one of the best gourmet restaurants in Zanzibar transports your taste buds around the world, the eco-friendly rooms encourage you to switch off and soak in panoramic sea views. 
Best for: Switching off and soaking in.
Address: Pongwe, Zanzibar, Tanzania
Price Range: $$$
Website: www.theislandpongwe.com/
The Palms
Combining heritage-rich architecture with myth and magic, The Palms is one of the world's most romantic all-inclusive luxury hotels in the world. We can't get enough of the exotic Swahili chic interior. And with each room decorated with real palms and fire-inspired lamps, you'll feel grounded in nature whilst nestled into impossibly high thread count sheets.
There is so much to experience at The Palms in Bwejuu. Learn about authentic village life and create your own Swahili banquet. Immerse yourself in vibrant coral reefs during a sunrise dive. Or simply enjoy a range of locally grown produce at the resort's prized restaurants.
Best for: Swaying to a new song.
Address: Bwejuu Beach South East Coast Paje Michamvi Road Dongwe, Zanzibar, Tanzania
Price Range: $$$$
Website: www.palms-zanzibar.com/
Matemwe Lodge
Seated on a coral rag cliff, twelve rustic villas overlook Mnemba Island, Zanzibar's diving haven. The eco chic rooms are decorated with natural hues and fibers. And woven mats and wicker lamps speak to the simplicity of the Swahili style.
Renowned for their commitment towards conservation, Matemwe Lodge is one of the best luxury lodges for those who prefer eco-friendly stays. Spend your mornings diving, kayaking, snorkeling or kite surfing. While afternoons are best spent recovering around the pool, perusing through the three-course menu. Not to mention the famous Friday barbeque nights and Swahili dinner on Saturdays—they'll make you want to extend your stay just to do it again.
Best for: Playing hard, resting hard.
Address: Along Matemwe Beach, Matemwe, Tanzania
Price Range: $$$$
Website: matemwe.asiliaafrica.com/matemwe-lodge/
Gold Zanzibar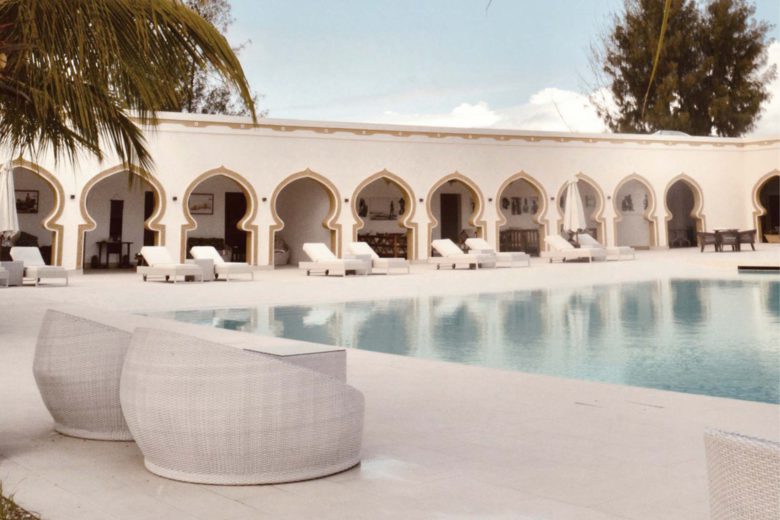 From the minute you walk through the grandiose doors, it's obvious that you've struck gold. Located on Kenwa's tideless, white sand beaches, Gold Zanzibar is as entrancing as its surroundings. The white and wooden interior speaks to an African chic attitude with Arabic touches. And dispersed throughout a colossal floor plan, the resort feels like a village within itself.
Gold Zanzibar has it all. Tantalizing spa treatments epitomize tranquility. Expert trainers keep you fit and hungry. While a variety of restaurants are worth working up an appetite for. From the delicate a la carte dinner menu to more relaxed meals and exclusive live cooking experiences, every bite is a treat in its own right.  
Best for: Striking gold.
Address: Zanzibar Kendwa Beach zanzibar Nungwi Zanzibar TZ, 0000, Tanzania
Price Range: $$$
Website: www.goldzanzibar.com/
Nungwi Dreams
Infusing avant-garde architecture with Swahili influences, the ocean-face resort is an African dream come true. The eco chic rooms feature private terraces and fish bowl pools for an intimate setting. While the infinity pools and evening entertainment create a space for groups to come together.
The restaurant at Nungwi Dreams is second to none. And we have no doubt that you'll have lots to catch up on with loved ones over a seafood feast or other mouthwatering plates. Take a trip to the spa to soak it all in with rejuvenating oils. Or make the most of the gym facility to stay on top of your game. Either way, your endorphins will be going crazy.
Best for: Sweet dreams are made of this.
Address: Plot 670 2005 Nungwi, Unguja Zanzibar TZ, 73107, Tanzania
Price Range: $$
Website: www.nungwidreams.com/
Tulia
Winning awards for being the most romantic luxury beach resort, it doesn't take much to find out why. From garden bungalows to seafront villas, every room at Tulia exudes tranquility. Plus, they're dispersed around the luxury resort, so you can always retreat to your own private oasis after a day of soaking in the sun through various activities.
Tulia offers many trips and excursions. From the Jozani forest to swimming with turtles, there's always a surprise around the corner. And if you don't want to leave the resort, the spa, yoga sessions, gym and water sports are all you need to fill your days—as well as the world-class fine dining restaurant of course.
Best for: A tranquil trip for two.
Address: Zanzibar, Pongwe, Pongwe, Tanzania
Price Range: $$$
Website: tuliazanzibar.com/
Fundu
Translating to wonderful or non-comparable in Indian slang, the Fundu hotel is aptly named. As one of Zanzibar's most luxurious boutique hotels, it is located amongst the mangrove fringes on the shores of Pemba island.
Fundu exudes rustic elegance. And its natural thatch and wooden exterior and interior perfectly blends in with the tranquil setting. Activities include diving and dhow trips. While lavish pools, many bar areas, candlelit beach dining and the fusion spa tempt you to stay where you are. It's the kind of place you never want to leave. But once you experience the coral reefs to return to a mouthwatering meal, you'll be grateful you did.
Best for: From deep dives to seaside serenity.
Address: ​​PM55+9CM, Wambaa, Tanzania
Price Range: $$$
Website: www.fundulagoon.com/
The Nest
Situated in the hustle and bustle of Paje's vibey restaurants that run the coastline, The Nest is impossible to miss. The rustic architecture is designed to mimic a bird's home. While the eco chic, contemporary interior exudes luxury and style through neutral hues and clean cut furniture. Choose between a beachfront room, a treehouse room or poolside villa—it's a tough decision, we know.
Paje is renowned worldwide for its kitesurfing. And The Nest has its very own kite school with some of the very best trainers. So if you've been wanting to dip your toes in the water, this is an incredible opportunity to do so. They also have outdoor yoga therapy, beach volleyball…and plenty of delicious dishes to nourish your soul and stomach.
Best for: Flying high—in all aspects.
Address: Paje, Tanzania
Price Range: $$
Website: thenest.art/
Kendwa Rocks
Lose track of time as sun-kissed days all merge into one. Kendwa Rocks manifests that problem-free philosophy—where your only decisions are which activity to partake in, which restaurant to eat at and which new swimwear to wear.
Kendwa Rocks is its own secluded oasis right on the beach. The simple bungalow rooms embody island living. The private beach beds require very little effort to get to. And champagne and sushi are constantly on the menu. Plus, if you're around for a full moon, the youthful resort is renowned for throwing the best (and only) full moon party in the area—it's worth planning your trip around.
Best for: Relax and rock on.
Address: Kendwa, Tanzania
Price Range: $$
Website: www.kendwarocks.com/
Zanbluu
Known as the island of spice, Zanzibar gives you a taste of everything. And as one of the best luxury resorts on the island, Zanbluu does that too. The minimalist turquoise and white hues of the rooms' interiors match the tranquility of the ocean view. While thoughtful details such as a beach bag, refrigerator and air conditioner ensure optimum comfort.
Zanbluu also provides many excursions—diving, safari, sunset cruise and swimming with dolphins being amongst the most popular. We especially love the international cuisine with African flavors. And if you're a fan of prawns, you're sure to have your fix here.
Best for: The right kind of Monday blues.
Address: Kiwenga, Kiwengwa, Tanzania
Price Range: $$
Website: www.zanbluu.com/
Chumbe Island
With conservation and sustainability at the heart of the resort, Chumbe Island is the perfect stay for those seeking eco chic vacations. The award-winning private game reserve is home to rare wildlife and historical monuments—making nature walks intrinsic to your visit.
Chumbe Island uses state of the art eco technology to achieve carbon neutrality. And although the eco bungalows are simple, they are extremely comfortable while grounding you in nature. Forest walks, coconut crab walks, snorkeling and relaxing comprise of your daily activities. While hearty meals showcase local ingredients infused with traditional flavors. They may even share a recipe or two.
Best for: Adding purpose to your vacation.
Address: Chumbe Island, Zanzibar, Tanzania
Price Range: $$$
Website: chumbeisland.com/
Frequently asked questions about the best boutique luxury resorts in Zanzibar
What is the most luxurious resort in Zanzibar?
Zanzibar is home to some of the most luxurious resorts in the world. We especially love Zanzibar White Sands for all round eco chic luxury. andBeyond Mnemba Island is renowned for its unparalleled opulence. And Baraza embodies the lavish lifestyle of sultan palaces. Check our list of the best resorts in Zanzibar for more dreamy accommodations.
What part of Zanzibar is the best to stay?
Zanzibar is an archipelago of about fifty coral islands—all of which have something unique to offer. But if we had to choose just one, it would be Nungwi. The clean powder white sand and tranquil turquoise waters make up the best beach on the island. While a plethora of luxury resorts and vibey restaurants make choosing where to eat and stay a tough decision.
How many days are enough for Zanzibar?
Zanzibar is all about chilling out and embracing a problem-free philosophy. So we don't think you can ever stay too long. But if you want to really experience an area, we recommend giving it at least five nights in order to truly relax. And if you want to experience more than one area, give each place at least three nights.
Which part of Zanzibar has the best beaches?
Nungwi is known to have the best beaches on the island. The water is always still, easy to get into, at perfect temperature and an exotic turquoise hue. While powder white sands are void of washed up kelp and stretch over kilometers. In fact, not only is it the best beach in Zanzibar, but we think it's one of the best beaches in the world.