New York City might be the city that never sleeps but it's a city that knows how to get pretty close, with some of the best spas in the world offering havens amongst the hustle and bustle for an escape into pure relaxation.
It makes sense that this is a city that knows how to switch off — occasionally — when day-to-day life in this lively metropolis is a perpetual race from one activity to another.
The best New York spas bring together the best that this thriving city has to offer: a multitude of cultures, traditions and treatments fused together in a seriously chilled melting pot.
Even if you're only heading to NYC for a few days, a trip to a spa here is a must-do.
Treat yourself to a range of luxurious massages, innovative facials and impressive packages and experience some of the best pampering, New York style. 
The 15 best spas in New York
Aire Ancient Baths
You'll find the Aire Ancient Baths brand all over the world but the New York spa is especially decadent. A huge, sweeping bathhouse filled with a magical ambience provides the ultimate backdrop for a day at the spa, and the list of treatments will ensure you set aside enough time to experience everything here. This oasis of tranquility sits inside a restored historical building (originally an 1883 textile factory) with a fusion of modern and authentic features.
As well as highly trained therapists with a wealth of international knowledge, the baths here are definitely something to shout about. Ancient baths come in the form of whirlpools, cold baths, salt baths and perfectly warmed pools of water ensuring a luxurious setting throughout the day. For something a little different, treat yourself to the wine bath: sipping wine, while bathing in wine.
Address: 88 Franklin St, New York, NY 10013, United States
Opening days and hours: 9am - 11pm, Monday to Friday, 8am - 11pm, Saturday and Sunday
Price range: $$$$
Website: www.beaire.com
Rescue Spa
Knots in your back? Tension in your shoulders? Aches in your legs? Head to the very appropriately named Rescue Spa. A perfect spot for rescuing you from all of your ailments, this New York spot is an urban wellness retreat that's home to an endless variety of spa treatments. Facials here are something to rave about, with specialised therapists who take one brief look at your skin and put together a magical potion of the best, premium quality skincare ingredients.
Not only will you get a top experience throughout your trip to this day spa, but you'll also walk away with the knowledge of exactly how to treat your skincare woes afterwards. Rescue Spa's huge range of products means this is a one-stop-shop for shaping up your skincare routine quickly and easily. Massages, haircuts and brow treatments are just some of the other wonders available.
Address: 29 E 19th St, New York, NY 10003, United States
Opening days and hours: 10am - 7pm Daily (closes at 6pm Sundays)
Price range: $$$
Website: www.rescuespa.com
Spa de La Mer at the Baccarat Hotel
Walk inside Spa de La Mer and feel an instant sense of peace. Spa de La Mer at the Baccarat Hotel is the spa for skincare lovers: a luxury spot in the heart of NYC practising everything that the La Mer brand does best.
It's a spa that focuses around the brand's products, but heightened. Instead of simply buying the luxury cream and applying it at home, a spa treatment here covers the entire process from start to finish, with a few added extras to really make an appointment here seem like the biggest indulgence. Awash with ambient light and sounds inspired by the sea, this peaceful setting is a must-visit for spa-lovers.
Address: 28 W 53rd St Floor -2, New York, NY 10019, United States
Opening days and hours: 9am - 7pm Wednesday to Sunday, closed Monday, 7am - 6pm, Tuesday
Price range: $$$
Website: www.baccarathotels.com 
The Spa by Equinox Hotels
It might seem over-confident to call a spa "The Spa", automatically assuming that this particular spa is the one in mind. But when it's a spa as wonderful as Equinox Hotel's NYC Spa Hotel, it only seems fair to offer the name. Bringing together everything a brilliant spa should do and more, The Spa is a breathtaking experience with its infrared sauna, marbled surroundings and tailored spa treatments.
An award-winning sanctuary in NYC, The Spa has a menu of always-evolving treatments, ranging from the luxuriously indulgent and pampering options to technology-driven therapies. The spa is a true experience from the moment you step inside The Equinox's particularly luxe doors. The best spa days here are extended well into the night: finished by wrapping yourself up in the comfort of the luxury rooms. It's the definition of relaxation and recovery.
Address: 33 Hudson Yards, New York, NY 10001, United States
Opening days and hours: 10am - 6pm Thursday, 10am - 8pm Friday to Sunday
Price range: $$$
Website: www.equinox-hotels.com
Shibui Spa at The Greenwich Hotel
Set inside the Greenwich Hotel in the heart of Tribeca, Shibui Spa is all about balance. A spa that's not only organic and plant-based wherever possible but also built using natural resources like wood, water and stone, it's impossible to leave this place without feeling almost like you've been born again. An oasis in the middle of hectic New York City, Shibui Spa welcomes you with its warm scents, gentle music and backdrop of atmospheric lighting.
Bringing together ancient as well as contemporary healing techniques, a trip to Shibui Spa starts with a beautiful Japanese robe to relax in and ends up, most likely, with you booking yourself in for another treatment. If not for the same day, then for as soon as you can feasibly squeeze it into your calendar. Poolside yoga and meditation ensure your mind is feeling just as calm as your body every time you visit.
Address: 377 Greenwich St, New York, NY 10013, United States
Opening days and hours: 9am - 9pm, Thursday to Saturday, 10am - 6pm Sunday and Monday
Price range: $$$
Website: www.thegreenwichhotel.com 
Joanna Vargas
Skincare aficionados, unite: Joanna Vargas is a must-visit spa in NYC for anyone with a passion for skincare products, procedures or rituals. Celebrity aesthetician Joanna Vargas' spa in New York is a highly regarded spot in the city that's fully deserving of its attention. While it can be difficult to snag an appointment here, those who wait out the lengthy periods have nothing but incredible things to say about the experience and the results.
This spa is a haven for all things skincare: power peel facials sit alongside oxygen-formulated techniques and skin rejuvenation. Treatments here are all tailored to your specific needs by the end of your consultation, which means it's easy to sit back and relax, letting the experts do their magic. Whether you're new to skincare and want to head straight to celebrity level experts or you're a pro yourself and know what it needs, Joanna Vargas' NYC spa is always a winner.
Address: 501 5th Ave 3rd Floor Suite 300, New York, NY 10017, United States
Opening days and hours: 9am - 8pm, Monday to Friday, 10am - 6pm Saturday and Sunday
Price range: $$$$
Website: www.joannavargas.com
Haven Spa
You know what you're getting at Haven Spa: a breathtaking spot that knows what's what when it comes to individual treatments. Sophisticated and modern, this is a NYC spa that offers a little of everything, from skincare treatments to massages, body therapy, laser hair removal and more.
The endless list of spa treatments will have you second guessing whether you need a massage or whether, actually, you need a massage and a facial and a pedicure and, well, perhaps something else thrown in for good luck, too. The best result? Make use of the package options here. Everything at Haven Spa is done to a brilliant level, thanks to its range of highly qualified staff and decades of experience. Comfy couches, top notch service and an inviting atmosphere means you'll always feel at home at this budget-friendly spot.
Address: 250 Mercer St, New York, NY 10012, United States
Opening days and hours: 11am - 7pm, Wednesday to Sunday
Price range: $$
Website: www.havenspa.nyc
The Peninsula Spa
The Peninsula New York really is a five star experience. This luxury hotel is rightfully confident in its ability to offer a wide range of the best spa services in NYC and it does so with charm and ambiance. The Peninsula Spa sits high above the bustle of Midtown Manhattan and is perfectly secluded for a genuinely relaxing getaway. Come here for a day or check in overnight for a beautiful extension to your chilled out day of pampering.
But where to start, when you've donned your robe and slippers? French luxury skincare line Biologique Recherche is the inspiration behind a range of the especially popular facials here, or opt for a massage to be treated to 60 minutes of pure, unadulterated bliss. This intimate, indulgent environment even has its own spacious Private Spa Suite, if you're looking for a real treat.
Address: 700 5th Ave, New York, NY 10019, United States
Opening days and hours: Currently closed 
Price range: $$$
Website: www.peninsula.com 
Cornelia Spa at The Surrey
An Upper East Side boutique spa sheathed in soft, white furnishings in every direction, the Cornelia Spa at The Surrey is an oasis of calm. This hidden gem goes above and beyond to ensure you feel like royalty and has a range of specialised facials, massages and other treatments personalised to your requirements. Although you'll appreciate the experience so much more if you start your spa day by waking up in the prestigious The Surrey hotel, it's also easy to book a day here if you're just coming in for a few hours.
Sensory touches, an amuse-bouche tasting and time to decompress in a hushed library of luxury are the finishing touches of your experience. Modern, clean and relaxing, a day spent at the Cornelia Spa is always a good idea when you're in New York City.
Address: 20 E 76th St, New York, NY 10021, United States
Opening days and hours: Currently closed 
Price range: $$$
Website: www.thesurrey.com/spa-treatments
Pure Qi Spa
Pure Qi Spa is one of those spots you'll want to keep as your own little secret, but you'll also want to spread the word far and wide so your friends can also experience the magic that this NYC spa offers. Known as being the best place to get a massage in Brooklyn, Pure Qi Spa is professional and affordable, relaxed and soothing and consistently brilliant. If you're someone who struggles with knots after workouts then Pure Qi Spa is a must-visit each and every time you wake up with aches and pains.
Signature massages here are where this spa truly shines, and its list of add-ons makes upgrades effortless if you fancy a little something extra. Adding hot stones to your massage is an indulgent touch that ensures you'll remember Pure Qi Spa long after your treatment has finished. Unique, masterful techniques hold this spa above the rest.
Address: 268 Driggs Ave, Brooklyn, NY 11222, United States
Opening days and hours: 10:30am - 9:30pm Monday to Friday, 9:45am - 10pm Saturday and Sunday
Price range: $$
Website: www.pureqispa.com
ORA
ORA is dedicated entirely to acupuncture. This modern, clean and understated spa is New York City's top spot for expert practitioners with a light touch. Combining efficiency with relaxation, ORA knows everything there is to know about alleviating different issues in a pain free way. This is a holistic wellness spot that combines ancient Chinese medicine into a modern, convenient experience in a beautiful setting that helps you to feel immediately at home.
While acupuncture might traditionally be something you do out of obligation rather than desire, a trip to ORA promises to change that into a truly positive experience. A calming atmosphere and serene setting means even those with the biggest fear of needles will feel relaxed and calm here at ORA. Warm and personable, you'll feel the effects physically and mentally after a trip to ORA.
Address: 9 E 4th St, New York, NY 10003, United States
Opening days and hours: 8am - 9pm, Tuesday to Thursday, 8am - 8pm Friday, 10am - 6pm Saturday and Sunday
Price range: $$$
Website: www.oraspace.com
Spa Castle
Spa Castle is the kind of spa you'll get all of your good friends together for, before making the trip into a highly organised and anticipated annual occasion. A fun spa with zero pretence, it's a brilliant fusion of luxury and laidback, with a long list of treatments and plenty of other facilities to make use of. Spa Castle is more of an experience than simply a day out: a membership here comes with more than just massages and facials: think hydrotherapy, saunas and reflexology among others.
Spa Castle is filled with both modern and traditional spa treatments, in a colourful setting with just the right amount of energy. Much like a real castle, this spa is split into different areas all waiting to be explored. Wander around from the treatment rooms to the sauna valley, the pools and more for a wonderful day of relaxation.
Address: 131-10 11th Ave, Queens, NY 11356, United States
Opening days and hours: 10am - 9pm, Daily
Price range: $$
Website: www.ny.spacastleusa.com
The Spa at Mandarin Oriental
Tailor-made treatments and personalised therapies are the name of the game at New York City's Mandarin Oriental. Set inside the prestigious, five star hotel, this spa is a haven for relaxation with opulent products and stylish surroundings. Private treatment rooms are an opportunity to unwind under the careful hands of each highly trained practitioner, while specialty spa suites offer one-of-a-kind private treatment experiences inspired by ancient traditions and personalised to your needs.
Relax and revive from head to toe with Mandarin Oriental spa's custom-blends and traditional methods. Aroma stone therapy and restorative detox wraps are just some of the tempting treatments available here, alongside spa staples like deep tissue massages and mind and soul soothing facials. If you're feeling especially stressed out, the range of spa programmes here step things up to the next level, ensuring tranquility by the end.
Address: 80 Columbus Cir, New York, NY 10023, United States
Opening days and hours: 11am - 6pm, Thursday to Sunday 
Price range: $$$$
Website: www.mandarinoriental.com
Natura Spa
Natura Spa is absolutely one of the friendliest spas in New York City. Come here once to meet your therapist for the day and walk away, prepared to re-book with your new favourite practitioner for the foreseeable future. It doesn't matter what you're turning up here for – be it a massage, a haircut or a wax: by the end of your treatment you'll not only be on first name terms but also verging on friends.
Everyone at this salon-spa is passionate about what they do which, combined with the beautiful products that each treatment comes with, means you'll almost certainly walk away looking and feeling your best. This sanctuary of balance and tranquility is an escape from the city, using natural and organic ingredients with an extra dose of care and kindness to combine as the best kind of spa day.
Address: 3079 Steinway St, Astoria, NY 11103, United States
Opening days and hours: 10am - 8pm, Monday to Saturday, 11am - 7pm, Sunday
Price range: $$
Website: www.naturaspanyc.com
Oasis Day Spa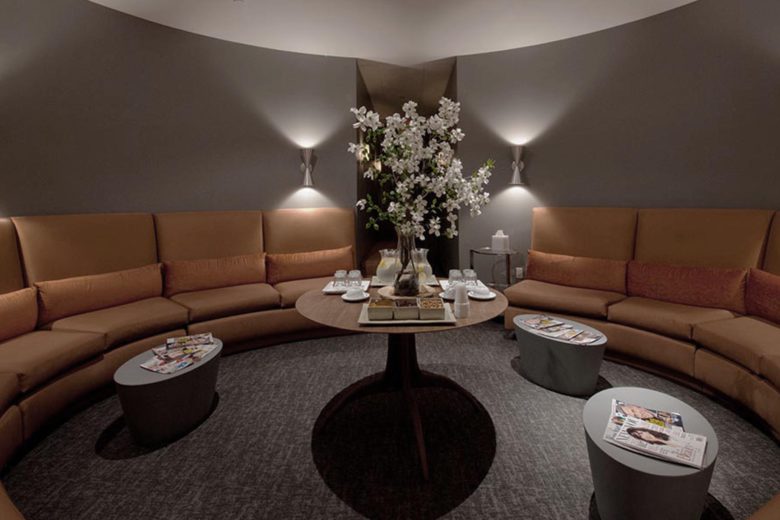 Oasis Day Spa is regularly voted as one of NYC's best spas, thanks to its accessible price, varied range of treatments and expert level of care and attention. You'll find a handful of these spas dotted throughout the city, which handily means you'll almost always be close by to one if ever you're in need of a last minute massage or beautifying pick-me-up.
Soothing and relaxing, spa treatments here mostly include the spa's very own product line, which you can also buy for some at-home treatments after you've finished yours. Can't choose what to book? A range of spa packages and spa specials bring together a little of everything: body scrubs and wraps, Swedish massage, a signature facial and revitalising eye treatments to ensure you're feeling spectacular top to bottom after your day at the spa.
Address: 1 Park Ave, New York, NY 10016, United States
Opening days and hours: 9am - 8pm, Daily
Price range: $$
Website: www.oasisdayspanyc.com