You can tell a lot about a person from which of the best New York City hotels they check into.
A city with endless personalities split into multiple neighbourhoods, a trip to NYC promises to flip your expectations upside down in the best way possible.
A place where anything goes, you'll find the Fifth Avenue hotels with swish, toned down decor and lift attendants standing proud. Then there are the bright, sparkling lights, ruby red velvet and beaming smile, fresh-out-of-a-movie hotels, or the Brooklyn-based, eclectic art collection, interesting colour combos and cobblestone street hotels.
Much like its stereotypes suggest, there really is a (temporary) home for everyone in New York City.
The trick to finding yours? Staying in one of the best hotels in NYC.
The 21 best hotels in New York
The St. Regis New York
Historic and iconic, a stay at The St. Regis New York uplevels your trip to NYC in a whole new way. A soothing sanctuary in the heart of the city, it's impressive just how soundproof the rooms at The St. Regis are considering their surroundings. But that's just one of the many talking points about this majestic spot. Bringing together everything that New York City does best, you'll find yourself a little overcome with the twinkling lights welcoming you inside, and then again with the timeless elegance inside each room or suite.
The St. Regis was founded over a century ago and has used that time to perfect the very notion of a luxury stay in a hotel. Check into one of the prestigious suites, decked out with St. Regis hallmarks like striped silk wall coverings, Waterford crystal chandeliers and legacy pieces before making use of the Fifth Avenue postcode and doing some exploring.
Address: Two E 55th St, New York, NY 10022, United States
Price range: $$$$
Website: www.marriott.com 
Baccarat Hotel
Some call Baccarat Hotel "one of the best hotels", others may refer to it as a "preferred stay" and those in-between may just take a look at this prestigious Manhattan spot and simply say "wow". Whatever your reaction, it's set to be a good one, because Baccarat Hotel doesn't do things by halves. A true jewellery box of a hotel, everything here is shiny and stylish, reflecting your gobsmacked face on almost every surface… in a classy way.
Bringing Parisian pied-à-terre living to the centre of NYC, The Baccarat's rooms are just as stylish and sleek as its main lobby, with a big focus on pristine, white surfaces with a celebration of contemporary design, styled with a nod to French tradition. The Baccarat is more than just a hotel, though: it's also home to the famed Spa De La Mer, the first dedicated spa in the United States by luxury skincare brand La Mer and widely recognised as one of the best spas in NYC.
Address: 28 W 53rd St, New York, NY 10019, United States
Price range: $$$$
Website: www.baccarathotels.com
Crosby Street Hotel
Crosby Street Hotel does things a little differently to the usual New York City hotel crowd. Part of the Firmdale Hotels crew situated between London and New York, Crosby Street Hotel is cool in its own unique way. Situated on a quiet cobbled street in New York's vibrant Soho neighbourhood, it's a hotel you could easily walk past without spotting, but you'd be annoyed with yourself if you did so. Laidback and comfortable, Crosby Street Hotel merges the gap between stylish luxury and cosy luxury.
Taking a little from Column A and a little from Column B, it's home to The Crosby Bar, a private leafy garden and guest drawing room among other amenities. Interior design here is another that follows its own lead, designed by Kit Kemp and offering a fresh, contemporary look. The Sculpture Garden is where you'll want to spend most of your time while staying here: a relaxed oasis that's perfect for chilling with a friend or a coffee.
Address: 79 Crosby St, New York, NY 10012, United States
Price range: $$$$
Website: www.firmdalehotels.com
1 Hotel Central Park
Wake up to those spectacular New York City views when you check into 1 Hotel Central Park. The best place to savour summer in the city, 1 Hotel Central Park is a sustainable urban hotel inspired by nature.
1 Hotel Central Park is a luxury hotel that aims to counteract some of NYC's never-ending speed, designed using reclaimed materials that makes it one of a kind. You'll find pleasing greenery covering almost every inch: living moss grows in planters dotted throughout and a three-storey living green facade greets you as you arrive at this NYC hotel. Treetop views from your room take you away from New York into a nature-filled wonderland.
Address: 1414 6th Ave, New York, NY 10019, United States
Price range: $$$
Website: www.1hotels.com 
The Benjamin
The Benjamin has the sort of appeal of a classy residential apartment rather than a standard hotel. Everything about this luxury hotel is inviting and welcoming; the sort of place where you'll feel like you're staying with a friend rather than an anonymous establishment in the city. But with that warm, welcoming approach comes something artful and particularly smart: a set of specialists who came into their own to make this hotel an expert at just about everything.
That comes in the form of Benjamin Sleep Expert, Dr. Rebecca Robbin, who was brought on to almost guarantee you feel refreshed in the morning after your sleep in The Benjamin's beds. Or interior designer Lauren Rottet, who was in charge of each perfectly spacious room and suite, with its muted tones and views of the Manhattan Skyline and East River. You'll also want to spend time at this Lexington Avenue for famed restaurant, The National Bar & Dining Rooms.
Address: 125 E 50th St, New York, NY 10022, United States
Price range: $$$
Website: www.thebenjamin.com 
The Langham Fifth Avenue
Nestled in the city's most coveted district, Midtown Manhattan, The Langham Fifth Avenue is high up, 60 storeys into the sky, sitting proudly as one of New York's finest hotels. Urban sophistication is the name of the game here, in a tower soaring into the sky filled with contemporary luxury on every floor. The Langham is a New York staple; a hotel where you think you know what you're getting – premium service with that American smile – but what you're actually getting is 10 times better.
Highlighted by views of the iconic Manhattan skyline, framed by the oversized glass windows, every room here is thoughtfully designed with Swedish Duxiana beds and large marble-clad bathrooms. In true Langham style, this New York hotel is also home to Michelin-starred dining in the form of Ai Fiori, serving Italian and French Riviera inspired dishes.
Address: 400 5th Ave, New York, NY 10018, United States
Price range: $$$$
Website: www.langhamhotels.com 
The Pierre New York
The Pierre, A Taj Hotel, is everything that springs to mind when you think of opulence. A hotel that brings together all of your dreamy thoughts about a trip to the USA's finest, The Pierre will have you daydreaming of 1920s glamour and a trip back in time. Known as one of the Upper East Side's luxury landmarks, this prestigious hotel is one that hasn't forgotten the definition of old school luxury: it's one of the last remaining in the city with lift attendants, if nothing else.
But the rest of the hotel is equally as suave when it comes to even minor details. Expect to feel like royalty from the moment you check in, and even more so when you've been shown to your room. Plush bathrobes and Pierre slippers are the uniform of choice when you wake up in the morning and admire breathtaking views of the skyline or world-famous Central Park.
Address: 2 E 61st St, New York, NY 10065, United States
Price range: $$$$
Website: www.thepierreny.com
Equinox Hotels Hudson Yards
Equinox Hotels Hudson Yards is a winner of many awards: both those judged by professionals and also the little judge in your head, who looks around approvingly at every inch of this modern, Midtown NYC spot. Its Hudson Yards location makes this hotel the best one for those who wish to work hard and play hard, with a range of features specifically included just to make life that little bit easier.
High performance luxury is key here and comes in the form of breathtaking yet intuitive design and anticipatory service. It's also a NYC hotel that utilises technology to the best of its ability and then some, with motorised shades, an Apple TV and especially luxe light dimmers. An urban oasis decked out in chic, marble tones, a night spent at this Equinox Hotel paves the way for the ultimate sleep chamber: dark, quiet and cool. The Equinox Spa is the cherry on top of the cake.
Address: 33 Hudson Yards, New York, NY 10001, United States
Price range: $$$$
Website: www.equinox-hotels.com
The Surrey
It's easy to walk into The Surrey with high expectations, thanks to its Upper East Side location and perpetual buzz. But those high expectations are not just met but exceeded, in a place where every need is ticked off your list before you've even had a chance to put the thought together. The Surrey is New York City's only Relais & Châteaux hotel; a residential haven in the heart of Manhattan with breathtaking views and amazing service.
Classically designed with NYC inspiration dotted throughout, beds here will have you squeezing in time for an extra power nap, if only to be given the opportunity to wake up on such dreamily soft sheets once more. The rest of this hotel is just as luxe as the rooms: you can't check out without experiencing true haute cuisine at Café Boulud or spending some time admiring the views from the seasonal garden on the 17th floor.
Address: 20 E 76th St, New York, NY 10021, United States
Price range: $$$$
Website: www.thesurrey.com
Ritz Carlton New York, Central Park
You know what you're getting with a stay at the Ritz Carlton and that's exceptional service and an all-round wonderful stay. Sure, it might not be the biggest surprise when you've pictured just that, but the Ritz Carlton always manages to stay one step ahead anyway, in an especially luxe hotel overlooking Central Park. Top tier service comes with newly reimagined decor and penthouse-inspired furnishings here, promising a new chapter in the hotel's legacy of hospitality.
Taking note from the stresses of city living, the Ritz Carlton Central Park is a landmark hotel in every sense of the word. Check in here and tower above the impressive New York City skyline, no matter where you find yourself in this hotel. Whether you're enjoying the culinary delights at day to night gastro lounge, Contour, or sweating through a workout at the revamped fitness centre and Movement Studio, you'll never forget where you are.
Address: 50 Central Park S, New York, NY 10019, United States
Price range: $$$$
Website: www.ritzcarlton.com
Four Seasons New York Downtown
Manhattan's Four Seasons is the flagship Four Seasons Hotel New York and comes with the quality and attention to detail to match. Based in arty neighbourhood Tribeca, the Four Seasons proudly sits high in the sky among the equally incredible architecture in every direction. While Tribeca might be known for its art scene, the Four Seasons here prefers to keep things neutral – with a special touch.
Luxury suites here are contrasted with muted shades and unique artwork, as well as those incredible terraces with views overlooking the city. While the rooms offer the perfect backdrop for relaxation, the spa really comes into its own with a whole new level of rejuvenation. Known as being one of the best spas in NYC, the Four Seasons spa is home to the ultimate in indulgence. Elsewhere at the hotel, you'll find culinary experiences including the first Manhattan establishment from celebrated chef Wolfgang Puck, CUT.
Address: 27 Barclay St, New York, NY 10007
Price range: $$$$
Website: www.fourseasons.com 
Soho Grand Hotel
Soho Grand Hotel was Manhattan's first luxury boutique hotel and has held onto its ranking as one of the best in the area ever since. Stylish and arty, it's a place you'll recommend to the friend who wants a taste of the real New York City, without waving goodbye to the luxury that they're accustomed to. Everything here comes with an edge: sprawling penthouse lofts come in neutral shades with interesting pops of colour and even more interesting artworks, while the hotel itself perfectly fuses industrial and chic.
Elegance and sophistication with a Rock n' Roll heart is one of the best ways to describe Soho Grand Hotel, thanks to its mesmerising architecture, smart design and brilliant views. The bar on the second floor is also perfectly located if you fancy just one more night cap on your way up to bed.
Address: 310 W Broadway, New York, NY 10013, United States
Price range: $$$
Website: www.sohogrand.com
The New York Edition
Initially constructed in 1909 as Metropolitan Life Insurance Company's headquarters, The New York Edition clocktower, near Madison Square Park, blossomed into one of the city's finest modern luxury hotels. Like a caterpillar turning into an especially stylish butterfly, The New York Edition is the sister hotel of the London Edition, just with that special American touch and the decor to match.
Luxurious and spacious, you'll find yourself enamoured with the doorman from the second you walk through the doors, before the heavenly scents of Le Labo fragrance follows you through the entire building. It's a hotel where everything is done just right: home to the tranquil hotel spa and Michelin-starred restaurant helmed by Executive Chef Jason Atherton, surrounded by panoramic views of New York's ever-buzzing personality.
Address: 5 Madison Ave, New York, NY 10010, United States
Price range: $$$
Website: www.editionhotels.com 
The Lowell
The Lowell is a classic spot: a place so charming that it'll instantly sit at the top of your list for failsafe stays whenever a trip to New York City is on the cards. Classical, comfortable and quaint, The Lowell is an old favourite for anyone who gives it a chance: something that doesn't take much pressure when you take a quick look at its beautiful decor.
A home away from home in central NYC, this hotel is one where it'll almost feel rude not to unpack because your clothes just look so at home next to the books and flowers artfully decorating your luxury suite. Known as one of the most luxurious hotels in the area, you'll want to ensure you're checking in long enough to make use of all facilities here: namely the famed afternoon tea, steeped in elegance and rooted in Manhattan ritual.
Address: 28 E 63rd St, New York, NY 10065, United States
Price range: $$$$
Website: www.lowellhotel.com 
Gramercy Park Hotel
Gramercy Park is a neighbourhood full of celebrities: Jimmy Fallon, Julia Roberts and Uma Thurman call it home, among many others. A neighbourhood so famous that there are entire articles dedicated to its inhabitants, it comes as no surprise that Gramercy Park Hotel has high standards to live up to, in order to justify its place in this spot. Luckily, it's a hotel that confidently does just that: a unique, stylish hotel filled with stunning, hand-crafted furnishings and rare, imported items from far-away markets.
It's a hotel with character that ignores all of the usual rules when it comes to interior design, instead preferring to take its own path, starting from the lobby's hand-tufted, garnet-and-gold Aubusson rug and the looming saw-tooth chandelier above. Rooms here tell a story; one that's intimate and bespoke, grand and charming and determined to leave you a little starstruck.
Address: 2 Lexington Ave, New York, NY 10010, United States
Price range: $$$
Website: www.gramercyparkhotel.com
The Greenwich Hotel
The Greenwich Hotel is so charming it's almost comforting: the type of hotel where you expect to be filled to the brim with interesting tales and stories of previous guests with a glass of fine wine in hand. It's a hotel that you could easily mistake for being an old, residential building; one that's steeped in history, priceless artefacts and unique touches in every corner.
The warm welcome that greets you as you enter The Greenwich Hotel is a good indication of how you'll be treated throughout the rest of your stay here: almost as if you're a relative of its owner and staff members rather than just a temporary guest. Every room here is unique, filled with those same touches that'll make you second guess whether this is just a suspiciously large house of friends or actually the luxury hotel it claims to be. Don't skip out on the famed Shibui Spa while you're here.
Address: 377 Greenwich St, New York, NY 10013, United States
Price range: $$$
Website: www.thegreenwichhotel.com
Mandarin Oriental Manhattan
New York's Mandarin Oriental is the hotel you'll dream of before you arrive in NYC for the first time: a skyscraper of a building with bird's eye views of the city, opulent yet modern rooms and that charming, unbeatable American service with a smile. It's a hotel where you'll feel a little spoiled by the levels of care and attention from all the staff here. Taking the notion of looking after its guests and then some, the Mandarin Oriental is luxury with a difference.
Rooms and suites here overlook the Hudson River and come with marble and granite bathrooms, spacious king size beds and seriously soft linen. Located on the corner of Central Park, it's also home to a state of the art fitness and wellness centre with a backdrop of the city skyline and the MO lounge: one of New York's must visit dining destinations serving contemporary American cuisine and well-crafted cocktails.
Address: 80 Columbus Cir, New York, NY 10023, United States
Price range: $$$$
Website: www.mandarinoriental.com
The Peninsula
Head to one of Fifth Avenue's most prestigious addresses and you'll find The Peninsula: a grand yet captivatingly friendly five-star hotel with a big heart. The Peninsula is a perfect spot if you're coming to NYC to explore, located in the middle of New York's shopping heaven and cultural district with enough energy to keep you buzzing but cosy enough rooms that you'll be just as happy calling it a night after the end of a busy day.
The Peninsula hotel is decked out head to toe with thoughtful features like deep soaking bathtubs and seriously chic touches that make sleeping just as desirable an activity as everything else you'll do here. It's also a New York hotel renowned for knowing what's best to do in the area. After standing proudly for almost a century, The Peninsula is known for always being able to point you in the right direction of excellent restaurants, historic museums and exciting Broadway theatres. 
Address: 700 5th Ave, New York, NY 10019, United States
Price range: $$$$
Website: www.peninsula.com 
The Mark
The Mark is confident in everything it does: but justifiably so, thanks to its never-ending list of awards that consistently keep it at the top of NYC's best hotel lists for just about every feature imaginable. It's a lavish hotel with bold design and even bolder character – the sort of place where you'll feel its lively energy the second you step through the doors.
A trip to The Mark must also be announced with the same level of confidence: this is a place for those who know NYC (or have a desire to get to know it past the usual tourist paths) and understand all of its quirks and unique points. Bold vision and an exacting eye for detail come together with suave, laidback style in each of The Mark's rooms, best experienced with a drink on the terrace and a wander around the common areas. Better yet, not only is this hotel dog friendly, but the restaurant also comes with its own dog-friendly menu.
Address: 25 E 77th St, New York, NY 10075, United States
Price range: $$$
Website: www.themarkhotel.com 
The Chatwal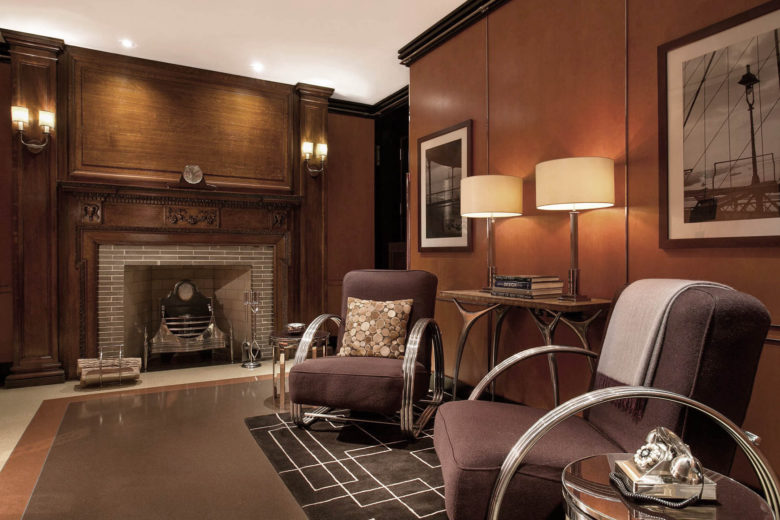 The Chatwal is only a three-minute walk from Times Square, which means it's virtually impossible to wake up here without feeling an urge to burst into song or feel like you're the star of a movie. Conveniently located on 44th Street, The Chatwal is a dream of a place, situated inside the heritage-listed Stanford and White building, previously restored and renovated in Art Deco style by architect Thierry Despontin.
Themed suites here add another level to that unexpected New York spirit with distinct features that keep you on your toes as you first head up to check in. Floor to ceiling glass windows and exceptional skyline views never let you forget that you're waking up in the midst of Manhattan, and the intimate nature of this hotel is the perfect tonic to the perpetually busy nature of the city happening below you on the cobbled streets.
Address: 130 W 44th St, New York, NY 10036, United States
Price range: $$$$
Website: www.thechatwalny.com
Park Hyatt New York
Park Hyatt New York shows off about having the biggest luxury suites in New York City, but it's a spot that celebrates both quantity and quality. This premium hotel sits directly across from Carnegie Hall and one block away from Central Park in the heart of midtown Manhattan. This spacious hotel has it all: speciality suites for a stay with a difference, a stylish spa for that much needed downtime and a beautiful outdoor terrace for sipping on a glass of Champagne and congratulating yourself on your decision to stay here.
A perpetually safe choice that never lets you down, a stay at Park Hyatt NYC comes with beaming smiles, a brilliant night's sleep, and a desire to stay just one more night to spend time with the staff who now feel almost like family.
Address: 153 W 57th St, New York, NY 10019, United States
Price range: $$$$
Website: www.hyatt.com 
Frequently asked questions about the best hotels in NYC
What is the best area to stay in New York?
The best areas to stay in NYC are Midtown, the Upper West Side, Upper East Side and Tribeca and Soho. Read our full guide for the best hotels during your time in New York.
What are the most luxurious hotels in New York?
Some of the most luxurious hotels in New York include The St. Regis New York, The Langham Fifth Avenue, Four Seasons Hotel and Soho Grand Hotel. Check out our full guide for all of the best hotels in NYC.
Where do celebrities stay in NYC?
Celebrities in NYC stay in the Mandarin Oriental, Gramercy Park Hotel and the Ritz Carlton among others.
What is the safest area to stay in New York City?
The Upper East Side and Upper West Side are generally considered the safest areas to stay in New York City. 
How much is a 5-star hotel in NYC?
A five-star hotel in NYC starts from around $110 per night and can cost up to thousands, depending on the hotel, area and time of year.