Its spectacular skyline, glittering lights, impossibly clean streets and delicious restaurants are just some of the many things that Singapore is best known for. 
But no trip to this dazzling Asian country is complete without at least one day spent at one of Singapore's best spas.
Small but mighty, this is a country stuffed to the brim with premium treatments, opulent settings and experienced therapists offering a wealth of knowledge as soon as you're comfortably horizontal in your own personal pampering room.
Spas here highlight Singapore's culture in the best way possible: luxurious retreats take you on a journey to a world of relaxation and rejuvenation, while decadent 24-hour spa destinations promise a wellness-infused transformation before the sun has even risen.
Come here to delight in the wonders that Asia has to offer: Japanese onsens, Korean skincare, Oriental spices and other ancient rituals combine to put your body into relax mode.
The 15 best spas in Singapore
G Spa
Craving a massage in the middle of the night? Spontaneous early morning plans that require a facial at an ungodly hour? Last minute nail freakout? Head to Singapore's 24 hour spa — G Spa. Classy and elegant, this is a spa that'll gently guide you through its warm, welcoming doors, before easing all of your beauty and wellness related woes in a matter of mere hours. G Spa is luxurious and comforting: a place where you're more than welcome to relax back in the sauna, steam room or jacuzzi after you've finished your treatments.
Even though it's open 24 hours a day, every day of the week, you'd never focus on that during your time there. Not only are the spa treatments so soothing that you'll focus entirely on them, but the treatment rooms are windowless. Think of it as the Las Vegas of spas, but chilled out and calming rather than fast paced and frantic.
Address: 102 Guillemard Rd, #02-02, Singapore 399719
Opening days and hours: 24 hours, Daily
Price range: $$$
Website: www.gspa.com.sg
Aramsa Spa
Aramsa is more than a spa: it's an escape into Singapore greenery, an oasis away from the hustle and bustle of the city, a location with the perfect balance of harmony, wellness and care. Aramsa is — probably unsurprisingly — almost always fully-booked; rightly deserved thanks to its unique backdrop away from the standard spa experience. Come here to well and truly get away from it all; with expert practitioners who are some of the finest in their field, offering a professional and relaxing experience.
One of the best things about Aramsa spa is the attention to detail: the rooms are the perfect temperature, the treatments are all tailored to your specific requirements and each therapist will double check at the beginning of your treatment if there's anything in particular you're here for. Lie back and listen to the sounds of nature all around you, in paradise.
Address: 1384 Ang Mo Kio Ave 1, Singapore 569932
Opening days and hours: 10am - 9pm, Sunday to Wednesday, 10am - 10pm, Thursday - Saturday
Price range: $$$$
Website: www.aramsaspas.com 
The Nail Social
The Nail Social is more than just a nail bar. You'll find nail bars dotted around on almost every corner of Singapore's stylish streets but the best one in the business is undoubtedly The Nail Social. Not only does it use premium polishes that are safe for all, but it's also Singapore's first socially-conscious salon. The Nail Social was launched with the aim of providing vocational training and employment to local marginalised women, which means every time you come to this spot and treat yourself to a manicure or pedicure, you're also doing good at the same time.
But this is a nail bar you'd visit even if it didn't have a socially conscious core: treatments here are perfectly executed; nails painted with a high level of due diligence that promises one of the best manicures you've ever admired in your life.
Address: 42A Haji Lane, 2nd Floor, Singapore 189235
Opening days and hours: 11am - 6pm, Wednesday to Sunday (closes 4pm Sunday) 
Price range: $$$
Website: www.thenailsocial.co
The Spa at Mandarin Oriental
The Mandarin Oriental hotel in Singapore makes good use of its location by infusing Asian elements into each of its opulent treatments. Set inside this luxury hotel, The Spa at Mandarin Oriental is a harmonious place of wellbeing reaching far beyond the traditional spa experience. Taking inspiration from Singapore's rich past, this spa has a huge variety of packages and treatments depending on how much nourishment you're after.
As you might expect from the Mandarin Oriental, it's always a good idea to splash out and treat yourself; a decision that's more than rewarded. Try the Oriental Essence spa package for hours of uninterrupted custom-blended Asian-inspired oils and gentle but firm massage movements.
Address:  Raffles Ave, Singapore 039797
Opening days and hours: 9:30am - 8pm, Thursday to Monday 
Price range: $$$$
Website: www.mandarinoriental.com 
Pablo Blau
There's nowhere in the world quite like Pablo Blau's salt rooms. As Singapore's first luxury spa that offers exclusive skin treatments taking inspiration from European salt mines, it's a must-see for any beauty lover spending time in Singapore who wants to try something a little different. Pablo Blau offers a range of different treatment rooms entirely coated with pharmaceutical-grade dry salt crystals.
Each of these rooms is equipped with a unique salt generator, adding a one-of-a-kind touch to whatever experience you fancy. Of course, as you might expect from this flagship spa, every treatment here offers a little dose of pure luxury to your day. Healthier glowing skin, freshly taut muscles and a general air of positivity and wellness are just some of the things you'll experience when you're finally leaving Pablo Blau at the end of the day.
Address: Raffles City Shopping Centre, 252 North Bridge Rd, #02-26A, Singapore 179103
Opening days and hours: 11am - 9pm, Daily
Price range: $$$$
Website: www.pabloblau.com
Yunomori Onsen and Spa
Traditional Onsen therapies might be more visible in Japan than elsewhere in Asia but Singapore's own speciality is not to be missed. Yunomori Onsen and Spa is mineral-rich and perfectly refreshing; an experience so delightful you'll immediately schedule a trip to Japan into your upcoming plans.
Keeping all of the Japanese elements at its core while fusing them with a large amount of Singaporean luxury, Yunomori Onsen and Spa is home to a variety of baths to detoxify and relax your body, readying it for the healing effects of an expert Thai massage that follows. It's the best combination for ensuring pure relaxation afterwards. An essential escape that's also a powerful experience of relaxation and rejuvenation, this Singapore spa benefits both your muscles and your mind at once; a unique experience that Urbanites in the city should always make time for.
Address: 1 Stadium Pl, Singapore 397628
Opening days and hours: 10am - 11pm, Daily
Price range: $$$$
Website: www.yunomorionsen.com 
Spa Infinity
A facial should be the first thing on your list at Spa Infinity. Here, all boxes are ticked before your treatment starts, which means each product, oil and movement is perfectly tailored to your requirements and wishes. A spa that's won more awards than could possibly be mentioned in one go, Spa Infinity is a perfect spot for treating your closest friends in an indulgent setting that's both refreshing and detoxifying.
Not a fan of facials? Spa Infinity has plenty more to offer. Massages here are fine-tuned and expertly carried out, using premium quality blends that smell gorgeous. Even if you're not entirely sure what you're after, a few quick questions from your practitioner will quickly get to the root of the problem — even if the problem is simply that you need to spend a few more hours unwinding in relaxation.
Address: 3 Temasek Boulevard #02-486, Mall, Tower 2 Suntec City, Singapore 038983
Opening days and hours: 11am - 9pm, Monday - Friday, 11am - 8pm, Saturday and Sunday 
Price range: $$
Website: www.spainfinity.com
Away Spa at W Singapore
Get away from it all at Away Spa, a warm and welcoming spot in central Singapore that's more than ready to comfort you when the stresses of everyday life become too much. An indulgent and refreshing spa, Away's beautiful rainforest design and gently bubbling whirlpool offer an oasis of calm with an enticing treatment menu. This is a spa that doesn't hold back when it comes to treating you: along with its rejuvenating methods and unique practitioners, it's also home to a decompression area, sauna, steam room, vitality pool, herbal baths and experiential showers.
No matter what you're in the mood for, Away Spa has something to offer that more than exceeds your expectations. Come here and get lost under the careful hands of your therapist: massages here are especially incredible, using long, gentle hands with movements inspired by waves that slowly lull the yachts berthed at Sentosa Cove.
Address: 21 Ocean Way, Singapore 098374
Opening days and hours: 10am - 10pm, Daily
Price range: $$$
Website: www.awayspasingapore.com
Remede Spa at The St Regis
Remede Spa at The St Regis is classy and beautiful. While some spas may bathe themselves in bright white furnishing and others offer a dark, brooding setting with flickering lights, Remede Spa prefers to sit comfortably in the middle. Decor here is modern and marbled with just the right amount of light to gently awaken you as your massage draws to an end. This luxury hotel spa is one of the best places in Singapore to pamper yourself with customised treatments and dwell in the epitome of calm.
Remede Spa focuses on water throughout all of its treatments, and this is shown in the form of bathing rituals to refresh and rejuvenate, gentle water features bubbling in the background and exclusive treatments using pure ingredients and plenty of H2O. Fallen in love with the products used? Most of them can also be purchased at the spa afterwards.
Address: Remède Spa at The St. Regis Singapore, 29 Tanglin Road, Singapore 247911
Opening days and hours: 10am - 7pm, Daily
Price range: $$$
Website: www.remedespasingapore.com 
Damai Spa at Grand Hyatt Singapore
"Damai," means peace in Indonesian culture, and Damai Spa will ensure you're feeling just that by the time you're finished. This beautiful spa and fitness centre envelops you into its warm and comforting setting, somehow managing to cleanse your soul before you've even stepped inside of your treatment room. This is a modern spa inspired by the Singapore lifestyle, which means a perfect fusion of traditional methods and modern touches to bring together the best of both.
Think: cultural healing philosophies, techniques, and traditions of Chinese, Malay, Indian, and European cultures, combined with state-of-the-art facials using premium ingredients. Expect to lie back, cooling pads on your eyes, while your therapist gently applies a combination of mineral-rich water, moor mud, and botanical extracts, vitamins, antioxidants and natural ingredients. It's the recipe for relaxation, Singapore style.
Address: 10 Scotts Rd, Grand Hyatt, Singapore 228211
Opening days and hours: 10am - 10pm, Daily
Price range: $$$
Website: www.hyatt.com
Sofitel Spa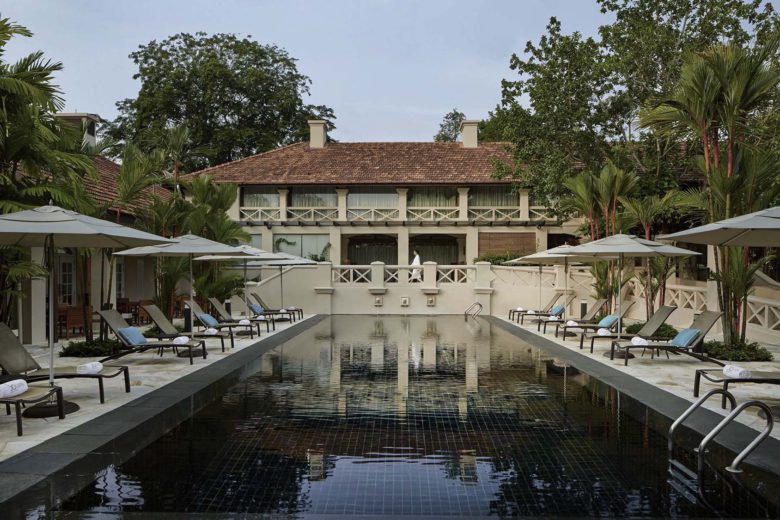 Singapore's Sofitel Spa is renowned for being absolutely stunning. An oasis of tranquility infused with French charm, Sofitel Spa sits inside the Sentosa Resort and acts as the cherry on top of the cake during your stay here. Even if you haven't checked in for the night, it's highly recommended to come and enjoy the spa for a day to experience that unbeatable rejuvenation.
Sofitel Spa's signature bright scent of bergamot, white rose, and jasmine ensures each and every time you walk into this spa, a quick deep breath will relax your soul from the inside out. Each intensive treatment here is masterfully carried out by a range of therapists who all have at least 15 years' experience at their craft. Let expert hands knead, massage and soothe your stresses away while you lie back in bliss at Sofitel Spa.
Address: 30 Allanbrooke Road, Singapore 099983
Opening days and hours: 11am - 8pm, Daily
Price range: $$$$
Website: www.sofitel-singapore-sentosa.com
Raffles Spa
Bright, white and airy, Raffles Singapore Spa is everything a spa should be. A holistic sanctuary that cleanses your mind and body from the second you walk through its sparkling doors, Raffles Spa was designed by renowned New York-based interior design firm, Champalimaud, and is just as luxe as you'd expect. Sip on gemstone infused water as you wait for your treatments, before making yourself comfortable in one of the seven spacious rooms.
Coming along with your other half? Couples treatment rooms offer double the experience in a quiet, secluded spot. Spa treatments here are accented by harmonious colours all around you with equally as harmonious rhythms gently worked into your body by skilled therapists. Filtered soft amber lighting offers a warm and inviting glow as you make your way through the facilities. A steam bath, sauna, ice fountain as well as a heated pool are just some of the areas to bask back in here.
Address: 1 Beach Road Raffles, Singapore 189673
Opening days and hours: 10am - 5pm, Daily
Price range: $$$
Website: www.raffles.com
Chi, The Spa at Shangri-La
Chi represents radiance and vitality in life as well as a good sense of health and order in your body — so it makes sense that Shangri-La's luxury spa holds the same name. Chi is a sanctuary of wellness in a super premium setting: a getaway from it all where your biggest concern is choosing which treatment to start with from the extensive menu. Intuitive therapists take it one step further here, carefully guiding products as and when needed while paying special attention to any focus areas.
While all of the treatments here are conducted thoroughly, it's massage where Chi really shines. Come here for a journey into a new dimension with the spa's Signature Asian Blend Massage — a sumptuous 90 minutes incorporating Thai pressure points, Balinese and Malaysian strokes, Chinese energy flow and more. Chi brings together Asian spa culture in the best way possible, and then some.
Address: 22 Orange Grove Rd, level 1 Garden Wing, Singapore 258350
Opening days and hours: 10am - 7pm, Daily
Price range: $$$$
Website: www.shangri-la.com
Banyan Tree Spa at Marina Bay Sands
The Banyan Tree Spa at Marina Bay Sands fuses an urban setting with a tranquil spa that seems to lift you from the hustle and bustle of the city into a whole new world of serenity. A true oasis based high up in the sky, this Singapore spa lets you take in the city skyline without having to be a part of it. Here, you can relax under the knowledgeable hands of your therapist with incredible views all around you.
Great ambience and delicious essential oil blends club together to offer the "Banyan Tree standard" that this spa is known and loved for, and a bespoke treatment package acts as the cherry on top. Not sure exactly what you need to restore peace in your body? A 150-minute package gives the chance for therapists to suggest treatments based on your requirements: an offer you should never turn down.
Address: 10 Bayfront Avenue Tower 1, Level 55 Hotel Marina Bay Sands, Singapore 018956
Opening days and hours: 10am - 11pm, Sunday - Thursday, 10am - 1am Friday and Saturday
Price range: $$$$
Website: www.marinabaysands.com
Sulwhasoo
There's a good reason why Korean skincare is so lauded all around the world: it really is the gold standard of impeccable treatments that offer glowing skin like no other. The best way to reach those levels in Singapore? Head to a Sulwhasoo spa. Here, you'll find rare and delicate traditional Korean ingredients, a new irreplaceable radiance and wisdom infused with modern science.
Pioneering technology keeps Sulwhasoo spa at the top of its game if you're looking to walk in feeling a little tired and walk out feeling like a whole new person. Therapists here don't only apply each product, they also spend time energising your pores, massaging your meridian points and doing the above while using beautiful scents inspired by the flowers, leaves, trees, and forests of Korea. It's a beautiful way to let your mind and body relax together.
Address: 2 Orchard Turn, #B2-02, Singapore 238801
Opening days and hours: 11am - 9pm, Daily
Price range: $$
Website: www.sulwhasoo.com