Singapore and indulgence go hand in hand. Frequently regarded as one of the most stable (and richest) countries in the world, it's easy to see why luxury resorts here set their standards high when it comes to fighting for the title of the best luxury hotel in Singapore.
Often called the gateway to Southeast Asia, Singapore is a wonder of a destination for just about any kind of traveller. 
Passion for food? The country is renowned for its incredibly varied culinary scene. Lover of nature? You'll experience some of the best beaches and forests closeby from your hotel room, wherever you stay. Big fan of shopping or culture? Look in virtually any direction and you'll find something better than what you dreamed of.
The best Singapore hotels act as the perfect base for setting out for a day of exploring and curling up inside once you're exhausted from a full day of wandering around.
These luxury hotels, with their rooftop infinity pools, gastronomic journeys and impossibly-high thread count sheets, ensure Singapore constantly sits at the top of its game when it comes to choosing your next holiday destination.
The 15 best luxury hotels in Singapore
Raffles Singapore
Raffles is everything Singaporean luxury should be and more: a well known and even more well-loved institution that brings together everything you'd expect from a five star hotel and more. Despite Singapore's built up nature, the Raffles hotel is spacious and airy; a huge, sprawling complex full of beautiful grounds and opulent suites. Check in here for your own little piece of paradise, in a suite decked out in pristine white decor surrounded by verdant greenery.
Raffles might have hotels across Asia and the wider world, but the Singapore hotel is particularly special. Fusing the charm and heritage of the Raffles brand with newly opened bars, restaurants, boutiques and graceful courtyards, it highlights some of the best that Asia offers. It's also a luxury hotel with an extensive list of famous fans: Queen Elizabeth II, Michael Jackson and Rudyard Kipling have all stayed at Raffles Singapore in the past.
Address: 1 Beach Rd, Singapore 189673
Price range: $$$$
Website: www.raffles.com
Marina Bay Sands
Marina Bay Sands is famous for many of its amenities but especially for being home to the world's largest rooftop infinity pool. So, next time you're gazing out at the city skyline with a Singapore Sling in hand, you can note that you'll never have the same experience in a pool of the same size. This iconic hotel stands alone as a piece of architectural beauty.
The sheer size and shape of Marina Bay Sands ensures it's always a point of conversation, and that's before you've even checked in for your stay here. Floor to ceiling windows pave the way for a breathtaking nighttime view of the glittering city, while an observation deck offers the chance for yet more incredible views in every direction. While there's no such thing as a bad part of Marina Bay Sands, it's a luxury hotel you'll enjoy the most from the top floor.
Address: 10 Bayfront Ave, Singapore 018956
Price range: $$$$
Website: www.marinabaysands.com
The Fullerton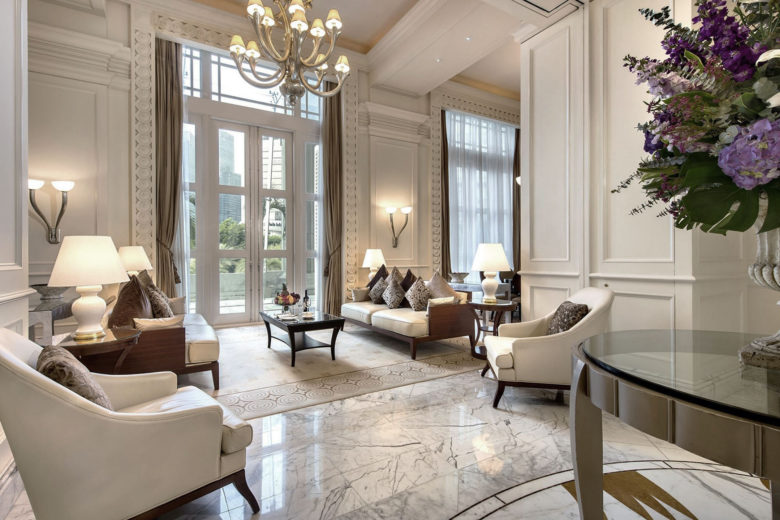 The magnificent Fullerton Hotel sits inside a grand neoclassical landmark built in 1928. So you could say that the Fullerton was ahead of the game when it comes to Singaporean luxury; something it's never forgotten ever since. Come to The Fullerton for an experience of true relaxation, in a luxury hotel where feeling "cared for" doesn't quite cut it. Majestic and grand, The Fullerton sits at the Straits of Singapore river, perfectly fusing city skyline views with spectacular nature.
It's a place where you can well and truly take a journey into the heart of the country's rich heritage, a spot with plenty of history that will continue to fascinate you throughout your time here. Stunning rooms overlooking the river are accompanied with exquisite Cantonese dim sum, afternoon tea and delicious vegetarian creations at the hotel's many restaurants.
Address: 1 Fullerton Square, Singapore 049178
Price range: $$$$
Website: www.fullertonhotels.com 
Ritz Carlton Singapore
A stay at Singapore's Ritz Carlton might be wonderful while you're there, but promises to raise your standards exponentially the more nights you spend here as to what good service well and truly looks like. Staff at the Ritz Carlton seem to offer not only service with a smile, but also service that seemingly includes a dash of mind-reading. A place where every need is not only fulfilled but anticipated in advance, a stay at the Ritz Carlton Singapore is outstanding and unrivalled.
That's before you've wandered through the majestic setting of the hotel itself. Sweeping skyline views of Marina Bay set the scene for a wonderful trip, accentuated with indulgence at Michelin-starred Summer Pavilion, culinary Asian delicacies at Colony, treatments at The Ritz-Carlton Spa and a 4,200-piece art collection dotted throughout. Come here to feel like you've stepped it up a notch in the world of cultural capital, before you've even left the hotel.
Address: Marina Bay 7, Raffles Ave, Singapore 039799
Price range: $$$$
Website: www.ritzcarlton.com
Shangri-La Singapore
Shangri-La Singapore is stylish yet soothing: the sort of place where you'll feel a gentle wash of serenity pass over you as you walk to your room via the gently lit swimming pools. Taking the standard Shangri-La experience to a whole new level, this Singapore hotel is both opulent and indulgent, nestled within 15 acres of tropical landscaped gardens and filled to the brim with bespoke, artistic touches.
Truly a beautiful spot, Singapore's Shangri-La is almost a tourist attraction by itself; somewhere you'll find yourself a little dazzled as you take in the sheer care and attention that's been put into every inch of this hotel. Better yet, Shangri-La Singapore is home to three different wings, which means whatever your decor tastes and styles, you're sure to find a room that matches your preferences. It's also home to 11 diverse dining concepts, set to impress even the fussiest of eaters.
Address: 22 Orange Grove Rd, Singapore 258350
Price range: $$$$
Website: www.shangri-la.com
Mandarin Oriental
Chic and contemporary with Oriental touches, the Mandarin Oriental Singapore brings together eastern and western culture in a beautiful, fan-shaped building in the heart of Singapore's coolest district. This stunning hotel is best known for its extra touches: colourful warm-hued flowers contrasting prettily against the azure blue swimming pool, the Singapore skyline lighting up through the floor to ceiling windows and the range of restaurants offering excellent cuisines from across the world. 
It's the little things here, which starts with the hotel's known impressive service and continues with the calming interiors, dramatic views and understated style. Soothing ambience is something you'll note in every corner of this hotel, whether you're wandering around it to save every inch to your personal memory bank or you're basking back in your cosy king size bed, making good use of Mandarin Oriental's delicious room service.
Address: 5 Raffles Ave, Singapore 039797
Price range: $$$
Website: www.mandarinoriental.com 
W Singapore
You might not traditionally head to Singapore for an island escape but that's exactly what you'll find at W Singapore in Sentosa Cove. Green palm trees and bright blue waters contrast against the colourful nature of Singapore's W hotel, with the brand's famously exciting personality really making itself known in Singapore. Perfect for business travellers, vivacious staycationers and sophisticated globetrotters, it's hard to find someone who won't thoroughly enjoy a stay at W Singapore, thanks to the luxury hotel's incredible facilities and beautiful backdrops.
A beachfront lifestyle with a difference, W Singapore allows you to experience the island however you prefer. There's more than enough to do here without having to leave the resort if you so wish, but you're also surrounded by Universal Studios Singapore and S.E.A. Aquarium if you're looking to hit the tourist hotspots. And, of course, W's Away Spa insists on taking at least some of your attention.
Address: 21 Ocean Way, Singapore 098374
Price range: $$$
Website: www.marriott.com
The St. Regis Singapore
A stay at Singapore's The St. Regis feels like a real treat. Everything about this luxury hotel screams timeless elegance, from the delicate chandeliers in the hotel lobby right through to the incredible backdrop of the city, admired from every direction. Located at the crossroads of the embassy district, close to the UNESCO World Heritage Site, Singapore Botanic Gardens and the Orchard shopping district, you'll never be far from the action when staying at The St Regis.
Decor here is quintessential and classical; expect red velvet, plush headboards and freestanding bathtubs. Those bathtubs in particular deserve attention: the fully-included butler service here means baths can be run by request, which means it couldn't really be easier to head back to your suite after a long day of exploring and sinking into your perfect temperature, aromatherapy-infused bath without any troubles at all.
Address: 29 Tanglin Rd, Singapore 247911
Price range: $$$$
Website: www.marriott.com
Four Seasons Singapore
Take a stroll along Singapore's prestigious Orchard Boulevard and you'll find your eyes quickly drawn to the Four Seasons. Just as luxurious as both the hotel's reputation and its location would suggest, the Four Seasons Singapore promises to think of absolutely everything. Come here for a tailored stay surrounded by tree-lined boulevards and panoramic views of the entire city.
The Four Seasons promises to wow you with its rooftop pool, Michelin-star dining at Jiang-Nan Chun and beautifully decorated bedrooms, along with smaller features like the cosy robes you'll cuddle up inside, which also come with child-friendly sizes. Taking attention to detail to the next level, the Four Seasons here is also Singapore's first hypo-allergenic hotel, with in-room ionizing air conditioning, a HEPA air purifier, breathable walls and allergy-friendly flooring and furnishings. As well as all of the other typical Four Seasons features, of course, like marble bathrooms and super soft bed sheets.
Address: 190 Orchard Blvd, Singapore 248646
Price range: $$$$
Website: www.fourseasons.com 
Pan Pacific Singapore
Grand, classy and exclusive: staying at Singapore's Pan Pacific is never a bad idea. Perfectly situated for those wishing to thoroughly explore the island, this luxury hotel will have you dreaming of days spent wandering down the bustling streets of Orchard Road or admiring the rainbow of colours at the scenic Botanic Gardens. But the hotel itself is also worth exploring, with delightfully comfortable rooms and a huge range of dining options.
It's a hotel where you'll consider whether you really need to head outside to get some dinner, or whether you'd actually just prefer to eat within the hotel's grounds again. And that's something that's never a bad idea, when the dining experiences range as much as they do at Pan Pacific. A large range of award-winning top restaurants, bars and gourmet marketplaces like Keyaki Japanese Restaurant with its immaculately presented sashimi and Atrium's eclectic collection of seating pods floating over a reflection pool, ensure a brilliant evening on every floor.
Address: 7 Raffles Blvd, Singapore 039595
Price range: $$$
Website: www.panpacific.com
Andaz Singapore
Singapore's Andaz hotel is a concept that falls under the Hyatt name, which means it comes with the same level of luxury you'd expect from its parent brand but with a unique twist, promising the unexpected in the best ways possible. Andaz is ultra chic: a luxury hotel where you'll feel that little bit more stylish just by opting to stay here. It's a notion you'll experience even more once you're inside Andaz's grounds, with its unique artworks and sculptures dotted around the lobby, and its seriously modern decor inside your room.
Impeccable service and outstanding views marry together in a hotel where you'll want to bring your smartest pyjamas and favourite luggage in order to properly look the part. While you might often find yourself distracted by the views from your bedroom, it's almost imperative here to spend at least one evening at Mr Stork, an alfresco drinking and dining spot that offers 360-degree views of the city below.
Address: 5 Fraser St, Singapore 189354
Price range: $$$
Website: www.hyatt.com
The Barracks Hotel Sentosa
The Barracks is one of Singapore's latest heritage hideaway inspired boutique hotels, which makes it a somewhat hidden gem among all of the city's other famed spots. Come to The Barracks for a bespoke experience in Sentosa Bay, with palm trees dotted throughout and sunbeds overlooking the lengthy swimming pool that are just crying out to be napped on. Not only is it a hotel with an interesting style, it's also one with an interesting history.
The Barracks Hotel Sentosa was once a British artillery outpost, which was lovingly restored into the luxury boutique hotel that it is today. Nowadays, it brings together its Far East hospitality with features that highlight the golden age of travel in the best way possible. Luxury hotel suites and languid afternoons on the veranda are the answer for those looking to chill out. A Barracks heritage walking tour is another option for those looking to learn a little more about their temporary home.
Address: 2 Gunner Ln, Sentosa island, Singapore 099567
Price range: $$$$
Website: www.thebarrackshotel.com.sg
Equarius Hotel at Resorts World Sentosa
Equarius Hotel is a brilliant spot for family holidays, thanks to its prime location close by to both Universal Studios Singapore and the S.E.A. Aquarium. The perfect getaway for nature lovers, Equarius Hotel is nestled along the fringe of a tropical rainforest, offering rooms with either forest or sea views. This is a hotel where you'll well and truly delight in doing things slowly: It's impossible to check into this Singapore hotel without spending at least a few moments each morning taking in the gorgeous views.
And that's once you've pulled yourself up from the ridiculously cosy luxe mattresses paired with Egyptian cotton bed linen. Luxury here comes with a sustainable edge, too: Equarius Hotel's green policy ensures ceiling fans are made of recycled wood from trees removed when the hotel was built, and large glass panels are used to usher in more natural light throughout the day.
Address: 8 Sentosa Gateway, Singapore 098269
Price range: $$$
Website: www.rwsentosa.com
Dusit Thani Laguna
Dusit Thani Laguna is the definition of an indulgent stay. Everything about this luxury hotel is designed with relaxation in mind, allowing you a few deliciously slow days of switching off and making full use of the amenities here. It's a place wholly focused around chilling out, thanks to the seemingly endless deep blue swimming pool, the premium Devarana Spa, the tennis courts, championship golf courses and the driving range.
When you've built up an appetite from your day of exploring the grounds here, you can embark on a beguiling culinary journey at Dusit Thani Laguna's multiple dining options. A lush, forest-themed restaurant, Greenhouse, and innovative cocktails at Legends Bar ensure you're always suitably fed and watered. Or, spend an evening at fine-dining hotspot, Dusit Gourmet, for Thai, Western and Indian favourites. Dusit Thani Laguna is also home to The Tee Deck, an Al Fresco Bar and Grill that's renowned for its farm-to-table dishes.
Address: 11 Laguna Golf Green, Singapore 488047
Price range: $$$
Website: www.dusit.com
Sofitel Singapore
Take a leaf out of the French way of living with a stay at Singapore's Sofitel Sentosa Resort. There are two Sofitel hotels across the island but the Sentosa Resort offers unparalleled levels of relaxation, with its impressively large swimming pool and breathtaking sunset views. Sofitel draws inspiration from local culture and tradition paired with the French art de vivre, set on a spectacular clifftop with a peaceful surrounding.
You'll find other French accents dotted throughout this hotel, with rooms and suites inspired by Parisian charm and a gastronomic adventure that takes chic European indulgence to the next level. Dining here will make you second guess ever needing to leave the hotel ever again: it's hard to beat the magical atmosphere that comes from digging into traditional Italian food with a backdrop of refreshed breeze, gently wafting from the South China Sea.
Address: 2 Bukit Manis Rd, Sentosa, Singapore 099891
Price range: $$$
Website: www.sofitel-singapore-sentosa.com
Frequently asked questions about the best hotels in Singapore
What are the best hotels to stay in Singapore?
Some of Singapore's best hotels include Marina Bay Sands, The Fullerton, Raffles and W Singapore. Read our full guide to discover all of the best hotels in Singapore. 
Which is the best hotel in Singapore?
The best hotel in Singapore is Marina Bay Sands, closely followed by Raffles and The Fullerton. Check out our full guide for the best hotels to visit in Singapore depending on your lifestyle and preferred location.  
Which are the 6 star hotels in Singapore?
Singapore's six-star hotels include luxury hotels such as The Fullerton, Marina Bay Sands, Raffles and The Ritz-Carlton.
What is the most luxurious hotel in Singapore?
Some of the most luxurious hotels in Singapore include Raffles, Marina Bay Sands, The Fullerton, Four Seasons, Mandarin Oriental and Shangri-La. Our full guide breaks down all of the best luxury hotels in Singapore.