Dubai—city of skyscrapers, indoor ski slopes, and sumptuous five-star resorts. Dubbed the 'City of Gold' and synonymous with glamour and glitz. Known for its penchant for luxury and extravagance—and, increasingly, for its innovative culinary scene, including a growing range of vegetarian and vegan friendly restaurants.
Dubai is a centre of diversity on an epic scale—a true melting pot of cultures and a vibrant home to expats from all over the globe. As a result, the city boasts some of the most cutting-edge dining destinations in the world, and some of the best vegan restaurants too. 
Capitalising on the current trend for eschewing meat in favour of more eco-conscious and organic cuisine, many Dubai restaurants are now catering for vegan and vegetarian diners, whether with an exclusively vegan menu or with a new emphasis on wholefoods, meat-free alternatives, and healthy fine dining options.
Not only do the best plant based restaurants in Dubai make forgoing meat incredibly enticing with their flavour-focused vegetarian cuisine, but they're also playing their part in preserving our planet, protecting ecosystems by encouraging us to eat in a more eco-friendly way.
So if you're wondering where to eat in Dubai, here are our picks for the best veggie and vegan restaurants in the city. We've got low-key and laidback eateries, perfect for a plant-based lunch on the run, as well as fancier high-end vegetarian restaurants serving dazzling meat-free options as part of their acclaimed menus.
The 11 best vegan and vegetarian restaurants in Dubai
Little Erth by Nabz & G
Located in lively JLT, Little Erth by Nabz & G is a holistic dining destination that specialises in vegan, vegetarian, and raw cuisine.
The venue aims to showcase the best of the Earth's natural bounty and connect diners with the planet via their plates. All items on the menu are vegan unless noted otherwise, making this one of the best pure vegetarian restaurants in Dubai.
Expect a rich array of colours, textures, flavours, and aromas, all presented in an artistic and creative way. Paella, burgers, vegan shawarma, lentil and mushroom bolognese, vegan mac n cheese—there are plenty of classics on this menu. And definitely save room for the gluten-, sugar-, and dairy-free desserts.
Ingredients are fresh, high-quality, and free from preservatives, the decor is colourful and full of plants, and the best bit? it's not even that expensive.
Address: Mohammed Ibrahim Tower, Jumeirah Lakes Towers, JLT Cluster J, Dubai.
Opening days and hours: every day, 12pm to 10pm
Price range: $$
Website: www.nabzandg.com
Bounty Beets
Vegetarian restaurants sometimes take themselves too seriously but that's not the case with Bounty Beets, one of the trendiest dining destinations for those looking for plant-based eating options. Here the vibe is youthful and playful with botanicals, murals, and an outrageous array of puns on the menu.
Take the 'Let's Taco 'Bout It' tacos, for example. Or the breakfast section titled 'First Breakfast, then I'll Change the World', and the desert section called 'I Licked It So It's Mine.' We particularly like the 'Every Day I'm Waffling' almond waffles for a weekend brunch—one reason why Bounty Beets is up there with Dubai's top vegan breakfast places.
You can also enjoy organic and biodynamic wines and cocktails as well as wellness coffees and smoothies that are just calling out for a spot on your Instagram feed.
Address: Le Meridien Mina Seyahi Beach Resort & Waterpark or Le Meridien Conference Hotel & Conference Centre, Dubai
Opening days and hours: every day, 8am to 10pm
Price range: $$
Website: www.bountybeets.com

Menagerie
Here to prove that healthy and nutritious food is not only possible but preferable, Menagerie is an eatery entirely focused on wholefoods, serving dishes inspired and based around plants, and one of the top vegan friendly restaurants in the city.
The menu is bursting with vegetarian friendly food as well as raw, gluten- and dairy-free alternatives. Take the Roberto Rocket Fuel smoothie bowl, for example, featuring raw cacao, spirulina, barley grass, ashwagandha, ginseng, and topped with probiotic-rich cashew yoghurt swirls. Sounds pretty good, right?
Lemon mung bean socca, wild mushroom and artichoke flatbreads, beetroot falafel sliders, a dairy and gluten-free macaroni cheese, and a caramelised carrot and banana bread are also some of the dishes waiting to tingle your taste buds. And you can watch it all being prepared in the open kitchen.
Feeling a little under the weather? The restaurant also serves health-boosting shots such as the Immune Defence, Gut Healer, or the Metabolism Booster. Perfect after a day spent at one of the best spas in Dubai. 
Address: Mirdif 35 Mall, Ground Level, Al Khawaneej, Dubai
Opening days and hours: weekdays, 8am to 11pm, weekends 8am to 12am
Price range: $$$
Website: www.menagerieeatery.com
Koko Bay
Located on the iconic tree-shaped Palm Jumeirah—the Dubai island famous for its restaurants and hotels—Koko Bay takes inspiration from the wellness hotspot that is Bali.
As a result, you'll find plenty of rattan seating, bean bags, crocheted hammocks, dreamcatchers, and plants. The restaurant also has its own private beach as well as a large terrace where you can enjoy your meal after a dip in the ocean. There are also guest DJs providing entertainment all day long and well into the evening.
While Koko Bay doesn't serve exclusively vegetarian or vegan cuisine, it's one of the area's best restaurants with vegan options. Take the Nom Nom Asian Crunch or Beyond Burger, for example. There's also the orecchiette pasta tossed with health-boosting kale, spinach, wild forest mushrooms, aged parmesan, and pine nuts.
Vegans and vegetarians definitely won't go hungry here, and neither will those of you hankering after a sweet treat, with dessert options such as Mochi and lemon tart.
Address: West Beach Palm, Jumeirah, Dubai
Opening days and hours: Sunday to Wednesday, 12pm to 12am, Thursday 12pm to 1am, Friday 8am to 11am and 12pm to 1am, Saturday 8am to 11am and 12pm to 12am
Price range: $$
Website: www.kokobay.co
Folia
On a mission to make healthy eating exciting and inspiring, Folia is located at the Four Seasons Resort at Jumeirah Beach and boasts its own stand-alone vegan menu, making this one of the best high-end vegetarian restaurants in Dubai.
Folia means 'from the leaves' in Latin and the vegan menu is entirely plant-based. Starters include beetroot poke marinated in a ponzu lime broth. Main courses up the ante with the restaurant's signature cacio e pepe kelp noodles with a creamy cashew pepper sauce. And for dessert, the coconut cream pie is a winner—although the coco-berry mousse with hazelnut gelato is a strong runner up.
One of the fanciest plant based restaurants in Dubai, Folia is a collaboration between celebrity-chef Matthew Kenney, founder of more than 30 vegan restaurants around the world, and Prince Khaled bin Alwaleed bin Talal Al Saud whose vegan lifestyle is well-documented. Enjoy your meal under the shade of green palms in a luxury resort famed for its natural beauty. Healthy fine dining doesn't get much more fabulous than this.
Address: Jumeirah Beach Road 2, Jumeirah, Dubai
Opening days and hours: every day, 12pm to 1am
Price range: $$$$
Website: www.fourseasons.com
Señor Pico
If you're on the hunt for vegetarian restaurants in Dubai that are suitable for a relaxed lunch, we highly recommend Señor Pico. Inspired by the markets of Mexico, the menu at this easygoing eatery is a rollercoaster of flavours while the decor is colourful and the atmosphere energetic and dynamic.
The first Señor Pico location opened in San Francisco back in 1964 and it's crossed the world to bring the same imaginative renditions of Mexican classics to Dubai diners. The menu features crowd-pleasing favourites such as quesadillas, nachos, and tacos, as well as vegetarian cuisine like crispy quinoa salad with a mango dressing and vegetarian burritos filled with charred zucchini and roasted portobello mushrooms.
Located on Palm West Beach with its epic views of the Dubai Marina skyline, this Mexican restaurant also serves cocktails, best enjoyed from a seat outside on the decking.
Address: Palm West Beach, Dubai
Opening days and hours: Sunday to Thursday, 12pm to 12am, Friday and Saturday, 9am to 12am
Price range: $$
Website: www.senorpico.com
CÉ LA VI Dubai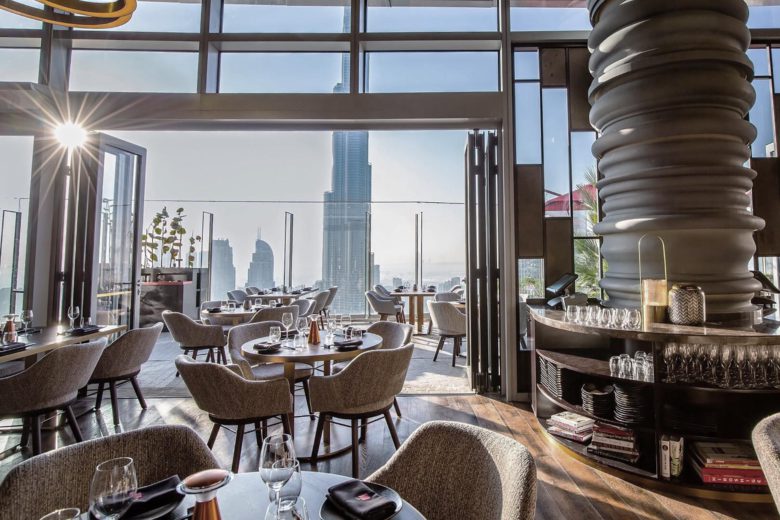 Everything tastes better with a spectacular view, as demonstrated at CÉ LA VI, located on the 54th floor of the Address Sky View in Downtown Dubai and just next to the infinity pool that connects the two hotel towers. With seriously gasp-worthy panoramas of Burj Khalifa, this restaurant offers some of the most unforgettable healthy fine dining in the city.
In the kitchen is executive chef Howard Ko who has more than a decade of experience working at Michelin-starred restaurants around the world and whose inventive spins on classic dishes have gained him quite a reputation.
From Sunday through to Thursday, from 12 pm to 3 pm, the restaurant serves a set vegetarian lunch menu, featuring treats such as a burrata salad or roasted tomato velouté, tagliatelle mushroom fricassee, black truffle sushi rice risotto, butternut squash miso yaki, and a miso caramel vanilla mousse to finish off.
Address: Level 54, Address Sky View Hotel, Sheikh Mohammed bin Rashid Blvd, Tower 2, Dubai
Opening days and hours: every day, 12pm to 4pm and 6pm to 11:30pm
Price range: $$$$
Website: www.celavi.com
Azkadenya
Traditional Middle Eastern cuisine is often meat-free and the best place to explore the delectable plant based goodies that the culture has to offer is at Azkadenya.
While it doesn't count as one of the pure vegetarian restaurants in Dubai, Azkadenya is still one of the city's best restaurants with vegan options. The range of dips, including a particularly noteworthy walnut muhammara, freshly baked pitas, salads, and wraps exhibit superior attention to detail while stand-out vegetarian and vegan options include the tabbouleh, fattoush, malfouf salad, and falafel.
For dessert, you've got the memorable sticky date pudding or namouretna, a semolina cake made with digestive biscuit topped with cream and drizzled with orange blossom syrup. Head to Azkadenya for a laidback atmosphere, fresh and locally sourced ingredients, reasonable prices, and an array of different dishes so you can pick and mix.
Address: Mercato Shopping Mall, Jumeirah St, Dubai
Opening days and hours: every day, 9am to 11pm
Price range: $$
Website: www.azkadenya.com
SEVA
SEVA is Dubai's ultimate spirituality destination with a shop filled with consciously sourced products (i.e. lots of crystals), a meditation and yoga studio, wellness treatments and workshops, and a cafe serving all plant-based produce. It's definitely one of the most unique vegan friendly restaurants in the city.
Seva serves delicious dishes made from seasonal, organic, and local ingredients. All meals are also free from MSG, GMO, gluten, soy, cane sugar, and trans fats, making this one of the most health-conscious plant based restaurants in Dubai.
In the cosy cafe, soothing mantras play in the background while outside a gorgeous garden with tall trees and no wi-fi offers an escape from the hustle and bustle of central Dubai.
As for the food? Highlights include an acai and banana bowl, The Mexicasian—a unique blend of quinoa, sprouts, and avocado wrapped in a nori sheet—and a Venezuelan cornbread filled with a plant-based pulled beef made from plantain skins.
Oh, and treat yourself to the matcha tiramisu for dessert.
Address: Villa 5 1/B, Street 27B, Jumeirah 1, Jumeirah Beach Road, Dubai
Opening days and hours: every day except Tuesday, 10am to 8pm
Price range: $$$
Website: www.sevaexperience.com
Wild & the Moon
We've already discussed the hipster charms of Wild & the Moon's Paris location and the Dubai destination continues the Wild & the Moon mission of offering exceptional organic and plant-based cuisine in an ultra-cool setting.
Situated on Alserkal Avenue—Dubai's haven of health and wellness shops and a mecca for vegan friendly restaurants—the cafe offers diners a selection of cold-pressed juices (try the Moon River with lavender flower, grapefruit, and maca), smoothies, salads, soups, superfood bowls, desserts, and snacks.
All products are homemade from wild, organic, local, and ethically sourced ingredients, and meals are inspired by principles of herbalism and naturopathy. We highly recommend the macrobiotic nori and quinoa vegan stew, in particular. The cafe is also a great option if you're looking for vegan breakfast places.
Address: Alserkal Avenue, Street 8, H-77, Al Quoz; Sheikh Mohammed Bin Rashid Blvd, Palace Hotel Cafe n5, Downtown; DIFC, Gate Avenue, U-149, Level POB
Opening days and hours: Alserkal Avenue and Emaar Boulevard locations open every day, 9am to 8pm; DIFC location opens every day 9am to 6pm
Price range: $$$
Website: www.wildandthemoon.ae
Bloom Vegan Kitchen
This last option on our list isn't technically a restaurant but an online outlet that delivers all around Dubai. So if you fancy staying in and enjoying some organic wholefoods from the comfort of your home or hotel, then Bloom is a great option for affordable and accessible vegetarian cuisine delivered straight to your door.
All the food on the Bloom menu is 100% vegan and inspired from around the world. You can expect a range of burgers, salads, and burrito bowls, including a delicious breakfast wrap, the brand's signature 'mac & bloom', a rainbow pad thai, and a vegan tiramisu for dessert. There are also gluten-free options such as cauliflower tacos.
Can't decide? Definitely go for the grilled cheese sandwich. You've never tasted vegan cheese quite like this before.
Expect your meal to turn up within just 30 minutes of ordering. Added perk? The packaging is 90% recyclable for extra eco-points.
Opening days and hours: Saturday to Wednesday 10am to 10pm, Friday and Thursday, 10am to 12am
Price range: $$
Website: www.bloomvegankitchen.com

Frequently asked questions about vegetarian and vegan restaurants in Dubai
Is Dubai vegan friendly?
Dubai is a vegan-friendly place to visit. There's an increasing number of restaurants catering for vegan diners as well as restaurants that serve almost exclusively vegan food, such as Little Erth by Nabz & G and Wild & the Moon.  
Is vegetarian food available in Dubai?
Vegetarian food is widely available in Dubai. In fact, traditional Middle Eastern cuisine includes many vegetarian options such as fattoush, tabbouleh, and falafel. And more and more restaurants in Dubai now serve vegetarian alternatives.
What is the best vegan restaurant in Dubai?
The best vegan restaurant in Dubai is SEVA. Another great vegan restaurant in Dubai is Wild & the Moon. Check out our guide to the best vegetarian and vegan restaurants in the city for more inspiration. 
Is there a Michelin star vegan restaurant in Dubai?
While there isn't a Michelin star restaurant serving exclusively vegan food in Dubai, there are a number of Michelin-starred restaurants that offer vegan alternatives, including Marina Social, which has its own vegan menu, and Nobu Dubai.