To travel to Dubai is to take a trip straight to the lap of luxury. This cutting-edge capital is known for its audacity, ambition, futuristic design, love of all things gold and glitzy, and refusal to compromise. It's the very apex of extravagance—a city that does nothing by half measures.
The best hotels in Dubai spare no expense, offering overindulgence to those seeking an out-of-this-world trip. These are not run-of-the-mill luxury resorts but more like tiny cities in their own right, lavish estates ready to welcome guests who want to live like lords and ladies, whether it's for a weekend, week, or longer.
We've picked out the best hotels in Dubai to suit a range of tastes and moods. As well as the city's most famous luxury resorts, we've selected the best hotels in Dubai for families, the best hotels in Dubai for couples, and, of course, Dubai's best 7-star hotel. We've also got boutique hotels for those after something a little more characterful but no less luxurious.
Imagine world-class amusement parks alongside classic Arabian architecture. Bliss-inducing spa treatments and dazzling desert views. Bedrooms situated inside aquariums, others decorated by famous fashion designers, dozens of Michelin-starred restaurants, and your very own 'pool butler'. With their unapologetic opulence, these luxury resorts are the best way to experience the unique city that is Dubai.
Of course, these days, it's hard to fully relax and indulge unless we know that the luxury we're enjoying is sustainable. Many of these hotels understand this. As such, they're committed to green travel, with environmentally friendly initiatives such as conservation, recycling, and energy efficiency. For guilty pleasures that you can feel a little less guilty about 😉
The 11 best luxury hotels in Dubai
Atlantis The Palm
With its boutique shopping, restaurants, bars, waterpark, aquarium, nightclub, spa, and beach, Atlantis The Palm is a mega resort that has no qualms about pushing the boat out. Located on the tip of Dubai's iconic Palm Island, this family-friendly resort offers luxury pushed to its absolute limit.
Rooms have an ocean theme and glittering views of the Arabian Gulf. Book into one of the Underwater Suites to see sharks and rays from the aquarium float past your window.
Kids will enjoy the Atlantis Kids Club and complimentary access to Atlantis Aquaventure Waterpark, the world's largest waterpark. While this may be a contender for the most expensive hotel in Dubai, it's also undeniably one of the best 5-star hotels in Dubai for families.
Meanwhile, adults will enjoy the 30 different restaurants, bars, and lounges, that include Gordon Ramsey's famed gastropub.
Atlantis The Palm is also pioneering a vision of eco luxury with the Atlantis Atlas Project, supporting marine conservation and education. For every marine animal experience booked at the resort, $1 is donated to conservation initiatives, making the hotel a top choice for sustainable luxury holidays.
Address: Crescent Rd, The Palm Jumeirah, Dubai, UAE 
Price range: $$$
Website: www.atlantis.com
Armani Hotel Dubai
The award-winning Armani Hotel is situated in Downtown Dubai in the Burj Khalifa, the world's tallest tower. With its classic elegance, curated by the world-famous fashion designer himself, this is the closest you'll get to experiencing Giorgio Armani's own luxury lifestyle.
The vibe is sophisticated and serene with fabric and leather sourced from Florence, Japanese Tatami sleeping mats, and bathrooms with green bamboo marble from Brazil. Wandering the corridors, with their muted lighting and elegant flower arrangements, you'll feel like you're on a catwalk at Milan Fashion Week—which was exactly the designer's intention.
A lifestyle manager, aka a personal concierge, is allocated to each room and available to help 24/7. There's an outdoor pool with sun terrace, a spa where guests can receive a personal consultation followed by a customised relaxation experience, and globally influenced cuisine, ranging from Japan to India to Italy. Just a 4-minute drive away is also CÉ LA VI, one of the best restaurants in Dubai for vegetarian dining.
The Armani Hotel is Green Globe certified. Efforts to reduce energy consumption, improve air quality and waste management, and promote biodiversity initiatives make this one of the best hotels in the city for those interested in responsible luxury travel and eco chic vacations.
Address: Sheikh Mohammed bin Rashid Blvd, Dubai, UAE 
Price range: $$$
Website: www.armanihoteldubai.com
Ritz-Carlton
Ritz-Carlton has luxury hotels all over the world, from Singapore to Puerto Rico. With its own private beach in one of Dubai's most desirable districts, it's the epitome of exclusivity and stands in contrast to Dubai's many skyscrapers with its low-rise buildings in old-school Mediterranean style, lush landscaped gardens, chandeliers, and marble.
Despite being just minutes from The Walk at JBR, the resort feels secluded and intimate. Guests can book experiences such as desert-driving, sand-skiing, paragliding, and falconry tours but you may prefer just to spend your time at the spa with its 12 treatment rooms, hot and cold plunge pools, and signature Arabian Felix treatment with health-boosting rosewater, Dead Sea salt, and camel's milk.
Fancy working up a pre-dinner sweat? Challenge your partner to a game on one of the four flood-lit tennis courts before taking a dip in one of the six swimming pools. Then pick between the nine different restaurants on offer, the Bedouin-inspired tents of Amaseena being a particular highlight.
Address: Jumeirah Beach Residence, Dubai, UAE 
Price range: $$$
Website: www.ritzcarlton.com
Bulgari Resort Dubai
Offering quintessentially Italian-style luxury in the middle of the Arab Emirates, the Bulgari Resort is an ultra-stylish private island retreat located in the seahorse-shaped Jumeirah Bay.
With its verdant green foliage and relaxed Mediterranean vibes, it's a pleasant alternative to more flashy Dubai hotels. Rooms are sumptuous without being fussy, and all have their own private balcony as well as a walk-in wardrobe and deep tub for soaking. Decadent materials such as rare green onyx, Mongolian black granite, Italian marble, and cashmere blankets sit alongside displays of heritage Bulgari designs.
The private villas have their own pools while the resort spa has seven different treatment rooms, a couples suite, and an indoor pool lined with real gold. All this combines to make the Bulgari Resort one of the best hotels in Dubai for couples.
Dine at Il Ristorante where three-Michelin-starred chef Niko Romito whips up contemporary Italian specials. Immersive dining with a Japanese theme is on offer at intimate Hoseki, which seats just 9 people. Sweet-toothed guests will appreciate Il Cioccolato with its haute couture chocolates.
Address: Jumeirah Bay Island, Dubai, UAE 
Price range: $$$$
Website: www.bulgarihotels.com
Burj Al Arab
Forget 5-star luxury. The Burj Al Arab has the incomparable honour of being dubbed the world's only 7-star hotel, which gives you some idea of the level of opulence you can expect at this landmark resort, situated on its own private island and one of the four tallest hotels in the world.
Shaped like a billowing style, it features an atrium inside as high as the Eiffel Tower. Other extravagances include a fleet of Rolls-Royce Phantoms, a helipad on the 28th floor, Hermès toiletries, coffees that come with gold leaf, a separate butler entrance in some of the bedrooms, and 24-carat gold iPads for guests to use as virtual concierges.
Browse boutiques selling gold and jewellery, book a treatment at the Assawan Spa & Health Club (one of Dubai's best spas) where ingredients include caviar and pure gold or float around in the pair of infinity pools on the 18th-floor.
At the Diwania library, you can browse books or play snooker. Afterwards, enjoy water sports, deep-sea fishing, scuba-diving, or simply stroll along the 2km of private beach. This is true barefoot luxury.
Address: Umm Suqeim 3, Dubai, UAE
Price range: $$$$$
Website: www.jumeirah.com
One&Only Royal Mirage
The One&Only Royal Mirage actually consists of three different properties—the Arabian Court, the Palace, and the Residence & Spa. A discreet and personal atmosphere makes the resort the perfect romantic sanctuary and one of the best hotels in Dubai for couples.
Set in acres of impeccably groomed gardens and with 1km of picture-perfect beachfront, the palatial One&Only Royal Mirage is a spectacle of classic Arabic aristocratic opulence. Think arches, domes, water features, Bedouin statues, mosaic-tiled corridors, and four swimming pools, some with their own palm-tree islands. It's almost scandalously sumptuous.
Bedrooms feature exotic lanterns, intricately carved wood furniture, and heavy embroidery while the spa offers ancient healing rituals and authentic Oriental hammam treatments. Dine at one of the resort's eight restaurants, such as Mediterranean-inspired Olives or Nina, which serves Indo-European cuisine. There's also the beach club, Drift, or Celebrities, a restaurant run by three Michelin-starred chef, Mauro Colagreco.
Address: King Salman Bin Abdulaziz Al Saud St, Dubai Marina, Dubai, UAE 
Price range: $$$
Website: www.oneandonlyresorts.com
Mandarin Oriental Jumeirah
Situated on Jumeirah Beach, the Mandarin Oriental feels like being in a glamorous resort on America's West Coast. Classic California cool is evoked by the sleek decor and emphasis on modern luxury. All rooms feature the latest technology, including button-operated curtains.
Plus, have you ever had your own 'pool butler', ready to help you with tasks such as cleaning your sunglasses or fetching ice creams? The hotel even smells luxurious, with its own unique interior fragrance.
Drop the kids at the Little Nomads Kids club (just one reason why the Mandarin Oriental is one of the best hotels in Dubai for families) and head to the spa to recuperate from a day spent sightseeing, shopping, kayaking, paddle boarding, or just lounging poolside. There's also a state-of-the-art fitness studio with beach-based classes or personal trainers.
Enjoy 6th-floor views at the Michelin-starred Tasca, serving Portuguese fare. There's also the Japanese steakhouse, Netsu, or The Bay, a relaxed brasserie. For dessert, try the Mandarin Cake Shop.
If you're feeling guilty about all the indulgence, take solace in the fact Mandarin Oriental is committed to eco-friendly business and has taken steps to eliminate all single-use plastic from its hotels, making the hotel one of the most environmentally friendly resorts on our list. 
Address: Jumeirah Beach Road, Dubai, UAE
Price range: $$$$
Website: www.mandarinoriental.com
Raffles Dubai
Shaped like a 17-storey gold pyramid—because why not?—Raffles Dubai is a landmark in a city not lacking in eye-catching buildings. Inside, the Egyptian theme continues with pillars engraved with hieroglyphs and plenty of statues and artifacts.
At this stately 5-star hotel, rooms are incredibly spacious, even by Dubai standards, some reaching up to 74 square metres. Other hotel facilities include an outdoor pool with a swim-up bar, fitness centre, hair salon, and library.
Start the day with a bottomless buffet breakfast at Azur. End the day with dinner at Tomo, a rooftop restaurant serving superb sushi. Or go for Italian cuisine at Solo.
Raffles even has its own nightclub. So even though you might be close to all the major Dubai attractions, why would you ever need to leave?
Address: Wafi, Sheikh Rashid Rd, Umm Hurair 2, Dubai, UAE
Price range: $$
Website: www.raffles.com
XVA Art Hotel
Located in the Al Fahidi neighbourhood, one of the oldest districts in Dubai and an important heritage site, XVA Art Hotel is ideal for those seeking slow travel and an authentic holiday, showcasing the city's more traditional side.
Created to be a hub for artists and art lovers, XVA Art Hotel was previously the home of the prominent Seddiqi family. With 15 rooms and suites, each individually designed, and themes including the moon, sugar, and henna tattoos, this is one of the most original boutique hotels in the city.
Personal touches and intriguing accents offer a pleasing contrast to the city's mega resorts while the historic tree-lined courtyards make you feel like you're stepping back in time. Indeed, this is one of the few buildings in Dubai that's more than 100 years old.
Check out the boutique shop selling vintage clothes and homeware for great souvenir ideas. An indoor/outdoor gallery exhibits work by local artists while the XVA Cafe is open for most of the day and has an extensive vegetarian menu. There's no alcohol on offer but the mint lemonade is to die for.
Address: Al Fahidi St, Bur Dubai, Al Fahidi, Dubai, UAE
Price range: $
Website: www.xvahotel.com
Al Maha Resort
This unique resort is located in the Dubai Desert Conservation reserve and offers a trip of a lifetime for those seeking something a little unusual. The palm-filled retreat includes 42 Bedouin-inspired tented suites—but this isn't your typical camping trip.
The luxury tents have views of the sweeping dunes and Hajar Mountain massif. They're filled with authentic local details, including Persian rugs, lanterns, and drapes. Each one also has its own private infinity plunge pool. Plus, there's an easel in case you feel inspired to capture the landscape in paint. Suites even have binoculars so you can identify the exotic flora and fauna, such as oryx, gazelles, and various birds of prey.
Spend your days on desert safaris, horse treks, camel rides, or nature walks—or try your hand at archery or falconry. Afterwards, enjoy a treatment at the Timeless Spa.
Al Maha is dedicated to wildlife conservation efforts and works to protect the desert ecosystem. On-site field guides educate guests about the environment while also facilitating your one-of-a-kind adventure. There's also eco-friendly LED lighting, solar panels, and water recycling initiatives, making Al Maha one of the top eco friendly all inclusive resorts in Dubai.
Address: Dubai Desert Conservation Reserve Dubai, Al Ain Road, Dubai, UAE
Price range: $$$$$
Website: www.al-maha.com 
Sofitel Dubai The Palm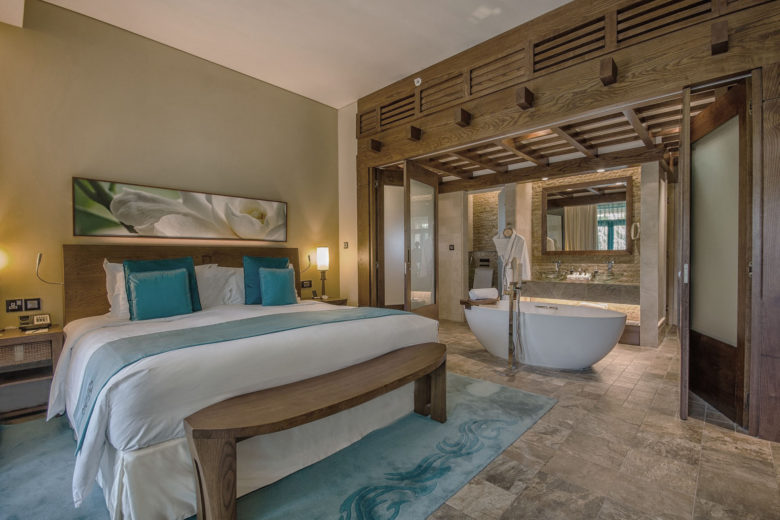 On the east side of the Palm Jumeirah crescent, and just across the water from Dubai Marina, this beach resort takes its influence from French Polynesia with a tropical vibe combined with European sophistication.
Onyx, stone, and wood sit alongside vertical gardens and Tiki-style eco-chic cabanas. Guests can book into a room, suite, apartment, or one of the private boutique lodges. They also have access to 500 metres of private beach, can take advantage of the advanced treatments in one of the 28 spa treatment rooms, or work out in the technologically impressive fitness centre.
For dining, there are 12 different restaurants, bars, and lounges, serving cuisine from every corner of the globe. Top picks include Manava, a family-friendly restaurant with a relaxed atmosphere, award-winning Porterhouse Steaks and Grills, or Moana, where you can sample sushi, seafood, and other Asian-inspired dishes.
Another of the top eco-friendly all-inclusive resorts in Dubai, Sofitel minimises its environmental impact with energy efficiency and water and waste management programmes, reducing, reusing, and recycling wherever possible.
Address: The Palm Jumeirah East, Crescent Rd, Dubai, UAE
Price range: $$
Website: www.sofitel-dubai-thepalm.com
Frequently asked questions about the best hotels in Dubai
Which is the most luxurious hotel in Dubai?
The most luxurious hotel in Dubai is the Burj Al Arab, nick-named the world's only 7-star hotel, situated on its own private island, and shaped like a sail. For more inspiration, check out our list of the best luxury hotels in Dubai.
What is the best area to stay in Dubai?
The best area to stay in Dubai is the Palm Jumeirah, a man-made island shaped like a palm tree and home to some of Dubai's most luxurious hotels. Downtown Dubai is a good area to stay for easy access to top attractions.
Where do celebrities stay in Dubai?
Celebrities visiting Dubai stay in hotels such as the 7-star Burj Al Arab, where Justin Bieber reportedly stayed, as well as models Gigi & Bella Hadid and tennis player Andy Murray. Members of the Kardashian family have stayed at Atlantis The Palm.